IFOY Schirmherrschaft
IFOY Träger
Der VDMA Fachverband Fördertechnik und Intralogistik ist Träger des IFOY
QuickPick Remote

Crown Gabelstapler GmbH & Co. KG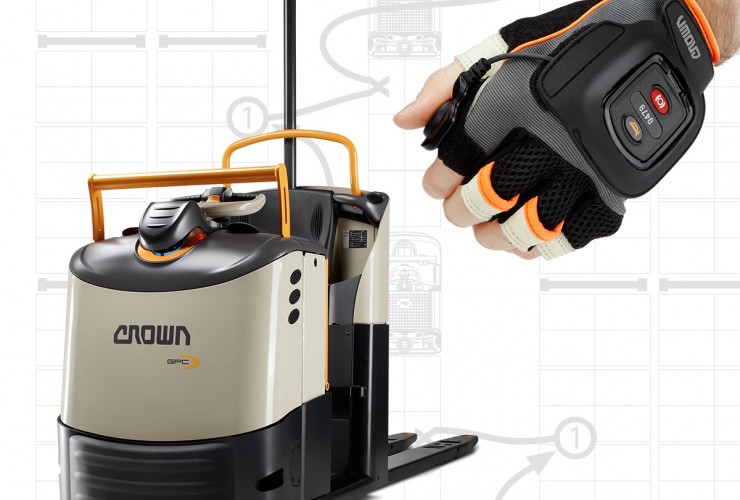 Produktivitätssteigerung bei der Bodenkommissionierung mit Crown QuickPick Remote
IFOY
IFOY-Kategorie
Warehouse Trucks
Kurzcharakteristik
Crown QuickPick® Remote ist eine neue Kommissioniertechnologie, die bisherige Kommissionierprozesse optimiert. Das System kombiniert einen Crown GPC 3000 Niederhubkommissionierer mit einer intuitiven Fernbedienung. Diese neue Lösung erleichtert die Arbeitsprozesse bei der Bodenkommissionierung und lässt die Produktivität um bis zu 25 Prozent steigen. Mit der drahtlosen Fernbedienung, deren Sende- und Bedieneinheit in einen speziellen Arbeitshandschuh integriert ist, kann der Bediener ohne auf dem Fahrerstand zu stehen das Fahrzeug auf Knopfdruck vorwärts bewegen und hat dabei beide Hände frei. Am Stapler integrierte Laserscanner erkennen eventuelle Hindernisse davor oder daneben und verhindern Kollisionen. Eine automatische Lenkkorrektur stellt zudem ein geradliniges Fahren mit gleichbleibendem Abstand zum Regal sicher.
QuickPick® Remote bietet großes Potenzial zur Einsparung von Zeit, körperlicher Belastung und Kosten. Der Kommissionierer muss seltener zur Plattform zurückkehren und die vom Bediener zurückzulegenden Wege werden kürzer und direkter. Dadurch lässt sich der Zeitaufwand für einen Kommissionierungsauftrag erheblich senken. Die Produktivität des Kommissioniervorgangs steigt deutlich und der Kommissionierer kann ohne Sicherheitseinbußen mit weniger Bewegungsabläufen mehr leisten.
Kategorie: Warehouse Trucks
Video: Optimise your picking process with QuickPick Remote
---
| | |
| --- | --- |
| Truck Name |  Crown GPC 3040-2.0 |
| Truck Type |  Low Level Order Pick Truck |
| Date of Test |  IFOY 2014 |
Testbericht
Der Crown GPC 3000 Kommissionierer mit QuickPick-Funktion wurde zu Beginn des Jahres 2013 erstmals vorgestellt. Seitdem ist dieses außergewöhnliche Konzept nur eingeschränkt erhältlich gewesen. Offiziell auf dem europäischen Markt eingeführt und verfügbar ist der GPC 3000 QuickPickseit Februar 2014.
Das QuickPick-System ist ein autonomes System. Die gesamte Kommunikation findet nach ihrer Verknüpfung zwischen dem Fahrzeug und dem Handschuh statt. Der Mitarbeiter steigt im Gegensatz zu herkömmlichen Lösungen nicht auf den Kommissionierer auf, um zur nächsten Kommissionierstelle mitzufahren. Statt dessen betätigt er mit dem Daumen einen Knopf an seinem Handschuh, um den Stapler zur nächsten Haltestelle zu navigieren. Er selbst geht mit. Dank der Handschuh-Lösung hat der Mitarbeiter beide Hände frei und kann die Kommissionierung äußerst einfach durchführen. Crown-Forschungen zufolge, spart dies Zeit und der Kommissioniervorgang ist bis zu 28 Prozent produktiver und darüber hinaus sicherer. Auch der Komfort für den Operator steigt.
Der IFOY-Test mit dem Crown GPC 3000 bestätigt diese Einschätzung, sofern die Kommissionierstellen nicht zu weit auseinander liegen. Bereits bei durchschnittlich großen Entfernungen ist das System rund 10 Prozent produktiver im Vergleich zum Mitfahren. Je kleiner die Distanzen werden, desto größer wird der Vorteil des Systems: von 21 bis hin zu 39,5 Prozent bei durchschnittlichen Distanzen von 4 Metern . Augenfällig ist, dass der Prozess ruhiger, fließender und kontrollierter abläuft. Die Bedienung über den Handschuh ist logisch und intuitiv. Für den Kommissionierer ist ein QuickPick-Einsatz merklich weniger anstrengend. Der Handschuh ist waschbar. Bei größeren Entfernungen zwischen den Kommissionierstellen ist das Konzept ebenso produktiv wie die herkömmliche Methode. Der Bediener erkennt intuitiv, wann es besser ist mitzufahren oder mit der QuickPick-Funktion zu arbeiten.
Der Crown fällt durch sein schönes Design, mit markanten Runden, die hervorragende Verarbeitung und Verwendung solider Materialien, auf. Die Deichsel ist übersichtlich und arbeitet angenehm, der Zugang zum Stapler ist geräumig und niedrig. Das Fahrzeug bietet ausreichend Stauraum. Besonders bemerkenswert sind die Sicherheitsmerkmale des GPC 3000. Per Laser Scanning überwacht der Stapler die Fahrstrecke, sobald die QuickPick-Funktion aktiv ist. Erkennt das System ein Hindernis, stoppt die Maschine automatisch, ist die Strecke wieder frei, setzt es seinen Weg fort. Die Crown GPC 3000 ist in der Lage, eine vorgewählte Seite (links, rechts oder gerade in der Mitte) des Ganges zu halten. Mögliche Hindernisse, wie etwa eine Palette, die nicht gerade im Regal steht, werden umfahren und der Kommissionierer kehrt automatisch wieder in die ursprüngliche Spur zurück (Auto Steer Correction). Die Produktivität wird so nur minimal beeinflusst.
In der QuickPick-Funktion fährt und beschleunigt der Crown aus Sicherheitsgründen langsamer. Statt einer maximalen Geschwindigkeit von in der Regel 12,5 km/h, ist die Geschwindigkeit auf das gesetzliche Maximum von 4,0 km/h begrenzt. Die Beschleunigungszeit auf einer Strecke von 10 Metern verdoppelt sich von 4,9 Sekunden auf 8,9 Sekunden.
Der Energieverbrauch im QuickPick-Modus ist mit minus 18 Prozent signifikant niedriger, gleichzeitig steigt die Produktivität, was auch der ruhigeren Fahrt zu verdanken ist.
Fazit
Das QuickPick-System von Crown erhöht  laut Aussage des Herstellers nicht nur die Produktivität, sondern verbessert auch den Komfort für den Kommissionierer. Der IFOY Test beweist, dass diese Aussage nicht übertrieben ist. Je höher die Kommissionierdichte, desto größer die Vorteile. Neben anderen Vorteilen, ermöglicht vor allem die einzigartige Auto Steer Correction-Funktion ein kontinuierliches, müheloses Kommissionieren.
Hard Facts
| | | | |
| --- | --- | --- | --- |
|   | Test Truck IFOY Test | Average other trucks | Value 1 to 10 |
| Productivity stand on (picks per hour) |  296 |  310 |  7 |
| Productivity remote (picks per hour) |  413 |  341 |  9 |
| Energy level stand on (kWh / 1000 picks) |  3,3 |  3,3 |  7 |
| Energy level remote (kWh / 1000 picks) |  2,7 |  2,7 |  7 |
| Driving speed stand on (km/h) |  12,3 |  12,0 |   |
| Driving speed remote (km/h) |  4,14 |  4,00 |   |
| Acceleration speed (time for 10 meters) |  4,9 |  5,1 |   |
| Acceleration speed remote (time for 10 meters) |  8,9 |  14,7 |   |
 8,9
Averages soft facts
| | |
| --- | --- |
| First impression |  8,60 |
| Load Safety |  8,00 |
| Entry / exit truck |  8,25 |
| Workingt position |  8,67 |
| Activate truck |  8,33 |
| Hydraulics |  8,00 |
| Steering |  7,29 |
| Sight |  8,00 |
| Driving & Turning |  8,25 |
| Parking truck |  8,33 |
| Safety elements |  8,50 |
| General after test |  8,38 |
| Sustainability |  8,00 |
|   |   |
| Total average soft facts |  8,20 |
| Total productivity |  8,00 |
| Total Energy consumption |  7,00 |
|   |   |
| Total result all facts |  7,85 |
IFOY Innovation Check
Der Crown Quick Pick Remote verfügt über einen speziellen Modus, der die Möglichkeit bietet, durch Tastendruck bis zum nächsten Entnahmepunkt des Kommissionierers vorzufahren, ohne dass sich der Bediener auf dem Fahrzeug befinden muss. Der entsprechende Taster ist in einem speziellen Handschuh integriert, wodurch der Bediener jederzeit beide Hände für die Kommissionierung frei hat. Der "QuickPick-Remote" Modus des Fahrzeugs wird automatisch abgeschaltet, sobald der Mitarbeiter die Fahrerplattform betritt, wodurch die Unfallgefahr reduziert wird.
Die auf dem Fahrzeug eingesetzte Palettenbreite kann über das Bedienpanel zwischen 810 mm und 1310 mm eingestellt werden. Die Laserüberwachte Kollisionssteuerung passt das Fahrverhalten in der Kommissioniergasse daraufhin automatisch an die geänderten Palettenbreite an und bewegt sich mit dem voreingestellten Abstand an den bereitgestellten Paletten, auf der rechten oder der linken Seite der Gasse, vorbei. Durch die Gangseitensteuerung des Fahrzeugs wird der Begegnungsverkehr innerhalb einer Gasse vereinfacht.  Mit der Lenkpuffersteuerung werden Hindernisse im Gang leicht erkannt und gezielt umfahren. Sie gewährleistet so einen ungestörten Arbeitsablauf.
Bewertung der Innovation
Der Crown QuickPick Stapler zeigt bei allen Neuerungen, dass die Lösungen konsequent bis zum Ende gedacht wurden. Die Einknopfbedienung mit dem dazugehörigen Handschuh, führt dazu, dass der Kommissionierer jederzeit beide Hände frei hat und gleichzeitig das Fahrzeug bequem und ergonomisch steuern kann.
Die automatische Abschaltung des QuickPick Remote beim Betreten der Fahrerplattform, die automatische Anpassung der Palettenbreite mit automatisch angepasster Kollisionssteuerung sowie die einstellbare Lenkpuffersteuerung, unterstützen den Mitarbeiter elementar in seiner täglichen Arbeit. Alles zusammen führt zu einer höchst innovativen Gesamtlösung, die nahezu alle Anforderungen an ein solches Fahrzeug abdeckt.
---
Datenblatt
Gerätetyp
Niederhubkommissionierer mit Fernbedienung
Technische Daten (alle Geräte)
| | |
| --- | --- |
| Antrieb | Elektro |
| Tragfähigkeit | 2000 kg |
| Eigengewicht | 967 kg |
| Bedienung | Stand |
| Fahrgeschwindigkeit mit Last | 9,5 km/h |
| Fahrgeschwindigkeit ohne Last | 12,5 km/h |
| Hubgeschwindigkeit mit Last | 0,05 m/s |
| Hubgeschwindigkeit ohne Last | 0,06 m/s |
| Senkgeschwindigkeit mit Last | 0,07 m/s |
| Senkgeschwindigkeit ohne Last | 0,07 m/s |
| Max.Hubhöhe | 240 mm |
| Energieverbrauch nach VDI-Arbeitsspiel | 0,74 kWh/h |
| Elektro-Trucks | |
| Batteriespannung | 24 V |
| Batteriekapazität | 465 Ah |
| Batterieanschluss | |
| Batteriegewicht | 383 kg |
| Leistung Fahrmotor | 2,5 kW |
| Leistung Hubmotor | 1,2 kW |
| Schlepper | |
| Nennzugkraft | - N |
| Kommissionierer/Kombigeräte | |
| Max. Greifhöhe | 1200 mm |
Sonstiges
Innovationen
Mit dem QuickPick Remote System kann der Bediener das Fahrzeug über eine drahtlose Fernbedienung mit nur einem Tastendruck zum nächsten Kommissionierplatz bewegen. Eine Sende- und Empfangseinheit am Stapler tauscht dabei ununterbrochen Signale mit dem Handschuh des Bedieners aus. Das System ist leicht einzurichten und erfordert weder Netzwerkbandbreite noch zusätzliche IT-Investitionen. Durch das Betreten der Plattform wird QuickPick Remote automatisch abgeschaltet und das Fahrzeug wird wieder zu einem standardmäßigen GPC 3000 Niederhub-Kommissionierer.
Über die Gangpositionierungs-Software kann die maximale Paletten- bzw. Lastbreite zwischen 810 und 1310 mm vorgegeben werden. Mit größerer maximaler Paletten- bzw. Lastbreite verbreitert sich auch die vom Laser auf Hindernisse überwachte Stopzone. Kunden können zudem die Position des Fahrzeugs relativ zur Gang-Entnahmeseite auswählen, um Begegnungsverkehre im Gang zu vereinfachen und den Arbeitsablauf zu verbessern. Die Ausrichtung kann zur nächstliegenden, zur linken oder rechten Gangseite oder mittig erfolgen. Um Stopps aufgrund in den Gang hineinragender Paletten und Gegenstände zu verhindern und den Arbeitsfluss nicht zu unterbrechen, lässt sich zwischen dem Fahrzeug und der Regal- bzw. Entnahmeseite eine Lenkpufferzone definieren. Die laserüberwachte Hinderniserkennung sowie eine automatische Lenkkorrektur verringern die Gefahr von Schäden und ermöglichen das reibungslose Durchfahren der Gänge.
Hauptziele der Entwicklung
QuickPick Remote wurde entwickelt, um in der Kommissionierung erhebliche Prozessoptimierungen zu ermöglichen und ineffiziente Bewegungsabläufe zu eliminieren.

Weniger Schritte
Beim herkömmlichen Kommissionieren kehren die Bediener ständig zum Fahrerstand zurück, um den Stapler weiterzubewegen. Untersuchungen unter Praxisbedingungen haben gezeigt, dass QuickPick Remote den Bedienern, verglichen mit herkömmlichen Hubwagen, pro Schicht bis zu 50% der Schritte erspart.

Weniger Tragen
In der Regel entnimmt ein Kommissionierer durchschnittlich 190 Teile pro Stunde und trägt dabei 5 bis 10 kg schwere Lasten. Mit QuickPick Remote ist die Strecke, über die Bediener eine Last tragen müssen, um bis zu 50% kürzer. Bei bis zu 10 Tonnen Transportlast pro Schicht bedeutet dies eine erhebliche Arbeitserleichterung.
Weniger Ein- und Aussteigevorgänge
Im Schnitt betritt ein Kommissionierer pro Schicht etwa 1.200 Mal den Fahrerstand. Ausrutsch-, Stolper- und Sturzunfälle führten zudem lt. einer EU-Studie von 2009 zu durchschnittlich 46 Ausfalltagen. QuickPick Remote reduziert die Ein- und Ausstiegsvorgänge um bis zu 70%. Mit der Fernbedienung kann der Bediener den Stapler in die optimal positionieren, ohne den Fahrerstand zu betreten.
Kundennutzen
QuickPick® Remote erleichtert die Arbeitsprozesse und ermöglicht so eine deutlich höhere Kommissionierleistung. Trotz dieser Leistungssteigerung profitieren die Bediener von weitaus geringeren körperlichen Belastungen. Die Zeit, die sie zu Fuß unterwegs sind, verringert sich um bis zu 50 Prozent, wobei die Strecke, über die sie eine Last tragen müssen, sich ebenfalls halbiert. Zudem können Ein- und Ausstiegsvorgänge um bis zu 70 Prozent reduziert werden. Durch die verbesserten Arbeitsabläufe können Bediener bei geringerem Risiko mit weniger Bewegungsabläufen mehr leisten. QuickPick® Remote steht demnach neben der erheblichen Produktivitätssteigerung auch für weniger ermüdende Tätigkeiten, weniger Unfälle und Verletzungen und eine höhere Mitarbeitermotivation. Geringere Ausfallzeiten und die damit verbundenen Kosteneinsparungen sowie die stärkere Mitarbeiterbindung unterstreichen die Effektivität des Systems.
QuickPick® Remote vereint Technologie, effiziente Arbeitsabläufe und menschliche Aktionen zu einem natürlichen, systematischen Kommissionierprozess. Ein Konzept zur Produktivitätssteigerung, bei dem der Bediener ohne Sicherheitseinbußen mit weniger Bewegungsabläufen mehr erledigen kann.
Sonderausstattung (IFOY Test-Gerät)
QuickPick Remote

Crown Gabelstapler GmbH & Co. KG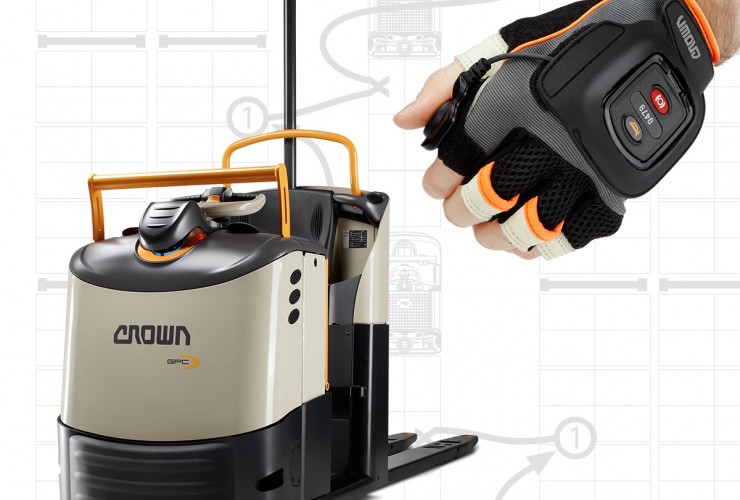 Increased productivity in low-level order picking with Crown QuickPick Remote
IFOY
IFOY Category
Warehouse Trucks
Short Characteristic
Crown QuickPick® Remote is a new order picking technology that improves on traditional order picking processes. The system combines a Crown GPC 3000 low-level order picker with an intuitive remote control device. By simplifying the working processes involved in low-level order picking, this new Crown solution improves productivity by up to 25 percent. The wireless remote control unit and its transceiver are incorporated into a special work glove. Operators can move the order picker forward at the touch of a button while keeping both hands free, without having to climb onto the truck's operator platform. Laser scanners built into the truck identify potential obstacles positioned directly in front or to either side of the vehicle, preventing collisions. Auto Steer Correction ensures that the order picker travels along aisles in a straight line and at a constant distance from the racks.
QuickPick® Remote offers potential for saving time, reducing stress and cutting costs. The system reduces the time operators must spend on truck platforms and the distances they must walk – now operators can move directly from one pick location to another. This significantly reduces the time required to fulfil each pick order. Order picking productivity is improved and order pickers can do more while moving less, without compromising safety.
Category: Warehouse Trucks
Video: Optimise your picking process with QuickPick Remote
---
| | |
| --- | --- |
| Truck Name |  Crown GPC 3040-2.0 |
| Truck Type |  Low Level Order Pick Truck |
| Date of Test |  IFOY 2014 |
Test Report
The Crown GPC 3000 order picker with QuickPick feature was originally launched in early 2013 but its availability was initially limited. It officially came onto the European market in February 2014 and is available in the version GPC 3000 QuickPick.
The QuickPick system is an autonomous system. Once linked up, all communication is between the picker and the glove. Unlike in conventional pickers, the employee does not climb onto the picker to drive to the next picking station. Instead, he uses a button in his glove to navigate the truck to the next stopping point and walks alongside the truck. Thanks to the glove solution, the employee has both hands free and can perform picking operations with maximum ease. Research by Crown shows that this saves time, making the picking process up to 28 percent more efficient and also more safer. Convenience of operation is also enhanced.
The IFOY test with the Crown GPC 3000 confirms this assessment, provided that the picking points are not too far apart. With average distances, the system is roughly 10 percent more productive than when the operator is on-truck. The shorter the distances, the greater the benefits of the system, increasing to between 21 and 39.5 percent with average distances of 4 metres.
What is conspicuous is that the process is quieter, smoother and more controlled. Operation via the glove is logical and intuitive. The use of the QuickPick concept makes the process noticeably less tiring for the operator. The glove is washable.
Where the distances between the picking points are greater, the concept is just as productive as the conventional method. The operator recognises intuitively when it is better to ride along on the truck or to use the QuickPick function.
The Crown has an appealing design with distinctive curves, and the machine is superbly finished using solid materials. The tiller is well arranged and operates smoothly, and the entry to the truck is spacious and low. The vehicle offers sample storage space.
The safety features of the GPC 3000 are particularly worthy of note. Laser scanners on the forklift truck monitor the transport route as soon as the QuickPick feature is active. If the system detects an obstacle, the machine stops automatically, continuing on its way once the route is clear once again.
The Crown GPC 3000 is able to keep to a preselected side of the aisle (left, right or straight down the middle). Potential obstacles, like a pallet that is not in the shelf, are avoided, and the order picker then automatically returns to its original "lane" (Auto Steer Correction). This ensures minimum impact on productivity.
In QuickPick mode, the Crown drives and accelerates more slowly for safety reasons. The speed is limited to the legal maximum of 4 kmh instead of the maximum speed of generally 12.5 kmh. Acceleration time over a distance of 10 metres is then doubled from 4.9 seconds to 8.9 seconds.
Energy consumption in QuickPick mode is significantly lower (-18 percent), but productivity increases - also due to the smoother journey.
Summary
According to Crown, the QuickPick system not only boosts productivity but also makes for improved operator convenience. The IFOY test shows that this is no exaggeration. The higher the picking density, the greater the benefits. In addition to offering other advantages, the unique Auto Steer Correction feature above all ensures continuous and effortless order picking.
Hard Facts
| | | | |
| --- | --- | --- | --- |
|   | Test Truck IFOY Test | Average other trucks | Value 1 to 10 |
| Productivity stand on (picks per hour) |  296 |  310 |  7 |
| Productivity remote (picks per hour) |  413 |  341 |  9 |
| Energy level stand on (kWh / 1000 picks) |  3,3 |  3,3 |  7 |
| Energy level remote (kWh / 1000 picks) |  2,7 |  2,7 |  7 |
| Driving speed stand on (km/h) |  12,3 |  12,0 |   |
| Driving speed remote (km/h) |  4,14 |  4,00 |   |
| Acceleration speed (time for 10 meters) |  4,9 |  5,1 |   |
| Acceleration speed remote (time for 10 meters) |  8,9 |  14,7 |   |
 8,9
Averages soft facts
| | |
| --- | --- |
| First impression |  8,60 |
| Load Safety |  8,00 |
| Entry / exit truck |  8,25 |
| Workingt position |  8,67 |
| Activate truck |  8,33 |
| Hydraulics |  8,00 |
| Steering |  7,29 |
| Sight |  8,00 |
| Driving & Turning |  8,25 |
| Parking truck |  8,33 |
| Safety elements |  8,50 |
| General after test |  8,38 |
| Sustainability |  8,00 |
|   |   |
| Total average soft facts |  8,20 |
| Total productivity |  8,00 |
| Total Energy consumption |  7,00 |
|   |   |
| Total result all facts |  7,85 |
IFOY Innovation Check
The Crown Quick Pick Remote is equipped with a special mode that permits the picking truck to move on to the next picking point at the press of a button without the operator having to be on-board. The button is integrated in a special glove, which means that the operator always has both hands free for picking routines.
The "QuickPick Remote" mode is automatically switched off as soon as the driver steps onto the platform, thereby reducing the accident risk.
The pallet width used on the truck can be adjusted between 810 mm and 1310 mm on the control panel. The laser-monitored collision control function then automatically adjusts truck handling in the order picking aisle to suit the changed pallet width, automatically passing the waiting pallets on the right or left-hand side of the aisle at the preset distance.
The aisle-side control feature greatly simplifies oncoming traffic situations on transport routes.
The steering buffer control ensures that obstacles in the aisle are easily detected and systematically avoided, thereby guaranteeing uninterrupted wok routines.

Assessment of innovation
All the innovations in the Crown QuickPick forklift truck have clearly been thought through. One-button operation via a glove means that the operator always has both hands free and can control the truck conveniently and ergonomically.
Automatic switch-off of the QuickPick Remote when the driver steps onto the platform, automatic adjustment of pallet width with automatically adaptive collision control and adjustable steering buffer control are all elements that meaningfully support personnel in their day-to-day work All these aspects come together to create an extremely innovative and integrated solution that meets virtually all the requirements for a vehicle of this kind.
---
Data Sheet
Truck Model
Low Level Order Picker with Remote Control
Technical Data (all trucks)
| | |
| --- | --- |
| Truck Type | electro |
| Lift capacity/load | 2000 kg |
| Truck weight | 967 kg |
| Operation | stand-on |
| Driving speed with load | 9,5 km/h |
| Driving speed without load | 12,5 km/h |
| Lifting speed with load | 0,05 m/s |
| Lifting speed without load | 0,06 m/s |
| Lowering speed with load | 0,07 m/s |
| Lowering speed without load | 0,07 m/s |
| Max. lift height | 240 mm |
| Power consumption according to VDI cycle | 0,74 kWh/h |
| Electro-trucks | |
| Battery voltage | 24 V |
| Battery capacity | 465 Ah |
| Battery connector | |
| Battery weight | 383 kg |
| Drive motor | 2,5 kW |
| Lift motor | 1,2 kW |
| Tow Truck | |
| Nominal towing capacity | - N |
| Orderpicking/Combitrucks | |
| Max. picking height | 1200 mm |
Miscellaneous
Innovations
Using the QuickPick Remote system, operators can move their trucks from one pick location to another by touching a button on their wireless remote control – transceivers mounted on the truck and in the operator's work glove are constantly exchanging signals. The system is easy to set up and does not require any network bandwidth or additional IT investment. Stepping onto the platform automatically deactivates the QuickPick Remote system, turning the truck back into a standard GPC 3000 low-level order picker.
The system's Aisle Positioning software can be used to specify maximum pallet or load widths, from 810 to 1310 mm. The higher the maximum pallet/load width setting, the broader the stop zone monitored for obstacles by the truck's laser scanners. Customers can also select the position of the truck relative to the aisle pick face, leaving sufficient clearance for trucks to pass while simultaneously enhancing workflow. Trucks can be positioned relative to the nearest pick face, or in the centre or on the left or right sides of the aisle. To maintain a smooth workflow and avoid nuisance stops caused by pallets or other objects protruding into the aisle, operators can also define a minimum steer bumper zone between truck and rack/pick face. Laser proximity sensors and automatic steer correction minimise the risk of collisions and keep the truck moving smoothly along the aisle.
Main goals for development
QuickPick Remote was designed to deliver substantial improvements in the order picking process and eliminate inefficient patterns of movement.
Less walking
In traditional order picking applications, operators must constantly return to the control platform to move the truck forward. Studies in real-world conditions have shown that QuickPick Remote can reduce the number of steps walked by operators by up to 50 percent per shift compared to conventional pallet trucks.

Less carrying
Typically, an order picker makes on average 190 picks per hour, carrying loads of 5-10 kilograms per pick. QuickPick Remote can reduce the distance over which operators must carry their loads by up to 50 percent. When the cumulative load carried per shift amounts to as much as 10 tonnes, this represents a huge improvement in working conditions.

Less climbing on/off
Typically, an order picker climbs onto a truck's control platform around 1,200 times per shift. In 2009, an EU study found that accidents involving slipping, stumbling and falling resulted in 46 days lost on average. QuickPick Remote cuts the number of times operators must climb on/off truck platforms by up to 70 percent. Instead of using the platform, they can use the remote control to move the truck into the optimal picking position.
User benefits
QuickPick® Remote simplifies working processes, resulting in significantly higher order picking performance. Despite this improved performance, operators are subjected to considerably less physical stress. The time they spend walking is reduced by up to 50 percent while halving the distance over which they must carry loads. They also spend up to 70 percent less time climbing on/off operator platforms. Thanks to this improved workflow, operators can get more done with significantly greater economy of motion and less personal risk. QuickPick® Remote is all about boosting productivity while simultaneously making order picking activities less tiring, reducing accidents and injuries, and improving employee motivation. The corresponding reduction in downtime and associated costs highlights the system's effectiveness.
QuickPick® Remote brings together technology, streamlined workflow and efficient human motion to create a natural, systematic order picking process. A highly effective system for enhancing productivity, enabling operators to get more done with fewer movements and without compromising their own or their colleagues' health and safety.
Optional items (IFOY Test Truck)