IFOY Patronage
IFOY Sponsor
NIMMSTA Light Tag

NIMMSTA GmbH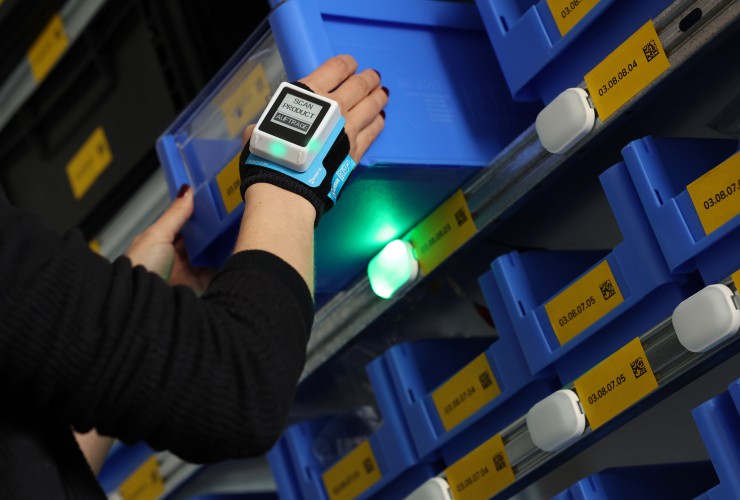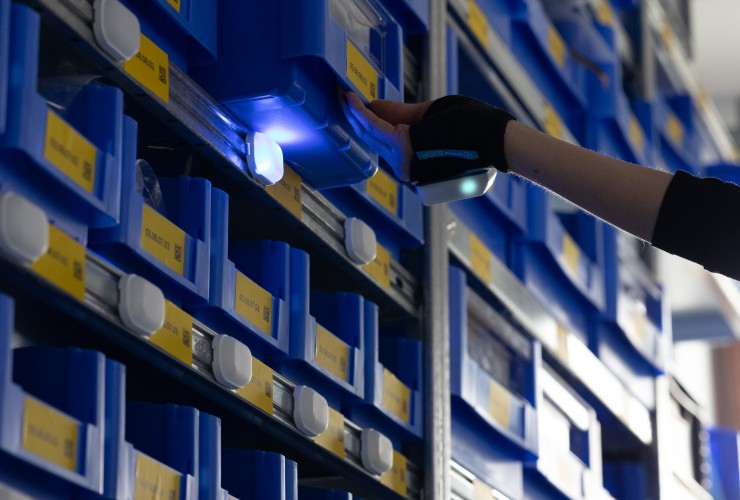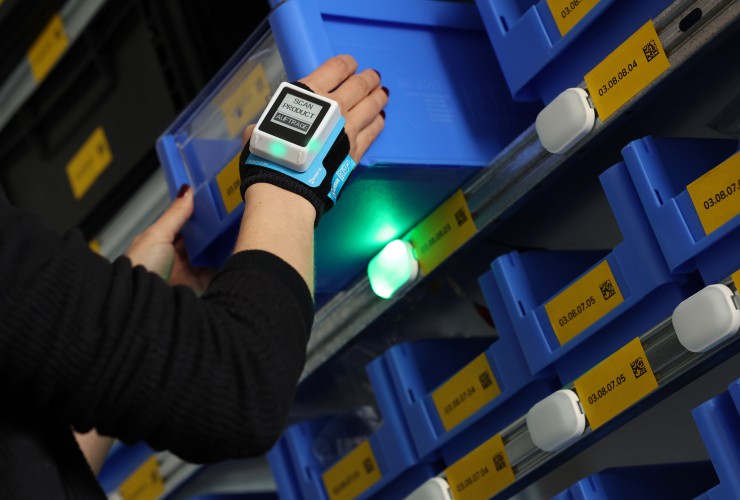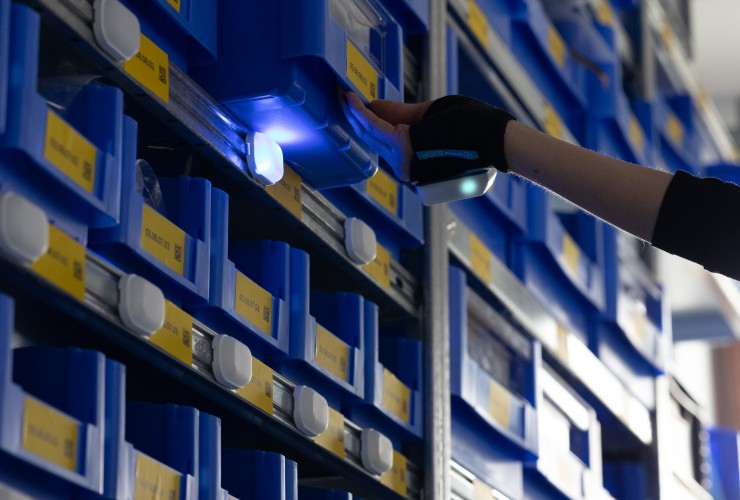 NIMMSTA Light Tags und Industrial Smart Watch führen zu 80% mehr Effizienz.
NIMMSTA
IFOY-Kategorie
Special of the Year
Zusammenfassung
Die NIMMSTA Light Tags stellen einen völlig neuen Ansatz einer Pick-by-Light-Lösung dar, die ohne Integrationsaufwand und in Kombination mit der NIMMSTA Industrial Smart Watch bis zu 80% mehr Effizienz erreicht.
Beschreibung
Der Lösungsansatz ist völlig neu gedacht, denn in den Light Tags sind allein akkubetriebene LEDs verbaut, welche in unterschiedlichen Farben und Mustern leuchten. Die ganze Logik steckt im NIMMSTA Wearable, welches der Werker direkt am Körper trägt. Durch diese Kombination werden alle intralogistischen Prozesse digital und effizienter.
Über Bluetooth wird in der NIMMSTA App jedem Light Tag einmalig eine Location zugeordnet und schließlich wird das Light Tag an dem entsprechenden Lagerplatz lediglich mit einem Klebestrip angebracht. Sobald der Werker über die NIMMSTA Smart Watch zur Location 1 geschickt wird und sich dieser im Radius von 10m der Location 1 nähert, leuchtet die NIMMSTA Smart Watch und das Light Tag in der gleichen Farbe und Muster.
Durch die Freehand-Workflows und der Pick-by-Light Lösung mit den Light Tags wird der gesamte Workflow bis zu 80% effizienter, denn der Lagerplatz ist zusätzlich unmittelbar visuell erkennbar. Dabei ermöglicht das NIMMSTA Wearable eine 50-prozentige Effizienzsteigerung und die Light Tags tragen 30% bei.
Innovation
Besonders hervorzuheben ist, dass kein Integrationsaufwand entsteht. Herkömmliche Pick-by-Light Systeme sind extrem aufwändig und kostenintensiv zu implementieren, sowohl softwareseitig als auch die Elektronik bzw. Verkabelung an den Regalen. Die NIMMSTA Pick-by-Light-Lösung ist simple und smart: das Smarte befindet sich eben nicht im Light-System, sondern in der Industrial Smart Watch und diese spricht lediglich das entsprechende Light Tag an. Mit NIMMSTA werden somit alle Prozesse in Freehand-Workflows transformiert.
Marktrelevanz
Alle Unternehmen, die intralogistische Prozesse haben bzw. Ware von A nach B bewegen, also insbesondere der Industriesektor, zählen zur Zielgruppe. Allein in Deutschland setzten 2020 Unternehmen des Verarbeitenden Gewerbes 2,1 Billionen Euro um und die Zahl aller in diesem Sektor beschäftigten Personen lag bei 7,5 Millionen. An der Spitze liegt der Automobilbau. Das Potenzial für NIMMSTA ist damit extrem groß. Ziel von NIMMSTA ist es, nicht nur einen Prozessschritt, sondern die gesamte Wertschöpfungskette zu optimieren. Im Fokus steht mehr Effizienz für die Kunden zu schaffen, Qualität zu liefern, sowie die Produktivität und das Wachstum der Kunden zu sichern und zugleich die Situation der Mitarbeiter und der Umwelt zu verbessern.
Hauptvorteile für den Kunden
Die Hauptvorteile im Überblick:
Effizienzsteigerung von bis zu 80%.
Kein Integrationsaufwand.
Extrem kostengünstige Pick-by-Light-Lösung.
Keine Verkabelung am Regal nötig.
Einfache Anbringung über einen Klebestripe am Lagerplatz.
Alle Farben und Muster möglich.
Ansteuerung durch NIMMSTA Industrial Smart Watch.
Akkulebensdauer: 3 bis 5 Jahre.
Technische Daten
NIMMSTA Light Tag

NIMMSTA GmbH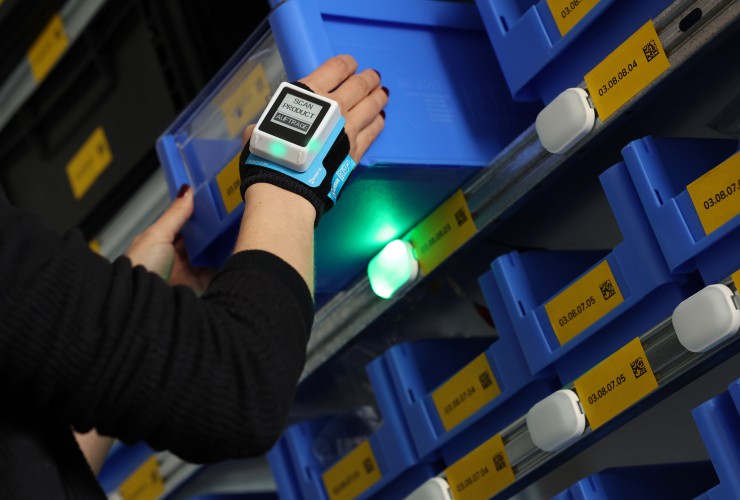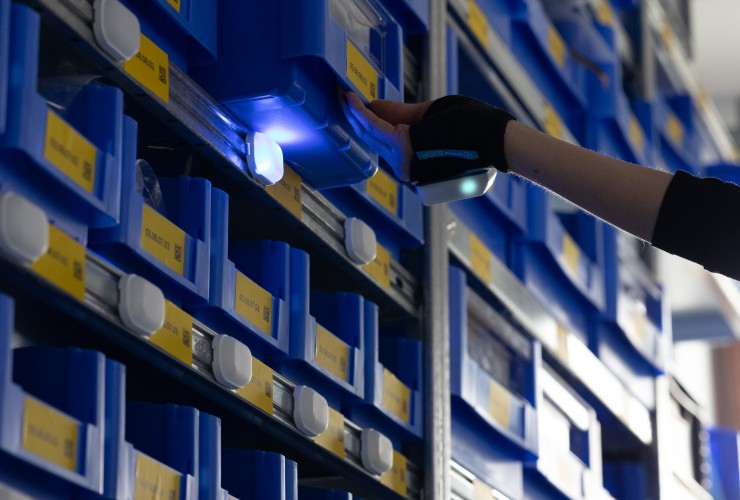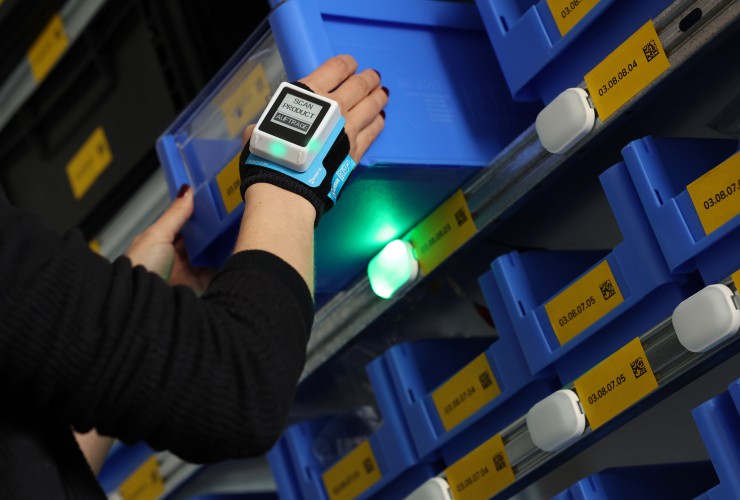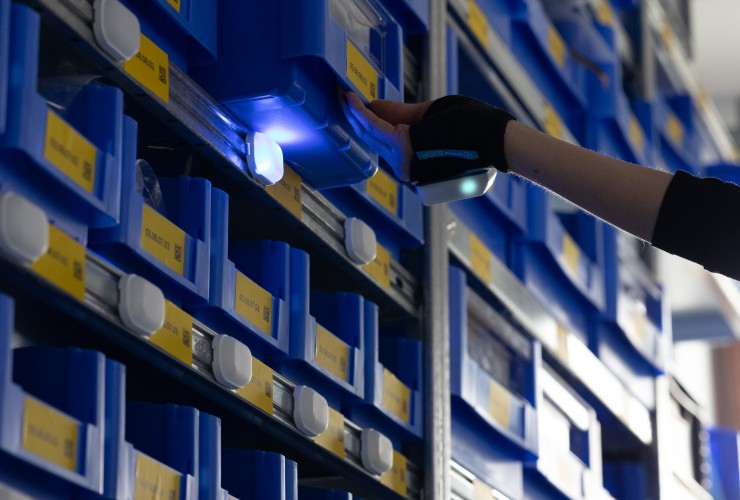 NIMMSTA Light Tags and Industrial Smart Watch increase efficiency by 80%.
NIMMSTA
IFOY category
Special of the Year
Summary
The NIMMSTA Light Tags represent a completely new approach to a pick-by-light solution that achieves up to 80% more efficiency without integration effort and in combination with the NIMMSTA Industrial Smart Watch.
Description
The approach to the solution is completely new, because the Light Tags are equipped only with battery-powered LEDs that light up in different colors and patterns. The entire logic is in the NIMMSTA wearable, which the worker wears directly on his body. This combination makes all intralogistics processes digital and more efficient.
Via bluetooth, a location is assigned once to each Light Tag in the NIMMSTA app and finally the Light Tag is simply attached to the corresponding storage location with an adhesive strip. As soon as the worker is sent to Location 1 via the NIMMSTA Smart Watch and approaches within a 10-meter radius of Location 1, the Smart Watch and the Light Tag light up in the same color and pattern.
By combining freehand workflows and the pick-by-light solution with the Light Tags, the entire workflow becomes up to 80% more efficient because the storage location is also immediately visually identifiable. In this process, the NIMMSTA Wearable enables a 50% increase in efficiency and the Light Tags contribute 30%.
Innovation
Particularly worth highlighting is the fact that no integration effort is required. Conventional pick-by-light systems are extremely complex and cost-intensive to implement, both on the software side and the electronics or cabling on the shelves. The NIMMSTA Pick-by-Light solution is simple and smart: the smart part is not in the light system, but in the Industrial Smart Watch, which only addresses the corresponding Light Tag. With NIMMSTA, all processes are transformed into freehand workflows.
Marktet relevance
All companies that have intralogistic processes or move goods from A to B, i.e. in particular the industrial sector, are part of the target group. In Germany alone, companies in the manufacturing sector turned over 2.1 trillion euros in 2020 and the number of all people employed in this sector was 7.5 million. Automotive manufacturing is at the top of the list. The potential for NIMMSTA is thus extremely large. The aim of NIMMSTA is to optimize not just one process step, but the entire value chain. The focus is on creating more efficiency for customers, delivering quality, and ensuring customer productivity and growth while improving the situation for employees and the environment.
Main customer benefits
The main advantages at a glance:
Efficiency increase of up to 80%.
No integration effort.
Extremely cost-effective pick-by-light solution.
No wiring necessary at the rack.
Easy mounting via an adhesive stripe at the storage location.
All colors and patterns possible.
Control by NIMMSTA Industrial Smart Watch.
Battery life: 3 to 5 years.
Technical data