IFOY Patronage
IFOY Sponsor
F4-1000C

Hangzhou Hikrobot Co., Ltd.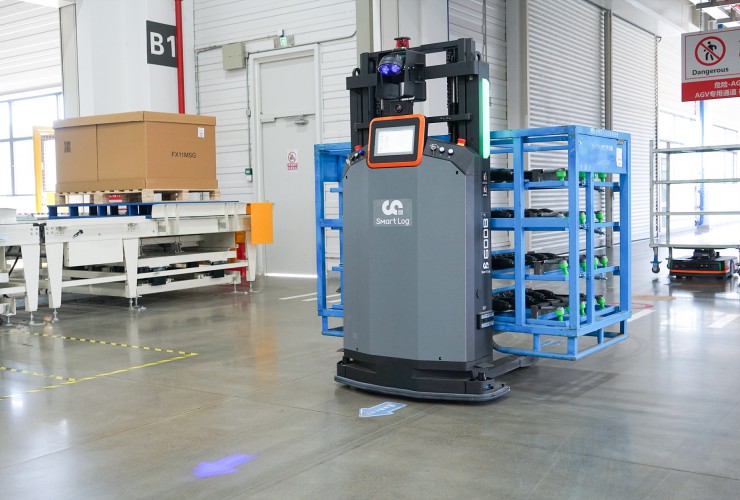 Hangzhou Hikrobot: F4-1000-C.
Hangzhou Hikrobot
IFOY-Kategorie
Automated Guided Vehicle (AGV / AMR)
Zusammenfassung
Der F4-1000C ist ein Forklift Mobile Robot (FMR), der speziell für Anwendungen in schmalen Gängen entwickelt wurde. Er arbeitet autonom auf engem Raum und maximiert so die Nutzungsrate des Lagerraums. Als Alternative zu herkömmlichen Lagerstaplern läuft der F4-1000C mit einem 48V/70Ah-Akku problemlos 6 bis 8 Stunden pro Aufladung. Mit seinen zahlreichen Sicherheitsvorkehrungen und seiner intelligenten Ausweichfunktion bewegt und stapelt er Materialien stabil und effektiv. Die Operator müssen sich keine Sorgen um ihre Sicherheit machen. Mit einer Tragfähigkeit von 1,0 Tonnen ist er die perfekte Lösung für Materialtransportaufgaben in der Automobil-, Fertigungs- und Unterhaltungselektronikindustrie.
Unter der gleichen Kontrolle des selbst entwickelten Robotersteuerungssystems (RCS) arbeitet der F4-1000C mit verschieden AMRs auf optimierten Routen, um Staus zu vermeiden und die Arbeitseffizienz um das zwei- bis dreifache zu verbessern.
Beschreibung
Geeignet für schmale Gänge und zur Erhöhung der Lagerdichte: Der F4-1000C ermöglicht eine Stapelgangbreite der Standardpaletten (1000 mm x 1200 mm) von 2052 mm. Zusammen mit seiner kompakten Größe läuft er flink in engen Gängen und verbessert die Lagerauslastung erheblich.
Starke Leistung, kompakte Größe und große Tragfähigkeit: Mit Hilfe des intelligenten Lagerverwaltungssystems reduziert der kompakte 1-Tonnen-Stapler F4-1000C effektiv die Anzahl der Materialtransportzeiten und verbessert die Effizienz des Lagerbetriebs erheblich.
Mehrfacher Sicherheitsschutz & zuverlässige Leistung: Der F4-1000C ist mit mehreren Sicherheitsvorrichtungen ausgestattet, wie z. B. einem Laser zur Hinderniserkennung, einer Notausschalter usw., um die Sicherheit der Zusammenarbeit zwischen Mensch und Maschine zu gewährleisten. Darüber hinaus ist er vollständig CE-zertifiziert.
Innovation
Bei der Konstruktion eines herkömmlichen Gabelstaplers oder Lagertechnikgerätes muss der Fahrraum des Operators berücksichtigt werden. Daher ist die Größe eines herkömmlichen Lagertechnikgeräts sehr groß, und benötigt zudem viel Platz. Da FMR zunehmend für die Handhabung von Paletten oder in Lagerregalen werden, hat Hikrobot einen kompakten mobilen Gabelstaplerroboter mit einem Fahrgestell von nur 400 mm entwickelt, der in schmale Gänge passt und die Raumnutzung maximiert.
Hebegenauigkeit: ±2 mm: Der FMR kann Regale/Paletten autonom anheben und zu einem voreingestellten Zielort bewegen. Danach können die Gabeln des FMR sicher zurückgezogen werden.
Positioniergenauigkeit: ±5 mm: Der FMR kann präzise an einer voreingestellten Position anhalten.
Multi-FMR-Konsistenz: ±10 mm: Mehrere FMRs können gleichzeitig zusammenarbeiten, um voreingestellte Paletten wiederholt anzuheben und abzusenken.
Flexibilität bei der visuellen Erkennung: ±5 mm: Der FMR kann verschiedene Paletten mit unterschiedlichen Materialien und Farben erkennen.
Marktrelevanz
Wie herkömmliche Lagertechnikgeräte oder Gabelstapler sind autonome Stapler für Materialtransportaufgaben in Lagern mit Hochregalen, Be- und Entladedocks, entlang von Produktionslinien in der Automobil-, Fertigungs-, Logistik-, neuen Energie-, Tabak- und anderen Industrien konzipiert.
Der F4-1000C ist eines der autonomen Lagertechnikgeräte, das speziell für Schmalganganwendungen mit kompakter Größe entwickelt wurde. Im Vergleich zu anderen autonomen Lagertechnikgeräten auf dem Markt benötigt er weniger Betriebsfläche, was die Lagerkapazität in vertikalen Lagern erheblich verbessert. Für die Anwendungen in der Fertigungsindustrie passt er sich an verschiedene Szenarien und WIT-Lagern an, wie z.B. an Förderbänder, Aufzüge usw.
Zusammen mit dem selbst entwickelten intelligenten Lagerverwaltungssystem (iWMS) und dem Robotersteuerungssystem (RCS) hilft der F4-1000C Herstellern/Einzelhändlern, die Produktion zu standardisieren und die Lagerverwaltung zu verbessern. Mit seiner intuitiven Benutzeroberfläche reduziert das iWMS die Rücklaufquote mit einer hohen Kommissioniergenauigkeit von bis zu 99,99%. Es dockt nahtlos an das übergeordnete System des Kunden an und ermöglicht die Optimierung der Kommissionierung mit intelligenten Algorithmen wie Smart Batching und SKU Velocity Management. Das RCS übernimmt die Clustersteuerung, Verkehrssteuerung und Routenoptimierung für mehrere mobile Roboter wie den F4-1000C.
Derzeit machen es die Gig-Economy und der Arbeitskräftemangel den Lagern schwer, erfahrene Staplerfahrer auf dem Markt zu finden. Zunehmende Aufträge und höherer Durchsatz bedeuten, dass in Lagern und Werkstätten ein 24/7-Betrieb erforderlich ist. Die Staplerfahrer müssen im Schichtbetrieb arbeiten, um mit der Nachfrage Schritt zu halten. Im Vergleich zu manuellen Warehouse Trucks ist unser F4-1000C einfach zu bedienen und erfordert wenig Lernaufwand. Ausgestattet mit einem 360°-Sicherheitsschutz und einer intelligenten Hindernisvermeidung ist er für die Bediener sicher genug, um mit ihm zu arbeiten.
Mit den Vorteilen, die autonome Flurförderzeuge mit sich bringen, der kontinuierlichen Optimierung rechnet man damit, dass sich in Zukunft mehr potenzielle Nutzer für die Automatisierung ihres Lagers entscheiden werden.
Hauptvorteile für den Kunden
Autoindustrie A:
Der F4-1000C eignet sich perfekt für Anwendungen in schmalen Gängen und bietet einen hocheffizienten Materialtransport, der sich an Gangbreiten von bis zu 2050 mm anpasst.
Der F4-1000C ist eine perfekte Alternative zu manuellen Flurförderzeugen, die die Produktionseffizienz erheblich steigert und mit der schnelllebigen automatisierten Produktion Schritt hält.
Der F4-1000C verbindet sich mit den Aufgaben anderer FHR, um die vorab zugewiesene Aufgabe zu übernehmen und plant die Route unter Berücksichtigung der anderen FMR. Auf diese Weise kann eine geordnete Umgehung von mehreren FMR und ein hocheffizienter Betrieb mehrerer FMR realisiert werden.
Autoindustrie B
Der F4-1000C befördert fast 40 Arten von Warenträgern aus dem WIT-Lager zu den Förderlinien.
Der F4-1000C dockt präzise an die Rollenbahnen im Fertigwarenlager an, und die Genauigkeit der Regal- und Palettenplatzierung auf einer Seite kann bis zu 20 mm betragen.
Der F4-1000C erkennt mehr als 60 Palettentypen in einem vertikalen Lager und plant die Regalplatzierung selbstständig durch visuelle Erkennung.
Der F4-1000C senkt die Arbeitsintensität der Intralogistikmitarbeiter und hilft Unternehmen bei der Lagerautomatisierung, indem er die Fähigkeit zur intelligenten Fertigung mit einem hohen ROI von 1 bis 2 Jahren verbessert. Mit dem kompakten F4-100C für Hochregallager mit hoher Lagerdichte wird die Flächenproduktivität erheblich verbessert und die Lagerkapazität um mindestens 30% erhöht.
Technische Daten
Konkurrenzprodukte
keine Angaben / no comment
Video:
F4-1000C Being Tested at the DC of B. Braun Group Spanish subsidiary
F4-1000C

Hangzhou Hikrobot Co., Ltd.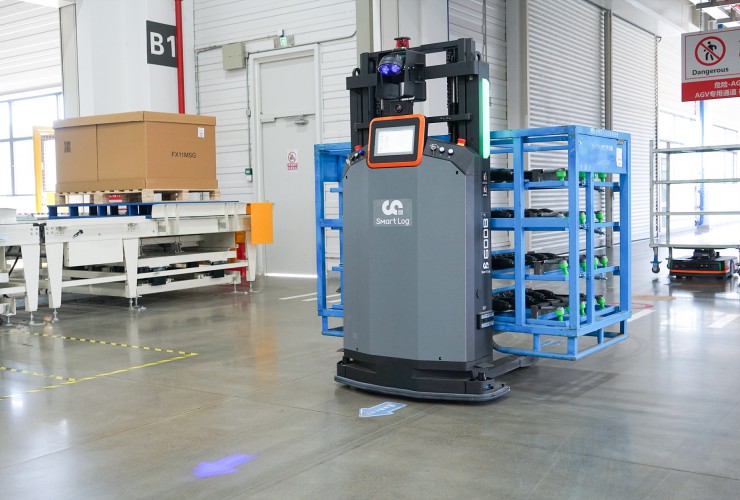 Hangzhou Hikrobot: F4-1000-C.
Hangzhou Hikrobot
IFOY category
Automated Guided Vehicle (AGV / AMR)
Summary
The F4-1000C is a forklift mobile robot (FMR) specially designed for narrow aisle applications, it runs autonomously in confined spaces, maximizing the utilization of warehouse storage. As an alternative to traditional warehouse stackers, the F4-1000C easily runs for 6 to 8 hours per charge on a 48V/70Ah long-life battery. Featuring multiple safety protections and intelligent avoidance ability, it moves and stacks materials stably and effectively. There is no need for operators on-site to worry about their safety. With a load capacity of 1.0 tons, it is the perfect fit for material handling tasks in the automotive, manufacturing and consumer electronics industries.
Under the same control of our self-developed robot control system (RCS), the F4-1000C works with multiple types of autonomous mobile robots with optimized routes to avoid traffic jams and improve working efficiency by two to three times.
Description
Suitable for narrow aisle applications, enhancing warehouse density: The F4-1000C allows the stacking aisle width of standard pallets (1000 mm x 1200 mm) to be 2052 mm. Along with its compact size, it runs nimbly in narrow aisles and greatly improves warehouse utilization rate.
Strong Performance, Compact Size & Large Load Capacity: By docking with the intelligent warehouse management system, the 1.0-ton compact-sized F4-1000C effectively reduces the number of material handling times and greatly improves warehouse operation efficiency.
Multiple Safety Protection & Reliable Performance: The F4-1000C is equipped with multiple safety protections, such as an obstacle detection laser, emergency stop button, etc., to ensure the safety of human-machine collaboration. In addition, it is fully certified by CE.
Innovation
When designing a traditional forklift or warehouse truck, the driving space of the operator must be taken into consideration. Therefore, the overall size of a traditional warehouse truck is large, and it requires large areas to work on. As autonomous forklifts are gradually used to handle pallets or racks in warehouses, Hikrobot has developed a compact-sized forklift mobile robot with a chassis of only 400 mm that can fit into narrow aisles and maximize field utilization.
Lifting accuracy: ±2 mm: The FMR can autonomously lift and move racks/pallets to a preset destination. Afterwards, the FMR's forks can be safely retracted.
Positioning accuracy: ±5 mm: The FMR can stop precisely at a preset position.
Multi-FMR consistency: ±10 mm: Multiple FMRs can work together to repeatedly lift and lower preset pallets.
Flexibility in visual recognition: ±5 mm: The FMR can recognize different pallets with different materials and colors.
Marktet relevance
Same as traditional warehouse trucks or forklifts, autonomous stackers are designed for material handling tasks in warehouses with high racks, loading and unloading docks, along production lines for the automotive, manufacturing, logistics, new energy, tobacco and other industries.
The F4-1000C is one of the autonomous warehouse trucks specially designed for narrow aisle applications with compact size. Compared with other autonomous warehouse trucks on the market, it requires less operation space, which greatly improves the storage capacity for vertical warehouses. As for applications in the manufacturing industry, it adapts to various scenarios and seamlessly docks with equipment in WIT warehouses, such as conveyors, elevators, etc.
Together with the self-developed intelligent warehouse management system (iWMS) and robot control system (RCS), the F4-1000C helps manufacturers/retailers to standardize production and improve warehouse management. With an intuitive interface, the iWMS effectively reduces return rates with high picking accuracy of up to 99.99%. It seamlessly docks with customers' upper-level systems and enables order picking optimization with intelligent algorithms, such as smart batching and SKU velocity management. The RCS performs cluster control, traffic control and route optimization for multiple mobile robots such as the F4-1000C.
In addition, the gig economy and labor shortage make it difficult for warehouses to find experienced forklift operators in the market. Increasing orders and higher throughput mean that 7/24 operations are required in warehouses and workshops. Operators must work shifts to keep up with demand. Compared to manual warehouse trucks, our F4-1000C is easy to operate and requires little learning. Equipped with 360° safety protection and intelligent obstacle avoidance, it is safe enough for operators to work with.
With all the benefits that autonomous warehouse trucks bring and continuous optimization, more potential users will choose to automate their warehouses in the future.
Main customer benefits
Automobile industry A
The F4-1000C is perfect for narrow aisle applications to provide highly efficient material handling that adapts to aisle widths as narrow as 2050 mm.
The F4-1000C is an alternative to manual warehouse trucks, greatly improving production efficiency and keeping pace with fast-paced automated production.
The F4-1000C connects with the tasks of other FMRs to assign the pre-assigned task and plans the path based on the judgement of the movements of other FMRs. In this way, orderly avoidance of multiple FMRs and highly efficient operation of multiple FMRs can be realized.
Automobile industry B
The F4-1000C moves nearly 40 types of supplier incoming carriers from the WIT warehouse to the conveyor lines.
The F4-1000C precisely docks with roller conveyors in the finished product warehouse, and the rack and pallet placement accuracy on one side can be as accurate as 20mm.
The F4-1000C recognizes more than 60 types of pallets in a vertical warehouse and plans the rack placement independently by visual recognition.
The F4-1000C reduces the labor intensity of intralogistics staff and helps companies automate warehouses by improving smart manufacturing capability with a high ROI of 1 to 2 years. The compact F4-100C for high-density warehouses significantly improves space productivity and increases storage capacity by at least 30%.
Technical data
Competitive products
keine Angaben / no comment
Video:
F4-1000C Being Tested at the DC of B. Braun Group Spanish subsidiary