IFOY Patronage
IFOY Sponsor
The VDMA Materials Handling and Intralogistics Sector Association is sponsor of the International Forklift Truck of the Year (IFOY).
RX 60

STILL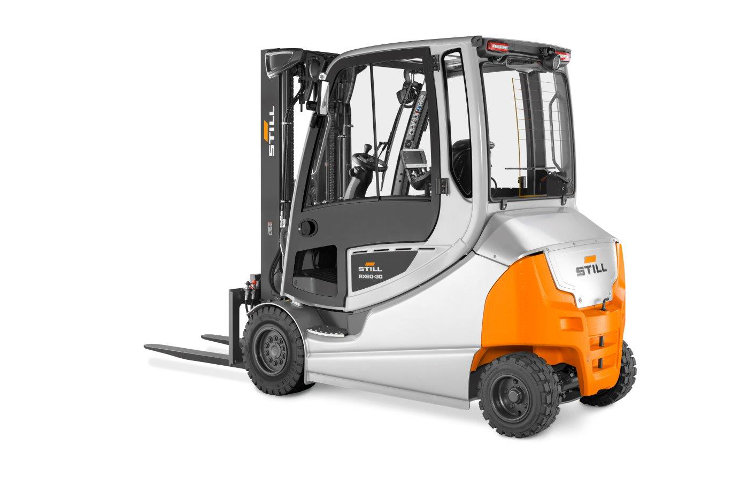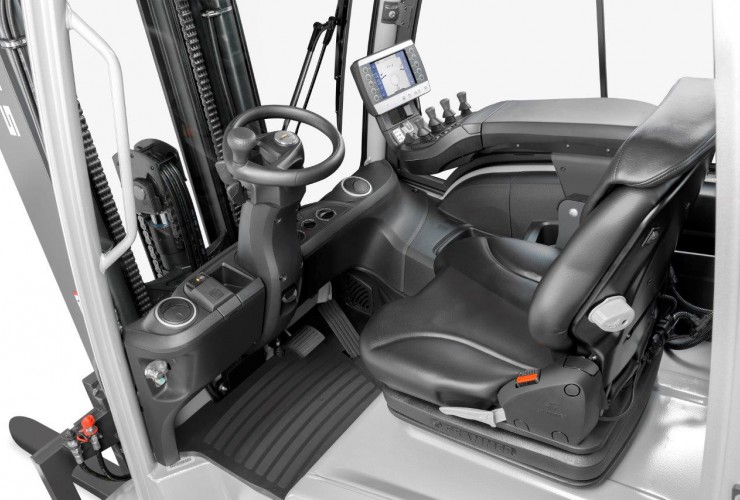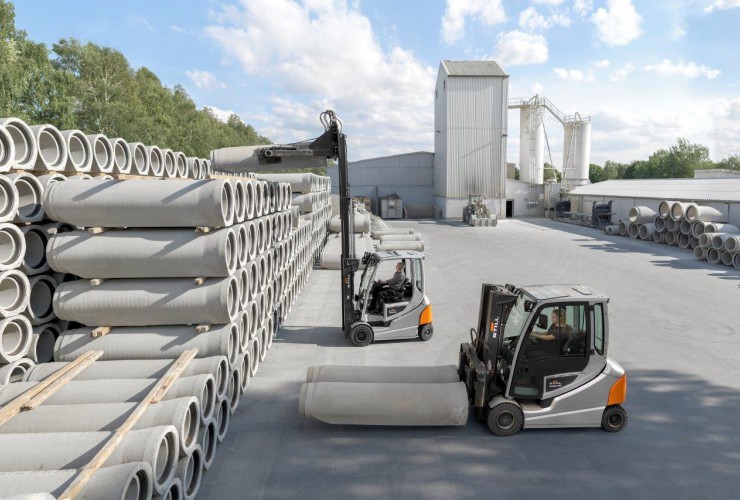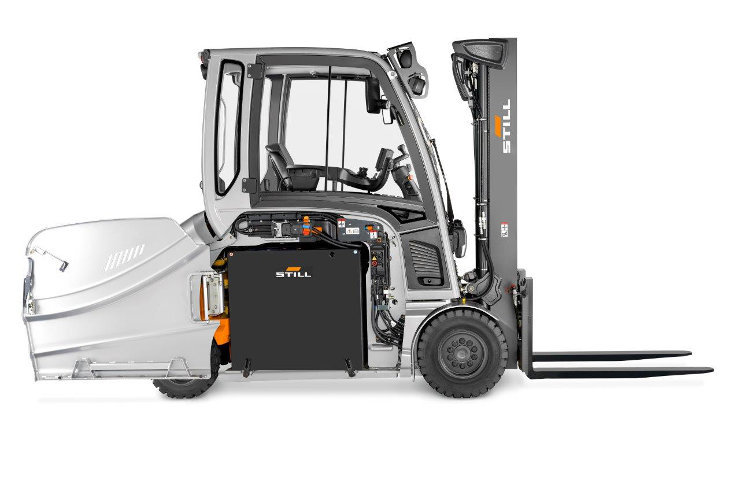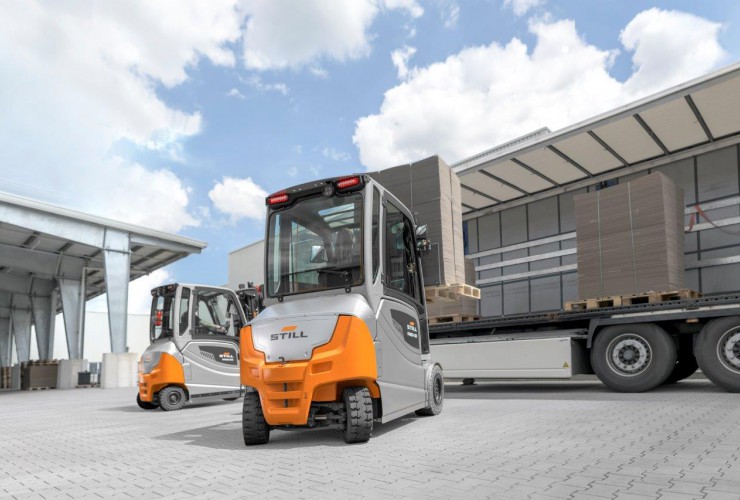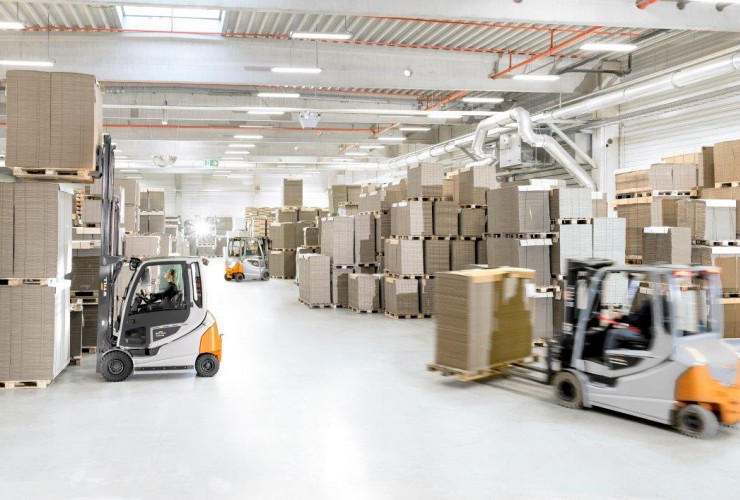 STILL schreibt seine RX-Erfolgsgeschichte fort und hat die Baureihe RX 60-25/35 neu aufgelegt.
STILL GmbH
IFOY-Kategorie
Counter Balanced Truck bis 3,5 t
Zusammenfassung
Mit der neuen E-Stapler-Baureihe RX 60-25/35 setzt STILL neue Standards in der E-Mobilität im Bereich der Flurförderzeuge. Es ist gelungen, mit energieeffizienten Technologien einen E-Stapler für den Innen- und Außeneinsatz für Lasten bis 3,5 Tonnen mit einer extrem hohen Performance und Agilität zu entwickeln. Damit wird der Trend zu mehr emissionsfreien E-Staplern gefördert und Betreiber unterstützt, ihre Green-Logistics-Strategien umzusetzen und so ihre Nachhaltigkeitsziele zu erreichen.
Beschreibung
Bestens ausgestattet für anspruchsvolle Aufgaben ist der RX 60 äußerst vielseitig einsetzbar: zur seitlichen Be-/Entladung von LKWs, zum Horizontaltransport von Ladungsträgern, zum Stapeln in Regale mit einer Hubhöhe bis 7390 mm sowie zum Kommissionieren und Bereitstellen.
Mit rekordverdächtiger Beschleunigung und einer Fahrgeschwindigkeit bis 21 km/h sowie nochmals verbesserten Hubgeschwindigkeiten setzt der RX 60 neue Standards in der Gewichtsklasse 2,5 bis 3,5 Tonnen. Das neue Antriebskonzept der RX 60-25/35 mit zwei Motoren, die in zwei Leistungsklassen angeboten werden, begeistert ab der ersten Sekunde mit seiner perfekten Relation von Performance, Verfügbarkeit und Ergonomie. Dazu hat STILL für die Kabine und die Bedieneinheit des Staplers zahlreiche Optionsmöglichkeiten im Angebot, die dem Fahrer maximalen Komfort für ein ermüdungsfreies Arbeiten bieten.
---
Datenblatt
Gerätetyp
Technische Daten (alle Geräte)
| | |
| --- | --- |
| Antrieb | Elektro |
| Tragfähigkeit | 2500 kg |
| Eigengewicht | 4599 kg |
| Bedienung | Sitz |
| Fahrgeschwindigkeit mit Last | 20 km/h |
| Fahrgeschwindigkeit ohne Last | 21 km/h |
| Hubgeschwindigkeit mit Last | 0,65 m/s |
| Hubgeschwindigkeit ohne Last | 0,66 m/s |
| Senkgeschwindigkeit mit Last | 0,50 m/s |
| Senkgeschwindigkeit ohne Last | 0,45 m/s |
| Max.Hubhöhe | 7390 mm |
| Energieverbrauch nach VDI-Arbeitsspiel | 6,0 kWh/h |
| Elektro-Trucks | |
| Batteriespannung | 80 V |
| Batteriekapazität | 60,3 Ah |
| Batterieanschluss | Li-Ion-ready, Fabrikat Schaltbau |
| Batteriegewicht | 1558 kg |
| Leistung Fahrmotor | 2x10,5 kW |
| Leistung Hubmotor | 25 kW |
| Schlepper | |
| Nennzugkraft | N |
| Kommissionierer/Kombigeräte | |
| Max. Greifhöhe | mm |
Sonstiges
Es handelt sich um
Ersatz eines oder mehrerer bestehender Modelle:
RX 60
Datum der Markteinführung
01.10.2019
Datum des Produktionsstarts
13.01.2020
Konkurrenzprodukte
Linde E25
Jungheinrich EFG 425
Toyota 8FBMT25
Innovationen
Das neue Antriebskonzept mit zwei Motoren, die in zwei Leistungsklassen angeboten werden, sowie aktiver Kühlung und verkürzten Wegen für die Leistungsübertragung, sorgt für sehr kurze Reaktionszeiten und eine maximale Anzugskraft bereits ab der ersten Umdrehung. Das entlädt sich in einer bisher unerreichten Dynamik, höheren Transport- und Umschlagsleistungen sowie purem Elektro-Fahrspaß.
Über ein vollgraphisches Farb-Display, der STILL Easy Control Einheit, werden alle Informationen sprachenunabhängig und leicht verständlich bereitgestellt. Über große Favoriten-Tasten lassen sich sogar einzelne Fahrzeugfunktionen aktivieren, auch mit Arbeitshandschuhen. Für zusätzliche Sicherheit sorgt der Pre-Shift-Sicherheitscheck, bei dem der Fahrer über einen geführten Dialog im Display bei der täglichen Überprüfung des Staplers vor dem Einsatz unterstützt wird. Für weitere Zeitersparnis sorgen der Schnellstart-Modus, der das Fahrzeug einsatzbereit macht, sobald der Fahrer Platz genommen hat sowie die automatische Federspeicher-Feststellbremse.
Für Betreiber, die einen Batteriewechsel benötigen, erfolgt dieser nach dem bewährten Prinzip zur Seite, wobei die Batterietür weiter optimiert wurde. Die aus 4 Millimetern dickem Blech bestehende Batterietür lässt sich nun horizontal bis zu 180 Grad nach hinten öffnen. Der eigentliche Wechsel kann mit einem Elektro-Hubwagen von nur einer Person in wenigen Minuten erledigt werden. Das Fahrerschutzdach mit großer optionaler Panorama-Panzerglasscheibe ermöglicht für ungehinderten Durchblick auch bei großen Hubhöhen. Die optionale Klimaanlage gehört nun zum integrierten Fahrzeugkonzept für einen angenehmen Fahrerplatz auch bei starker Sonneneinstrahlung bzw. Temperaturschwankungen.
Marktrelevanz
Der Markt für Stapler mit Tragfähigkeiten 2,5 bis 3,5 Tonnen ist der zweitwichtigste Markt (20 Prozent) für Elektrostapler. Dies bedeutet für den Bereich EMEA über 15.000 Fahrzeuge. Das neue Fahrzeug zielt im Rahmen von Mission Zero Emission noch stärker als zuvor auf die Ablösung von Diesel-Staplern.
Viele Lösungen sind dabei auch für folgende Branchen sinnvoll und hilfreich:
Automobilindustrie (Manufacturing)
Chemieindustrie (Manufacturing)
Elektroindustrie (Manufacturing)
Getränke-Handel (Fast Moving Consumer Goods - FMCG)
Gummi- und Kunststoffindustrie (Manufacturing)
Lebensmittelhandel (FMCG und Lager)
Logistik (FMCG und Lager)
Maschinen- und Anlagenbau (Manufacturing)
Nahrungsmittelindustrie (FMCG
Kundennutzen
Außerordentliche Performance: Höchste Umschlagleistung seiner Klasse.
Beste Verfügbarkeit: Höchste Reichweite mit einer Batterieladung.
Bester Arbeitsplatz: Geräumige Kabine mit Bordcomputer STILL Easy Control.
Ab der ersten Sekunde begeistert der RX 60-25/35 mit seiner perfekten Relation von Kraft, Ergonomie, Wendigkeit und Energieverbrauch. Seine Leistung ist mehr als stark: Der RX 60-25/35 überzeugt mit der höchsten Umschlagleistung in der Gewichtsklasse bis 3,5 Tonnen. Zugleich ist das 21 km/h schnelle intralogistische Kraftwerk ein echtes Reichweitenwunder – mit der höchsten Reichweite pro Batterieladung in diesem Segment. Der effiziente Antrieb reduziert die Energiekosten auf ein Minimum. Wer sich für die STILL Lithium-Ionen-Technologie entscheidet, meistert zudem selbst Drei-Schicht-Einsätze ohne Ersatzbatterie.
Wie auch immer das Einsatzprofil aussieht, der RX 60 lässt sich in jeder Situation intuitiv und präzise bedienen. Dank Schnellstart-Modus ist das wendige Fahrzeug startklar, sobald der Fahrer in der geräumigen Fahrerkabine Platz genommen hat. Ein weiterer Trumpf: Der Bordcomputer STILL Easy Control: Dank ihm hat der Fahrer direkten Zugriff auf die wichtigsten Performance-Funktionen und alle relevanten Fahrzeuginformationen immer im Blick. Durch die robuste Auslegung aller Komponenten vermindern sich auch die Service-Kosten.
Sonderausstattung (IFOY Test-Gerät)
RX 60

STILL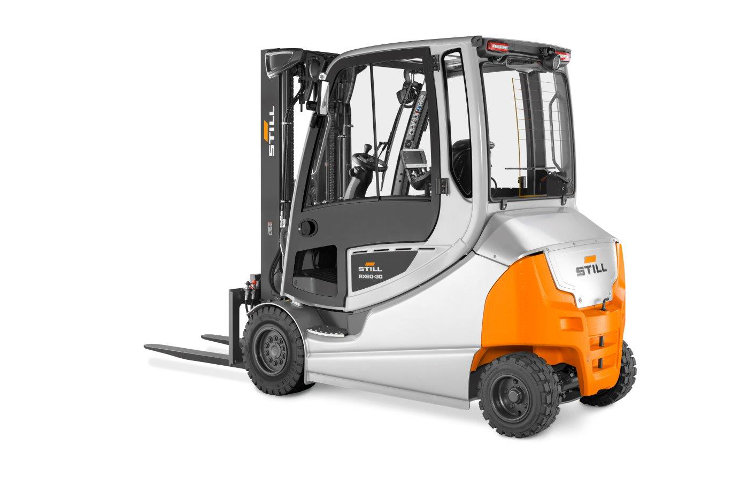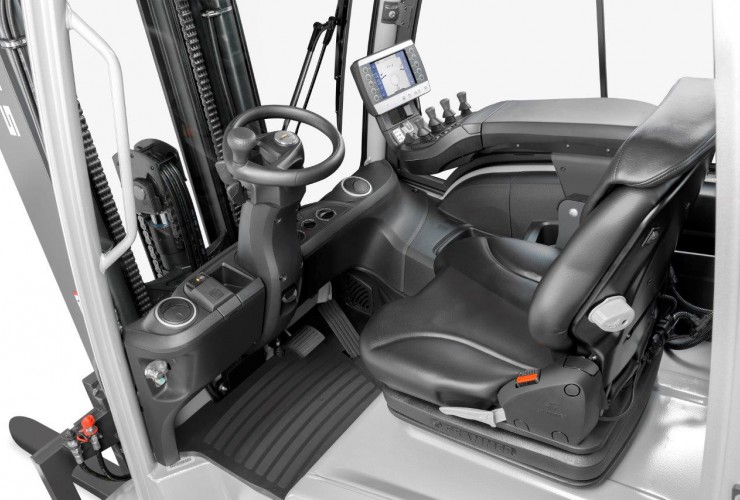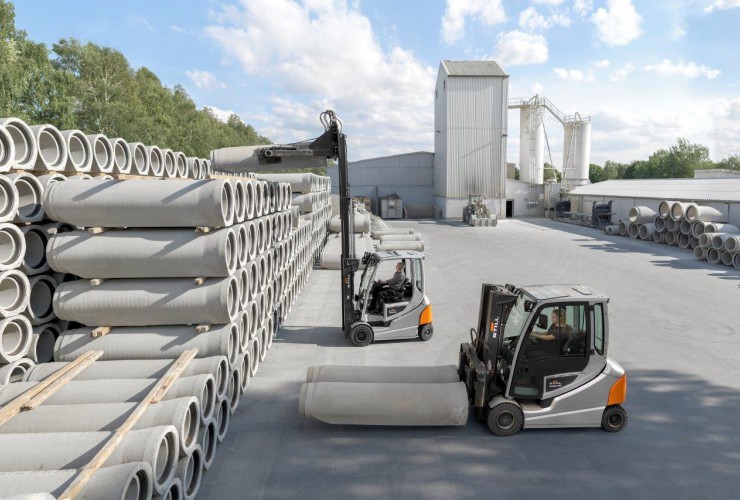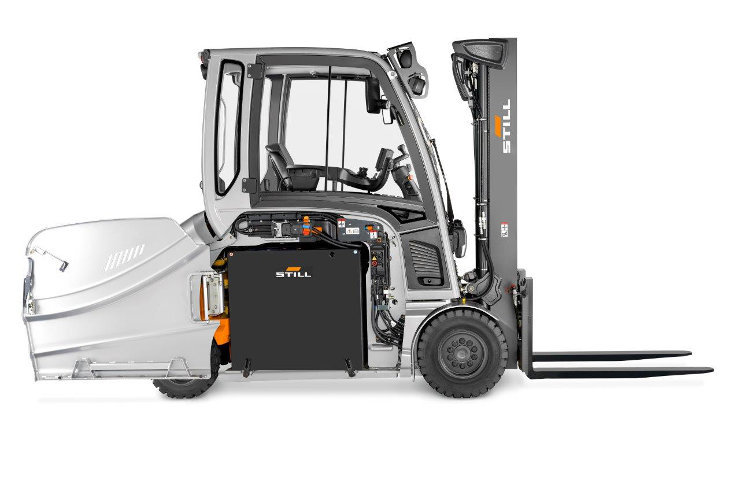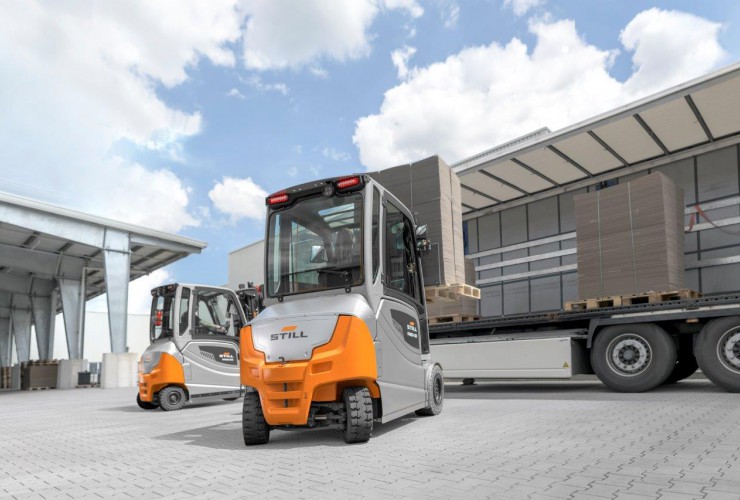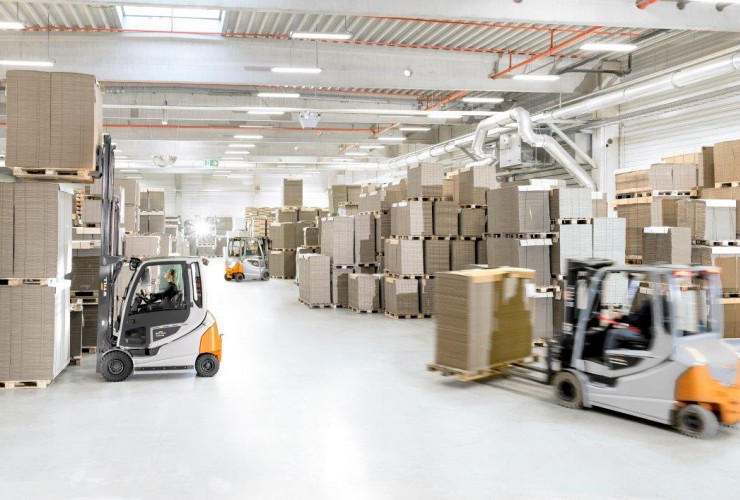 STILL continues the successful history of its RX with a redesign of the RX 60-25/35 series.
STILL GmbH
IFOY Category
Counter Balanced Truck up to 3.5 t
Summary
STILL sets new e-mobility standards in the industrial trucks area with its new RX 60-25/35 series of e-stacker truck models. It has successfully used energy-efficient technologies to develop an e-stacker truck with extremely high performance and agility for indoor and outdoor use for loads up to 3.5 tons. It thereby promotes the trend towards more emission-free e-stacker trucks and supports operators in implementing their Green Logistics strategies, thus achieving their sustainability targets.
Description
With optimum equipment for demanding jobs, the RX 60 is extremely versatile in its uses: for sideways loading/unloading heavy goods trucks, to transport load carriers horizontally, for stacking in shelving with a lift height up to 7390 mm, and for order-picking and provisioning.
With record-breaking acceleration, a driving speed of up to 21 km/hr and lift speeds improved even further, the RX 60 sets new standards in the 2.5 to 3.5 tons weight class. The new drive concept on the RX 60-25/35, with two motors offered in two power classes, inspires from the very first moment with its perfect relationship between performance, availability and ergonomics. For this, STILL also offers numerous possible options for the truck's cab and operating unit, providing drivers with maximum comfort for fatigue-free work.
---
Data Sheet
Truck Model
Technical Data (all trucks)
| | |
| --- | --- |
| Truck Type | electro |
| Lift capacity/load | 2500 kg |
| Truck weight | 4599 kg |
| Operation | seated |
| Driving speed with load | 20 km/h |
| Driving speed without load | 21 km/h |
| Lifting speed with load | 0,65 m/s |
| Lifting speed without load | 0,66 m/s |
| Lowering speed with load | 0,50 m/s |
| Lowering speed without load | 0,45 m/s |
| Max. lift height | 7390 mm |
| Power consumption according to VDI cycle | 6,0 kWh/h |
| Electro-trucks | |
| Battery voltage | 80 V |
| Battery capacity | 60,3 Ah |
| Battery connector | Li-Ion-ready, Fabrikat Schaltbau |
| Battery weight | 1558 kg |
| Drive motor | 2x10,5 kW |
| Lift motor | 25 kW |
| Tow Truck | |
| Nominal towing capacity | N |
| Orderpicking/Combitrucks | |
| Max. picking height | mm |
Miscellaneous
This model is a
Replacement of one or more existing models:
RX 60
Date of rollout
2019-10-01
Start of series production
2020-01-13
Competitive products
Linde E25
Jungheinrich EFG 425
Toyota 8FBMT25
Innovations
The new two-motor drive concept, offered in two power classes, together with active cooling and shortened power transfer routes, ensure very short response times and maximum traction from the very first revolution. It releases a hitherto unattained dynamism, greater goods handling performances, and pure electric driving fun.
All information is provided in an easily understandable language-neutral way through a fully graphic colour display, the STILL Easy Control Unit. Individual truck functions can also be activated via big favourites buttons, even when wearing work gloves. Additional safety and security are ensured by the Pre-Shift Safety Check, which assists the driver through a guided dialogue on the display during the daily inspection of the stacker truck before use. Further time is saved by the Quick-Start mode, which makes the truck ready as soon as the driver is seated, and the automatic spring accumulator parking brake.
For operators who need a battery change, this takes place sideways according to a tried and tested principle, and the battery door has been optimised even further. The battery door, made of sheet metal 4 millimeter thick, can now be opened horizontally rearwards by up to 180 degrees. The actual change can be carried out in a few minutes by just one person with an electric lift truck. The driver protection roof, with an optional large panorama pane of toughened glass, allows an unobstructed view through it, even at large lift heights. Optional air-conditioning is now part of the integrated truck concept for a pleasant driver's workplace, even in strong sunlight or with temperature fluctuations.
Market relevance
The market for stacker trucks with load capacities of 2.5 to 3.5 tons is the second most important market (20 percent) for battery-powered stacker trucks. That means over 15,000 trucks for the EMEA (Europe, Middle East, Africa) region. In the mission zero-emission context, the new truck aims at replacing diesel stacker trucks to an even greater extent than in the past.
In this area, many solutions are also useful and helpful for the following sectors:
Automobile industry (manufacturing)
Chemicals industry (manufacturing)
Electrical industry (manufacturing)
Beverages retailing (Fast Moving Consumer Goods - FMCG)
Rubber & plastics industries (manufacturing)
Foodstuffs retailing (FMCG and warehousing)
Logistics (FMCG and warehousing)
Mechanical engineering and plant construction (Manufacturing)
Foodstuffs industry (FMCG)
Customer Benefit
Exceptionally good performance: the highest goods handling performance in its class.
Best availability: longest range on one battery charge.
Optimum workplace: a spacious cab with the STILL Easy Control onboard computer.
The RX 60-25/35 inspires from the first moment, with its perfect balance of power, ergonomics, manoeuvrability and energy consumption. Its performance is more than powerful: the RX 60-25/35 convinces with the biggest goods handling performance in the weight class up to 3.5 tons. With its speed of 21 km/hr, this intralogistics powerhouse is a real endurance miracle – with the longest range per battery charge in this segment. An efficient drive reduces energy costs to a minimum. Anyone who decides to use STILL Lithium Ion technology will also master even three-shift operations without a replacement battery.
Whatever the usage profile, the RX 60 can be operated intuitively and precisely in every situation. Thanks to the Quick Start mode, the agile truck is clear to start as soon as the driver is seated in the roomy driver's cab. Another trump card: the STILL Easy Control onboard computer: thanks to it, the driver has direct access to the most important performance functions and a constant overview of all the relevant information about the truck. Robust design of all the components also reduces service costs.
Optional items (IFOY Test Truck)