IFOY Patronage
IFOY Sponsor
IFOY Partner
Messe Dortmund is official partner of the IFOY AWARD.
Cascade is official partner of the IFOY AWARD.
CHEP is official partner of the IFOY AWARD.
GARBE Industrial Real Estate is official partner of the IFOY AWARD.
LTG is official partner of the IFOY AWARD.
Fliegl is official partner of the IFOY AWARD.
MK 140. So kompakt kann Größe sein.

Liebherr-Werk Biberach GmbH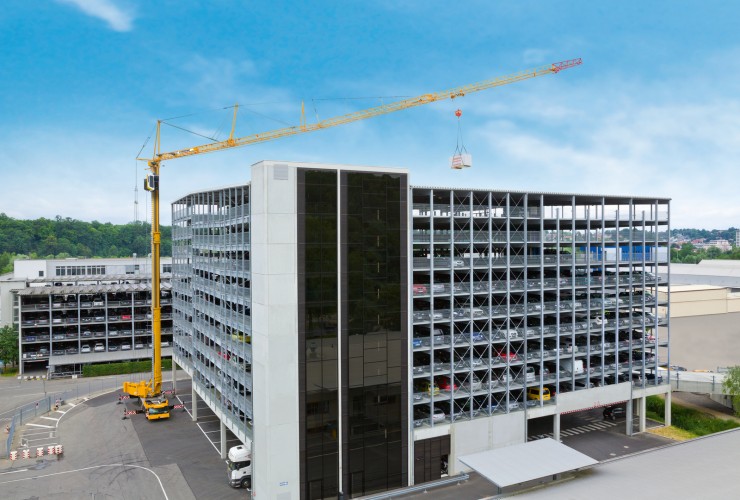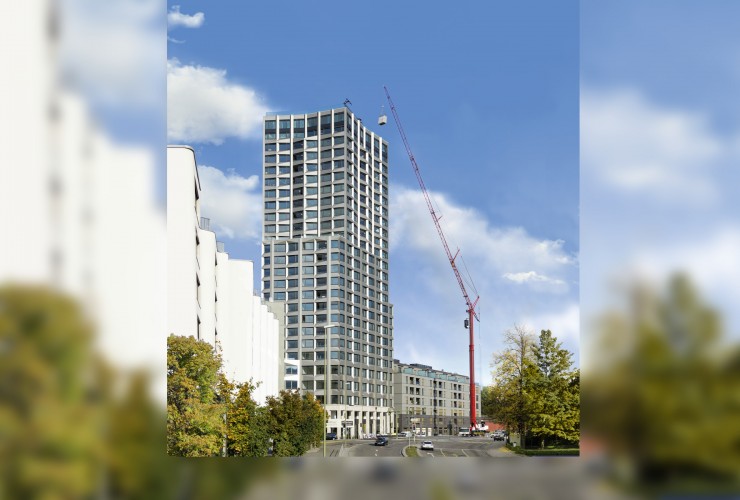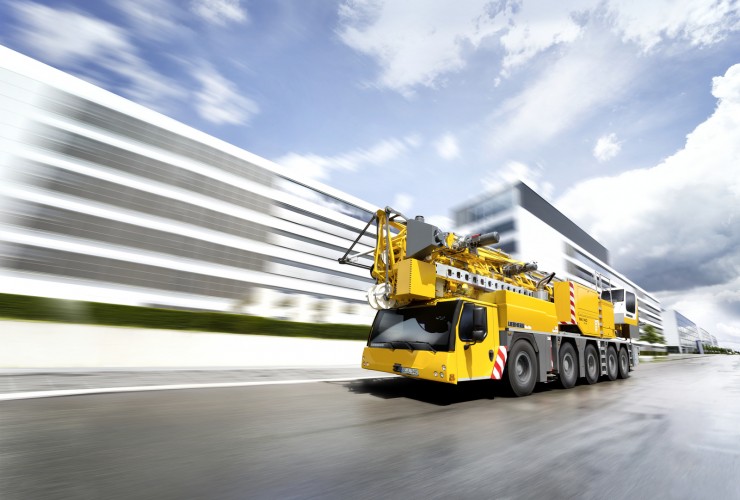 MK 140 im Katzmodus.
Liebherr-Werk Biberach GmbH
IFOY-Kategorie
Kran und Hebezeug
Zusammenfassung
Mit dem Mobilbaukran MK 140 bietet Liebherr ein kompaktes 5-Achs-Modell an, das durch enorme Reichweiten und Traglasten bei kompakten Abmessungen überzeugt. Mit dem VarioJib vereint der MK 140 die beiden Kransysteme Katzmodus und Wippmodus in einem Kranmodell. Die erreichbaren Hubhöhen bis 94 m und Ausladungen bis 65 m unterstreichen seine hohe Flexibilität und setzen neue Standards im Segment der Mobilbaukrane.
Beschreibung
Mit dem neu geschaffenen VarioJib ist der MK 140 der erste Kran, der die beiden Kransysteme Katzfahrbetrieb und Wippbetrieb in einem Kranmodell vereint. Diese Kransymbiose ist einzigartig und bietet den Mobilbaukranbetreibern Ausladungen und Hakenhöhen, die bislang nur mit Geräten erreicht wurden, die deutlich größer sind und eines enormen Rüstaufwands bedürfen.
Der Katzmodus, der wie bei allen MK-Modellen standardmäßig eingesetzt wird, überzeugt mit einer Ausladung von 58,5 m und einer maximalen Traglast von 1.900 kg an der Spitze. Diese Ausladung auf "nur" 5 Achsen ist einmalig im Bereich der Mobilbaukrane.
Mit dem zusätzlichen Wippmodus kann die Ausladung auf 60 m gesteigert werden, indem das Hubseil einsträngig über die Auslegerspitze geführt wird. Hiermit ist eine stufenlose Auslegerverstellung unter Last von -20° bis +70° möglich. Die notwendige Ausladung wird mittels Auf- und Abwippen des gesamten Auslegers erzielt. Die Umrüstung in diesen Modus wurde so konzipiert, dass sie nur von einer Person innerhalb von 15 Minuten durchgeführt werden kann. Es ergibt sich eine Traglast von 1.400 kg und eine maximale Hubhöhe von circa 90 m. Durch den Einsatz von zwei Auslegerverlängerungen kann die Ausladung auf bis zu 65 m und die Hubhöhe 94 m weiter gesteigert werden. Die Traglast beträgt dabei 1.000 kg. Beide Verlängerungen können ebenfalls während des vorhin genannten schnellen und einfachen Umrüstprozesses nur von einer Person einfach montiert beziehunsgweise demontiert werden. Der Wippmodus bietet somit dem Kranfahrer durch seine schnelle und einfache Umrüstung sowie durch die unterschiedlichen Auslegerlängen noch mehr Flexibilität auf der Baustelle. In diesem Modus können beispielsweise Hindernisse auf der Baustelle entweder überschwenkt oder untertaucht werden, ohne dass die Last vorher abgesetzt werden muss.
Des Weiteren ist der MK 140 der erste Mobil(bau)kran, der seinen gesamten Rüstzustand kennt und somit den Kranfahrer bei der Auswahl der richtigen Lastkurve unterstützt. Durch die sensorgestützte Überwachung
des Ausschiebezustands der Schiebeholme für die Abstützungen,
der am Kran montierten Zusatzballastkomponenten,
des ausgewählten Kranmodus und
der montierten Anbauspitzen
wird dem Kranfahrer über das Display der Kransteuerung die zur Konfiguration des Krans passende Lastkurve vorgeschlagen. Dadurch wird der Kranfahrer bei Konfiguration des Krans unterstützt, Falscheingaben bei der Konfiguration sind ausgeschlossen und somit ist ein sicherer Kranbetrieb möglich.
Innovation
Trotz einer Reduzierung der Gesamttransportlänge von 16,65 m auf 15,97 m im Vergleich zum Vorgängermodell konnte die maximale Ausladung im Standardkatzfahrbetrieb um 6,5 m und die maximale Hakenhöhe bei horizontalem Ausleger um 7 m gesteigert werden.
VarioJib - Kombination aus zwei Kransystemen
Katzmodus für schnellen Umschlagbetrieb mit Ausladung 58,5 m und Traglasten an der Spitze bis 1.900 kg
Wippmodus für Spezialeinsätze z.B. zum Ausweichen von Hindernissen mit Ausladung bis 65 m und max. Hakenhöhe 94 m
Automatische Rüstzustandserfassung zur Unterstützung des Kranfahrers bei der Konfiguration des Kran - Vermeidung von Falscheingaben
Marktrelevanz
Relevanz für den Markt: VarioJib und Rüstzustandserfassung sind absolute Neuheiten im Markt
Branchen: Mobilkranvermietung, Baubranche
Potenzieller Markt: Relevante Mobilkranmärkte / ca. 30 Stück pro Jahr
Hauptvorteile für den Kunden
Gerade in innerstädtischen Bereichen, den typischen Einsatzgebieten von Mobilbaukranen, sind kompakte Transportabmessungen und ein hohes Maß an Flexibilität von Vorteil. Der neue MK 140 vereint diese Eigenschaften und bietet zusätzlich innovative Ideen, die neue Maßstäbe im Bereich der Mobilbaukrane setzen.
Technische Daten
Typ: Kran / crane
Mobilbaukran
| | |
| --- | --- |
| Traglast | 8 Tonnen |
| Eigengewicht | 60000 kg |
| Hubgeschwindigkeit mit Last | 1,6 m/s |
| Senkgeschwindigkeit mit Last | 1,6 m/s |
| Maximale Hubhöhe | 94 m |
| Verfahrgeschwindigkeit | 1,5 m/s |
| Steuerung | Wired |
| Antrieb | elektro |
Konkurrenzprodukte
Spierings SK1265-AT6
Spierings SK599-AT5
Video:
MK 140 vielseitig einsetzbar auf Baustellen / MK 140 versatile on building sites
---
| | |
| --- | --- |
| Truck Name |  Liebherr |
| Truck Type |  MK 140 |
| Date of Test |  IFOY 2018 |
Testbericht
Der Liebherr MK 140 ist ein einzigartiger Turmdrehkran, der dank des neuen VarioJib-Konzepts über zwei Betriebsmodi verfügt. Der Kran kann sowohl in Katz- als auch Wippmodus eingesetzt werden. Auf diese Weise bietet der Hersteller eine bislang unerreichte Flexibilität.
Im Katzmodus ist das Gestänge stufenlos verstellbar, so dass der Kran die Last in einem Radius von bis zu 65 Metern stufenlos bewegen kann. Die maximale Hakenhöhe beträgt nicht weniger als 94,4 Meter. Damit ist der Liebherr MK 140 der größte seiner Art.
Dennoch ist der Kran sehr kompakt: Der Wenderadius des Ballastes liegt innerhalb der Stempel und der maximale Pressstempeldruck beträgt 48 Tonnen.
Das 5-achsige Fahrwerk ist nicht neu, aber es gehört zur Spitze des Marktsegments. Mit einem Wenderadius von nur 11,51 Metern ist das Fahrzeug sehr wendig. Zum Vergleich: Der Wendekreis eines VW Golf beträgt 11,1 m.
Fünf verschiedene Fahrmodi (Straßenbedienung, Allrad, Kratzerlenker, reduzierte Neigung und unabhängige Hinterachssteuerung) machen das Manövrieren ebenfalls zum Kinderspiel, so dass der MK 140 an nahezu jedem Arbeitsplatz schnell eingesetzt werden kann.
Die Kranmontage wird vollständig überwacht und kann von nur einer Person durchgeführt werden.
Während der Montage kann der Kran um 360 Grad gedreht werden. In Kombination mit den verschiedenen Montagekurven lässt sich der MK 140 einfach einstellen. Der Sicherheitsaspekt wird dabei nie außer Acht gelassen. Der Kranführer kann jederzeit eingreifen und die Geschwindigkeit und Richtung der Montage ändern. Bei mehrtägigen Arbeiten ist eine Demontage des Krans nicht erforderlich.
Die Bedienung und Montage des Krans erfolgt vollelektrisch. Schädliche Emissionen sind daher ausgeschlossen, abgesehen vom Transport zum und vom Arbeitsplatz.
Der Kran erkennt mit Hilfe von Sensoren den gewünschten Modus. Die intelligente Steuerung überwacht die Sicherheitsaspekte der Krankonfiguration, wie etwa die Stützweite, die Vorschaltgeräte, die montierten Auslegerköpfe und die Betriebsart. Der Kranführer erhält Vorschläge für die aktuelle Konfiguration des Krans und muss diese bestätigen. Dies garantiert einen sicheren Betrieb.
IFOY Testfazit:
Mit dem MK 140 erfüllt Liebherr seine Vorreiterrolle und bietet einen Mehrwert im Markt. Der Kran erreicht als mobiler Turmdrehkran höhere Reichweiten als je zuvor. Mit zwei Betriebsarten in einer Maschine bietet die Lösung zudem ein breiteres Anwendungsspektrum und deutlich mehr Flexibilität. Schnelle Verfügbarkeit wurde kombiniert mit kompakten Abmessungen.
IFOY Innovation Check
Marktrelevanz
Mobile Turmdrehkrane schließen seit etwa 20 Jahren die Lücke zwischen stationärem Turmdrehkran und Mobilkran. Sie vereinen den geringen Platzbedarf und den gut erschließbaren Arbeitsbereich des Turmdrehkrans mit der Mobilität und der schnellen Verfügbarkeit des klassischen Mobilkrans mit Teleskopausleger. Die große Auslegerweite von >50 m erschließt den Zugang über Gebäude hinweg. Zeitgleich werden sie entlang der Gebäudehöhe aufgebaut. Der Traglastbereich von 1,5 t ist für viele Aufgaben absolut ausreichend.
Kundennutzen
Unterschiedlich Nutzergruppen profitieren von der Existenz mobiler Turmdrehkrane. Baustellenbetreiber finden eine Lösung für sporadische Hebe-/Transportaufgaben auf der Baustelle. Sie benötigen kein eigenes Kranpersonal und reduzieren die Mietkosten auf wenige Tage. Aufgrund des Katzbetriebes sind die Transportgeschwindigkeiten erheblich höher als beim Teleskopkran. Die zur Verfügung stehenden Arbeitsräume können aufgrund des zylindrischen Arbeitsbereiches wesentlich besser genutzt bzw. neue Zugangsmöglichkeiten (z.B. bei begrenzter Höhe) erschlossen werden.
Der Kundennutzen für Krandienstleister resultiert zunächst aus dem erheblich geringeren Fahrzeuggewicht, verbunden mit einer geringeren Achsanzahl. Das separat fahrbare Zusatzgewicht ermöglicht eine äquivalente Traglast deutlich schwererer Krane. Dadurch sind wesentlich geringe administrative Aufgaben im Rahmen von Genehmigungsfragen durchzuführen. Die Wegeplanung ist einfacher.
Neuheitsgrad
Der MK140 besitzt erstmalig die Kombination von Katzausleger und Wippausleger. Damit können bedarfsbezogen verschiedene Aufgaben besser erfüllt werden. Er besitzt eine wesentlich größere Hubhöhe als vergleichbare mobile Turmdrehkrane. Diese äußerst innovative Lösung ermöglicht somit eine erheblich gesteigerte Flexibilität. Eine umfangreiche sensorische Auswertung aller Last- und Umbauzustände überwacht permanent sowohl Auf- und Abbau als auch den sicheren Betrieb des Krans.
Funktionalität / Art der Umsetzung
Die Umsetzung kann ich jeder Hinsicht als mustergültig eingestuft werden. Zum Auf- und Abbau ist praktische nur eine Person erforderlich. Eigene Messungen zeigen für den Kranaufbau eine Zeitdauer <20min. Auch die jeweiligen Umbauten (Erhöhung des Gegengewichts, Umbau auf Wippausleger) liegen <20min.
---
Marktrelevanz

+

Kundennutzen

++

Neuheits- / Innovationsgrad

++

Funktionalität  / Art der Umsetzung

++

++ sehr gut / + gut / Ø ausgeglichen / - weniger / - - nicht vorhanden
MK 140. Great things come in small packages

Liebherr-Werk Biberach GmbH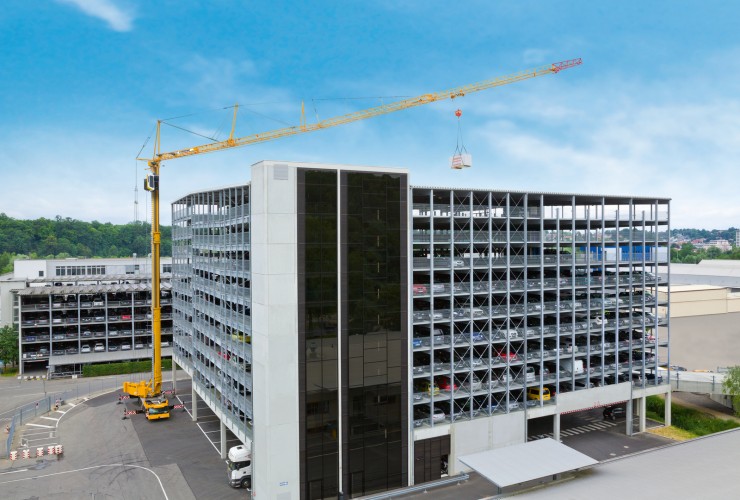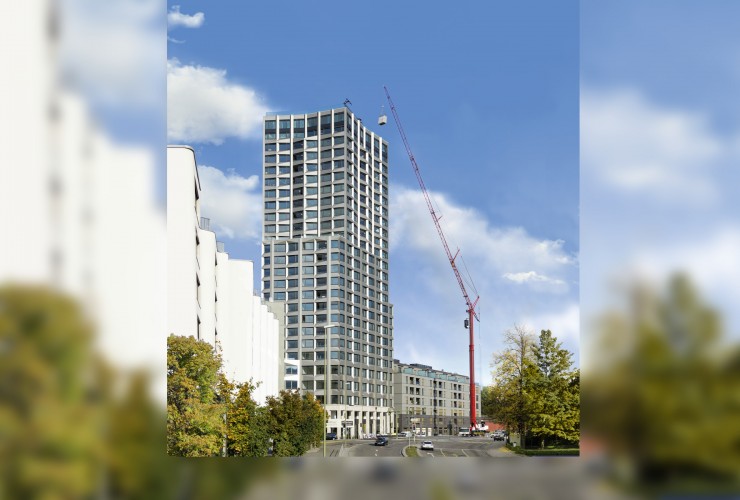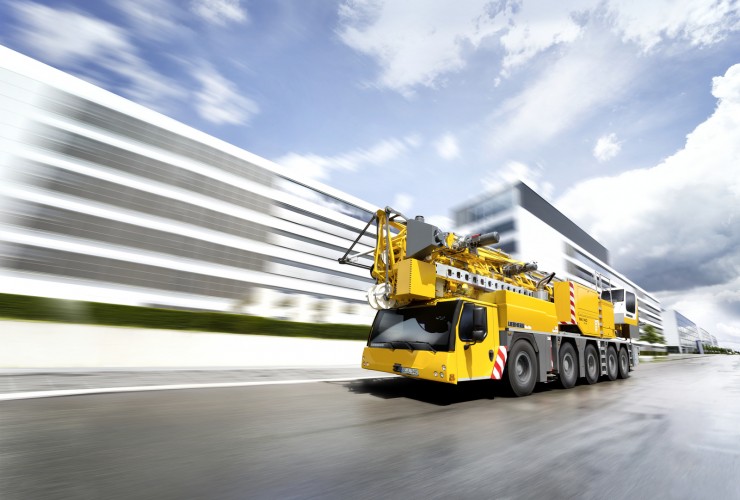 MK 140 in trolley mode.
Liebherr-Werk Biberach GmbH
IFOY Category
Crane and Lifting Appliance
Summary
The MK 140 mobile construction crane means that Liebherr can now supply a compact 5-axle model which provides massive load capacities and radii whilst being compact in size. With its VarioJib, the MK 140 combines trolley mode and luffing mode crane systems in a single crane model. The achievable hoisting heights of up to 94 m and radii up to 65 m underline its great flexibility and set new standards in the mobile construction crane segment.
Description
With its new VarioJib, the MK 140 is the first crane to combine trolley mode and luffing mode crane systems in a single crane model. This crane symbiosis is unique and means that mobile construction crane operators can now use radii and hook heights which previously were the preserve of much larger machines and required an enormous amount of set-up work.
Trolley mode, which is used as standard on all MK models, has a radius of 58.5 m and a maximum load capacity of 1,900 kg at the jib head. This radius on "just" 5 axles is unique in the mobile construction crane segment.
The additional luffing mode enables the radius to be increased to 60 m by taking the hoist rope around the jib head in a single line. This enables the luffed jib position to be adjusted infinitely when loaded between -20° and +70°. The required radius is achieved by luffing the entire jib up and down. The adjustment in this mode has been designed in such a way that it can be carried out by just one person within 15 minutes. This produces a load capacity of 1,400 kg and a maximum hoisting height of approximately 90 m. The use of two jib extensions enables the radius to be increased up to 65 m and the hoisting height to 94 m. The load capacities in these cases are 1,000 kg. Both extensions can also be fitted and removed by one person during the quick, easy adjustment process mentioned above. Luffing mode therefore gives the crane driver even more flexibility on site since he can adjust the crane quickly and easily and use different jib lengths. In this mode, for example, the crane can either slew over or under obstacles on the site without first having to put down the load.
Another new feature of the Liebherr MK 140 is its automatic set-up status recording system. The smart control system monitors the safety aspects of the crane configuration such as support width, ballasting, fitted jib heads and operating mode. The crane driver receives a suggestion about the current configuration of the crane on the display and must then confirm it. Incorrect entries in the configuration are therefore impossible which ensures greater safety on site.
Innovation
Despite reducing the overall transport length from 16.65 m to 15.97 m compared to its predecessor, the maximum radius in standard trolley mode has been increased by 6.5 m and the maximum hook height with a horizontal jib has been increased by 7 m.
VarioJib - for two different Operation modes
Trolley mode for maximum handling operation with a radius of 58.5 m and tip loads up to 1,900 kg
Luffing mode for special operations e.g. for slewing over obstacles with radius up to 65 m and hook heights up to 94 m
Automatic set-up status registration for avoiding incorrect entries in the configuration which supports the crane Driver and ensures greater safety on site.
Marktet relevance
Relevance for the market: VarioJib and automatic set-up status are completely new in the market
Branches: Mobile crane rental companies, Construction
Potential market: Relevant mobile crane markets / appr. 30 pieces per year
Main customer benefits
In urban areas, in particular, in other words the typical areas in which mobile construction cranes are used, compact transport dimensions and a high level of flexibility are always an advantage. The new MK 140 combines these features and delivers additional innovative ideas which set new standards in the mobile construction crane segment.
Technical Data
Type: Kran / crane
Mobile Construction Crane
| | |
| --- | --- |
| Lift capacity load | 8 tons |
| Crane weight | 60000 kg |
| Lifting speed with load | 1,6 m/s |
| Lowering speed with load | 1,6 m/s |
| Maximum lift height | 94 m |
| Movement speed | 1,5 m/s |
| Control | Wired |
| Drive | electro |
Competitive Products
Spierings SK1265-AT6
Spierings SK599-AT5
Video:
MK 140 vielseitig einsetzbar auf Baustellen / MK 140 versatile on building sites
---
| | |
| --- | --- |
| Truck Name |  Liebherr |
| Truck Type |  MK 140 |
| Date of Test |  IFOY 2018 |
Test Report
The Liebherr MK 140 is a unique tower crane with two operating modes owing to the new VarioJib concept. The crane can be used in both trolley and luffing mode. In this way, the manufacturer offers unprecedented flexibility.
In trolley mode, the boom is infinitely adjustable so that the crane can move the load continuously within a radius of up to 65 meters. The maximum hook height is not less than 94.4 meters. This makes the Liebherr MK 140 the largest of its kind.
Nevertheless, the crane is very compact: The turning radius of the ballast lies within the ram and the maximum ram pressure is 48 tons.
The 5-axle chassis is not new, yet it belongs to the top of the market segment. With a turning radius of only 11.51 meters, the vehicle is very maneuverable. For comparison: The turning circle of a VW Golf is 11.1 m.
Five different driving modes (road control, all-wheel drive, scraper handlebars, reduced inclination and independent rear axle control) also make maneuvring child's play, so that the MK 140 can be used quickly at almost any workstation.
The crane assembly is completely supervised and can be carried out by only one person.
During assembly, the crane can be rotated 360 degrees. The MK 140 can be easily adjusted in combination with the various mounting curves. The safety aspect is never neglected. The crane operator can intervene at any time and change the speed and direction of assembly. Removal of the crane is not necessary for work lasting several days.
The operation and assembly of the crane is fully electric. Pollutant emissions are thus excluded, except for transport to and from the workplace.
The crane uses sensors to detect the required mode. The intelligent control system monitors the safety aspects of the crane configuration, such as span, ballasts, mounted boom heads and operating mode. The crane operator receives suggestions for the current configuration of the crane and must confirm it, which guarantees safe operation.
IFOY test verdict:
With the MK 140, Liebherr fulfills its pioneering role and offers added value in the market. As a mobile revolving tower crane, the crane reaches higher ranges than ever before. With two operating modes in one machine, the solution also offers a wider range of applications and significantly more flexibility. Fast availability combined with compact dimensions.
IFOY Innovation Check
Market Relevance
Mobile revolving tower cranes have been closing the gap between a stationary revolving tower crane and a mobile crane for about 20 years. They combine the low space requirement and the easily accessible working area of the tower crane with the mobility and rapid availability of the classic mobile crane with a telescopic boom. The large boom width of >50 m opens up access across buildings. At the same time, they are enfolded along the height of the building. The payload range of 1.5 t is fully sufficient for many tasks.
Customer Benefit
Different user groups benefit from the existence of mobile tower cranes. Construction site operators find a solution for sporadic lifting and transport tasks on the construction site. Moreover, you do not need your own crane personnel and you can reduce the rental costs to only a few days. Because of the trolley operation, the transport speeds are considerably higher than with the telescopic crane. Due to the cylindrical working area, the available working areas can be put to better use and new access possibilities (e.g. limited height) open up.
The customer benefits for crane service providers initially result from the considerably lower vehicle weight, combined with a lower number of axles. The additional weight, which can be moved separately, allows for an equivalent load capacity of significantly heavier cranes. This means that considerably fewer administrative tasks have to be carried out within the framework of licensing issues. The overall route planning is easier.
Degree of Novelty
For the first time, the MK140 is equipped with a combination of trolley boom and luffing arm. In this way, various tasks can be better fulfilled as required. It has a much higher lifting height than comparable mobile tower cranes. This extremely innovative solution thus enables a considerably increased flexibility. An extensive sensory evaluation of all load and conversion conditions permanently monitors erection and dismantling as well as the safe operation of the crane.
Functionality / Type of Implementation
The implementation can be considered exemplary in every respect. Only one person is required for assembly and dismantling. In-house measurements show a duration of less than 20 minutes for the crane construction. The respective conversions (increase in counterweight and conversion to luffing jib) also last less than 20 minutes.
---
Market relevance

+

Customer benefit

++

Degree of novelty / innovation

++

Functionality  / Type of implementation

++

++ very good / + good / Ø balanced / - less / - - not available