IFOY Patronage
IFOY Sponsor
IFOY Partner
Messe Dortmund is official partner of the IFOY AWARD.
Cascade is official partner of the IFOY AWARD.
CHEP is official partner of the IFOY AWARD.
GARBE Industrial Real Estate is official partner of the IFOY AWARD.
LTG is official partner of the IFOY AWARD.
Fliegl is official partner of the IFOY AWARD.
EFG S40

Jungheinrich AG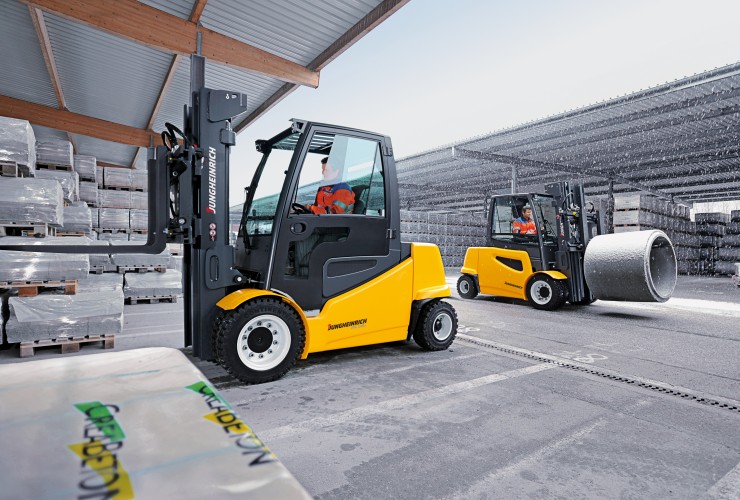 Jungheinrich EFG S40s
Jungheinrich AG
IFOY-Kategorie
Counter Balanced Trucks über 3.5t
Kurzcharakteristik
Mit den neuen Elektro-Gabelstaplern der S-Linie als besonderer Bestandteil der neuen EFG Baureihe 5 hat Jungheinrich das Technologiekonzept "Pure Energy" über die 48-und 80-V-Motoren in den Tragfähigkeitsklassen von 3,5 bis 5,0 Tonnen ausgedehnt. Durch "Pure Energy" wird eine Reduzierung des Energieverbrauchs um 20 % realisiert (im Vergleich zum Vorgängermodell). Dadurch ist es in dieser Klasse zum ersten Mal möglich, zwei Schichten mit einer Batterieladung zu realisieren.
Mit der Einführung der S-Linie werden zwei wichtige Kundenanforderungen erfüllt:
die Anforderung an hohe Resttragfähigkeiten – speziell in Verbindung mit Anbaugeräten und
die Anforderung, emissionsfreie Fahrzeuge verstärkt im Außeneinsatz zu nutzen – als Ersatz zu verbrennungsmotorisch betriebenen Gegengewichtsstaplern.
Mit dem für Jungheinrich typischen Fokus auf einen fahrerorientierten Arbeitsplatz ist auch die Ergonomie gestaltet: Intuitiv einstellbare Bedienelemente und vielfältige Ablagen erleichtern die tägliche Arbeit.
Abgerundet wird die Baureihe 5 mit dem seitlichen Batteriewechselsystem "SnapFit". SnapFit gewährleistet einen sicheren, einfachen und schnellen Batteriewechsel.
Kategorie: Counter Balanced Trucks über/from 3.5t
Video: EFG S40s/ S50s
---
| | |
| --- | --- |
| Truck Name |  Jungheinrich EFG S40s |
| Truck Type |  Counter Balanced Truck |
| Date of Test |  IFOY 2014 |
Testbericht
Im Sommer 2013 hat Jungheinrich sein Staplerprogramm um eine Serie speziell für den harten Einsatz erweitert. Die S-Serie zählt insgesamt drei Elektromodelle und einen Verbrenner für den Einsatz mit Anbaugeräte oder besonders tiefe Lasten. Die Elektroserie ist als 3-, 4- und 5-Tonner lieferbar, die Diesel- und Treibgasstapler lediglich als 5-Tonner. Bei allen Modellen der S-Serie liegt das Lastzentrum nicht auf 500 mm, sondern auf 600 mm. Nominiert für den IFOY-Award ist der EFG S40s.
Die kräftige Erscheinung aller S-Serien-Geräte fällt sofort ins Auge. Sowohl die Vorderachse als auch die Hinterachse ist breiter als üblich und verleiht dem Stapler eine breite "Schulter". Etwas gewöhnungsbedürftig ist es, die zusätzliche Breite durch den Testparcour zu führen, da der Fahrer die Hinterachse nicht überblicken kann.
Der Arbeitsplatz des EFG S40s ist im Wesentlichen identisch mit der des kleineren EFG-Modells. Der Kabineneinstieg ist geringfügig höher als der anderer Stapler in diesem Segment, aber geräumig und komfortabel genug, um leicht und sicher ein- und auszusteigen. Die graue Farbe des Anti-Rutsch-Gitters ist gut sichtbar und zahlt auf die Sicherheit ein. Der Fußraum der Bodenfläche ist geräumig und frei von Hindernissen. Sowohl Gas- als auch Bremspedal sind in einer guten Höhe und Distanz positioniert.
Während der Arbeit mit dem Jungheinrich EFG S40s wird deutlich, dass dieser kraftvolle Elektrostapler aus der gleichen Familie kommt. Die elektrische Lenkung ist genau und sehr gut vorhersehbar. Neu ist das Parameter Steering, ein Feature das abhängig vom gewählten Fahrprogramm die Lenkung des Staplers anpasst. Hauptvorteil ist eine präzise und bei jeder Geschwindigkeit leicht zu bedienende Lenkung. Die Lenksäule kann mit einem Hebel in Höhe und Neigungswinkel verstellt werden. Die automatische Parkbremse funktioniert angenehm und einwandfrei. Auch die Mastbedienung funktioniert wie erwartet. Die Genauigkeit der einzelnen Solo-Pilot Hebel ist präzise und die Geschwindigkeiten sind in Ordnung.
Mit einer Spitzengeschwindigkeit von 16,4 km/h fährt der Teststapler sowohl mit und ohne Last schnell genug um beherrschbar zu bleiben. Die Bremskraft am Antriebsmotor ist abhängig vom gewählten Fahrmodus und fast immer so dosiert, wie es der Fahrer erwartet. Dank des neuen "Pure Energy"-Konzeptes kann Jungheinrich mit einer zusätzlichen Energieeinsparung aufwarten, die ohne zu Lasten der Produktivität stattfindet. Bei maximalen Einstellungen (Drive Mode 5) liegt die Produktivität geringfügig (2,3 %) unter den leistungsstarken 5-Tonnern, während der Energieverbrauch satte 42 % niedriger ist. Im Energiesparmodus (Drive Mode 3) liegt der Verbrauch sogar 48 Prozent niedriger. Damit ist die Batterie (930 Ah) beim EFG S40s fast für zwei Schichten ausreichend.
Fazit
Mit der extra Leistung in der S-Serie macht Jungheinrich, beim Handling tiefer und hoher Lasten, einen großen Schritt nach vorn. Der Stapler ist robust und qualitativ hochwertig verarbeitet. Im Fahrverhalten ist er sehr berechenbar und ruhig, überdies sehr sparsam. Die Produktivität ist wettbewerbsfähig. Vorteilhaft für einen schnellen Akkuwechsel ist die große Seitentür.
Hard Facts
| | | | |
| --- | --- | --- | --- |
|   | Test Truck IFOY Test | Average other trucks | Value 1 to 10 |
| Productivity Max mode (Pallets / 8 hrs) |  293 |  297 |  7 |
| Productivity Eco mode (Pallets / 8 hrs) |  280 |  280 |  7 |
| Energy level Max mode (kWh / 100 plts) |  23,2 |  35,0 |  9 |
| Energy level Eco mode (kWh / 100 plts) |  21,6 |  26,0 |  9 |
| Driving speed with load (km/h) |  16,36 |  18,02 |   |
| Lifting speed with load (cm/s) |  38,86 |  38,50 |   |
| Acceleration speed (time for 27,2 meters) |  9,6 |  9,2 |   |
Averages soft facts
| | |
| --- | --- |
| First impression |  8,60 |
| Load Safety |  9,00 |
| Entry to truck |  7,71 |
| Seat & Sit position |  8,67 |
| Legg Space |  8,00 |
| Activate truck |  8,50 |
| Hydraulics |  8,50 |
| Steering |  8,57 |
| Sight |  7,50 |
| Driving acceleration |  7,80 |
| Driving braking |  8,67 |
| Driving & Turning |  8,00 |
| Parking truck |  7,86 |
| Safety elements |  8,25 |
| General after test |  8,75 |
| Sustainability |  8,00 |
|   |   |
| Total average soft facts |  8,27 |
| Total productivity |  7,00 |
| Total Energy consumption |  9,00 |
|   |   |
| Total result all facts | 8,14 |
IFOY Innovation Check
Die Idee der Firma Jungheinrich besteht darin, eine höhere Energieeinsparung durch die Kombination verschiedener Maßnahmen zu erzielen und damit erstmals in der spezifischen Fahrzeugklasse eine so hohe Betriebsdauer zu erreichen, dass innerhalb von zwei Schichten kein Batteriewechsel erforderlich wird. Außerdem soll durch eine angepasste Lenkkraftunterstützung die Ergonomie des Flurförderzeuges gesteigert werden.
Die Firma Jungheinrich hat zur Umsetzung der Idee, eines energiesparenden Flurförderzeuges, verschiedene existierende Technologien weiterentwickelt und so miteinander kombiniert, dass die mit der Idee verbundenen Ziele erreicht werden konnten. Für die angepasste Lenkkraftunterstützung hat Jungheinrich eine Technologie adaptiert und vergleichbar zur geschwindigkeitsabhängigen Lenkkraftregelung, aus dem Straßenfahrzeugbau die elektrische Lenkung des EFG S40 mit einer solchen Funktion ausgestattet.
Laut Angaben von Jungheinrich führt die Kombination von drei technischen Elementen in ihrer weiterentwickelten Form zum Erreichen einer Energieeinsparung von mindestens 20 Prozent im Vergleich zum Vorgängermodell. Dieses Technologiekonzept wird von Jungheinrich als "Pure Energy" bezeichnet. Zu diesem Konzept gehört die bereits in 4. Generation in den Flurförderzeugen verwendete Drehstromtechnik, woraus aber bereits deutlich wird, dass es sich hier um eine bereits eingeführte Technologie handelt, die weiterentwickelt wurde. Die zwei weiteren Konzeptelemente werden als Kompaktsteuerung sowie als Kompakthydraulikaggregat bezeichnet. Elektrische Elemente, wie Leistungsschalter oder Rechner zur Steuerung- und Regelung der Fahr- und Hubfunktionen, wurden zu integrierten Ansteuerungsmodulen konkret für diesen Typ Flurförderzeug zusammengefügt. Die hydraulischen Komponenten wurden ebenfalls entsprechend sorgfältig ausgewählt und angepasst. Mit diesem Vorgehen, das den Gegenentwurf zur Verwendung von allgemein verfügbaren Standardkomponenten darstellt, folgt Jungheinrich dem Trend der Funktionsintegration mit eingebetteten Systemen. Bei geeigneter Auslegung kann damit das Erreichen der beabsichtigten Effizienzsteigerungen unterstützt werden.

Bewertung der Innovation
Zusammengenommen stellt Jungheinrich mit den drei Elementen zur Effizienzsteigerung, einen sehr interessanten Ansatz vor, dessen Wirksamkeit sich in den erzielbaren Kennwerten für Verbrauch und Betriebsdauer niederschlagen kann. Dies wird in den jeweiligen Testkategorien nachzuweisen sein. Bei den eingesetzten Teilinnovationen, handelt es sich um bekannte Konzepte, die in dieser Kombination und Ausführung eine innovative Weiterentwicklung für die betrachtete Fahrzeugklasse darstellen.
Die adaptive Lenkung stellt eine konsequente Übertragung, des aus Straßenfahrzeugen bekannten Assistenzsystems, für den Anwendungsbereich der Flurförderzeuge dar.
---
Datenblatt
Gerätetyp
Technische Daten (alle Geräte)
| | |
| --- | --- |
| Antrieb | Elektro |
| Tragfähigkeit | 4000 (@ 600mm) kg |
| Eigengewicht | 7176 kg |
| Bedienung | Sitz |
| Fahrgeschwindigkeit mit Last | 15,0 km/h |
| Fahrgeschwindigkeit ohne Last | 16,6 km/h |
| Hubgeschwindigkeit mit Last | 0,33 m/s |
| Hubgeschwindigkeit ohne Last | 0,45 m/s |
| Senkgeschwindigkeit mit Last | 0,55 m/s |
| Senkgeschwindigkeit ohne Last | 0,50 m/s |
| Max.Hubhöhe | 7180 mm |
| Energieverbrauch nach VDI-Arbeitsspiel | 12,4 kWh/h |
| Elektro-Trucks | |
| Batteriespannung | 80 V |
| Batteriekapazität | 930 Ah |
| Batterieanschluss | |
| Batteriegewicht | 2178 kg |
| Leistung Fahrmotor | 18 kW |
| Leistung Hubmotor | 24 kW |
| Schlepper | |
| Nennzugkraft | N |
| Kommissionierer/Kombigeräte | |
| Max. Greifhöhe | mm |
Sonstiges
Es handelt sich um
Vollständig neues Modell
Datum der Markteinführung
11.04.2013
Datum des Produktionsstarts
11.10.2013
Konkurrenzprodukte
Linde E40/600HL
Still RX60-40/600
Toyota 7FBMF40
Video
EFG S40s/ S50s
Innovationen
Pure Energy Technologiepaket
Pure Energy besteht aus drei Komponenten. Der Drehstromtechnik der aktuell 4. Generation, der Kompaktelektronik und der Kompakthydraulik. Die aktuelle Drehstromtechnik optimiert die Abstimmung von Hard- und Software und bringt diese auf ein neues Wirkungsgradoptimum. Das Ergebnis ist die höchste Umschlagleistung bei geringstem Verbrauch und der Zweischichteinsatz mit einer Batterieladung.
Parameterlenkung
Die Parameterlenkung macht die Lenkunterstützung vom Fahrprogramm abhängig. Bei niedrigen Geschwindigkeiten ist die Unterstützung durch die elektrische Lenkung hoch – der Fahrer benötigt weniger Lenkradbewegungen. Bei höheren Geschwindigkeiten nimmt die Lenkunterstützung ab. Die Vorteile sind:
eine Minimierung von ungewollten Lenkbewegungen,
mehr Beinfreiheit durch kompaktere Bauweise und
eine weitere Verbesserung der Energieeffizienz und der Umschlagleistung.


S-Linie
Durch die Einführung der Drehstromtechnik bei Elektrogegengewichtsstaplern werden diese immer stärker für den Außeneinsatz und – vor allem in Europa – als Alternative zu verbrennungsmotorischen Staplern eingesetzt. Zudem werden Einsätze immer spezifischer und damit auch Anbaugeräte immer genauer auf Einsätze abgestimmt. Die S-Linie bietet hierfür das notwendige Leistungsspektrum, das Kunden für schwere Innen- und Außeneinsätze oder auch aufwendige Anbaugeräte brauchen.
Hauptziele der Entwicklung
Energieeinsparung von mindestens 20% zum Vorgängermodell
Neben höchster Umschlagleistung bei geringstem Verbrauch (gemäß Vergleichstest Andersom Testing) wollte man zum ersten Mal in der Klasse der 3,5 bis 5-t-Fahrzeuge einen Zweischichteinsatz mit einer Batterieladung – also ohne Batteriewechsel – realisieren.
Anpassung an sich verändernde Markt-/Kundenanforderungen
Ein weiteres Hauptziel des Entwicklungsprojektes war die Anpassung der Baureihe auf die sich wandelnden Marktgegebenheiten. Durch a) die Verschärfung von Abgasgesetzgebungen, b) Kundenanforderungen nach geringeren Carbon Footprints und c) günstigeren Total Cost of Operations werden Elektrogegengewichtsstapler immer häufiger für Einsatzfälle in Betracht gezogen, die bis dato den klassischen Diesel-/Treibgasstaplern vorbehalten waren. Dies verlangt nach Flexibilität hinsichtlich der Anbaugeräte und nach Fahrzeugeigenschaften, die verstärkt für den Außeneinsatz optimiert sind. All dies wurde mit der S- Linie realisiert.
Seitliches Batteriemanagement mit SnapFit
Der schnelle Batteriezugang mit handelsüblichen Niederhubfahrzeugen ist die am häufigsten geäußerte Kundenanforderung für die Batteriehandhabung. Die bis dato bei den EFG-Baureihen 2, 3 und 4 dafür etablierte SnapFit-Systematik für den Batteriewechsel wurde nun auch in der Baureihe 5 umgesetzt.
Kundennutzen
Die Hauptvorteile für den Nutzer sind ein Gewinn an Wirtschaftlichkeit, Sicherheit und Ergonomie.
Die neue EFG-Baureihe 5 verbessert die Energieeffizienz und Umschlagleistung. Durch den dadurch möglichen Zweischichteinsatz mit einer Batterieladung und die damit verbundenen niedrigeren Total Cost of Operations reduzieren sich die laufenden Kosten und steigert sich die Wirtschaftlichkeit.
Durch den Batteriewechsel mit SnapFit, den sehr guten Sichtverhältnissen und den verschiedensten Assistenzsysteme ist das Fahrzeug für ein hohes Maß an Sicherheit ausgelegt.
Aufgrund der stufenlos und intuitiv einstellbaren Bedienelemente (Armlehne, Lenkrad), der vielfältigen Ablagen und einer Platz sparenden Lenksäule ermöglicht der EFG der Baureihe 5 dem Fahrer ein ermüdungsfreies und komfortables Arbeiten.
Sonderausstattung (IFOY Test-Gerät)
Parameterlenkung
Vollkabine
Nicht-kreidende Reifen
Drive&Lift Plus
Rundumleuchte
Comfort Display mit automatischer Parkbremse
Integrierter Seitenschieber
Arbeitsscheinwerfer vorne
MSG 65 Ergositz
EFG S40s

Jungheinrich AG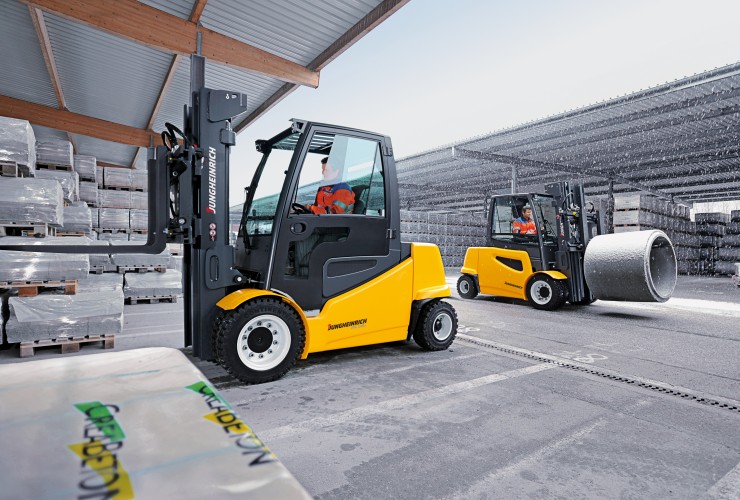 Jungheinrich EFG S40s
Jungheinrich AG
IFOY Category
Counter Balanced Trucks from 3.5t
Short Characteristic
With the introduction of the S line as a special element of the new EFG Series 5 electric fork lift trucks, Jungheinrich has expanded the 'Pure Energy' technology concept via the 48-V and 80-V motors into the 3.5 to 5.0 tonnes capacity classes. 'Pure Energy' enables a reduction of up to 20% in energy consumption (in comparison with the preceding model). Consequently, it is now possible for a truck in this class to complete two shifts with a single battery charge.
With the introduction of S line, two important customer requirements have been met:
The requirement for high residual capacities – particularly in connection with attachments and
the requirement to increasingly use emission-free trucks outdoors – as a replacement for trucks powered by internal combustion engines.
The ergonomics have also been designed with Jungheinrich's typical focus on an operator-oriented workstation: A day's work is made easier with controls which can be intuitively adjusted and many storage options.
The Series 5 is completed with the SnapFit lateral battery exchange system. SnapFit guarantees the reliable, simple and quick repla%ment of batteries.
Category: Counter Balanced Trucks über/from 3.5t
Video: EFG S40s/ S50s
---
| | |
| --- | --- |
| Truck Name |  Jungheinrich EFG S40s |
| Truck Type |  Counter Balanced Truck |
| Date of Test |  IFOY 2014 |
Test Report
In the summer of 2013, Jungheinrich extended its forklift programme with a series specifically designed for heavy-duty use. The "S" series comprises three electric models and one diesel model for use with add-on devices or very deep loads. The models in the electric series are available in 3, 4 and 5-ton versions, the diesel model only as a 5-ton truck. The load centre of gravity of the S series is not at 500 mm but at 600 mm. The model EFG S40s is nominated for the IFOY Award.
The powerful appearance of all S series models is instantly apparent. Both the front and rear axles are wider than usual and give the truck a "broad shoulder" look. Navigating the test course with the additional width takes some getting used to, as the driver cannot seen the rear axle.
The workplace of the EFG S40s is more or less identical to that of the smaller EFG model. The cabin step-up is slightly higher than in other trucks in this segment, but sufficiently spacious and convenient to ensure safe and easy entry and exit. The grey non-slip grating is easily visible and further enhances driver safety. The footwell is generously dimensioned and free of obstacles. Both the gas and brake pedals are set at a convenient height and distance.
After a short time on the Jungheinrich EFG S40s, it is clear that this powerful electric truck is from the same stable. The electric steering is precise and predictable. One new feature is the parameter steering, which adjusts the steering characteristics of the truck to suit the selected drive mode. The main advantage of this feature is precision driver-friendly steering at all speeds. The steering column is equipped with a lever for height and tilt adjustment. The automatic parking brake works smoothly and flawlessly, and mast operation is as expected. The response of the single "Solo-Pilot" control lever is precise and the speeds are satisfactory.
With its top speed of 16.4 kmh, the test truck is fast enough to remain fully controllable with and without load. The braking power on the drive motor depends on the selected drive mode and is almost always at the level that the driver would generally expect.
Thanks to the new "Pure Energy" concept, the Jungheinrich truck achieves added energy savings without any sacrifice in terms of productivity. At the max settings (Drive Mode 5), productivity is only slightly (2.3%) lower than that of the high-performance 5-ton models while energy consumption is a massive 42% lower, increasing to 48 percent in energy-saving mode (Drive Mode 3), which means that the battery (930 Ah) in the EFG S40s is good for almost two full shifts.
Summary
With the extra power in the S series, Jungheinrich has achieved major improvements in the handling of low and high loads. The forklift is robust and well made. Handling is extremely predictable, and the truck is quiet and highly fuel-efficient. The productivity of the "S" series is competitive, and the big side door permits fast battery changeover.
Hard Facts
| | | | |
| --- | --- | --- | --- |
|   | Test Truck IFOY Test | Average other trucks | Value 1 to 10 |
| Productivity Max mode (Pallets / 8 hrs) |  293 |  297 |  7 |
| Productivity Eco mode (Pallets / 8 hrs) |  280 |  280 |  7 |
| Energy level Max mode (kWh / 100 plts) |  23,2 |  35,0 |  9 |
| Energy level Eco mode (kWh / 100 plts) |  21,6 |  26,0 |  9 |
| Driving speed with load (km/h) |  16,36 |  18,02 |   |
| Lifting speed with load (cm/s) |  38,86 |  38,50 |   |
| Acceleration speed (time for 27,2 meters) |  9,6 |  9,2 |   |
Averages soft facts
| | |
| --- | --- |
| First impression |  8,60 |
| Load Safety |  9,00 |
| Entry to truck |  7,71 |
| Seat & Sit position |  8,67 |
| Legg Space |  8,00 |
| Activate truck |  8,50 |
| Hydraulics |  8,50 |
| Steering |  8,57 |
| Sight |  7,50 |
| Driving acceleration |  7,80 |
| Driving braking |  8,67 |
| Driving & Turning |  8,00 |
| Parking truck |  7,86 |
| Safety elements |  8,25 |
| General after test |  8,75 |
| Sustainability |  8,00 |
|   |   |
| Total average soft facts |  8,27 |
| Total productivity |  7,00 |
| Total Energy consumption |  9,00 |
|   |   |
| Total result all facts | 8,14 |
IFOY Innovation Check
Jungheinrich's goal is to achieve higher energy savings through a combination of measures and to produce the first truck in its class that boasts an operating time that permits non-stop duty for two shifts without the need to change the battery. A further aim is to optimise the ergonomics of the truck with an adaptive concept for steering power support.
In order to implement its concept of an energy-saving counter balanced truck, Jungheinrich has optimised various existing technologies and combined them in such a way that they achieve the defined targets. For the development of the adaptive steering power support feature, the company has adapted a known technology and equipped the electric steering unit of the EFG S40 with a function similar to that used in conventional cars for speed-dependent regulation of steering power.
According to Jungheinrich, the combination of three technical elements in this optimised form results in energy savings of at least 20 percent compared to the predecessor model. This concept, which Jungheinrich calls "Pure Energy", is based on the threephase technology that is already being used in the 4th generation of its trucks, underlining the fact that this a further development of an existing technology. The two other elements in this concept are the "compact control system" and the "compact hydraulic assembly". Electrical elements such as a power switch or the computer for control and regulation of the driving and lifting functions have been merged to create integrated control modules specifically for this type of counter balanced truck. The hydraulic components have also been carefully selected and adapted. With this strategy, which represents an alternative to the use of generally available standard components, Jungheinrich is following the trend towards functional integration using embedded systems. If backed up by suitable design parameters, this concept can help to achieve the targeted improvements in efficiency.
Assessment of innovation
Taken together, the three efficiency-enhancing elements introduced by Jungheinrich represent an extremely interesting approach, and the positive effects of this approach may be reflected in the achievable parameters for consumption and operating time. This is something that will have to be verified in the various test categories. The partial innovations employed by Jungheinrich are based on known concepts in a combination and design that constitute an innovative further development for the truck category in question.
The adaptive steering concept is a systematic further development of the assistant system from everyday road vehicles for use in MHE units.
---
Data Sheet
Truck Model
Technical Data (all trucks)
| | |
| --- | --- |
| Truck Type | electro |
| Lift capacity/load | 4000 (@ 600mm) kg |
| Truck weight | 7176 kg |
| Operation | seated |
| Driving speed with load | 15,0 km/h |
| Driving speed without load | 16,6 km/h |
| Lifting speed with load | 0,33 m/s |
| Lifting speed without load | 0,45 m/s |
| Lowering speed with load | 0,55 m/s |
| Lowering speed without load | 0,50 m/s |
| Max. lift height | 7180 mm |
| Power consumption according to VDI cycle | 12,4 kWh/h |
| Electro-trucks | |
| Battery voltage | 80 V |
| Battery capacity | 930 Ah |
| Battery connector | |
| Battery weight | 2178 kg |
| Drive motor | 18 kW |
| Lift motor | 24 kW |
| Tow Truck | |
| Nominal towing capacity | N |
| Orderpicking/Combitrucks | |
| Max. picking height | mm |
Miscellaneous
This model is a
Newly developed model
Date of rollout
2013-04-11
Start of series production
2013-10-11
Competitive products
Linde E40/600HL
Still RX60-40/600
Toyota 7FBMF40
Video
EFG S40s/ S50s
Innovations
Pure Energy technology package
Pure Energy comprises three components. 4th generation 3-phase AC technology, compact electronics and compact hydraulics. The current 3-phase AC technology optimises the coordination of hardware and software, bringing them to a new, optimum level of efficiency. The result is maximum throughput with the lowest consumption and two-shift operation on one battery charge.
Parameter steering
With parameter steering, steering support is dependent on the travel program. At low speeds, support from the electrical steering is high – the operator needs to make fewer movements of the steering wheel. At higher speeds, the steering support diminishes. The advantages are: a) minimising unwanted steering movements, b) more legroom due to more compact design and c) further improvement in energy efficiency and throughput.
S line
With the introduction of 3-phase AC technology in electric counterbalanced trucks, these will increasingly be used outdoors and as an alternative to trucks with internal combustion engines, particularly in Europe. In addition, applications will become more specific and, consequently, attachments will be tailored more precisely to applications. The S line offers the necessary range of features needed by customers for difficult indoor and outdoor applications as well as costly attachments.
Main goals for development
Energy saving of at least 20% compared with preceding model
In addition to maximum throughput for the lowest possible consumption (as per Andersom Testing comparison test), the aim was to achieve two-shift operation on one battery charge for the first time in the 3.5 to 5 tonnes class.
Adaptation to changing market/customer requirements
Another main aim of the development project was the adaptation of the series to changing market conditions. Due to a) the tightening up of emission regulations, b) customer requirements for lower carbon footprints and c) a more favourable Total Cost of Operations, electric counterbalanced trucks are being considered more frequently for applications where, until now, conventional diesel or LPG trucks would have been used. This demands flexibility regarding the attachments and truck characteristics which have been further optimised for outside use. All this has been achieved with the S series.
Lateral battery exchange with SnapFit
Quick battery access is the most frequently expressed customer requirement for battery handling on common pedestrian pallet trucks. The SnapFit battery exchange system, previously designed for EFG Series 2, 3 and 4, has now also been installed for Series 5.
User benefits
The main benefits for the user are improved cost-effectiveness, reliability and ergonomics.
The new EFG Series 5 offers improved energy efficiency and throughput. With two-shift operation now possible on one battery charge and the associated lower Total Cost of Operations, running costs are reduced and cost-effectiveness is increased.
With the SnapFit battery exchange, the excellent visibility and the wide variety of assistance systems the forklift truck is designed to provide a high level of safety.
Due to the infinitely and intuitively adjustable controls (armrest, steering wheel), the many storage options and a space-saving steering column, the EFG Series 5 enables the operator to work comfortably and without becoming fatigued.
Optional items (IFOY Test Truck)
Parameter steering
Full cab
Non-marking tyres
Drive&Lift Plus
Beacon
Comfort Display with automatic parking brake
Integrated sideshift
Front working lights
MSG 65 Ergo seat