IFOY Patronage
IFOY Sponsor
Volume DIVE

Volume Lagersysteme GmbH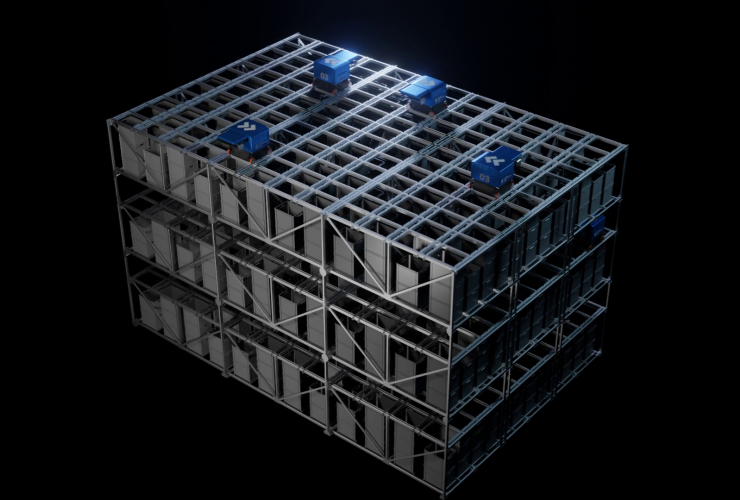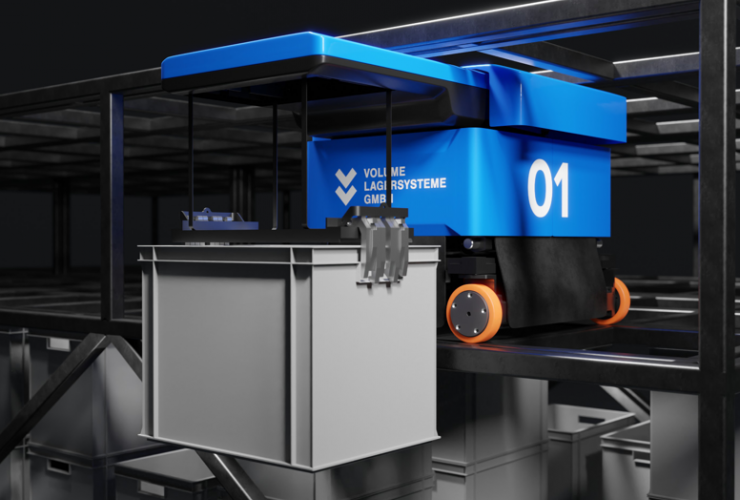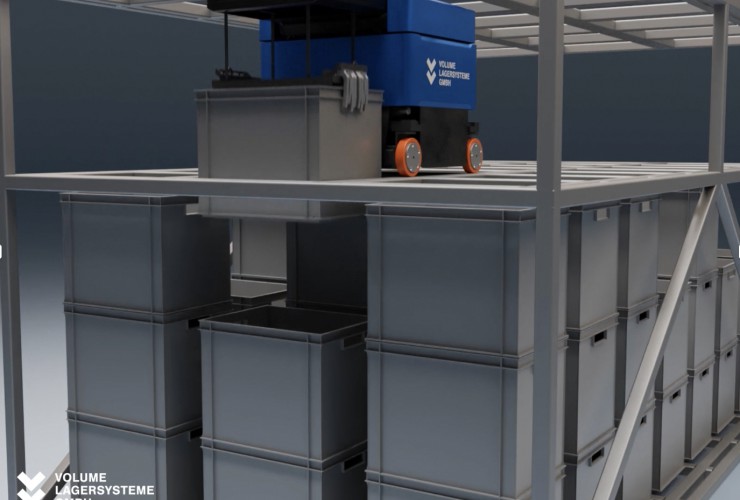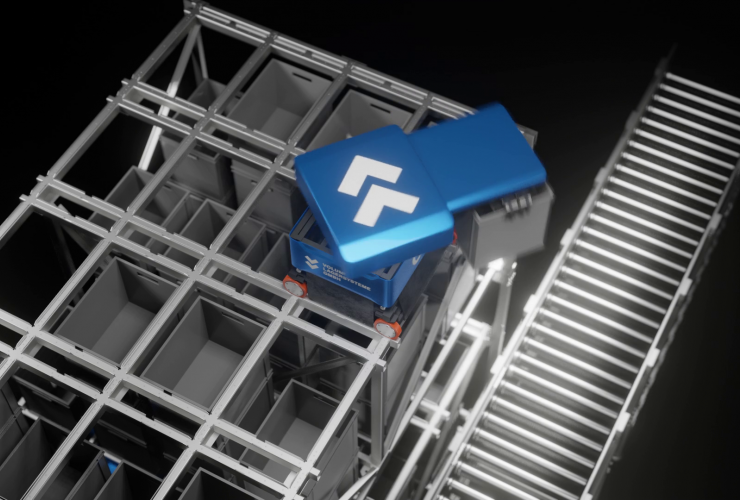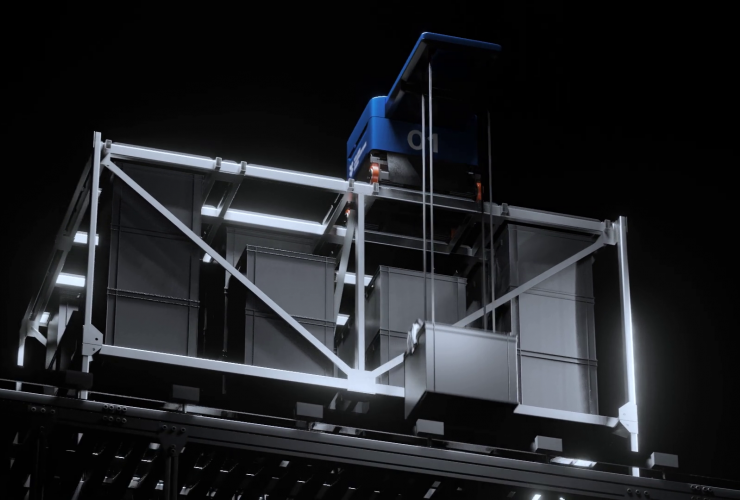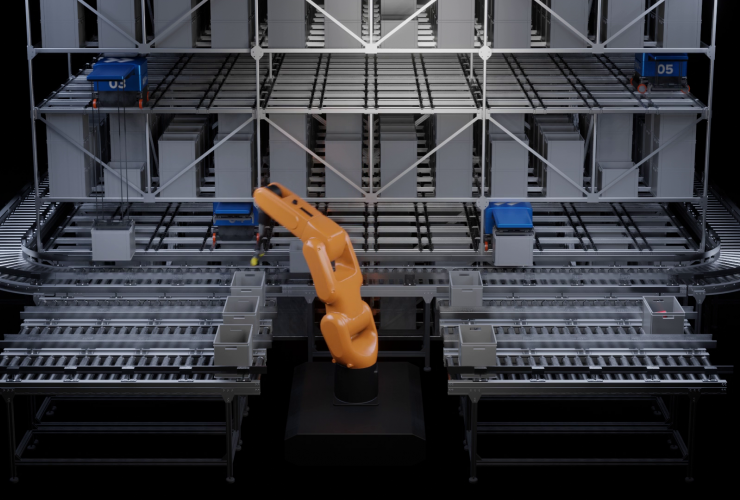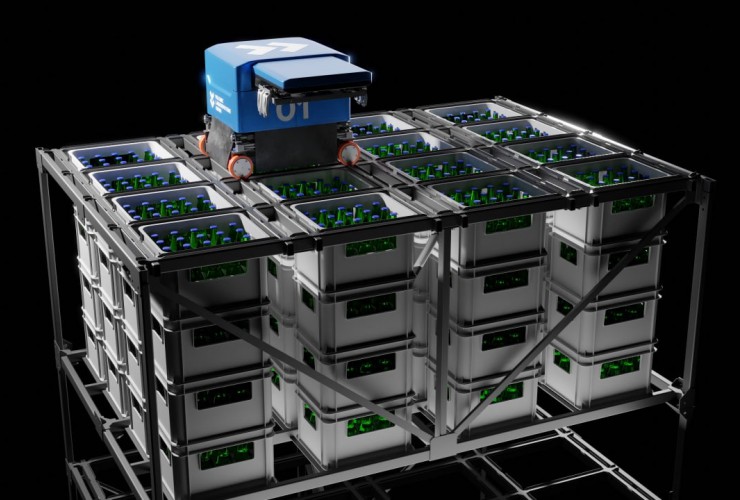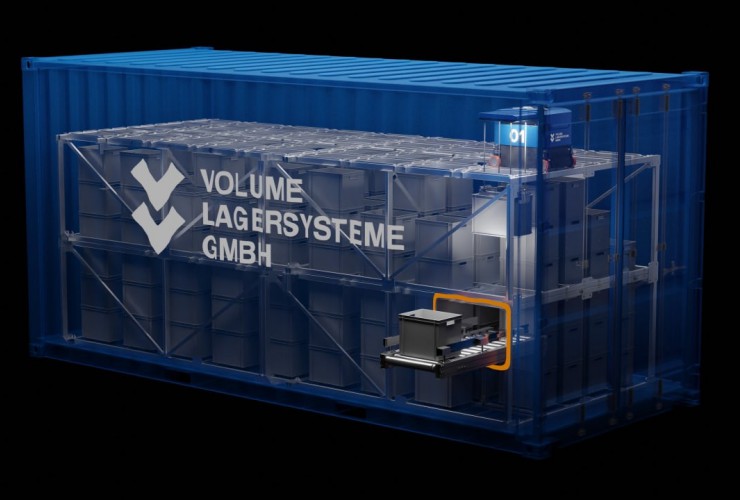 Volume DIVE: Beispielanwendung mit 3x3x3 Modulen.
Volume
IFOY-Kategorie
Intralogistics Robot
Zusammenfassung
Volume DIVE ist ein patentiertes robotik-gestütztes Lager- und Kommissioniersystem für Standard-Eurobehälter und Getränkekisten, entwickelt für den Quick-Commerce. Der Durchsatz lässt sich bis 4000 Bins/h flexibel skalieren. Statt langem Umstapeln stehen sie schnell im Zugriff. Heber sind nicht erforderlich, da die Roboter die Behälter direkt auf dem Boden abstellen können. In der kleinsten Variante beansprucht Volume DIVE nur 16 m². Die einzelnen Module passen durch jede normale Filialtür.
Beschreibung
Volume DIVE ist ein komplett neu entwickeltes und maßgeschneidertes Lager- und Kommissioniersystem für den urbanen Handel und moderne Lieferdienste. Es ist gekennzeichnet durch seine Kompaktheit, Modularität und seine hohe Leistung. Trotz der Kompaktheit ist ein schneller Zugriff auf jeden einzelnen Behälter mit minimalen Umstapelungen möglich. Das ermöglicht einen flexiblen Durchsatz bis zu 4000 Behältern pro Stunde. Damit ist er ideal für Q-Commerce-Anwendungen geeignet, aber auch für E-Commerce und klassische, energieintensive AKL-Anwendungen eine echte Alternative. Volume DIVE besteht aus
dem verfahrbaren Roboter, dem sogenannten Snapper.
dem speziellen Regal, dem sogenannten Speedrack.
und den Ladungsträgern (Standard-Eurobehälter oder Getränkekisten).
Das Speedrack besteht aus mehreren Modulen á 48 Behälter und ist beliebig erweiterbar. Bauhöhen bis 14 m sind realisierbar. Durch die einfache Nivellierung über Stellfüße kann es auf jedem Fußboden errichtet werden.
Der Snapper fährt bis zu 3 m/s und kann auf der gesamten Ebene modulübergreifend Behälter ein- und auslagern. Er besitzt eine drehbare Greifeinheit und kann somit auf allen vier Seiten Behälter aufnehmen und abgeben.
Die Ladungsträger sind Standard-Getränkekisten und Standard-Eurobehälter in den Größen 300x200 mm, 400x300 mm mit 25 kg sowie 600x400 mm mit 35 kg. Die Behälter sind mit unterschiedlichen Höhen innerhalb eines Turmes stapelbar.
Innovation
Volume DIVE unterscheidet sich im Vergleich zu anderen Behältersystemen in mehreren Bereichen:
Der Snapper besitzt drehbare Räder, einen Universalgreifer und eine 360° Rotationseinheit. Damit kann er Standardbehälter aufnehmen und abgeben, und zwar auf jeder Position inkl. Boden. Volume DIVE benötigt keine externen Heber.
Aus- und Einlagerungen sind auf allen Seiten des Lagers möglich.
Umstapelungen erfolgen ohne Verfahren des Snappers mittels der 360°-Dreheinheit und garantieren einen schnelleren Zugriff auf die Behälter. Aufgrund der Stapelhöhe von drei Ladungsträgern wird im Durchschnitt nur einmal umgelagert.
Die hohe Leistung entsteht durch mehrere Zugriffsebenen.
Die einzelnen Module passen durch jede reguläre Tür. In kleinster Ausprägung ist eine Grundfläche von nur 16 m² erforderlich – auch dieser Aspekt unterscheidet Volume DIVE von vergleichbaren Lösungen deutlich.
Gelagert werden Standard-Eurobehälter in gängigen Maßen mit oder ohne Griffmulde, sowie Getränkekisten.
Unterschiedliche Behälterhöhen sind innerhalb eines Turms stapelbar.
Im Vergleich zu anderen Lösungen mit extra angefertigten Sonderbehältern dürfen die Behälter des Volume DIVE auch außerhalb des Systems verwendet werden.
Die Leistung ist durch die Anzahl der Roboter skalierbar.
Es gibt keine Einschränkung durch Kommissionierports, da an jeder Balkonposition des Lagers auf- und abgegeben werden kann.
Bei erhöhten Brandschutzanforderungen sind Sprinkler auf den Fahrebenen möglich.
Marktrelevanz
Volume DIVE eignet sich aufgrund seiner kompakten Bauweise, des innovativen Konstruktionsprinzips und der einfachen Inbetriebnahme besonders für boomende Quick-Commerce-Anwendungen im urbanen Umfeld (10 Artikel in weniger als 60 Sekunden).
Gerade für innerstädtische Lieferdienste von etwa Lebensmitteln, die in den letzten zwei bis drei Jahren die On-Demand-Welt in puncto Liefergeschwindigkeit (Stichwort: Letzte Meile) neu definiert haben und die einen hohen Umschlag auf wenig Fläche realisieren müssen, ist Volume DIVE ideal.
Er ist als Micro-Hub aber auch eine perfekte Lösung für die zunehmende Verknappung von verfügbaren Lagerflächen in Ballungsräumen.
Durch das flexible Behälterhandling gängiger Standardgrößen müssen Kunden keine neuen Behälter anschaffen.
Eine Übergabe auf Fördertechniken ist möglich, jedoch nicht notwendig, so dass keine Begleit-Investitionen in verbindende Automatiksysteme nötig sind.
Volume DIVE ist als kompaktes Kleinteilelager- und Kommissioniersystem für langsam drehende C-Artikel bis zum Hochleistungs-Umschlag für A-Artikel einsetzbar. Damit ist es auch eine Alternative zu statischen und energieintensiven AKLs mit Regalbediengeräten oder Shuttles. Ebenso ist es ein ideales System für Getränkelieferdienste im urbanen Umfeld. Als weiteres Einsatzfeld bietet sich die mobile Versorgung mit Automaten für gekühlte Getränke an. Außerdem sind damit effiziente Container mit automatischer Bereitstellung von Ersatzteilen und Zubehör für Baustellen möglich.
Hauptvorteile für den Kunden
Volume DIVE nutzt das Potenzial modernster Robotertechnologie optimal aus und ist ultimativ flexibel, ultra-kompakt und extrem schnell.
Das System ist komplett skalierbar in Größe und Leistung und daher für viele Kunden passend, die Kleinteile kompakt und automatisiert lagern wollen, aber für zukünftige Änderungen flexibel bleiben wollen.
Ein Anbau in Länge, Breite und Höhe ist problemlos machbar, so dass Volume DIVE parallel zur Unternehmensentwicklung mitwachsen kann. Die Leistung kann durch die Anzahl der Snapper skaliert werden.
Wenn aus einem C-Artikel saisonal ein A-Artikel wird, ist Volume DIVE aufgrund seiner kurzen Zugriffszeiten immer noch das perfekte Lagersystem dafür.
Der Aufbau gestaltet sich schnell und einfach. Die Einbringung des Materials durch normale Türen ist möglich, so dass Volume DIVE in gewöhnlichen Räumen eingesetzt werden kann, z.B. in bestehenden Ladengeschäften.
Durch die schnell realisierbare Inbetriebnahme, z.B. an einem Wochenende, wird der Kunde in seinen regulären Abläufen nicht behindert.
Verglichen mit einer aufwändig zu installierenden AKL-Lösung kann der Kunde Volume DIVE schon nach kurzer Zeit benutzen.
Es gibt keine erhöhten Anforderungen an die Ebenheit des Fußbodens, so dass Volume DIVE in allen gängigen Hallen und Räumen einsetzbar ist.
Ein weiterer Hauptvorteil für die Kunden ist, dass sie ihre Standardbehälter weiter nutzen können (und keine neuen anschaffen müssen) und diese Volume DIVE verlassen dürfen.
Technische Daten
Konkurrenzprodukte
keine Angaben / no comment
Video:
Volume DIVE
Volume DIVE

Volume Lagersysteme GmbH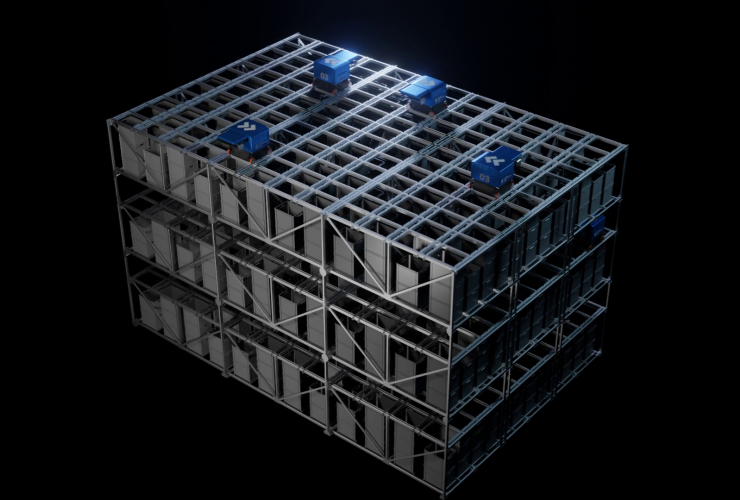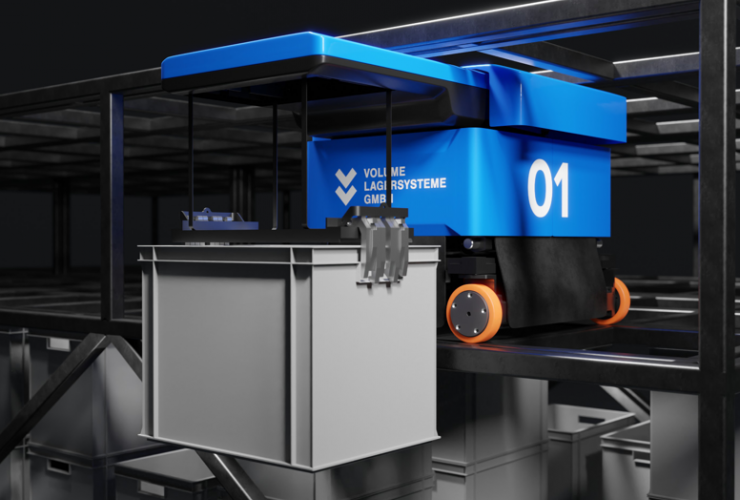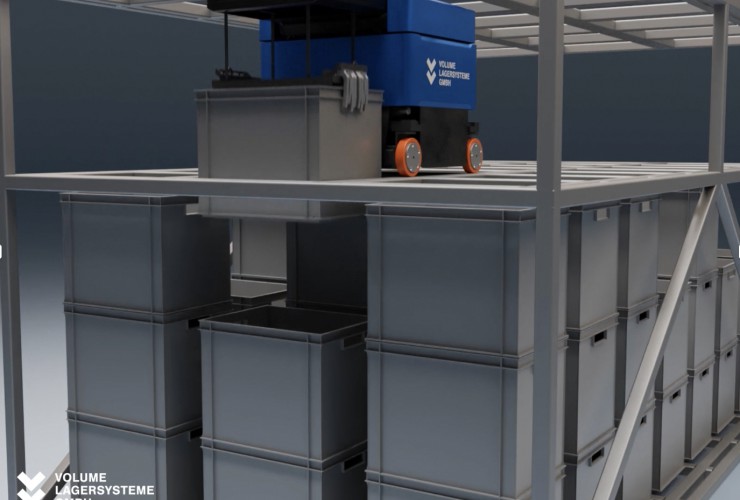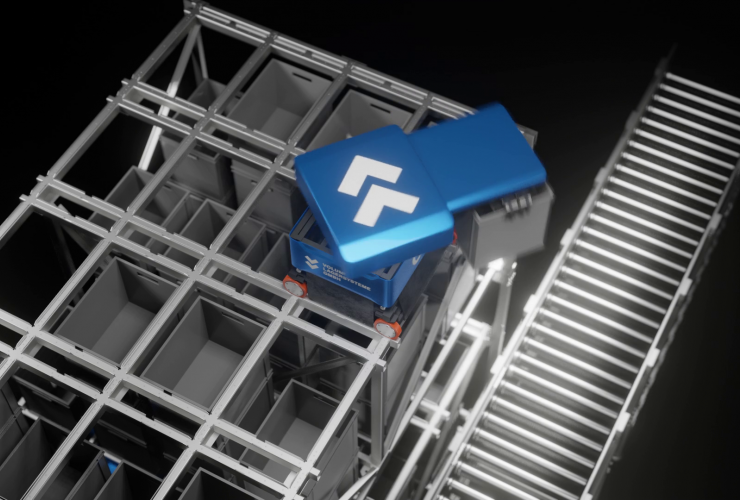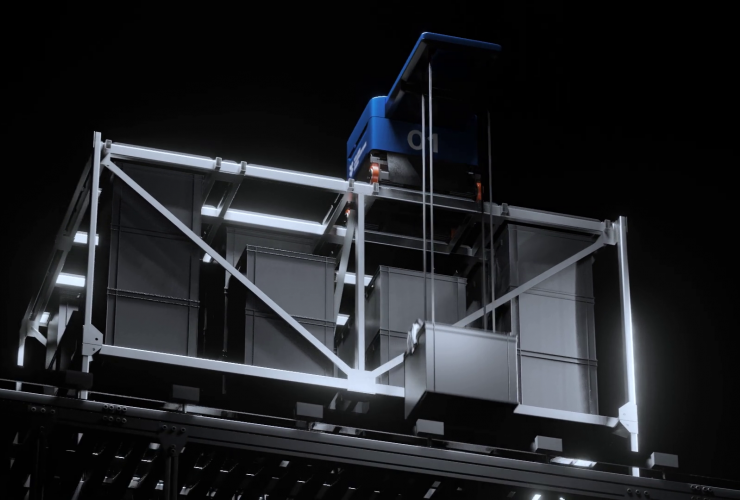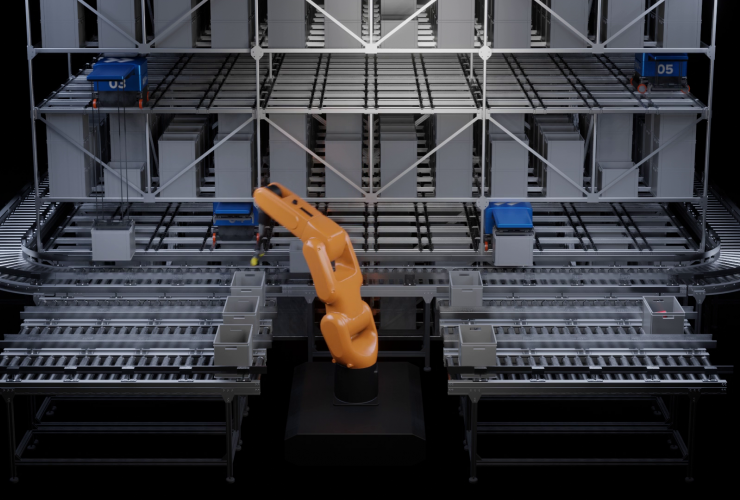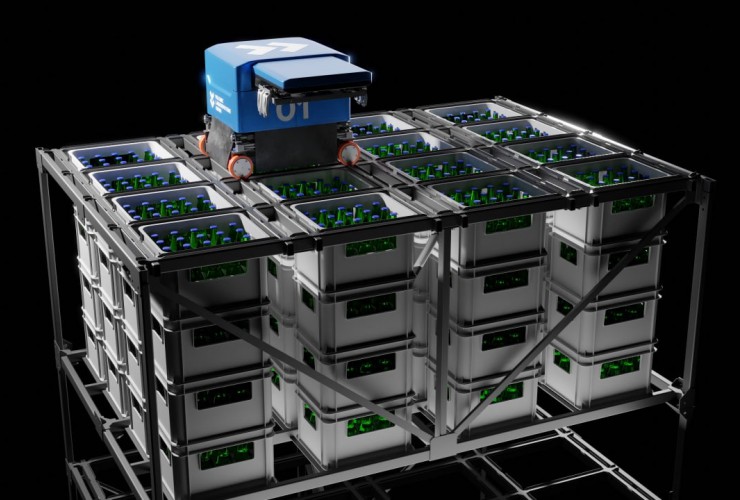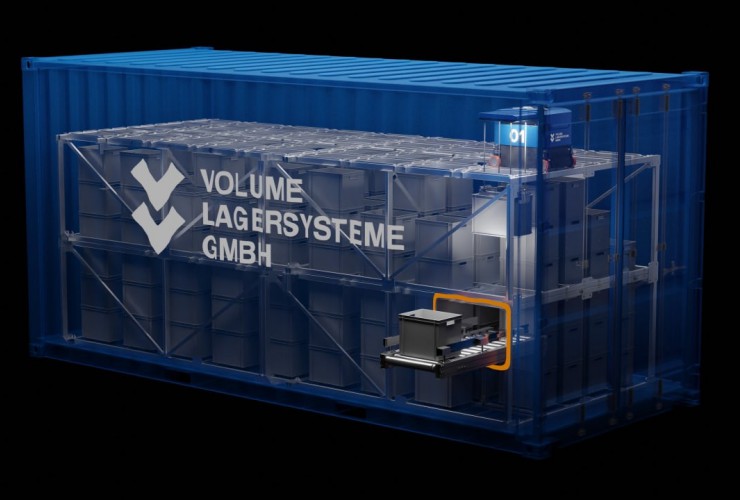 Volume DIVE: Example application with 3x3x3 modules.
Volume
IFOY category
Intralogistics Robot
Summary
Volume DIVE is a patented robotics-based storage and picking system for standard Euro bins and beverage crates, developed for quick commerce. The throughput can be flexibly scaled up to 4000 bins/h. Instead of long restacking, they can be accessed quickly. Lifters are not required, as the robots can place the bins directly on the floor. In the smallest version, Volume DIVE takes up only 16 m². The individual modules fit through any normal store door.
Description
Volume DIVE is a completely newly developed and customised storage and picking system for urban retail and modern delivery services. It is characterised by its compactness, modularity and high performance. Despite its compactness, fast access to each individual bin is possible with minimal restacking. This enables a flexible throughput of up to 4,000 bins per hour. This makes it ideal for Q-commerce applications, but also a real alternative for e-commerce and classic, energy-intensive miniload applications. Volume DIVE consists of
the mobile robot, the so-called Snapper.
the special shelf, the so-called Speedrack.
and the load carriers (standard euro bins or beverage crates).
The Speedrack consists of several modules with 48 bins each and can be extended as required. Heights of up to 14 m can be realised. Due to the simple levelling via adjustable feet, it can be installed on any floor.
The Snapper travels at up to 3 m/s and can store and retrieve bins on the entire level across modules. It has a rotating gripper unit and can thus pick up and deliver bins on all 4 sides.
The load carriers are standard beverage crates and standard euro bins in the sizes 300x200 mm, 400x300 mm with 25 kg as well as 600x400 mm with 35 kg. The bins can be stacked with different heights within one tower.
Innovation
Volume DIVE differs from other bin systems in several areas:
The Snapper has rotating wheels, a universal gripper and a 360° rotation unit. This allows it to pick up and deliver standard bins in any position, including the base. Volume DIVE does not require any external lifters.
Retrieval and storage are possible on all 4 sides of the racking.
Restacking is carried out without moving the snapper by means of the 360° rotating unit and guarantees faster access to the bins. Due to the stacking height of 3 load carriers, restacking only takes place once on average.
The high performance results from several access levels.
The individual modules fit through any regular door. In the smallest version, a floor space of only 16 m² is required – this aspect also clearly distinguishes Volume DIVE from comparable solutions.
Standard euro bins in common sizes can be stored, with or without recessed handles, as well as beverage crates.
Different bin heights can be stacked within one tower.
Compared to other solutions with custom-made special bins, the bins of the Volume DIVE may also be used outside the system.
The performance is scalable by the number of robots.
There are no restrictions due to picking ports, as loading and unloading can take place at any balcony position in the warehouse.
Sprinklers on the moving levels are possible for increased fire safety requirements.
Marktet relevance
Volume DIVE is particularly suitable for booming quick-commerce applications in urban environments (10 items in less than 60 seconds) due to its compact design, innovative construction principle and simple commissioning.
Volume DIVE is ideal for inner-city delivery services of groceries, for example, which have redefined the on-demand world in terms of delivery speed (keyword: last mile) in the last two to three years and which have to realise a high turnover in a small area.
As a micro-hub, it is also a perfect solution for the increasing shortage of available storage space in urban areas.
Thanks to the flexible bin handling of common standard sizes, customers do not have to purchase new bins.
A transfer to conveyor systems is possible, but not necessary, so that no accompanying investments in connecting automatic systems are required.
Volume DIVE can be used as a compact small-parts storage and order-picking system for slow-moving C-items up to high-performance handling for A-items.
This makes it an alternative to static and energy-intensive miniloads with stacker cranes or shuttles. It is also an ideal system for beverage delivery services in urban environments. Another field of application is the mobile supply of vending machines for chilled beverages. It can also be used for efficient containers with automatic provision of spare parts and accessories for construction sites.
Main customer benefits
Volume DIVE makes optimal use of the potential of state-of-the-art robot technology and is ultimately flexible, ultra-compact and extremely fast.
The system is completely scalable in size and performance and therefore suits many customers who want to store small parts in a compact and automated way, but remain flexible for future changes.
An extension in length, width and height is easily feasible, so that Volume DIVE can grow parallel to the company's development. Performance can be scaled by the number of snappers.
If a C-item seasonally becomes an A-item, Volume DIVE is still the perfect storage system for this due to its short access times.
Set-up is quick and easy. The material can be brought in through normal doors, so Volume DIVE can be used in ordinary rooms, e.g. in existing shops.
Because the installation can be realised quickly, e.g. on a weekend, the customer is not hindered in his regular processes.
Compared to a complex miniload solution, the customer can already use Volume DIVE after a short time.
There are no increased requirements for the evenness of the floor, so Volume DIVE can be used in all common halls and rooms.
Another main advantage for the customers is that they can continue to use their standard bins (and do not have to purchase new ones) and they are allowed to leave Volume DIVE.
Technical data
Competitive products
keine Angaben / no comment
Video:
Volume DIVE