IFOY Patronage
IFOY Sponsor
Raymond® 8910 End Rider Pallet Truck

The Raymond Corporation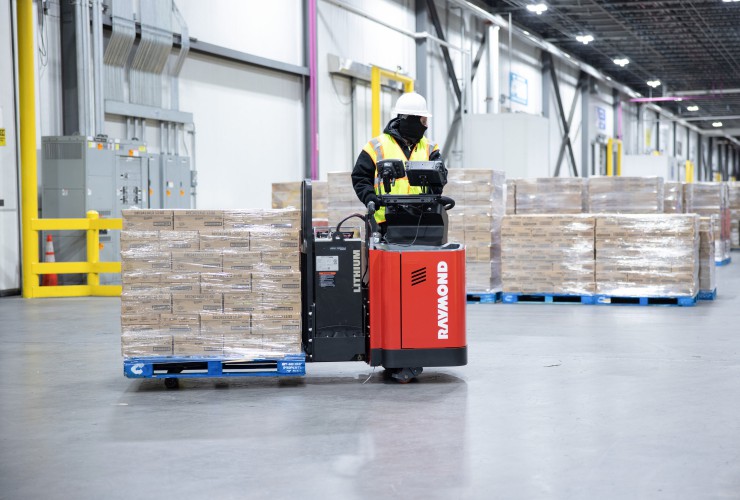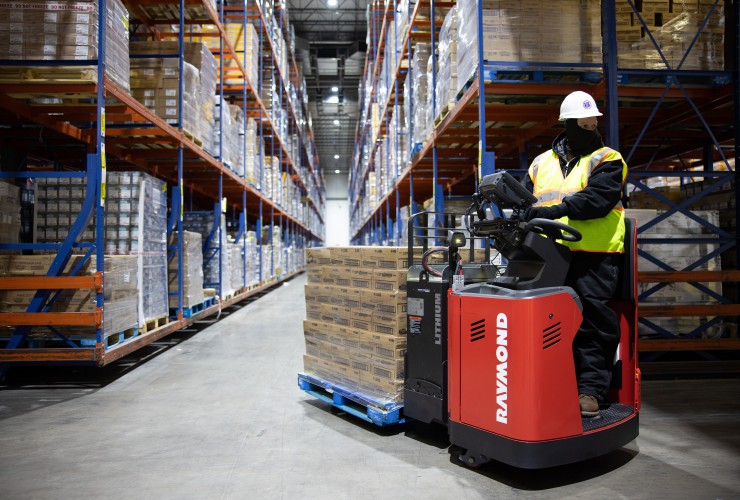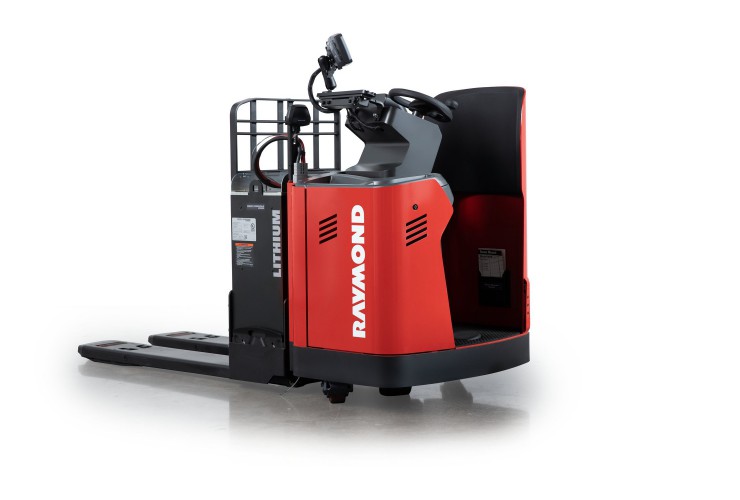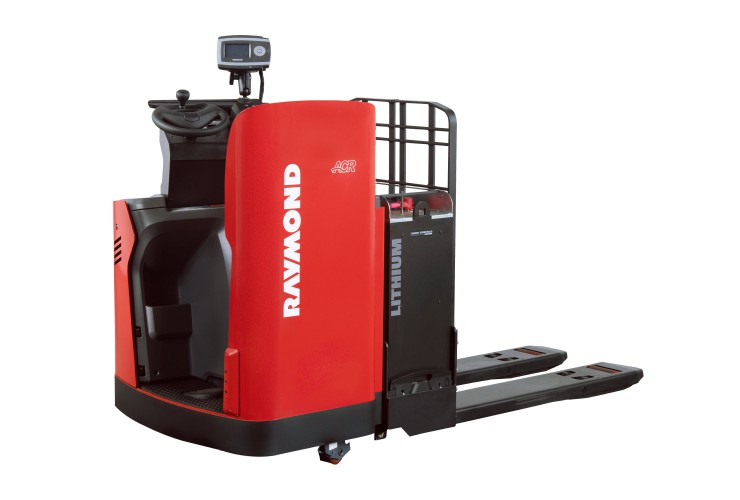 Raymond® 8910 End Rider Pallet Truck.
The Raymond Corporation
IFOY-Kategorie
Warehouse Truck "lowlifter"
Zusammenfassung
Der Raymond® 8910 Endrider-Gabelhubwagen der nächsten Generation eignet sich ideal für Anwendungen mit hoher Beanspruchung und hohem Durchsatz. Dieser komfortable Gabelhubwagen verfügt über intuitive, einfach zu bedienende Steuerelemente und eine verbesserte Ergonomie, insbesondere für lange Transporte.
Beschreibung
Der anpassungsfähige, skalierbare und flexible Palettenhubwagen Raymond 8910 kann auf bestimmte Einrichtungen und Anwendungen zugeschnitten werden, z.B. auf den Horizontaltransport, das Be- und Entladen, lange Fahrten zu Umschlagzentren, Kühllager und Kaianlagen. Mit verschiedenen produktivitätssteigernden Zubehörteilen und Optionen bietet dieser hochmoderne Gabelhubwagen ein benutzerfreundliches Bedienerlebnis. Der Hubwagen ist mit ergonomisch gestalteten und ergonomisch angeordneten Bedienelementen, einer verbesserten elektrischen Servolenkung und einem Totmann-Pedal ausgestattet, die einen geringeren Kraftaufwand bei der Bedienung erfordern, sowie mit einer größeren Kabine mit umlaufend gepolsterten Lehnen und schwingungsabsorbierenden Bodenplatten, die für maximalen Komfort sorgen.

Ein weiteres zusätzliches Merkmal, das das Vertrauen des Fahrers stärkt, ist das Fahrerraumsensorsystem (OCSS). OCSS trägt dazu bei, dass der Fahrer eine korrekte Arbeitsposition einnehmen und beibehalten muss.
Zur Maximierung der Produktivität sind verschiedene Gabellängen und Tragfähigkeiten erhältlich.
Video: Raymond® 8910 End Rider Pallet Truck
---
Datenblatt
Gerätetyp
Technische Daten (alle Geräte)
| | |
| --- | --- |
| Antrieb | Elektro |
| Tragfähigkeit | 6,000 or 8,000 lb. kg |
| Eigengewicht | 700kg without battery to 1,030kg without battery kg |
| Bedienung | Stand |
| Fahrgeschwindigkeit mit Last | 6.5 mph and 6.2 mph km/h |
| Fahrgeschwindigkeit ohne Last | 9 mph km/h |
| Hubgeschwindigkeit mit Last | N/A m/s |
| Hubgeschwindigkeit ohne Last | N/A m/s |
| Senkgeschwindigkeit mit Last | N/A m/s |
| Senkgeschwindigkeit ohne Last | N/A m/s |
| Max.Hubhöhe | 9.25" mm |
| Energieverbrauch nach VDI-Arbeitsspiel | N/A |
| Elektro-Trucks | |
| Batteriespannung | 24 V |
| Batteriekapazität | 750 max Ah |
| Batterieanschluss | SB-175 |
| Batteriegewicht | 445-680 kg |
| Leistung Fahrmotor | 3.3 kW at 2200 rpm & 165 amps kW |
| Leistung Hubmotor | N/A kW |
| Schlepper | |
| Nennzugkraft | N/A N |
| Kommissionierer/Kombigeräte | |
| Max. Greifhöhe | N/A mm |
Sonstiges
Es handelt sich um
Ersatz eines oder mehrerer bestehender Modelle:
The Raymond 8900
Datum der Markteinführung
16.11.2021
Datum des Produktionsstarts
05.04.2022
Konkurrenzprodukte
Crown PC Series
Hyster Yale MPC
N/A
Video
Raymond® 8910 End Rider Pallet Truck
Innovationen
Angesichts der zunehmenden Bedeutung des Themas Nachhaltigkeit auf dem Markt wurden bei der Entwicklung des Raymond 8910 Palettenhubwagens entsprechende Merkmale berücksichtigt. Kunden berichten, dass sie jetzt eine ganze Schicht ohne Batteriewechsel bewältigen können, was zu weniger Batteriewechseln und einer längeren Betriebszeit führt. Im Vergleich zu den Vorgängermodellen hat der aktualisierte Gabelhubwagen Raymond 8910 eine bessere Energieeffizienz als andere Modelle der Raymond 8000-Serie.
Bei der Konstruktion des Gabelhubwagens Raymond 8910 entschied sich das Team für den Wechsel zur elektronischen Servolenkung. Diese Änderung ist für den größten Teil des geringeren Energieverbrauchs verantwortlich. Dank der elektronischen Servolenkung ist der Raymond 8910 wesentlich leiser und energieeffizienter.

Darüber hinaus wurde eine neue, aktualisierte OCSS-Option für die Arbeit in Kühllagern entwickelt. Die verbesserten Technologiekomponenten reduzieren zudem den Energieverbrauch, sorgen für eine längere Betriebszeit und eine kürzere Fahrzeuglänge, die einen kleineren Wenderadius für eine bessere Manövrierfähigkeit in engen Bereichen ermöglicht.

Die automatische Zentrierung der Antriebsreifen beim Anfahren und die automatische Verlangsamung bei Kurvenfahrten erhöhen die Sicherheit für den Bediener. Die programmierbaren Parameter des Staplers können an die vom Kunden gewünschte Geschwindigkeit angepasst werden.
Eine weitere nicht-technische Innovation ist die Flexibilität der Fahrerkabine.  Die Konsole kann um einen Zoll vom Fahrer weggeschoben werden, um mehr Platz zu schaffen.  Außerdem kann das Lenkrad in eine kommissionierähnliche Deichsel umgewandelt werden, was zusätzlichen Platz von 1,25 Zoll schafft. Dies ist besonders hilfreich, wenn der Fahrer einen Kälteschutzanzug trägt, und bietet bei Bedarf zusätzliche Bewegungsfreiheit in der Fahrerkabine.
Marktrelevanz
Da sich der Markt in Richtung mehr Palettenhubwagen bewegt, war es wichtig, dass der Raymond 8910 diese Verbesserung auch verkörpert. Da die Fahrer im Schwerlast-, Langstrecken- und Kühlhausbereich arbeiten, ist der Fahrerkomfort extrem wichtig. Einsatzbereiche sind:
Lebensmittel & Lebensmittelvertrieb
Fertigung
Lagerhaltung/3PL
Großhandel
Einzelhandel
Kundennutzen
Angesichts des Fachkräftemangels suchen die Betriebe nach bedienerfreundlichen und ergonomischen Technologien. Dieser Palettenhubwagen ist mit einer geräumigen Fahrerkabine für mehr Komfort und mit intuitiven, einfach zu bedienenden Steuerelementen ausgestattet und bietet eine außergewöhnliche Manövrierfähigkeit mit einer elektrischen Lenkung mit geringem Kraftaufwand und einer elektronischen Bremse.
Der Rahmen des Raymond 8910 Gabelhubwagens ist durchgängig stahlverstärkt und mit hochbelastbaren Bolzen und Buchsen ausgestattet, so dass er maximale Arbeitslasten bewältigen und die Lebensdauer der Geräte verlängern kann.

Alle Raymond Palettenhubwagen sind mit Gabeln ausgestattet, die ein einfaches Auf- und Abladen der Paletten ermöglichen. Die Gabeln werden mit stumpfer Nase und Universalgabeln angeboten, die einen sanfteren Übergang und eine stromlinienförmige Gabeldicke für besseren Spielraum und weniger Produktschäden ermöglichen.
Sonderausstattung (IFOY Test-Gerät)
Zubehörleiste
Ventilator
Licht
USB-Steckdose
Fahrwarnmelder
Lithium-Ionen-Batterien
Rollen
Last-Rückenlehnen
Lasträder
Sensor in der Fahrerkabine
Ablagefach
Bereifung
Raymond® 8910 End Rider Pallet Truck

The Raymond Corporation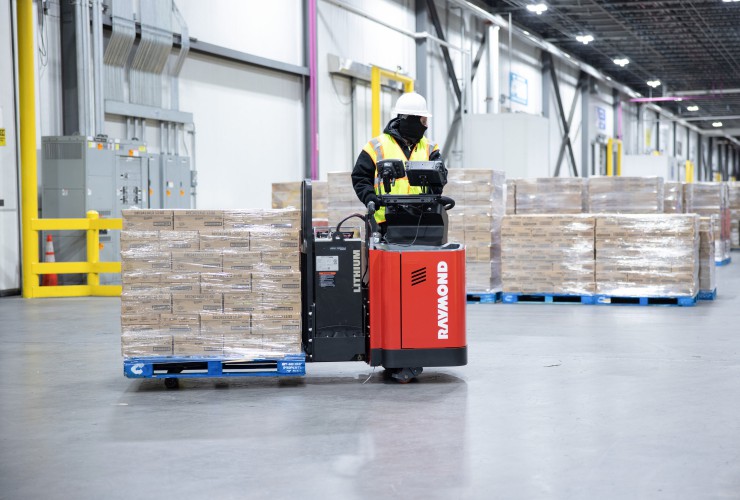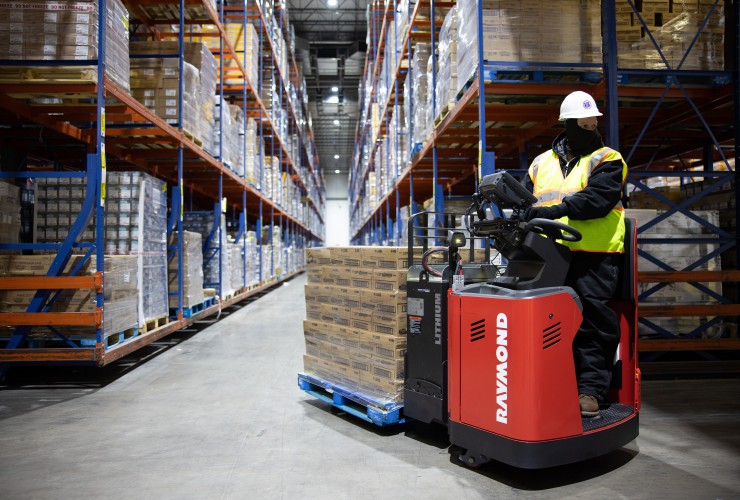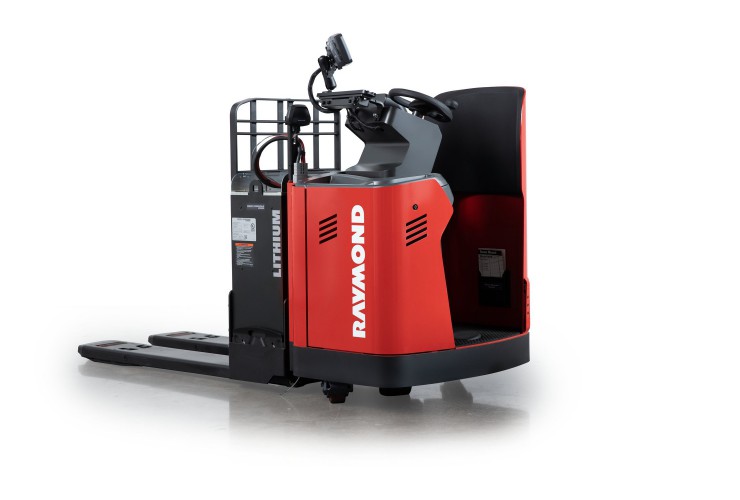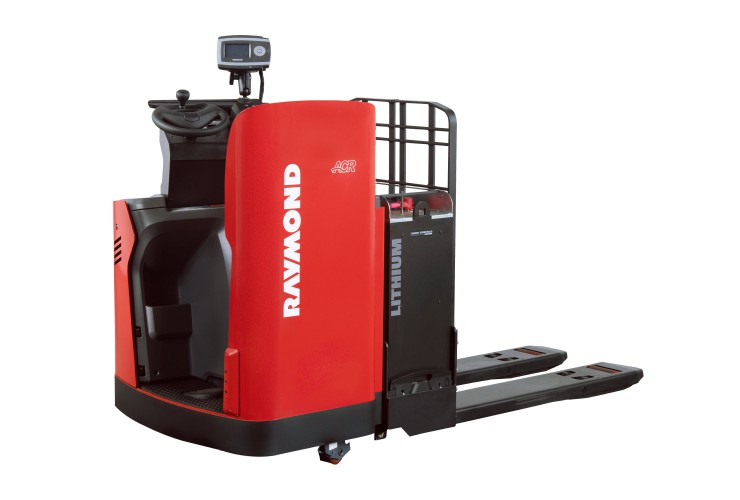 Raymond® 8910 End Rider Pallet Truck.
The Raymond Corporation
IFOY category
Warehouse Truck "lowlifter"
Summary
The next-generation Raymond® 8910 end rider pallet truck is ideal for heavy-duty and high-throughput applications. This comfortable pallet truck features intuitive, easy-to-use controls and enhanced ergonomics, especially for long hauls.
Description
Adaptable, scalable and flexible, the Raymond 8910 pallet truck can be tailored to specific facilities and applications, including horizontal transportation, loading and unloading, long runs to P&D stations, cold storage and dock work. With various productivity-enhancing accessories and options, this cutting-edge pallet jack provides a user-friendly operating experience. This pallet truck is equipped with ergonomically designed and positioned controls, enhanced electric power steering and deadman pedal, requiring less effort to operate and a larger compartment with wraparound padded lean points and vibration-absorbing floor pads to maximize comfort.
Another added feature for operator confidence includes the operator compartment sensor system (OCSS). OCSS helps to reinforce the need for the operator to assume and maintain a proper operating position.
Various fork lengths and load capacities are available to maximize productivity.
Video: Raymond® 8910 End Rider Pallet Truck
---
Data sheet
Truck model
Technical data (all trucks)
| | |
| --- | --- |
| Truck type | electro |
| Lift capacity/load | 6,000 or 8,000 lb. kg |
| Truck weight | 700kg without battery to 1,030kg without battery kg |
| Operation | stand-on |
| Driving speed with load | 6.5 mph and 6.2 mph km/h |
| Driving speed without load | 9 mph km/h |
| Lifting speed with load | N/A m/s |
| Lifting speed without load | N/A m/s |
| Lowering speed with load | N/A m/s |
| Lowering speed without load | N/A m/s |
| Max. lift height | 9.25" mm |
| Power consumption according to VDI cycle | N/A |
| Electro-trucks | |
| Battery voltage | 24 V |
| Battery capacity | 750 max Ah |
| Battery connector | SB-175 |
| Battery weight | 445-680 kg |
| Drive motor | 3.3 kW at 2200 rpm & 165 amps kW |
| Lift motor | N/A kW |
| Tow truck | |
| Nominal towing capacity | N/A N |
| Orderpicking/Combitrucks | |
| Max. picking height | N/A mm |
Miscellaneous
This model is a
Replacement of one or more existing models:
The Raymond 8900
Date of rollout
2021-11-16
Start of series production
2022-04-05
Competitive products
Crown PC Series
Hyster Yale MPC
N/A
Video
Raymond® 8910 End Rider Pallet Truck
Innovations
With the importance of sustainability in the market, sustainable features are factored into the design of the Raymond 8910 pallet truck. Customers have stated that they can now get through an entire shift without changing the battery, resulting in fewer battery change-outs and more uptime. When compared with previous models, the updated Raymond 8910 pallet truck has improved energy efficiency than others in the Raymond 8000 series.
When designing the Raymond 8910 pallet truck, the team decided to make the change to electronic power steering. This change accounts for most of the reduced power consumption. As a result of electronic power steering, the Raymond 8910 pallet truck is a much quieter and more energy efficient truck. 
Additionally, a newly updated OCSS option is designed for work in cold-storage applications. Upgraded technology components also reduce energy consumption, providing a longer uptime and reduced head length that enables a smaller turning radius for greater maneuverability in tight areas.
For increased operator confidence, automatic drive tire centering upon startup and auto-slowdown when cornering is included. Programmable parameters on the truck can be customized to each customer's desired speed.
Another nontechnical innovation is the flexibility of the operator compartment.  The console can be moved 1" farther from the operator for additional space.  Additionally, the wheel can be switched to an order picker-style tiller, giving an additional 1.25" of space. This is particularly helpful when operators are wearing cold-storage suits and gives additional flexibility in the operator compartment when needed.
Market relevance
As the market is moving toward more pallet trucks, it was important the Raymond 8910 pallet truck embodied that improvement as well. As operators are working in heavy-duty, long-haul and cold-storage applications, operator comfort is extremely important. Areas of application are:
Food & grocery distribution
Manufacturing
Warehousing/3PL
Wholesale
Retail
Customer benefit
With skilled labor in short supply, operations are looking for operator-friendly and ergonomic technologies. Built with a roomy operator compartment for enhanced comfort and equipped with intuitive, easy-to-use controls, this pallet truck offers exceptional maneuverability with low-effort electric steering and electronic braking.
The undercarriage of the Raymond 8910 pallet truck is steel-reinforced throughout with heavy-duty pins and bushings, making it designed to handle maximum workloads and extend equipment life.
All Raymond pallet jacks feature forks designed for easy pallet entry and exit. The forks are offered in blunt nose and universal fork options, allowing a smoother transition and a streamlined fork thickness for better clearance and reduced product damage.
Optional items (IFOY test truck)
Accessory bar
Fan
Light
USB receptacle
Travel alarms
Lithium-ion batteries
Casters
Load back rests
Load wheels
Operator compartment sensor
Storage tray
Tires