IFOY Patronage
IFOY Sponsor
PXV (Vertikalkommissionierer)

STILL GmbH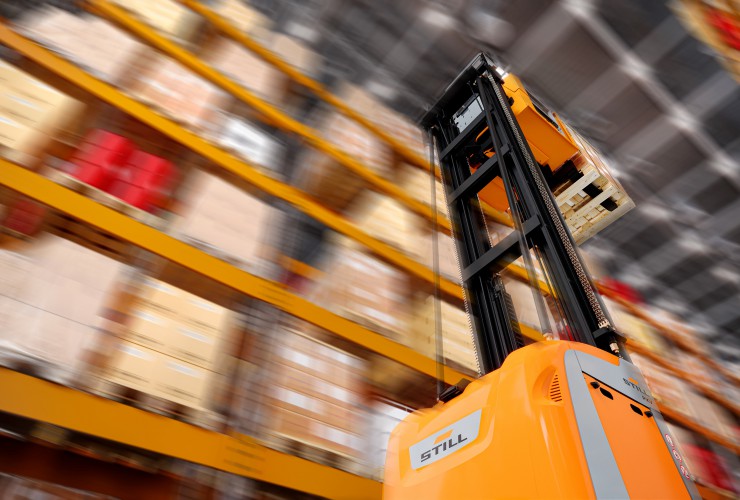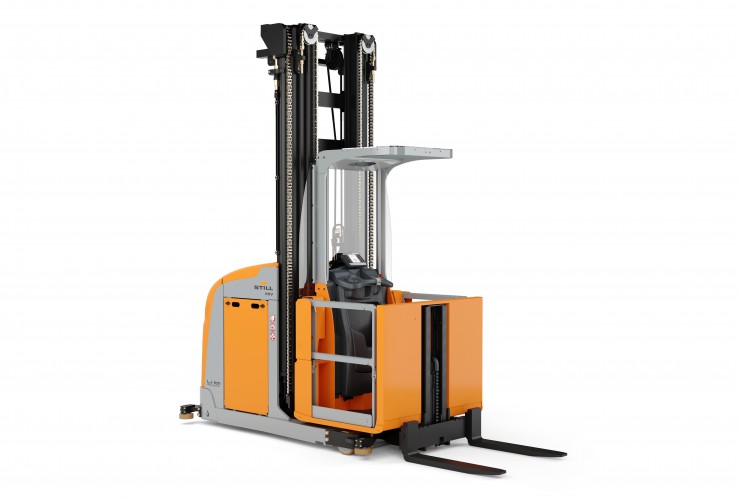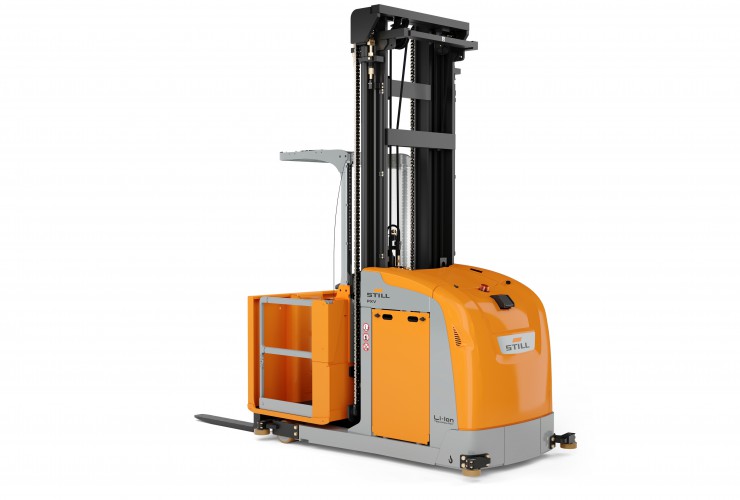 Der Vertikalkommissionierer PXV begeistert mit Leistung, Greifhöhe, Sicherheit und Komfort in einer neuen Dimension.
STILL GmbH
IFOY-Kategorie
Warehouse Truck "highlifter"
Zusammenfassung
Der Vertikalkommissionierer PXV begeistert mit Leistung, Greifhöhe, Sicherheit und Komfort in einer neuen Dimension. Im Breit- genauso wie im Schmalganglager können Mitarbeiter in Arbeitshöhen von bis zu 14,5 Metern Lasten kommissionieren.
Beschreibung
Der STILL Vertikalkommissionierer PXV ist aufgrund seiner kompakten und variablen Fahrzeugmaße sowohl im Breitgang als auch im Schmalgang flexibel und zuverlässig einsetzbar. Der PXV findet Anwendung in unterschiedlichsten Branchen und Einsatzbereichen, z.B. in Maschinenbauunternehmen, bei Logistikdienstleistern und in Zentrallagern großer Handelsunternehmen. Das Fahrzeug ermöglicht eine besonders hohe Lager- und Flächeneffizienz. Im Hinblick auf die nachhaltige Expansion von Lagerplätzen können Lager in die Höhe expandieren, ohne weitere Bodenflächen zu versiegeln. Somit bedient der Vertikalkommissionierer PXV den Trend zu höheren Lagerflächen.
---
Gerätetyp
Technische Daten (alle Geräte)
| | |
| --- | --- |
| Antrieb | Elektro |
| Tragfähigkeit | 1200 kg |
| Eigengewicht | ~ 6000 kg |
| Bedienung | Stand |
| Fahrgeschwindigkeit mit Last | 13 km/h km/h |
| Fahrgeschwindigkeit ohne Last | 13 km/h km/h |
| Hubgeschwindigkeit mit Last | 0,48 m/s |
| Hubgeschwindigkeit ohne Last | 0,5 m/s |
| Senkgeschwindigkeit mit Last | 0,45 m/s |
| Senkgeschwindigkeit ohne Last | 0,45 m/s |
| Max.Hubhöhe | 12500 mm |
| Energieverbrauch nach VDI-Arbeitsspiel | 1,5 kWh/h |
| Elektro-Trucks | |
| Batteriespannung | 48 V |
| Batteriekapazität | 930 Ah |
| Batterieanschluss | |
| Batteriegewicht | 1300 kg |
| Leistung Fahrmotor | 6,5 kW |
| Leistung Hubmotor | 13 kW |
| Schlepper | |
| Nennzugkraft | / N |
| Kommissionierer/Kombigeräte | |
| Max. Greifhöhe | 14500 mm |
Sonstiges
Es handelt sich um
Weiterentwicklung mit signifikanten technischen Verbesserungen eines oder mehrerer bestehender Modelle:
PXV bis 1200 kg
Datum der Markteinführung
01.02.2023
Datum des Produktionsstarts
01.06.2023
Konkurrenzprodukte
EKS
BT Optio H
Innovationen
Einzigartig im Markt ist die Greifhöhe von bis zu 14,5 Metern des PXV. Diese Greifhöhen können durch hohe Hubgeschwindigkeiten effizient bedient werden. Das Assistenzsystem iGo pilot navigation ermöglicht eine Geschwindigkeitsoptimierung und damit eine noch höhere Umschlagleistung. 
Hinsichtlich Bedienerfreundlichkeit und Komfort setzt der PXV neue Maßstäbe. Intelligente Assistenzsysteme unterstützen den Fahrer, zum Beispiel das STILL OptiSpeed-System für die höchstmögliche Fahrgeschwindigkeit ohne Beeinträchtigung der Fahrsicherheit. Dank Easy Touch wird der Warenumschlag noch effizienter: Der Zusatzhub kann mit einem einfachen Knopfdruck auf die gewünschte Kommissionierhöhe gesenkt werden. Hinzu kommen ein hervorragendes Sichtfeld in Last- und Antriebsrichtung sowie eine geräumige, stoßabsorbierende Fahrerkabine mit Neigeschranken für einen ergonomischen Warenzugriff. 
Weitere Assistenzsysteme für noch mehr Sicherheit und Effizienz sowie zahlreiche Ausstattungsvarianten sind individuell konfigurierbar und machen den PXV zum maßgefertigten Begleiter in jedem Lager.
Marktrelevanz
Der Markt in EMEA beträgt 6.000 Fahrzeug p.a. Eine Steigerung um 30% in den nächsten drei Jahren ist anzunehmen, wesentliche Treiber hierfür sind der Onlinehandel und der Trend zu Brownfield-Anwendungen mit noch höheren Regalflächen. Die Steigerung des Komforts bei der Nutzung des PXV unterstützt die Anwenderzufriedenheit. Insbesondere in Zeiten, in denen Mitarbeiter immer schwerer zu halten und zu finden sind, ist dies von besonderer Relevanz. Die einfache und intuitive Bedienung des PXV ermöglicht zudem ein schnelles und einfaches Einarbeiten der Mitarbeiter.
Kundennutzen
Der PXV bietet höchste Warenumschlagleistung und maximalen Komfort für den Anwender:
Schnelles Kommissionieren für einen effizienten Warenumschlag dank Easy Touch: Senken des Zusatzhubes auf die gewünschte Höhe durch einfachen Knopfdruck.
Leichter und ergonomischer Warenzugriff bis zum hintersten Gut auf der Palette mit der neigbaren Seitenschranke.
Ergonomisch angenehmes Kommissionieren auf die Palette mit Kniepolstern am Kabinenrand.
Viel Bewegungsfreiheit für besonders schnelles Kommissionieren, perfekt auf die Kundenanforderungen abgestimmt.
Hohe Lagerverdichtung und Lagereffizienz durch hohe Hub- bzw. Greifhöhen und schnelle Hub- und Senkgeschwindigkeiten sowie Fahrgeschwindigkeiten von bis zu 13 km/h. 
Besonders schneller und komfortabler Hub ohne Geschwindigkeitsverluste beim Mastübergang dank Dreifach-Hubgerüst ohne Freihub.
Problemlose Integration des PXV in kundeneigene Materialflussmanagement-Systeme dank der MMS-Vorbereitung.
Schnelles Bereitstellen der Kommissionierfähigkeit durch gleichzeitiges Heben und Senken von Haupt- und Zusatzhub.
Verringerung von Kommissionierfehlern, hohe Umschlagleistung (durch halbautomatische Fachanfahrt), Vermeidung von Unfällen mit den Assistenzsystemen iGo pilot navigation und iGo pilot safety.
Beste Sicht in Antriebs- und Lastrichtung für einen sicheren Arbeitsablauf.
Schnelle, sichere und besonders intuitive Fahrzeugbedienung dank der Positionierung der Bedien- und Anzeigeeinheit mast- und/oder lastseitig.
Sonderausstattung (IFOY Test-Gerät)
PXV (vertical order picker)

STILL GmbH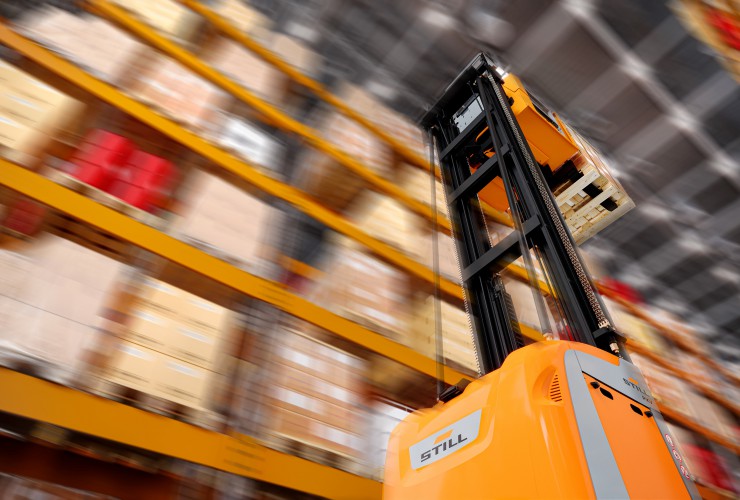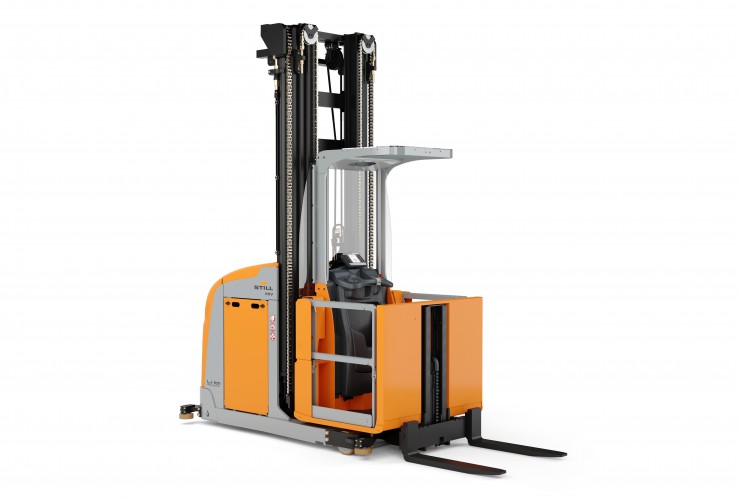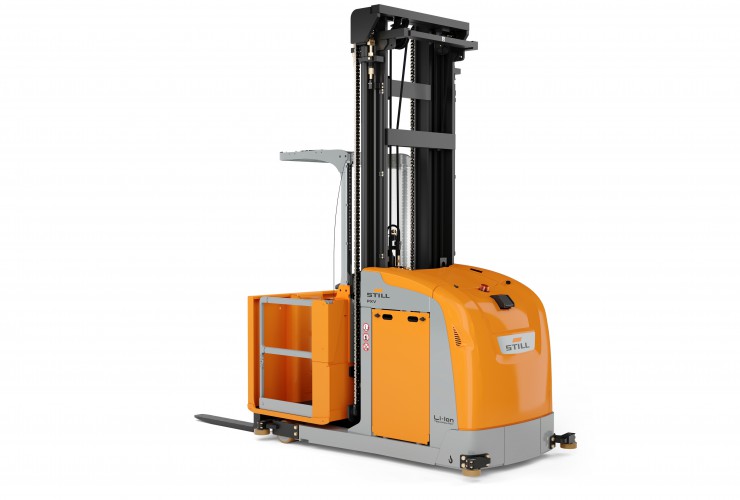 The PXV vertical order picker inspires with performance, reach height, safety and comfort in a new dimension.
STILL GmbH
IFOY category
Warehouse Truck "highlifter"
Summary
The PXV vertical order picker inspires with performance, reach height, safety and comfort in a new dimension. Whether in wide or narrow aisle warehouses, employees can pick loads at working heights of up to 14.5 metres.
Description
The STILL PXV vertical order picker can be used flexibly and reliably in both wide and narrow aisles thanks to its compact and variable truck dimensions. The PXV is used in a wide range of industries and fields of application, e.g. in engineering companies, at logistics service providers and in the central warehouses of large retail companies. The vehicle enables particularly high warehouse and space efficiency. In consideration of the sustainable expansion of storage spaces, warehouses can expand in height without sealing more floor space. Thus, the PXV vertical order picker meets the trend of increasing storage space.
---
Truck model
Technical data (all trucks)
| | |
| --- | --- |
| Truck type | electro |
| Lift capacity/load | 1200 kg |
| Truck weight | ~ 6000 kg |
| Operation | stand-on |
| Driving speed with load | 13 km/h km/h |
| Driving speed without load | 13 km/h km/h |
| Lifting speed with load | 0,48 m/s |
| Lifting speed without load | 0,5 m/s |
| Lowering speed with load | 0,45 m/s |
| Lowering speed without load | 0,45 m/s |
| Max. lift height | 12500 mm |
| Power consumption according to VDI cycle | 1,5 kWh/h |
| Electro-trucks | |
| Battery voltage | 48 V |
| Battery capacity | 930 Ah |
| Battery connector | |
| Battery weight | 1300 kg |
| Drive motor | 6,5 kW |
| Lift motor | 13 kW |
| Tow truck | |
| Nominal towing capacity | / N |
| Orderpicking/Combitrucks | |
| Max. picking height | 14500 mm |
Miscellaneous
This model is a
Further developments of one or more existing trucks with significant technical improvements:
PXV bis 1200 kg
Date of rollout
2023-02-01
Start of series production
2023-06-01
Competitive products
EKS
BT Optio H
Innovations
Uniquely in the market, the PXV has a reach height of up to 14.5 metres. These reach heights can be achieved through high lifting speeds. The iGo pilot navigation assistance system enables speed optimisation and thus even higher handling performance.
The PXV sets new standards in terms of user-friendliness and comfort. Intelligent assistance systems support the driver, for example the STILL OptiSpeed system for the highest possible travel speed without compromising driving safety. Thanks to Easy Touch, goods handling becomes even more efficient; the additional lift can be lowered to the desired picking height at the simple touch of a button. This is complemented by an excellent field of vision in the load and drive direction as well as a spacious, shock-absorbing driver's cab with tilt barriers for ergonomic access to the goods.
Further assistance systems for even more safety and efficiency as well as numerous equipment variants can be individually configured and make the PXV a customised companion for every warehouse.
Market relevance
The market in EMEA is 6000 vehicles p.a. An increase of 30% in the next three years can be expected. The main drivers are online retailing and the trend towards brownfield applications with even taller shelf areas. The increased comfort of the PXV vertical order picker supports operator satisfaction, which is particularly appreciated by employees who are becoming increasingly difficult to find and retain. The simple and intuitive operation of the PXV makes it quick and easy for employees to become familiar with the system. 
Customer benefit
The PXV offers the highest goods handling performance and maximum comfort for the user:
Fast order picking for efficient goods handling thanks to Easy Touch, lowering of the additional lift to the desired height at the simple touch of a button.
Easy and ergonomic access to goods right to the back of the pallet with the tiltable side barrier.
Ergonomically comfortable picking onto the pallet with knee pads on the cabin edge.
Plenty of freedom of movement without corners and edges for particularly fast order picking, perfectly matched to the respective customer requirements.
High warehouse compaction and storage efficiency, thanks to high lifting or reach heights and fast lifting and lowering speeds as well as travel speeds of up to 13 km/h.  
Particularly fast and comfortable lift without loss of speed during mast transition thanks to triple mast without free lift.
Easy integration of the PXV into the customer's own material flow management systems thanks to MMS preparation.
Swift readiness for picking thanks to simultaneous lifting and lowering of the main and auxiliary lift.
Reduction of picking errors, high handling performance (thanks to semi-automatic compartment approach, avoidance of accidents with the assistance system for iGo pilot navigation/safety.
Best visibility in drive and load direction for a safe workflow. Fast, safe and particularly intuitive vehicle operation thanks to the positioning of the operating display unit on the mast and/or load side.
Optional items (IFOY test truck)