IFOY Patronage
IFOY Sponsor
Jungheinrich PowerCube

Jungheinrich AG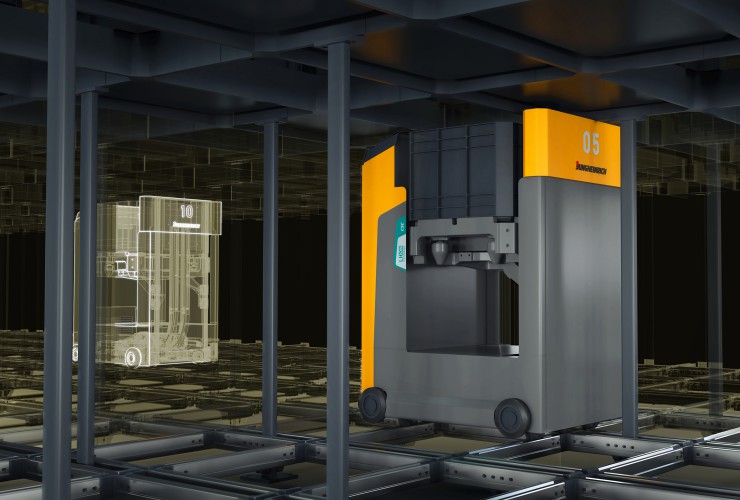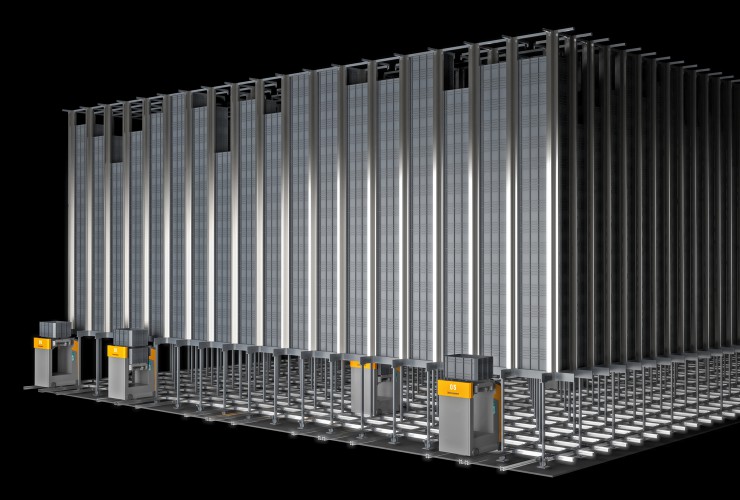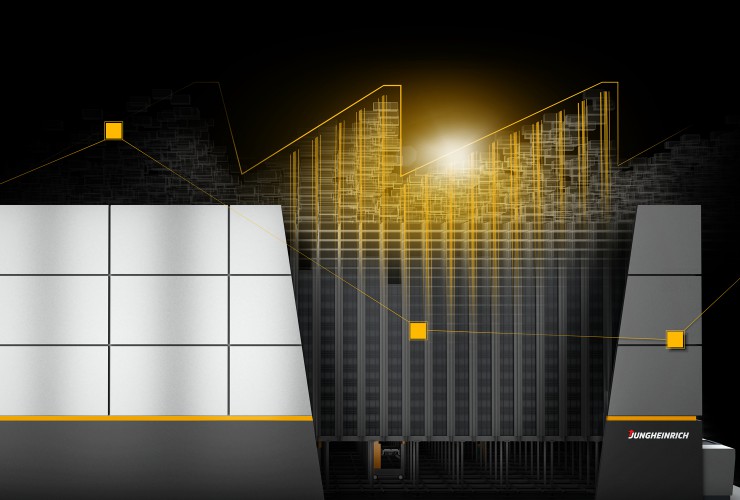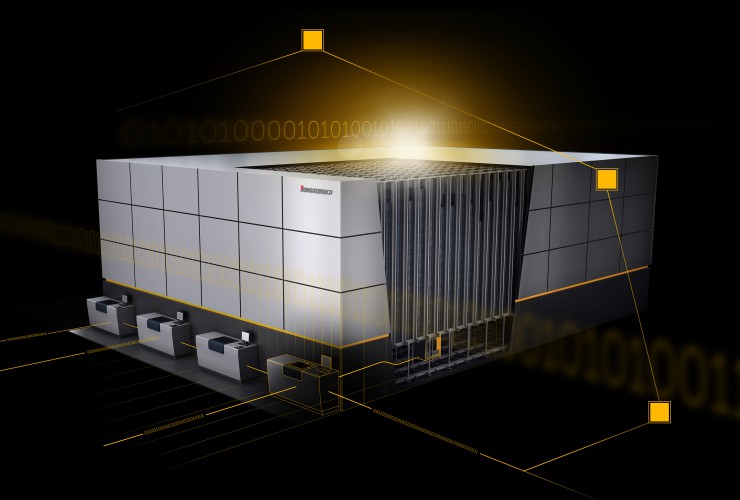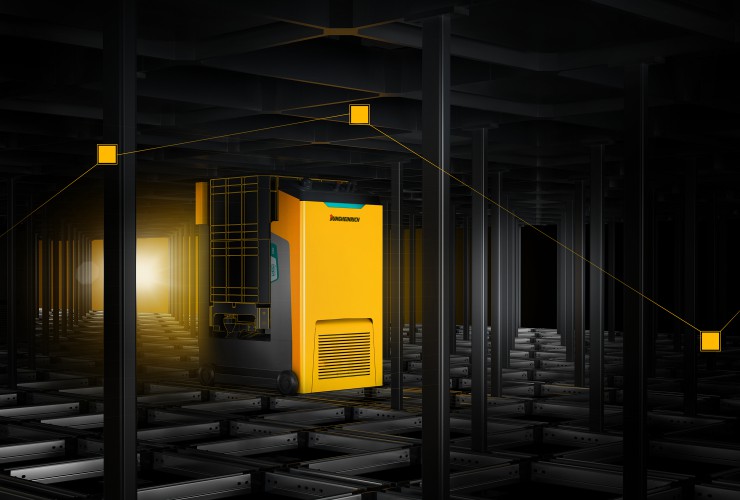 Shuttles laden ihre Lithium-Ionen-Batterien während des Betriebs. Ohne Stillstandzeiten ist ein wirtschaftlicher 24/7-Einsatz möglich.
Jungheinrich AG
IFOY-Kategorie
Intralogistics Robot
Zusammenfassung
Effizienter, schneller und flexibler – als automatisiertes Kompaktlagersystem für Behälter setzt der Jungheinrich PowerCube neue Maßstäbe im Lager. Durch vertikales Stapeln der Behälter und zeitsparende Ein-, Aus- und Umlagerung mit leistungsstarken Lithium-Ionen-Shuttles sorgt die einfach zu integrierende Lagerlösung in Zeiten von E-Commerce und Just-in-Time-Lieferung für effiziente Prozesse, eine beeindruckende Raumnutzung und eine maximale Steigerung der Wirtschaftlichkeit.
Beschreibung
Raum und Zeit perfekt genutzt: Der automatisierte, ultrakompakte und skalierbare Jungheinrich PowerCube überzeugt durch eine einzigartige Raumnutzung mit Raumhöhen bis zu 12 m und eine viermal höhere Lagerdichte im Vergleich zu herkömmlichen Fachbodenregalen. Systemhöhen bis zu 12 m bieten Raum für die Lagerung vielzähliger Behälter, wobei die Anzahl der Shuttles und Behälter flexibel skalierbar ist.
Die Lithium-Ionen-Batterien der Shuttles laden praktisch und zeitsparend im laufenden Betrieb, wodurch Stillstandzeiten vermieden werden und wirtschaftliche 24/7-Einsätze möglich werden. Die gleichzeitige Aufnahme von zwei Behältern und ein Zuladegewicht von bis zu 50 kg pro Behälter steigern den hohen Durchsatz zusätzlich.
Der PowerCube passt sich individuell an verschiedene Dachformen an und bietet dadurch einen klaren Vorteil gegenüber anderen marktüblichen Lagersystemen. Ob als Stand-alone-Lösung in Bestandsgebäuden, als Ergänzung im Breitganglager oder Herzstück einer komplexen Automatikanlage – der Jungheinrich PowerCube besticht durch starke Performance, hohe Flexibilität und einfache Integration.
Er lässt sich problemlos an bestehende Lagerverwaltungssoftware oder ERP-Systeme anbinden und bietet als in sich geschlossene Logistiklösung vielfältige Möglichkeiten zur Steigerung der Wirtschaftlichkeit und Wettbewerbsfähigkeit im Lager.
Innovation
Raumwunder mit hohem Innovationsgrad: Der Jungheinrich PowerCube definiert Raum und Zeit neu – als automatisiertes Behälter-Kompaktlager passt er sich flexibel an die räumlichen Anforderungen und den gewünschten Durchsatz im Lager an. In Zeiten von E-Commerce und Just-in-Time-Delivery bildet die in sich geschlossene Automatisierungslösung die perfekte Basis für kompaktes Lagern und effizientes Kommissionieren.
Flexible Raumnutzung: Durch die Bedienung des PowerCubes von unten sind dem Wachstum nach oben hin keine Grenzen gesetzt. Noch mehr Flexibilität bieten die individuelle Anpassung an verschiedene Dachformen und der Umbau möglicher Störkonturen wie z.B. Träger.
Hoher Durchsatz: Das simultane Handling von zwei Behältern gleichzeitig garantiert bei jeder Shuttlefahrt maximale Wirtschaftlichkeit im Transport sowie gesteigerten Durchsatz und optimale Energieeffizienz.
Maximale Verfügbarkeit: Lithium-Ionen-Akkus ausgelegt für hohe Ladeströme und die Fähigkeit zum Zwischenladen in kurzen Zeitintervallen ermöglichen einen unterbrechungsfreien 24-Stunden-Betrieb.
Marktrelevanz
Effizient, zuverlässig und zukunftsweisend: Kostendruck und Kapazitätsprobleme nehmen in Zeiten des E-Commerce immer mehr zu. Mit dem Jungheinrich PowerCube wurde eine innovative Logistiklösung für all jene Branchen geschaffen, die mithilfe eines automatischen Kleinteilelagers die Wirtschaftlichkeit und Wettbewerbsfähigkeit in ihrem Lager steigern möchten. Von produzierenden Unternehmen über den Großhandel bis hin zum Einzelhandel lässt sich der PowerCube flexibel einsetzen. Er ist eine richtungsweisende Erweiterung für den noch relativ jungen Markt an Kompaktlagerlösungen und setzt mit seinen Vorteilen neue Maßstäbe in Sachen Effizienz und Raumnutzung.
Hauptvorteile für den Kunden
Der Jungheinrich PowerCube: Als höchstes Behälter-Kompaktlager seiner Klasse mit Systemhöhen bis zu 12 m bietet der PowerCube vielfältige Vorteile im täglichen Logistikprozess:
Platzsparende vertikale Stapelung der Behälter: Bedienung durch Shuttle-Fahrzeuge von unten.
Höheres Gewicht des Einzelbehälters (bis zu 50 kg).
Stapel-Shuttles für den Einzel- und Doppelbehälterumschlag sorgen für gesteigerten Durchsatz und eine reduzierte Shuttle-Anzahl im System.
Hochgradig skalierbar im Hinblick auf die Ein- und Auslagerkapazität sowie die Anzahl der Lagerplätze und Artikel.
Erweiterte Lagerhöhen mit Kapazitäten bis zu 12 m.
Maximaler Raumnutzungsgrad durch die Möglichkeit unterschiedlicher Lagerkanalhöhen innerhalb eines Systems.
Ideal für den Einsatz in Bestandsgebäuden und umzugsfähig für den Einsatz an unterschiedlichen Standorten.
Einfache Integration auf normalem Industriefußboden ohne die Notwendigkeit, den Boden in der Lagerhalle zu bearbeiten.
Die PowerCube-Systembehälter sind kompatibel mit anderen Jungheinrich Automatisierungslösungen und können mittels extern angeschlossener Fördertechnik auch außerhalb des Kompaktlagersystems eingesetzt werden.
Jungheinrich bietet Komplettlösungen aus einer Hand, wodurch die Notwendigkeit zusätzlicher Wartungsplattformen entfällt.
Technische Daten
Konkurrenzprodukte
keine Angaben / no comment
Video:
Make full use of the available time and space with the PowerCube.
Jungheinrich PowerCube

Jungheinrich AG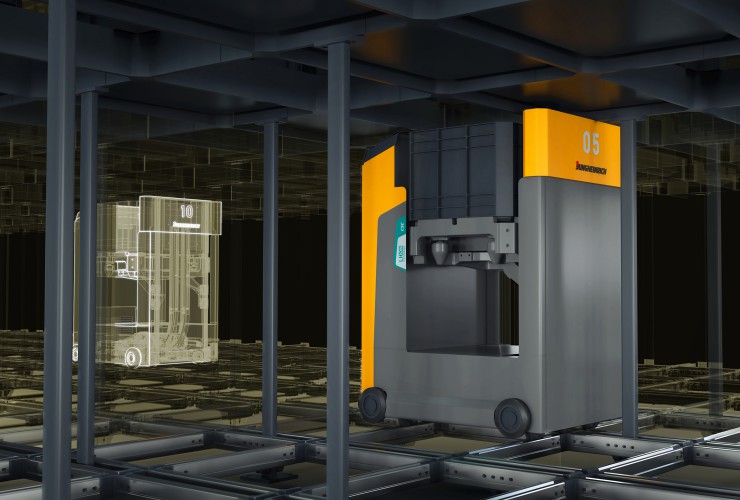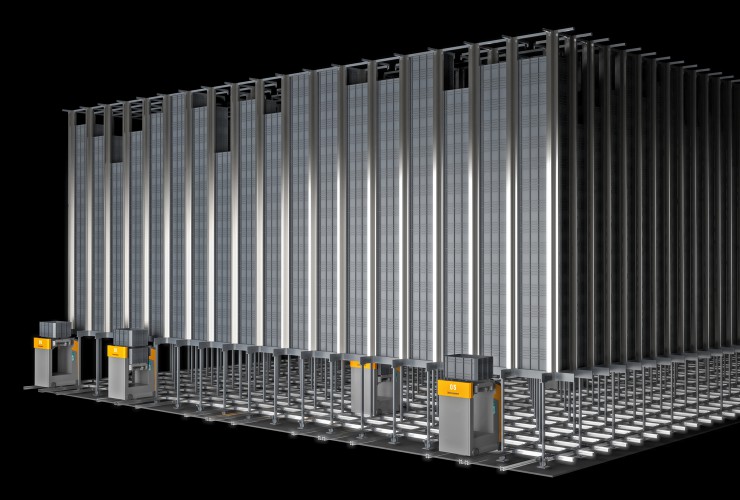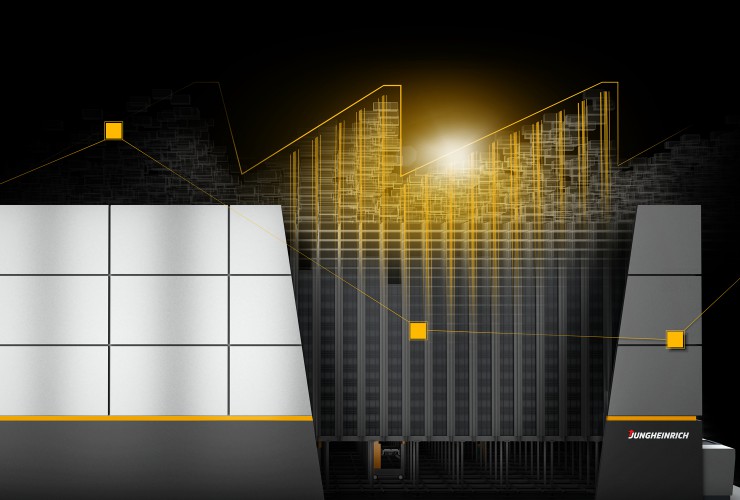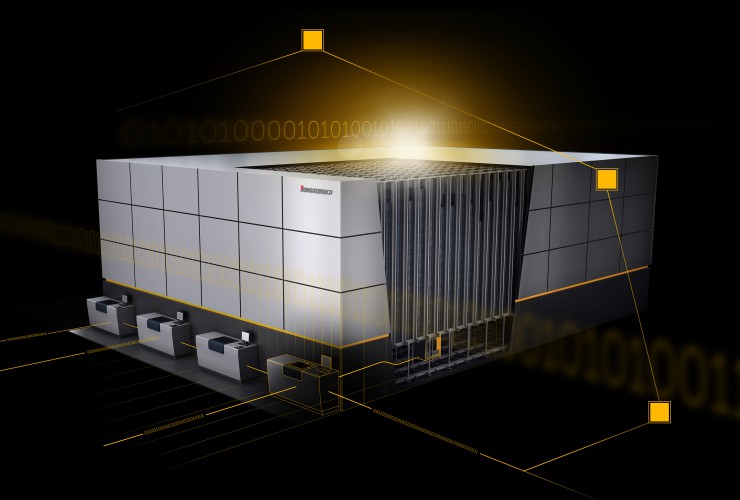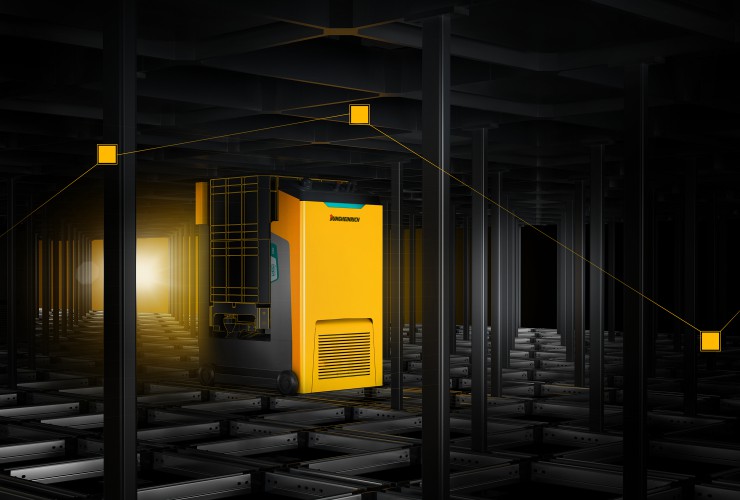 Shuttles charge their lithium-ion batteries during operation. Without downtimes, economical 24/7 use is possible.
Jungheinrich AG
IFOY category
Intralogistics Robot
Summary
More efficient, faster and extremely flexible – as an automated compact storage system for containers, the Jungheinrich PowerCube sets new standards in warehousing. Through vertical stacking of containers and time-saving storage, retrieval and transfer with high-performance lithium-ion shuttles, the easy-to-integrate warehouse solution ensures efficient processes, impressive space utilisation and a maximum increase in profitability in the era of of e-commerce and just-in-time delivery.
Description
Space and time perfectly utilised: The automated, ultra-compact and scalable Jungheinrich PowerCube impresses with its unique use of space with room heights of up to 12 metres and a four times higher storage density compared to conventional shelving systems. System heights of up to 12 metres provide space for storing numerous containers, with the number of shuttles and containers being flexibly scalable.
The shuttles' lithium-ion batteries provide practical, timesaving charging on the fly, eliminating downtime and enabling economical 24/7 operation. The simultaneous pickup of two containers and a payload weight of up to 50 kg per container further increase the high throughput.
The PowerCube adapts individually to different roof shapes which is a clear advantage compared to other storage systems available on the market. Whether as stand-alone solution in existing buildings, an addition to wide-aisle warehouses, or as the heart of a complex automated system – the Jungheinrich PowerCube impresses with strong performance, high flexibility and simple integration.
It can be easily connected to existing warehouse management software or ERP systems and as a self-contained logistics solution it offers a wide range of options to increase profitability and competitiveness in the warehouse.
Innovation
Spatial miracle with high innovative power. The Jungheinrich PowerCube redefines space and time – as an automated compact storage system for containers, it flexibly adapts to spatial requirements and the desired throughput in the warehouse. In the era of e-commerce and just-in-time delivery, the self-contained automation solution builds the perfect basis for compact storage and efficient order picking.
Flexible use of space: By operating the PowerCube from below, there are no limits to upward growth. Even more flexibility is offered by the individual adaptation to different roof shapes and the conversion of possible interfering contours such as beams.
High throughput: Simultaneous handling of two containers guarantees maximum efficiency in transport for every shuttle run, as well as increased throughput and optimum energy efficiency.
Maximum availability: Lithium-ion batteries laid out for high charging currents and the ability for intermediate charging in short time intervals enabling uninterrupted 24-hour operation.
Marktet relevance
Efficient, reliable and future-oriented: In the era of e-commerce, cost pressure and capacity problems are constantly on the increase. With the Jungheinrich PowerCube, an innovative logistics solution has been created for all those industries that want to push the efficiency and competitiveness of their warehouse forward with the help of an automated small parts warehouse. The PowerCube can be used flexibly by manufacturing companies, wholesalers and retailers. It is a pioneering addition for the still relatively young market of compact storage solutions that sets new standards in terms of efficiency and space utilisation with its many advantages.
Main customer benefits
The Jungheinrich PowerCube: As the highest compact storage system for containers in its class with system heights of up to 12 metres, the PowerCube offers a wide range of advantages in the daily logistics process:
Space-saving vertical stacking of containers: operation by shuttle trucks from below.
Higher weight of the individual container (up to 50 kg).
Stacking shuttles for single and double container handling ensure increased throughput and reduced number of shuttles in the system.
Highly scalable in terms of storage and retrieval capacity, as well as the number of storage locations and items.
Extended storage heights with capacities up to 12 m.
Maximum space utilisation thanks to the possibility of different storage channel heights within one system.
Ideal for use in existing buildings and relocatable for use in different locations.
Easy integration onto normal industrial flooring without the need to adapt the floor in the warehouse.
The PowerCube system containers are compatible with other Jungheinrich automation solutions and can also be used outside the compact storage system by means of externally connected conveyor technology.
Jungheinrich offers complete solutions from a single source, eliminating the need for additional maintenance platforms.
Technical data
Competitive products
keine Angaben / no comment
Video:
Make full use of the available time and space with the PowerCube.