IFOY Patronage
IFOY Sponsor
Aisle-Master OP

Combilift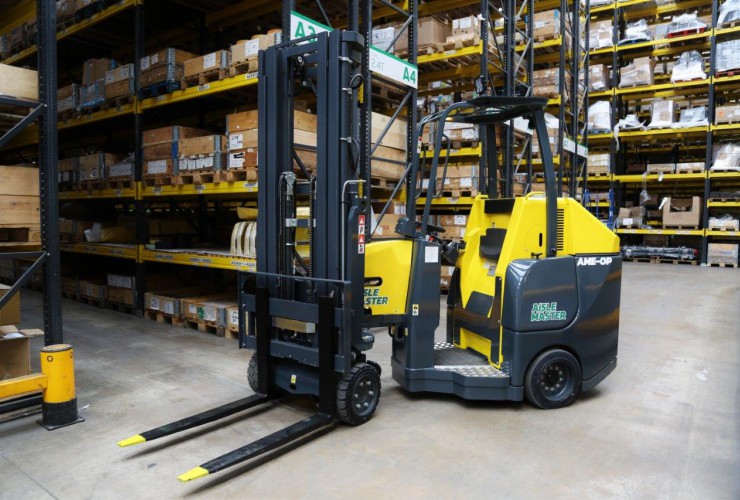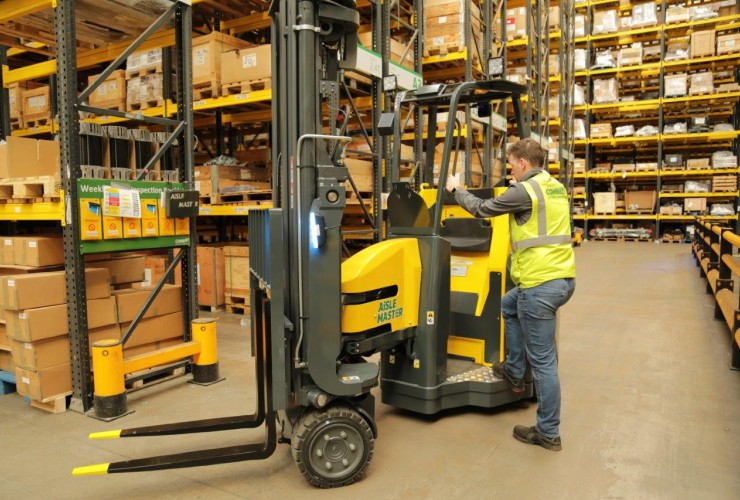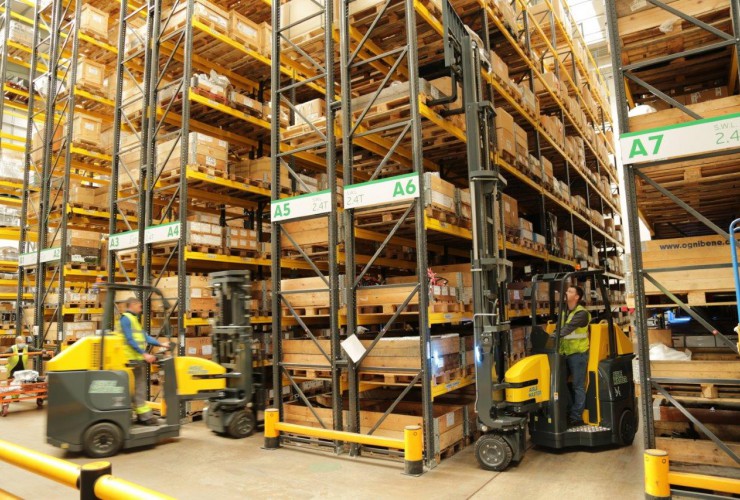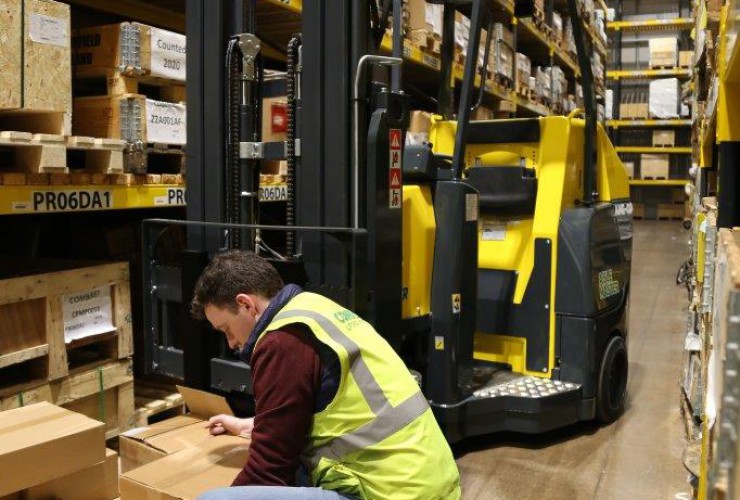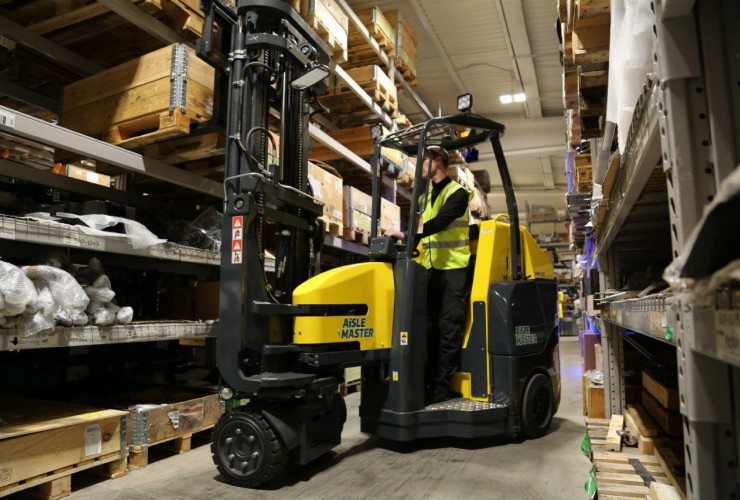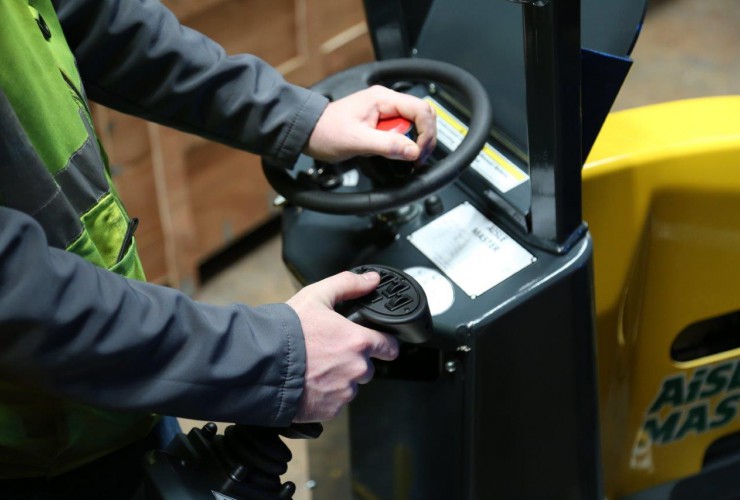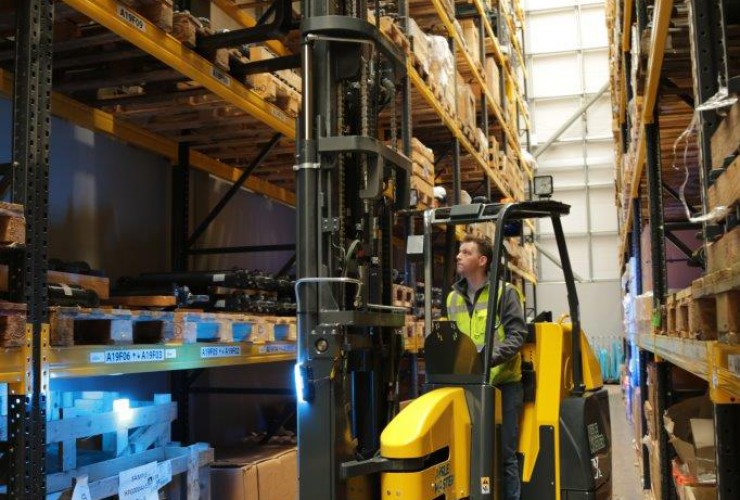 Aisle-Master OP in action.
Combilift
IFOY-Kategorie
Warehouse Truck "highlifter"
Zusammenfassung
Der Aisle-Master OP ist ein Knickarmstapler, der für den Betrieb in schmalen Gängen, für die Auslieferung an das Regal, für die Kommissionierung von Schüttgut und für die Kommissionierung von Artikeln geeignet ist. Die wichtigsten Merkmale sind die durchgehende Fahrerkabine, die als Geschmacksmuster geschützt ist (Europäische Geschmacksmustereintragung Nr. 002676809-0001) und das patentierte Kettenlenkungssystem (EU-Patent Nr. 3008008). Der AME-OP-Stapler bietet außerdem alle Vorteile eines herkömmlichen Gabelstaplers mit Gummireifen für den Innen- und Außeneinsatz.
Beschreibung
Der Aisle Master-OP (AME-OP) ist ein elektrisch betriebenes Standmodell, das die Vorteile eines Schmalgang-Gelenkstaplers und eines Kommissionierers für den vielseitigen Einsatz in der Lagerhaltung vereint. Der Aisle Master-OP ist in einer Reihe von Varianten mit Tragfähigkeiten von 1.500 kg bis 2.000 kg und Hubhöhen bis zu 12,1 m erhältlich und kann in Gängen mit einer Breite von bis zu 1750 mm eingesetzt werden. Er verfügt über eine patentierte Kettenlenkung (EU-Patent Nr. 3008008), die dem Stapler einen Knickwinkel von mehr als 205 Grad ermöglicht, sowie über einen Inline-Antriebsmotor und eine vordere Antriebsachse, die den Betrieb in schmaleren Gängen ermöglichen. Der multifunktionale, programmierbare Joystick in der Fahrerkabine, der auch die Hydraulik und die Traktion steuert, ist einstellbar, um komfortable und ergonomische Arbeitsbedingungen für Fahrer aller Größen zu schaffen. Die Bodenplatte mit Anwesenheitserkennung aktiviert automatisch die Feststellbremse, wenn der Bediener den Stapler verlässt, um zu kommissionieren. Die niedrige Bodenhöhe von nur 280 mm (11") ermöglicht einen bequemen, einstufigen Zugang von beiden Seiten des Staplers, was die Kommissionierung im Vergleich zu einem sitzenden Auf- und Absteigen des Bedieners beschleunigt. Die gummibereifte Konstruktion ermöglicht das Be- und Entladen von Lastwagen und Anhängern im Freien.
---
Datenblatt
Gerätetyp
Technische Daten (alle Geräte)
| | |
| --- | --- |
| Antrieb | Elektro |
| Tragfähigkeit | 2000 kg |
| Eigengewicht | 7284 kg |
| Bedienung | Stand |
| Fahrgeschwindigkeit mit Last | 10 km/h |
| Fahrgeschwindigkeit ohne Last | 10 km/h |
| Hubgeschwindigkeit mit Last | 0.41 m/s |
| Hubgeschwindigkeit ohne Last | 0.48 m/s |
| Senkgeschwindigkeit mit Last | 0.6 m/s |
| Senkgeschwindigkeit ohne Last | 0.28 m/s |
| Max.Hubhöhe | 12100 mm |
| Energieverbrauch nach VDI-Arbeitsspiel | 8.2 kWh/h |
| Elektro-Trucks | |
| Batteriespannung | 48 V |
| Batteriekapazität | 775 Ah |
| Batterieanschluss | Rema 320A |
| Batteriegewicht | 1119 kg |
| Leistung Fahrmotor | 18.5 kW |
| Leistung Hubmotor | 14 kW |
| Schlepper | |
| Nennzugkraft | N |
| Kommissionierer/Kombigeräte | |
| Max. Greifhöhe | mm |
Sonstiges
Es handelt sich um
Vollständig neues Modell
Datum der Markteinführung
01.02.2021
Datum des Produktionsstarts
01.02.2021
Konkurrenzprodukte
Bendi Mini
Flexi 20
Raymond 7300
Innovationen
Der Aisle-Master OP ist der erste knickgelenkte Gabelstapler, der mit einem Standfuß betrieben wird. Der Stapler bietet die Möglichkeit, in engen Gängen zu kommissionieren und auch als Hochhubwagen zu arbeiten. Die Position des Bedieners in der Mitte des Staplers und die niedrige Ein- und Ausstiegsstufe erleichtern die Kommissionierung, bei der der Bediener häufig ein- und aussteigen muss, während er Kommissionieraufgaben ausführt. Der Ein- und Ausstiegsweg ist so konzipiert, dass der Zugang zur Palette auch in einem schmalen Gang leicht möglich ist. Das OP verfügt über ein Geschmacksmuster für die durchgehende Fahrerkabine (EU-Geschmacksmuster Nr. 002676809-0001). Der Stapler verfügt über eine Joystick-Steuerung, mit der die Traktion und die Hydraulik mit einer Hand bedient werden können. Der Stapler ist außerdem mit dem patentierten Aisle-Masters-Kettenlenkungssystem (EU-Patent Nr. 3008008) ausgestattet, das es dem Stapler ermöglicht, die Ladung zu überknicken, um die geringstmögliche Gangbreite zu erreichen und eine robuste und zuverlässige Lösung zu bieten.
Auf dem Markt gibt es keine anderen Knickarmstapler.
Marktrelevanz
Der AME OP wird in Hochleistungsumgebungen eingesetzt, in denen Geschwindigkeit und Volumen der Palettenein- und -auslagerung entscheidend sind. Das Aisle-Master-Produkt ist auch entscheidend für die Steigerung der Lagereffizienz und die Erhöhung der Lagerkapazität eines Lagers. Das Aisle-Master OP-Produkt eignet sich ideal für den Einsatz in einer Reihe von Branchen, darunter E-Commerce, Lagerhaltung und Vertrieb, Verpackung, Transport und Logistik, Lebensmittel und Getränke, Automobilbau, Fertigung sowie Pharmazie und Gesundheitswesen. Das Wachstum im Onlinehandel, die Zunahme von Heimlieferungen und die gestiegenen Anforderungen an die Lagerung und Auftragsabwicklung in den Bereichen E-Commerce und Logistik machen den Aisle-Master OP zum idealen Instrument, um die Fähigkeit eines Unternehmens zu verbessern, diese wachsenden Anforderungen zu erfüllen. Der Verpackungs-, Lebensmittel- und Getränkesektor wird kontinuierlich durch den elektronischen Handel vorangetrieben und weist typischerweise ungleichmäßige Ladungen auf. In der Regel müssen die Fertigungs- und Pharmabranchen die Lagerhaltung vor Ort maximieren und die Produktionsfläche vergrößern. Der AME-OP ermöglicht es den Unternehmen auch, Komponenten schnell auf Picklisten zu kommissionieren und schnell an den Produktionsstandort zu liefern.
Kundennutzen
Das Modell Aisle-Master OP wurde 2021 auf den Markt gebracht. Die Entwicklung des Aisle-Master OP wurde durch das Feedback der Kunden sowie durch das jüngste Wachstum des E-Commerce beeinflusst. Kunden, die bereits Aisle-Master-Produkte zur Platzersparnis, Lagerung und Effizienz in ihren Lagern einsetzen, fragten an, ob man den Aisle-Master entwickeln könnten, um ihre wachsende Nachfrage nach kundenspezifischen Kommissionieraufträgen zu befriedigen. Die einzigartige Frontpartie des Aisle-Master OP mit dem patentierten Lenksystem ermöglicht es dem Stapler, in sehr engen Gängen zu arbeiten, was die Lagerkapazitäten in den Lagern der Kunden erhöhen kann. Die Fahrerkabine des Staplers mit ihrem niedrigen Einstieg ermöglicht einen schnellen Ein- und Ausstieg für die Kommissionierung. Diese Fahrerkabine verbessert nicht nur die Effizienz von Kommissionieranwendungen, sondern erhöht auch die Sicherheit durch die Verringerung der Stufenhöhe und der Bedienerposition. Die Position des Bedieners ermöglicht es, dass der Barcode der Palette sichtbar und für das Scannen zugänglich ist, während er sich im Gang befindet. Der Aisle Master-Kommissionierer verfügt über eine ergonomische, umlaufende Stehposition, in die man sich leicht und ohne Anstrengung hinein- und wieder herausbewegen kann. Käufer und Bediener haben geäußert, dass die Einstiegsfunktion die Ermüdung während des Tages verringert hat. Der Aisle-Master OP ermöglicht auch den schnellen Ausbau der Batterie des Staplers, wobei der Zugang mit einem Gabelstapler oder einem Hubwagen von der Rückseite des Staplers aus möglich ist. Der Aisle-Master OP wird serienmäßig mit der Combilift SHAPE-Software geliefert, die den Betrieb des Staplers mit bis zu drei Fahrerniveaus je nach Erfahrung des Fahrers ermöglicht und ein hervorragendes Servicemanagement und Diagnosen bietet.
Sonderausstattung (IFOY Test-Gerät)
Der Aisle-Master OP ist serienmäßig mit dem Combi Connect Telematiksystem ausgestattet. Mit diesem System ist es möglich, den Energieverbrauch des Staplers zu überwachen. Combi Connect bietet auch ein intelligentes Wartungsmanagement, indem es die Nutzung der Staplerfunktionen und -steuerungen überwacht. Dadurch erhält der Kunde Informationen darüber, wie sein Stapler arbeitet und wie er die Leistung optimieren kann. Der Combi Connect verfügt auch über eine Stoßüberwachung, um die Auswirkungen auf die Ausrüstung des Kunden zu erfassen.
Aisle-Master OP

Combilift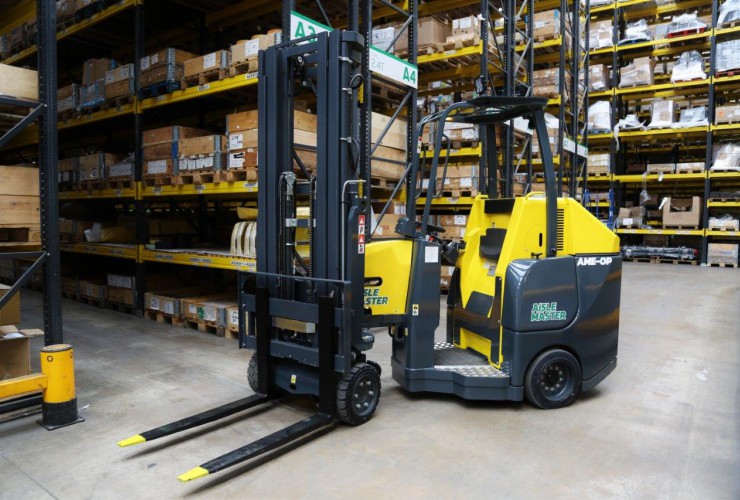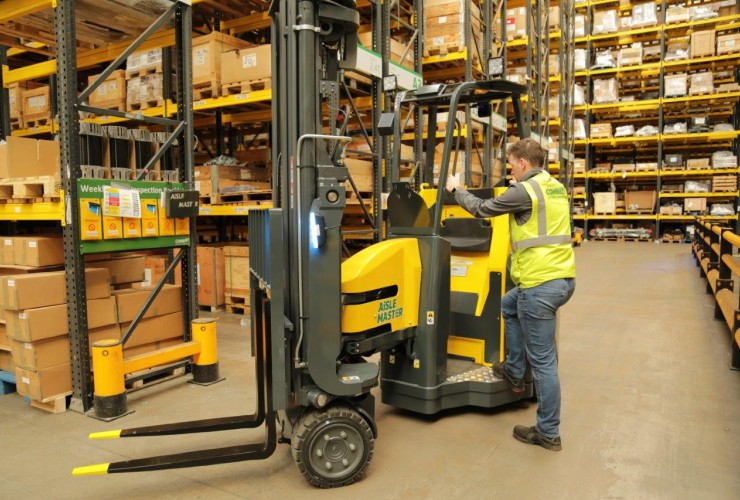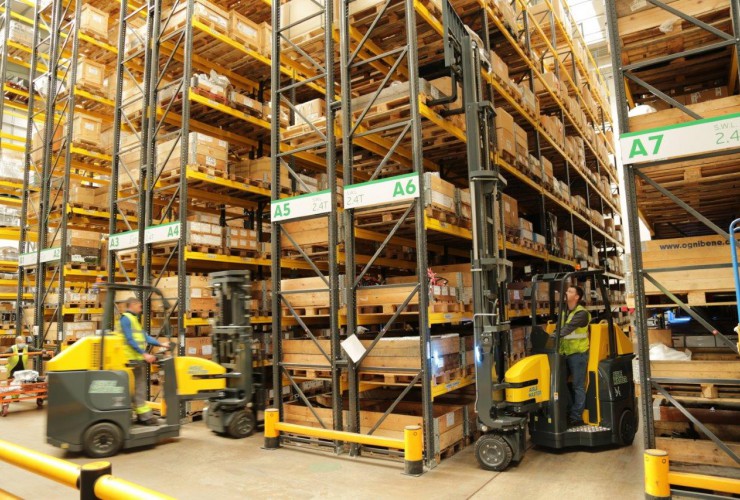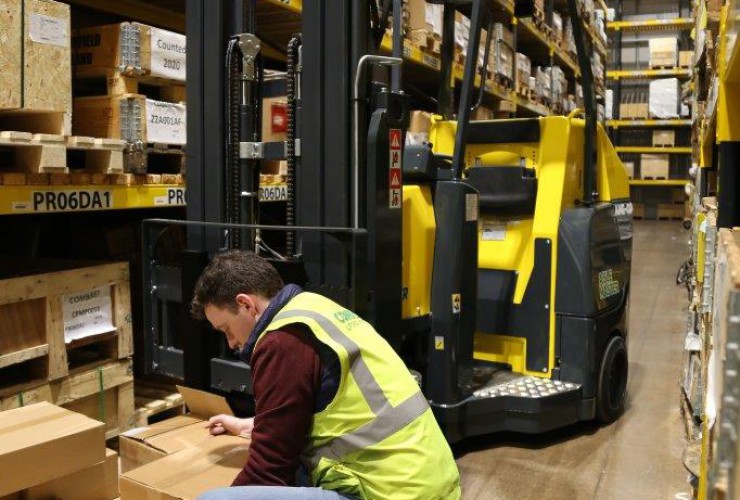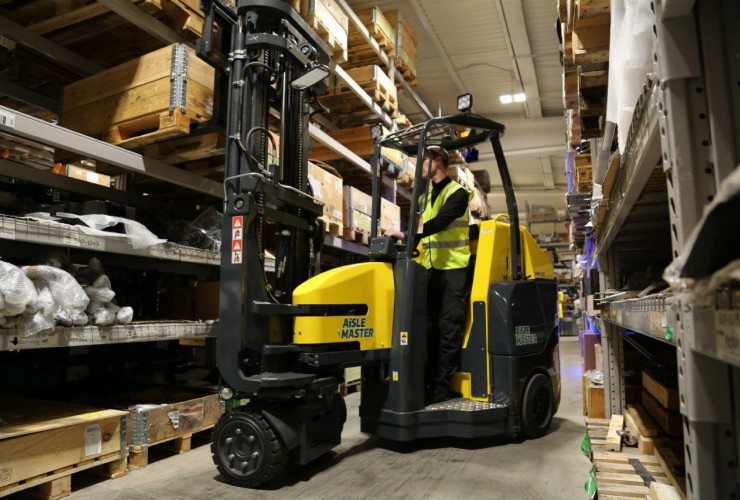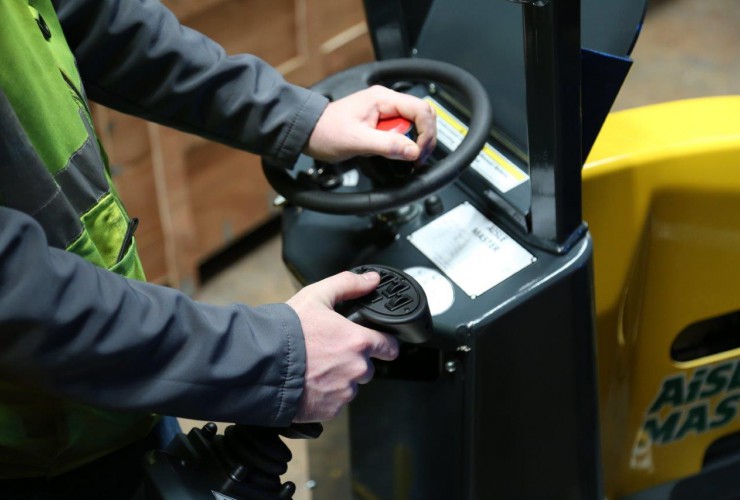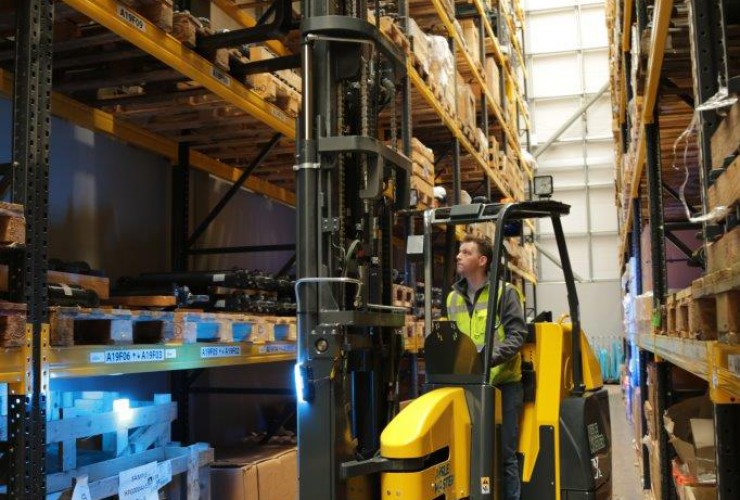 Aisle-Master OP in action.
Combilift
IFOY category
Warehouse Truck "highlifter"
Summary
The Aisle-Master OP is an articulated forklift that allows narrow aisle operation, delivery to rack handling, bulk picking and item order picking. The main features are the step through operator compartment which has design copyright protection (European Design Registration No. 002676809-0001) and patented chain steering system (EU Patent No. 3008008). The AME-OP truck also includes all the advantages of the conventional forklift truck with its rubber tyres for indoor and outdoor operation.
Description
The Aisle Master-OP (AME-OP) is a stand-on electric powered model that combines the advantages of a narrow aisle articulated forklift and an order picker for versatile operation in warehousing applications. The Aisle Master-OP is available in a number of variants, with lift capacities from 1,500 kg to 2,000 kg, lift heights up to 12.1 m and can operate in aisles as narrow as 1750 mm.  It features a patented chain steering system (EU Patent No. 3008008), which allows the truck to articulate more than 205°, with an inline drive motor and front drive axle assembly, all of which enable narrower aisle operation. The multifunctional programmable joy stick control lever in the operator compartment, which includes controls for the hydraulics and traction, is adjustable to enable comfortable and ergonomic working conditions for operators of all sizes. The operator presence detection floor pad engages the parking brake automatically when the operator steps off the truck to carry out order picking. The low floor height of just 280mm (11") enables convenient, single step access from both sides of the truck which speeds up order picking compared to the operator having to get on and off from a seated position. Its rubber tyre design enables loading and offloading of trucks and trailers outdoor.
---
Data sheet
Truck model
Technical data (all trucks)
| | |
| --- | --- |
| Truck type | electro |
| Lift capacity/load | 2000 kg |
| Truck weight | 7284 kg |
| Operation | stand-on |
| Driving speed with load | 10 km/h |
| Driving speed without load | 10 km/h |
| Lifting speed with load | 0.41 m/s |
| Lifting speed without load | 0.48 m/s |
| Lowering speed with load | 0.6 m/s |
| Lowering speed without load | 0.28 m/s |
| Max. lift height | 12100 mm |
| Power consumption according to VDI cycle | 8.2 kWh/h |
| Electro-trucks | |
| Battery voltage | 48 V |
| Battery capacity | 775 Ah |
| Battery connector | Rema 320A |
| Battery weight | 1119 kg |
| Drive motor | 18.5 kW |
| Lift motor | 14 kW |
| Tow truck | |
| Nominal towing capacity | N |
| Orderpicking/Combitrucks | |
| Max. picking height | mm |
Miscellaneous
This model is a
Newly developed model
Date of rollout
2021-02-01
Start of series production
2021-02-01
Competitive products
Bendi Mini
Flexi 20
Raymond 7300
Innovations
The Aisle-Master OP is the first stand on operated articulated forklift. The truck gives the ability to order pick and also operate as a high lift forklift in narrow aisles. The position of the operator at the centre of the truck, alongside the low entry and exit step is designed to facilitate the order picking applications, where the operator must frequently enter and exit the vehicle while carrying out picking tasks. The entry and exit path are designed to allow easy access to the pallet while in a narrow aisle. The OP has design copyright for the step through operator compartment (EU Design Registration No. 002676809-0001). The truck has a joystick control which allows for traction and hydraulic controls in one hand. The truck also incorporates the Aisle-Masters patented chain steer system (EU Patent No. 3008008), that allows the truck to over articulate the load to gain the minimum aisle width possible and provide a robust and reliable solution.
There are no other stand on articulated forklift in the market.


Market relevance
The AME OP is used in high performance environments, where speed and volume of pallet in and package out is key. The Aisle-Master product is also key to help increase warehouse efficiency and increase the storage capacity of a warehouse. The Aisle-Master OP product is ideally suited to work in a number of sectors including e-commerce, warehousing and distribution, packaging, transport and logistics, food and drink, automotive, manufacturing, and pharmaceutical & healthcare. The growth in online retail, the increase in home deliveries and an increase in storage and order processing demands in the e-commerce and logistics sectors make the Aisle-Master OP uniquely suited to increase an organisation's ability to meet these growing demands. The packaging, food and drink sectors are continually driven by e-commerce and typically have non uniform loads. Typically, manufacturing and pharmaceutical sectors need to maximize the storage on site and increase the manufacturing footprint. The AME-OP also allows the organisations to quickly pick components on picklists and quickly deliver to the manufacturing position.
Customer benefit
The Aisle-Master OP model was launched to the market in 2021. Development of the Aisle-Master OP was influenced by customer feedback, as well as the recent growth of e-commerce. Customers already using Aisle-Master products for space saving, storage and efficiency in their warehouses asked if we could develop the Aisle-Master to meet their growing demand for order picking customised orders. The Aisle-Master OP unique front end, with patented steering system allows the truck to work in very narrow aisles which can increase the storage capabilities in customers warehouses. The trucks operator compartment with its low entry point allows for quick entry and exit from the vehicle for order picking purposes. This operator compartment not only improves the efficiency of order picking applications but also improves safety by reducing the step heights and operating position. The position of the operator allows the pallet barcode to be visible and accessible for scanning while in the aisle position. The Aisle Master Order picker features an ergonomic wrap-around "standing rest" position that's easy to move into and out of frequently without strain. Buyers and operators have given feedback that the step-in feature has reduced fatigue throughout the day. The Aisle-Master OP also allows for quick removal of the truck's battery, with easy access from the rear of the truck with a forklift or a pallet truck and also incorporates a built-in charging point. The Aisle-Master OP comes with Combilift SHAPE software as standard, this allows the truck to be operated with up to three driver levels based on operator experience and provides superior service management and diagnostics.
Optional items (IFOY test truck)
The Aisle-Master OP comes installed with the combi connect telematics system as standard. With this system it is possible to monitor the energy usage of the truck. The combi connect also provides smart maintenance management by monitoring the usage of trucks functions and controls. This provides the customer with information on how their truck is performing and how to optimize the performance. The combi connect also comes with shock monitoring to help record impacts to the customers equipment.