IFOY Patronage
IFOY Sponsor
HAIPICK A42T

HAI Robotics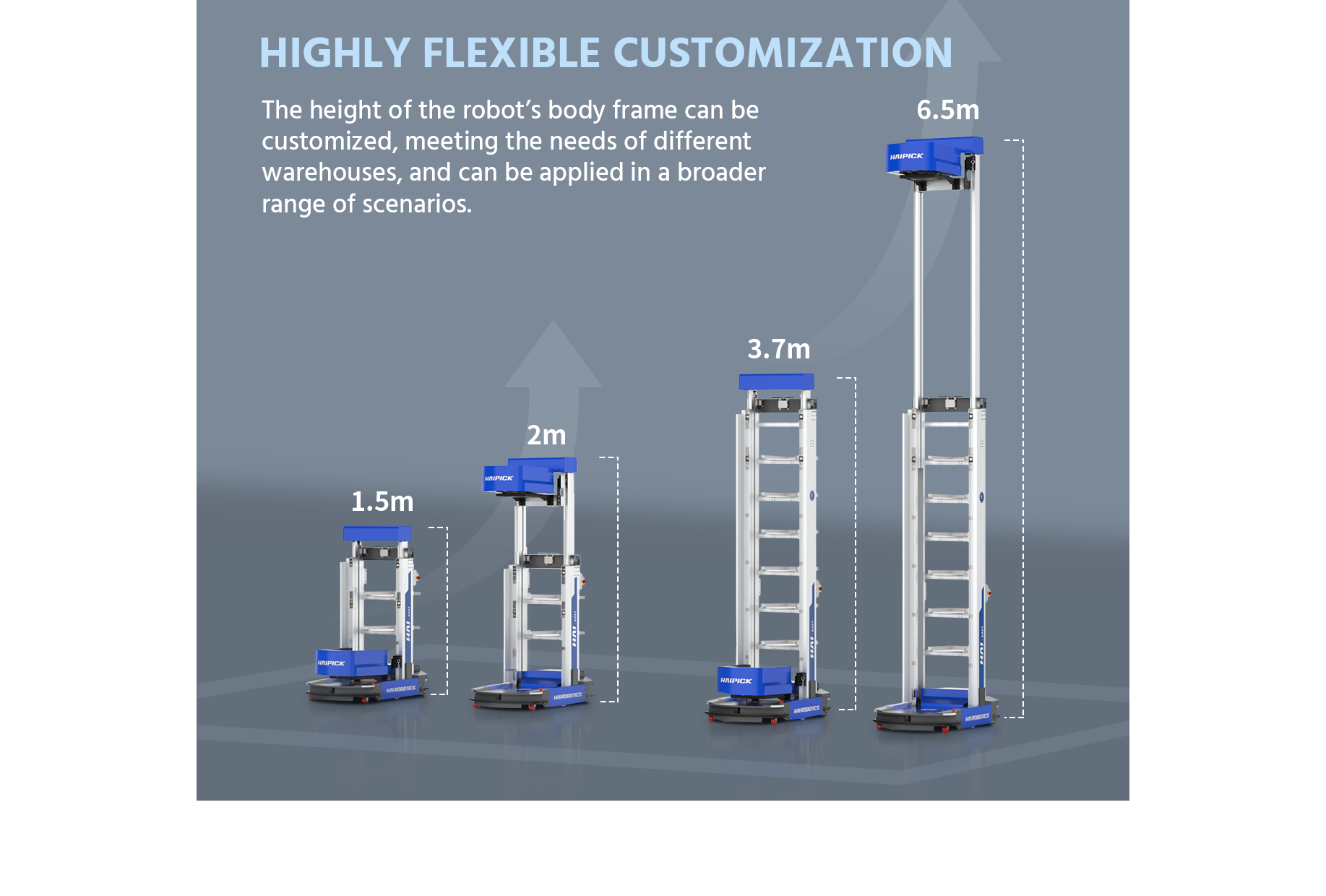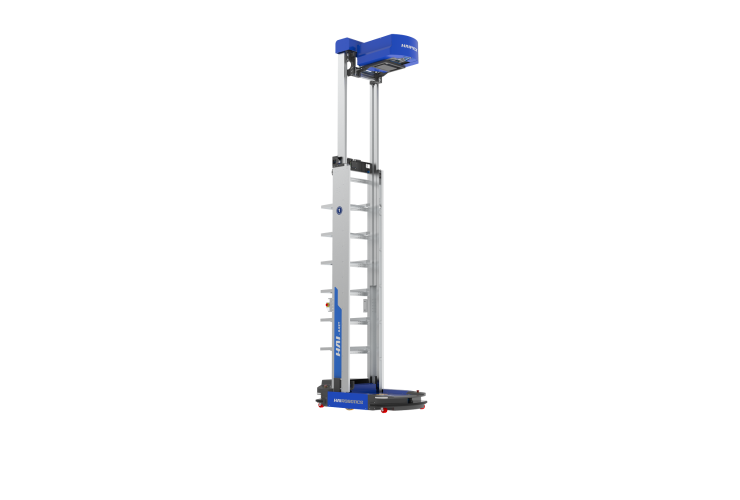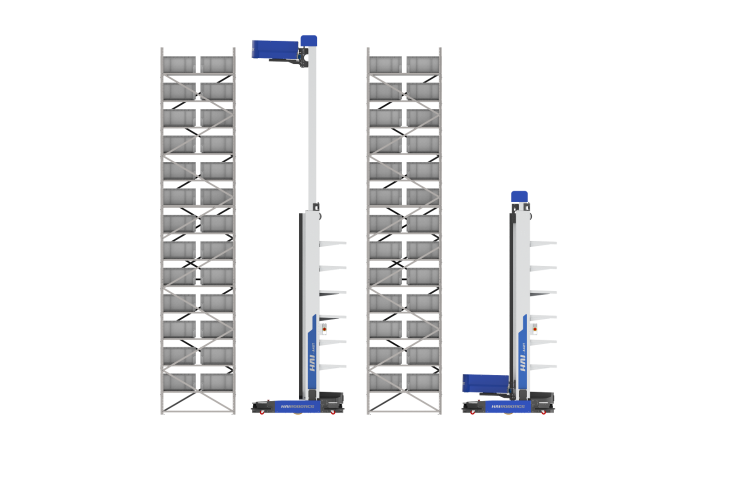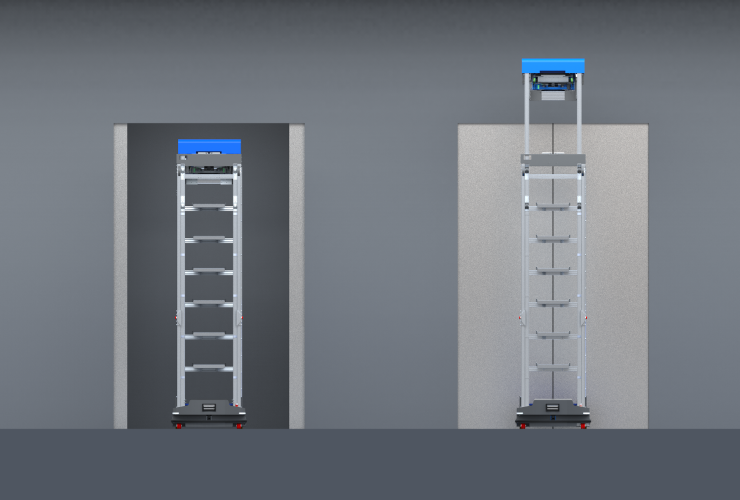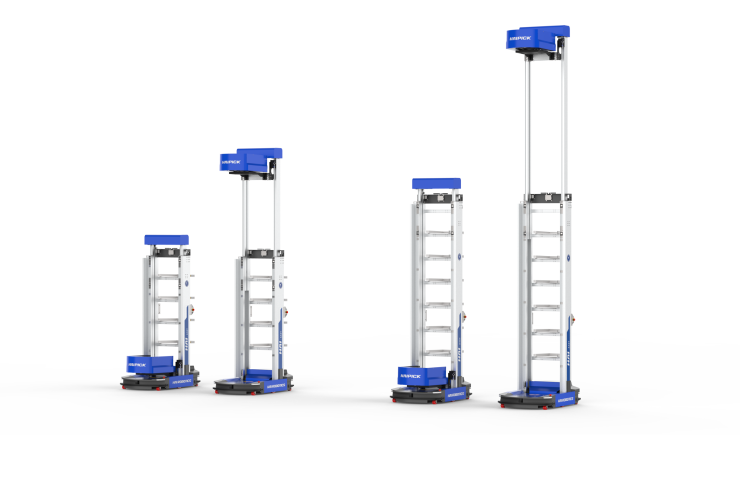 HAIPICK A42T Telescopic Lift ACR
HAIPICK
IFOY-Kategorie
Automated Guided Vehicle (AGV)
Zusammenfassung
Der HAIPICK A42T ist der weltweit erste Teleskoplift ACR (Autonomer Case-Handling-Roboter). Dabei handelt es sich um einen Roboter, der intelligente "Ware-zur-Person"-Kommissionierung möglich macht, die Effizienz der Auftragsabwicklung verbessert, die Lagerraumdichte optimiert, eine hohe Betriebseffizienz bietet, Kommissionierfehler reduziert und eine hohe Flexibilität für Lagerhäuser bietet. Das Gerät ist mit einer intelligenten Teleskophubfunktion ausgestattet, die flexibel eine Reichweite von 0,25 Meter bis 6,50 Meter abdecken kann und so unerreichbare Lagerplätze zugänglich macht. Der Roboter liefert einen weiteren bahnbrechenden Vorteil: Er ermöglicht eine ultrahohe Lagerdichte. Zudem ist es eine Lösung, die sich für unterschiedliche Lager mit unregelmäßigen Parametern eignet.
Beschreibung
Das HAIPICK A42T-System ist ein innovatives Ware-zur-Person-System, das den Kommissioniervorgang erheblich verbessert und gleichzeitig die Lagerdichte in der Halle erhöht. Der Roboter identifiziert, lokalisiert und kommissioniert auf intelligente Weise einen gewünschten Artikel im Distributionszentrum.
Er kann bis zu sechs Behälter gleichzeitig aufnehmen und zur Arbeitsstation transferieren. Die minimale Zugriffsreichweite des Roboters beträgt 0,25 Meter, die maximale reicht bis zu 6,5 Meter. Der Roboter ermöglicht laut dem Hersteller eine ultrahohe sowie flexible Lagerung und maximiert die Nutzung des Lagerraums. Der einzigartige Telescopic Lift ACR, HAIPICK A42T bewegt sich in unterschiedlichen Höhen in zwei oder mehr Bereichen in einem Lagerhaus. Er reagiert dabei reibungslos auf eine unregelmäßige Lagerhausumgebung, die durch Feuerlöschleitungen, Gebäudeträger und andere Hindernisse entstanden ist. Lagerarbeiter können Roboter bei Bedarf schnell von einer Seite auf die andere bewegen und so flexibel auf die hohen betrieblichen Anforderungen in unterschiedlichen Lagerbereichen reagieren. Sie können Verschiebungen von Robotern zwischen den einzelnen Bereichen in die Wege leiten und so die höchste Roboterauslastung erreichen.
Innovation
Der HAIPICK A42N ist mit einem selbstentwickelten Teleskoplift ausgestattet, mit dem der Roboter seinen Mast ausfahren und bis zu 6,5 Meter hohe Stellen erreichen kann, während er seine reguläre Größe von 3,7 Metern beibehält. Darüber hinaus kann die Maschinengröße von 1,5 Meter bis 3,7 Metern individuell angepasst werden. Diese flexible Lösung eignet sich für verschiedene Lagerhallen mit unregelmäßigen Höhen und unterschiedlichen Bereichen.
Der HAIPICK Roboter kann zwischen zwei oder mehreren Standorten pendeln. Das Gerät bietet eine Antwort auf die hohen betrieblichen Anforderungen unterschiedlicher Lagerbereiche und ermöglicht den Transfer von Robotern zwischen den Bereichen, wodurch die höchste Roboterauslastung erreicht wird. Lagerarbeiter können Roboter bei Bedarf schnell von einem Einsatzbereich zum anderen bewegen. Das Gerät kann auch in Aufzügen transportiert werden, sodass es in verschiedenen Stockwerken zum Einsatz kommen kann. Dadurch wird ein breites Einsatzspektrum abgedeckt. Der Roboter ermöglicht die Integration von Lagerbereichen und Produktionslinien auf verschiedenen Etagen. So profitieren Kunden von maßgeschneiderten Lösungen.
Marktrelevanz
Die innovativen Merkmale des ersten auf dem Markt erhältlichen Teleskoplifts lösen die Schwachstellen der Lagerautomatisierung und -optimierung, des Mehrbereichsbetriebs und steigern die Produktivität.
Der Roboter HAIPICK A42T ist das Ergebnis einer kontinuierlichen Konzentration auf die Lösung der Problemstellungen der Kunden.
Er verfährt durch verschiedene unregelmäßige und ungleiche Höhen zwischen zwei oder mehr Bereichen in einem Lagerhaus und reagiert problemlos auf komplexe unregelmäßige Lagerumgebungen. Sein "kompaktes" Gehäusedesign ermöglicht seinen einfachen Transport und seine Handhabung, wodurch die Transportkosten gesenkt, der Einsatz beschleunigt, die Gesamteffizienz der Projektdurchführung verbessert und die Effizienz gesteigert wird. Ein Durchbruch in der Branche, der den HAIPICK A42T an die Spitze der Entwicklung im Bereich der Lagerrobotertechnologie setzt und damit mehr Unternehmen dabei unterstützt, die Transformation der Lagerautomation zu realisieren, die Lagerdichte zu erhöhen und ultrahohe Flexibilität für jedes Lager zu schaffen.
Hauptvorteile für den Kunden
Intelligenter Teleskophub
0,25 Meter bis 6,5 Meter Kommissionierbereich, optimierte Lagerkapazität
Hoch & stabil
Intelligente Anpassung an Lagerhallen mit unregelmäßigen Höhen
Schnelle Kapitalrendite, niedrige Kosten
Anpassbarer Roboterkörper
Hohe Effizienz, Kommissionieren und Bewegen von sechs Fällen auf einmal
Integration mit einer Vielzahl von Workstations und Geräten
Schnellladung in 45 Minuten, 24-Stunden-Betrieb
Konkurrenzprodukte
Video:
HAIPICK A42T Telescopic Lift ACR
---
Name
 HAI ROBOTICS,
 HAIPICK A42T
Category
 Automated Guided Vehicle

Date of Test
 22.-26. März 2021
Testbericht
Der HAIPICK A42T ist der erste teleskopierbare autonome Case-Handling-Roboter (ACR) der Welt. Die Teleskop-Hubfunktion ermöglicht einen flexiblen Bereich von 0,25m bis 6,50m. Der Roboter selbst behält seine Standardhöhe von 3,70 Metern bei.
Der moderne Roboter ermöglicht eine intelligente und effiziente Ware-zur-Person-Kommissionierung in Lagern mit unregelmäßigen Höhen. Der verfügbare Platz wird maximal ausgenutzt, wodurch eine hohe Lagerdichte erreicht wird. Auch in Umgebungen, in denen die Lagerhöhe variiert.
Das System identifiziert, lokalisiert und sammelt den gewünschten Artikel auf intelligente Weise. Jeder Lagerplatz hat dazu einen DM-Code. Der HAIPICK-Roboter scannt zunächst den Positionscode und anschließend den Behältercode.
Das System ist für die gemischte Kommissionierung sowohl von Behältern als auch von Kartons unterschiedlicher Größe ausgelegt. Der ACR kann dabei bis zu sechs Behälter auf einmal aufnehmen und zu einem oder mehreren Arbeitsplätzen transportieren.
Hindernisse wie Sprinkleranlagen, Türen, Ventilatoren und andere höhenbeschränkende Objekte werden in der HAIQ-Softwareplattform registriert. Der ACR weiß, wo sich die Hindernisse befinden, kann seine Höhe anpassen und die Route fortsetzen. Um die Sicherheit weiter zu erhöhen, lässt sich der Mast mit zusätzlichen Sensoren ausstatten.
Standardmäßig sind die Roboter in einem geschlossenen Bereich aktiv. Sind dort auch Fußgänger unterwegs, kann das System um zusätzliche Sensoren erweitert werden. Diese erkennen mögliche Hindernisse und sorgen dafür, dass der Roboter sicher zum Stillstand kommt.
ACRs, die in der HAIQ-Softwareplattform enthalten sind, können automatisch von einem Einsatzbereich in einen anderen wechseln. Der Roboter kann zudem Aufzüge steuern, sofern diese ebenfalls mit der HAIQ-Softwareplattform verbunden sind. In dem Fall werden DM-Codes im Aufzug installiert, um den ACR zu steuern und den Einsatz in mehreren Stockwerken zu ermöglichen.
Der Lithium-Eisenphosphat-Akku ermöglicht eine schnelle und problemlose Zwischenladung. Laut Hersteller kann der Akku in nur 45 Minuten wieder aufgeladen werden. Damit ist das System für den 24/7-Betrieb geeignet.
Das HAIPICK-System ist skalierbar und kann je nach Anforderung problemlos mit weiteren ACRs, weiteren Arbeitsstationen oder weiteren Regalsystemen erweitert werden. Auch andere Lagersysteme wie Miniloads oder Shuttles können integriert werden.
Aufgrund von Zollproblemen konnte der HAIPICK A42T nicht rechtzeitig in Dortmund live geprüft werden. Die Verifizierung erfolgte mittels Video-Streaming und Herstellerinterviews.
IFOY Testfazit:
Der HAIPICK A42T ist ein einzigartiger autonomer Case-Handling-Roboter (ACR). Dank der Teleskop-Hubfunktion kann der Mast des Roboters bis auf 6,5 Meter Höhe ausgefahren werden. Er ist auch in Umgebungen einsetzbar, in denen die Lagerhöhe variiert. Die Höhe des Roboters wird automatisch angepasst, um eine hohe Lagerdichte zu erreichen..
IFOY Innovation Check
Marktrelevanz
Die Bereitstellung von Behältern, Kartons und Boxen im Rahmen der Materialversorgung oder der Kommissionierung sind von hohem Interesse bei einer Vielzahl von Applikationen in Industrie und Handel.
Kundennutzen
HAI ROBOTICS bietet hierfür mit seinem Produkt HAIPICK A42T eine Lösung an, die sehr weitreichend modularisiert aufgebaut ist und damit bei hoher Flexibilität einen hohen Grad von Standardisierung erlaubt. Das Gerät ist zwischen AGV und Miniload-AS/RS einzuordnen und hat folglich gerade im Bereich neuer Interessenten für Automatisierungslösungen sehr hohen Kundennutzen.
Neuheitsgrad
Die Technik an sich ist nicht übermäßig innovativ, sondern setzt sich aus einer Reihe bekannter und erprobter Lösungen zusammen. Das Gesamtkonzept allerdings ist eine neuartige Lösung (zwischen AS/RS und AGV) und damit klar innovativ.
Funktionalität / Art der Umsetzung
Das Gerät ist leistungsstark und macht einen soliden Eindruck. Gemeinsam mit der Magazin-Lösung zum automatischen Be- und Entladen ist es ein überzeugendes Konzept. Pluspunkt: Beim Übergang von manuellen Lagern hin zu automatisierten Lösungen ist das Produkt ein gutes Konzept. Die Robustheit kann nicht eingeschätzt werden. Die große Bauhöhe bei kleiner Fläche ist wenig innovativ.

---
Marktrelevanz

 +


Kundennutzen

 Ø


Neuheits- / Innovationsgrad

 -


Funktionalität  / Art der Umsetzung

 +


++ sehr gut / + gut / Ø ausgeglichen / - weniger / - - nicht vorhanden
HAIPICK A42T

HAI Robotics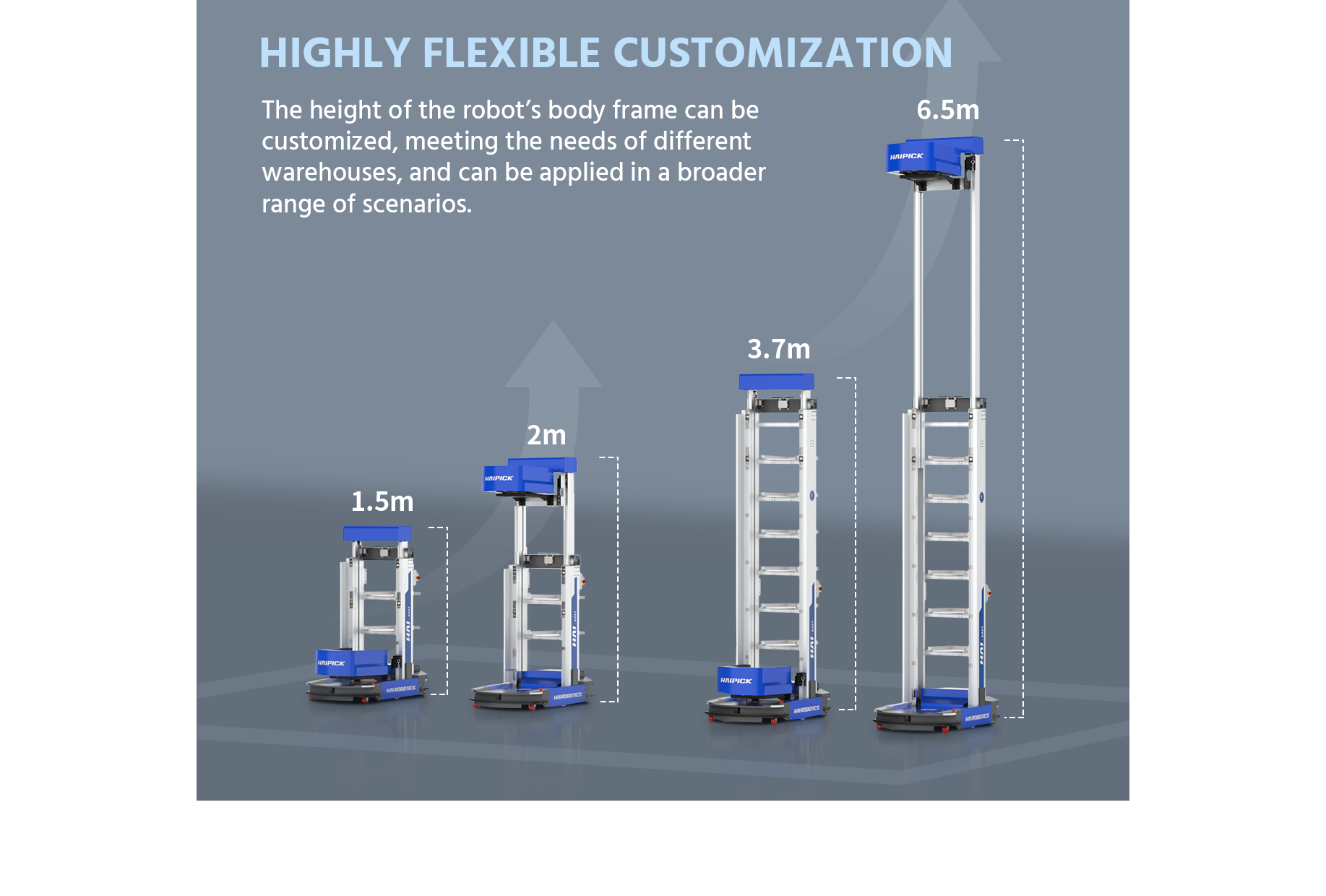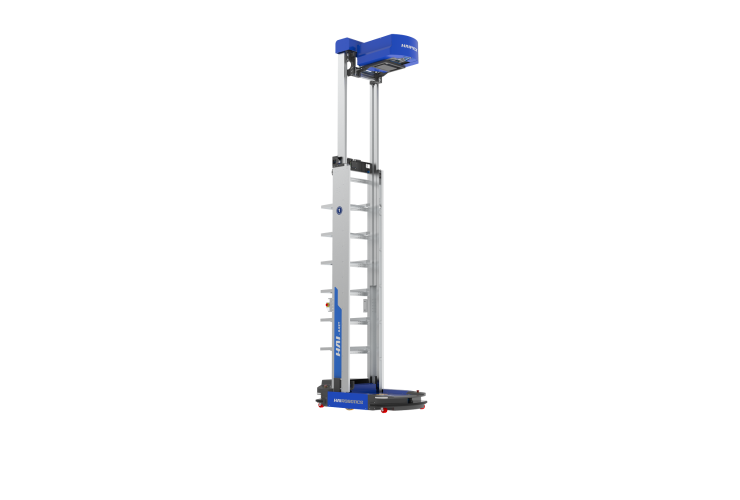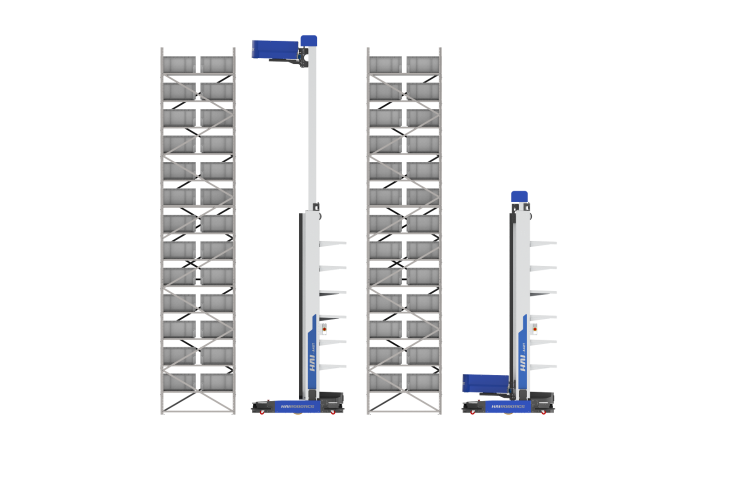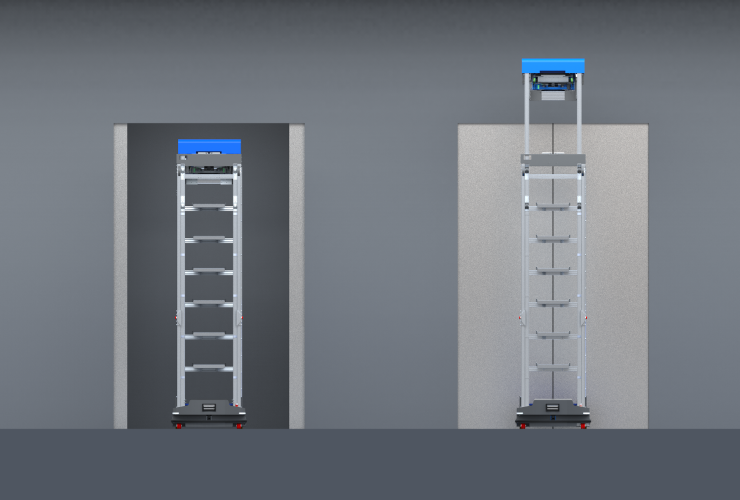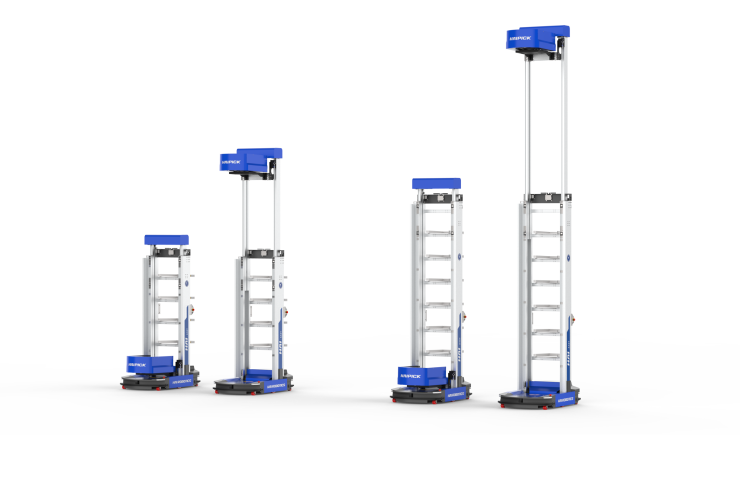 HAIPICK A42T Telescopic Lift ACR
HAIPICK
IFOY category
Automated Guided Vehicle (AGV)
Summary
The world's first telescopic lift ACR (autonomous case-handling robot), HAIPICK A42T is an advanced robot that realizes intelligent "goods-to-person" picking, improves order fulfillment efficiency, optimizes storage space density, delivers high operational efficiency, reduces picking errors and offers high flexibility for warehouses. The robot is equipped with an intelligent telescopic lift function, which can flexibly cover a range from 0.25 meters to 6.50 meters making unreachable warehouse storage spaces accessible. The robot realizes another breakthrough, creating an ultra-high storage density and offers an innovative solution that suits various warehouses with irregular sizes realising a flexible warehouse automation solution.
Description
The HAIPICK A42T system is an innovative goods-to-person system that remarkably improves the picking process while increasing the warehouse's storage density. The robot intelligently identifies, locates, and picks the desired item in the warehouse. It can pick up to six totes at the same time and carry them to the workstation.
The robot's minimum access range is as low as 0.25 meters, and the maximum goes up to 6.5 meters. The robot realises ultra-high and flexible storage and maximises the use of warehouse space. The unique Telescopic Lift ACR, HAIPICK A42T shuttles through various irregular and unequal heights between two or more areas in a warehouse, smoothly responding to the complex irregular warehouse environment caused by fire-fighting pipelines, building beams, and other obstacles. People in warehouses can move robots from one side to another quickly when needed, delivering a flexible response to the high operational requirements of varying storage areas. The user can realise a mutual transfer of robots between areas, achieving the highest robot utilisation rate.
Innovation
HAIPICK A42N is equipped with a self-developed telescopic lift that allows the robot to extend its mast and reach spots as high as 6.5 meter while keeping its regular body size of 3.7 meter. Moreover, its body size can be customized, starting from 1.5 meter to 3.7 meter. This flexible solution suits various warehouses with irregular heights and different areas allowing the HAIPICK robot to shuttle between two or more locations. It delivers a flexible response to the high operational requirements of varying storage areas and realises the mutual transfer of robots between areas, achieving the highest robot utilisation rate. Warehouses can move robots from one side to another quickly when needed. The robot can also ride elevators, allowing free shuttle between floors, covering a wider range of warehouse operations. It can realise the integration of warehouse areas and production lines on different floors, combining customised solutions to meet various customer needs.
Marktet relevance
The innovative features of the first telescopic lift available on the market solve the pain points of warehouse automation and optimisation, multi-range operation and increase productivity.
The HAIPICK A42T robot is the result of a continuous focus on solving customers' problems.
It moves through various irregular and uneven heights between two or more areas in a warehouse and reacts easily to complex irregular warehouse environments. Its "compact" chassis design allows it to be easily transported and handled, reducing transport costs, speeding up deployment, improving the overall efficiency of project execution and increasing efficiency. An industry breakthrough that puts the HAIPICK A42T at the forefront of warehouse robot technology development, helping more companies to realise warehouse automation transformation, increase storage density and create ultra-high flexibility for any warehouse.
Main customer benefits
Intelligent telescopic lift
0.25 meter to 6.5 meter picking range, optimized storage capacity
High & stable
Intelligently adapt to warehouses with irregular heights
Rapid return on invest, low cost
Customisable robot body
High efficiency, picking and moving six cases at a time
Integration with a variety of workstations and devices
Fast charge in 45 minutes, 24-hour operation
Competitive products
Video:
HAIPICK A42T Telescopic Lift ACR
---
Name
 HAI ROBOTICS,
 HAIPICK A42T
Category
 Automated Guided Vehicle

Date of Test
 March 22 to March 26, 2021
Test Report
The HAIPICK A42T is the world's first telescopic autonomous case handling robot (ACR). The telescopic lifting function allows a flexible range from 0.25m to 6.50m. The robot itself maintains its standard height of 3.70 metres.
The advanced robot enables intelligent and efficient goods-to-person picking in warehouses with irregular heights. The available space is utilised to the maximum, resulting in high storage density. Even in environments where the warehouse height varies.
The system intelligently identifies, locates and collects the desired item. Each storage location has a DM code for this purpose. The HAIPICK robot first scans the position code and then the bin code.
The system is designed for mixed picking of both totes and cartons of different sizes. The ACR can pick up to six totes at a time and transport them to one or more workstations.
Obstacles such as sprinklers, doors, fans and other height-limiting objects are registered in the HAIQ software platform. The ACR knows where the obstacles are, can adjust its height and continue the route. To further increase safety, the mast can be equipped with additional sensors.
By default, the robots are active in a closed area. If pedestrians are also on the move there, the system can be expanded with additional sensors. These detect possible obstacles and ensure that the robot comes to a safe stop.
ACRs included in the HAIQ software platform can automatically switch from one area of operation to another. The robot can also control lifts if they are also connected to the HAIQ software platform. In that case, DM codes are installed in the lift to control the ACR and allow it to be used on multiple floors.
The lithium iron phosphate battery allows for quick and easy intermediate charging. According to the manufacturer, the battery can be recharged in just 45 minutes. This makes the system suitable for 24/7 operation.
The HAIPICK system is scalable and can be easily expanded with more ACRs, more workstations or more racking systems depending on requirements. Other storage systems such as miniloads or shuttles can also be integrated.
Due to customs problems, the HAIPICK A42T could not be verified live in Dortmund in time. Verification was carried out by means of video streaming and manufacturer interviews.
IFOY Test Verdict
The HAIPICK A42T is a unique autonomous case handling robot (ACR). Thanks to the telescopic lifting function, the robot's mast can be extended to a height of 6.5 metres. It can also be used in environments where the storage height varies. The height of the robot is automatically adjusted to achieve a high storage density.
IFOY Innovation Check
Market relevance
The provision of totes, cartons and boxes in the context of material supply or order picking are of great interest in a variety of applications in industry and trade.
Customer benefit
HAI ROBOTICS offers a solution for this with its product HAIPICK A42T, which has a very extensive modularised design and thus allows a high degree of standardisation with a high degree of flexibility. The device can be classified between AGV and Miniload-AS/RS and therefore has a very high customer benefit especially in the area of new prospective customers for automation solutions.
Novelty
The technology itself is not overly innovative but is composed of a number of well-known and proven solutions. The overall concept, however, is a novel solution (between AS/RS and AGV) and thus clearly innovative.
Functionality / type of implementation
The product is powerful and makes a solid impression. Together with the magazine solution for automatic loading and unloading, it is a convincing concept. Plus point: In the transition from manual warehouses to automated solutions, the product is a good concept. The robustness cannot be estimated. The large overall height with a small surface area is not very innovative.

---
Market relevance

 +


Customer benefit

 Ø


Degree of novelty / innovation

 -


Functionality  / Type of implementation

 +


++ very good / + good / Ø balanced / - less / - - not available