IFOY Patronage
IFOY Sponsor
The VDMA Materials Handling and Intralogistics Sector Association is sponsor of the International Forklift Truck of the Year (IFOY).
HAIPICK A42N Solution

HAI Robotics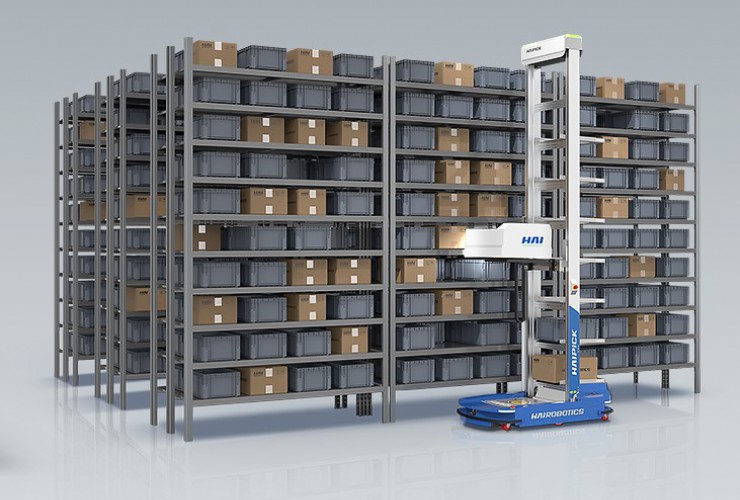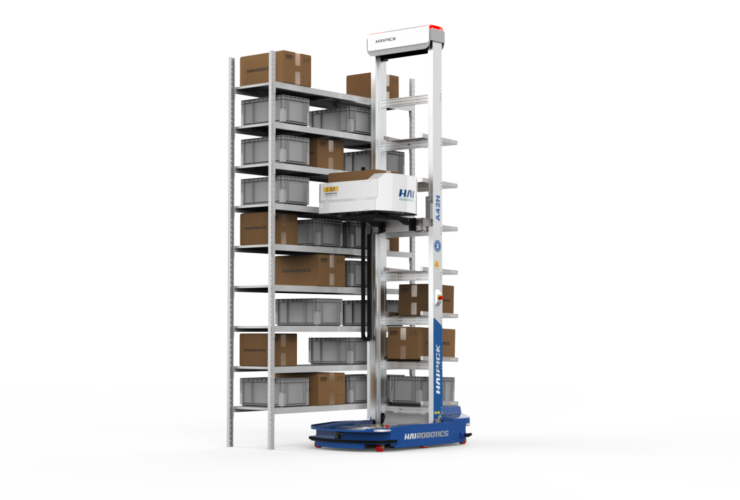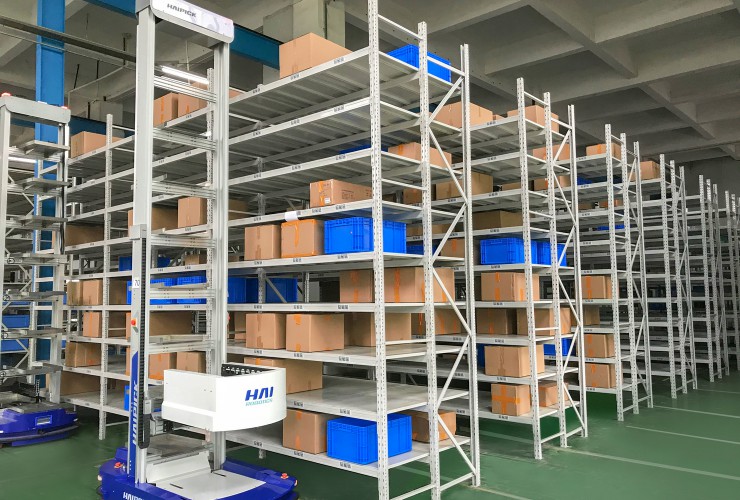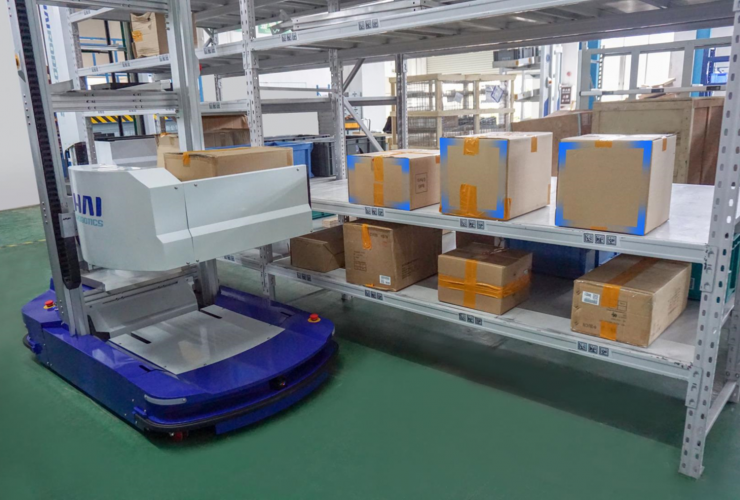 HAIPICK A42N Carton-picking ACR
HAI Robotics
IFOY-Kategorie
Integrated Warehouse Solution
Zusammenfassung
Der weltweit erste autonome Kartonkommissionierroboter, HAIPICK A42N, ist ein Roboter, der die gemischte Kommissionierung von Kartons und Behältern unterschiedlicher Größe ermöglicht. Er setzt eine visuelle 3D-Erkennungstechnologie ein, um Behälter und Kartons ohne Codes zu lokalisieren und direkt darauf zuzugreifen. Er reduziert die Bereitstellungs- und Nutzungskosten und erweitert den Einsatzbereich von Behältern, wodurch eine hohe Flexibilität in puncto Größe von Kartons und Behältern und deren Mischkommissionierung erreicht wird. Das HAIPICK Robotersystem ermöglicht Nutzern, flexibler auf dynamische Geschäftsveränderungen reagieren zu können. 
Beschreibung
Das HAIPICK A42N Robotersystem unterstützt auf innovative Weise die Kommissionierung von Kartons und Behältern verschiedener Größen. Die visuelle 3D-Erkennungstechnologie identifiziert Waren ohne Codes, was zu einer schnelleren Bestandszählung durch Scannen im Regal führt und intelligente Kommissionier- und Handhabungsfunktionen ermöglicht.
Der Roboter wird vom HAIQ-System (der firmeneigenen intelligenten Software) angetrieben und analysiert. Die Software optimiert kontinuierlich die Arbeits- und die Systemeffizienz. Das System ermöglicht autonome Navigation, aktive Hindernisumfahrung und automatisches Laden, wobei vom traditionellen Modus "Person-zur-Ware" zum effizienten und intelligenten Modus "Ware-zur-Person" gewechselt wird. Der Roboter kann in verschiedene Arbeitsstationen integriert werden. Auch die Integration von Geräten ist möglich, darunter sogenannte Drop-and-Go-Cache-Regale, Rollen, Förderer, Roboterarme etc. Der Roboter kann sich nicht spurgebunden vorwärts und rückwärts bewegen und sich vor Ort mit hoher Stabilität und Präzision in jeden beliebigen Winkel drehen. Um den Anforderungen der Lagerautomatisierung gerecht zu werden, ist der HAIPICK A42N zur Anpassung an Szenarien fähig, was Lagerdichte und Sortiereffizienz angeht. So werden die Betriebskosten gesenkt. Der Einsatz des HAIPICK A42N Roboters kann auch die Effizienz der Mitarbeiter verbessern. Das Gerät kann in allen logistischen Phasen des Produktionsprozesses eingesetzt werden, einschließlich Warenannahme, Versand, Transfer und Kommissionierung. Auch die Einlagerung von Rohmaterialien und Handhabung von Ersatzteilen in komplexen Umgebungen ist möglich.
Innovation
Der HAIPICK A42N ermöglicht eine einzigartige Greifmethode, die das gemischte Greifen von Kartons und Behältern unterschiedlicher Größe unterstützt. Es eignet sich für Lagerhäuser, in denen der Einsatz von Behältern und Kartons erforderlich ist. Durch die Wiederverwendung von Kartons und Behältern können die Bereitstellungs- und Nutzungskosten gesenkt werden.
Die optische 3D-Erkennung ist eine innovative Funktion, die Kartons und Behälter ohne Codes erkennen kann. Sie nutzt die visuelle DM-Code-Navigation und Trägheitsnavigationstechnologie, wie z.B. genaue Standortbestimmung, intelligente Wegplanung und flexible Fahrwege. Die Softwareplattform dieser revolutionären Innovation ist auf die Unterstützung der Karton- und Stückkommissionierung zugeschnitten.
Marktrelevanz
Viele Unternehmen verwenden im Distributionszentrum nur einen einzigen Behältertyp zur Lagerung von Waren, was zu einer begrenzten Flexibilität bei der Handhabung von Gegenständen und Verpackungen führt. Alles muss an diesen einen Fall angepasst werden. Das führt zu höheren Kosten. Mit HAIPICK A42N können Betreiber von Lagern Behälter und Kartons unterschiedlicher Größe gleichzeitig handhaben. Der Roboter verwendet eine visuelle 3D-Erkennung, die den Behältertyp und seine Größe erkennt, ohne dass ein Code dafür verwendet werden muss. Das Gerät reduziert die Kosten für die Anpassung der Behälter und bietet Flexibilität, um verschiedenen Geschäftsanforderungen gerecht zu werden. Diese Lösung ist die erste ihrer Art, die derzeit auf dem Markt erhältlich ist. Start der kommerziellen Nutzung war im März 2020.
Hauptvorteile für den Kunden
Schneller Return on Investment (ROI)
Niedrige Kosten
Fortschrittliche visuelle 3D-Erkennung
Unterstützung der gemischten Kommissionierung von Kartons und Behältern verschiedener Größen
Anwendbar auf ein breites Spektrum von Szenarien
Setzt auf visuelle DM-Code-Navigation und Inertial Navigation
Laufgeschwindigkeit 1,8 m/s (Volllast)
Erreicht eine Höhe von fast fünf  Metern und verbessert die Lagerdichte
Unterstützt bis zu acht Ablagefächer
Integrationsmöglichkeit in viele Arbeitsstationen und Geräte
Schnellladung in 45 Minuten
Konkurrenzprodukte
Video:
HAIPICK A42N Carton-picking ACR
HAIPICK A42N Solution

HAI Robotics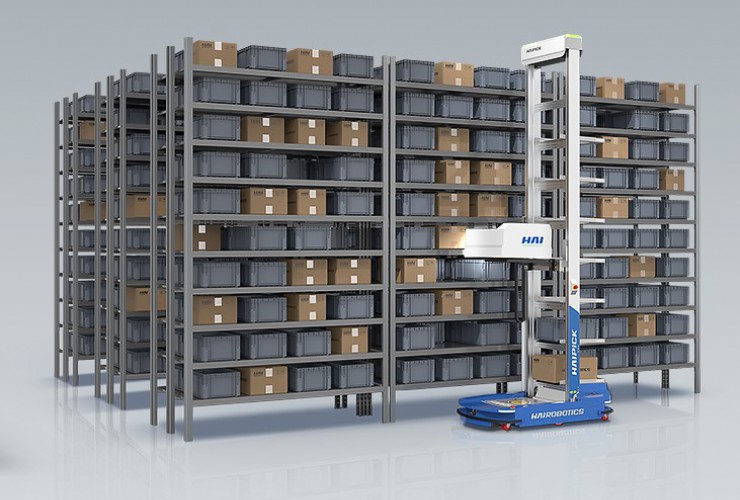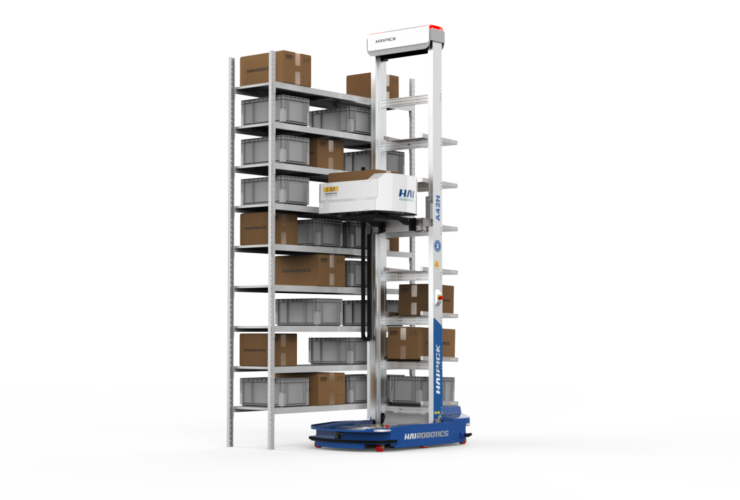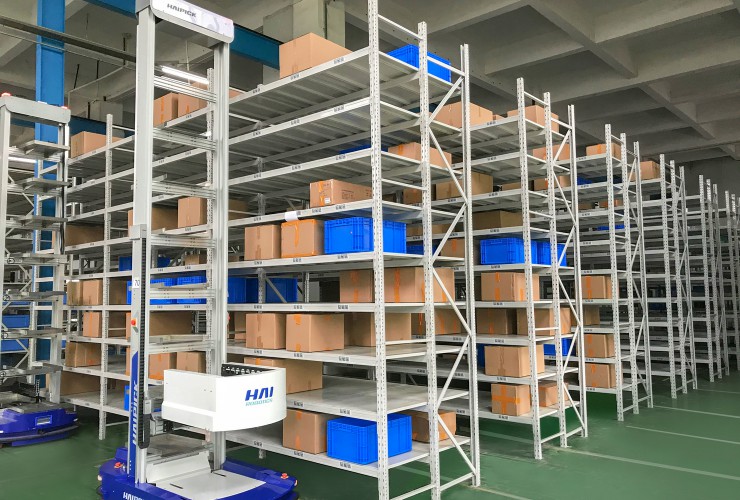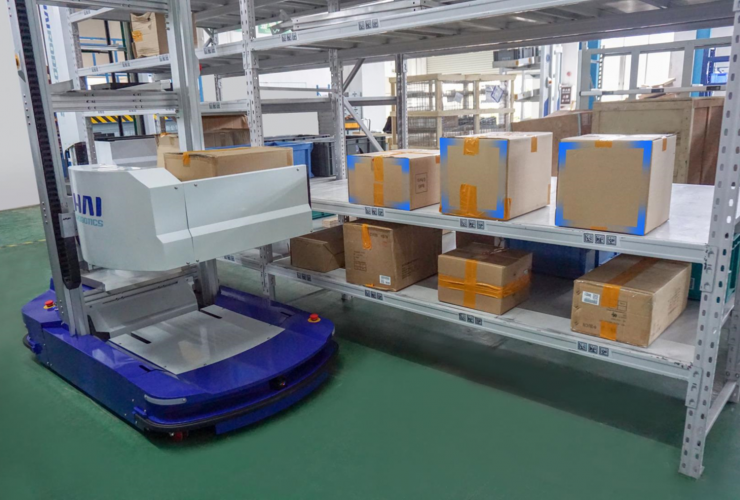 HAIPICK A42N Carton-picking ACR
HAI Robotics
IFOY Category
Integrated Warehouse Solution
Summary
The world's first carton-picking autonomous case-handling robot, HAIPICK A42N, is the first robot that enables mixed picking of cartons and totes of different sizes. It adopts 3D visual recognition technology to locate and access totes and cartons without codes directly. It reduces costs of deployment and use and expands the usage scope of cases, achieving high flexibility in the size of cartons/totes and their mix picking. It enables the HAIPICK robotic system to be more flexible and cater to dynamic business changes.
Description
The HAIPICK A42N robotic system innovatively supports multi-size carton/tote picking of multiple sizes. Its 3D visual recognition technology identifies goods without codes, resulting in faster inventory count through shelf scanning, delivering intelligent picking, and handling capabilities.
The robot is powered by HAIQ system (the company's proprietary intelligent software), continuously analyses and optimises labor as well as system efficiency. Its smart system enables autonomous navigation, active obstacle avoidance, and automatic charging, changing from the traditional mode of "person-to-goods" to the efficient and intelligent "case-to-person" mode. The robot can be integrated with various workstations and devices, including drop-and-go cache racks, rollers, conveyors, robotic arms, and more. It can move forward and backward without any track and rotate on-site to any angle with high stability and precision. To meet the storage automation demands, the HAIPICK A42N enables the multi-scenario self-adaptive capability to deal with storage density and sorting efficiency to reduce operating costs. The use of HAIPICK A42N robot can significantly improve the workers' efficiency. It can be applied to all logistics stages of the production process, including the receiving and dispatching, transferring, picking, and loading raw materials and spare parts, and all complex environments where handling, loading, and unloading are needed.
Innovation
HAIPICK A42N offers a unique pickup method that supports mixed picking of cartons and totes of different sizes. It is suitable for warehouses in which operations require the use of totes and cartons. Cartons and totes can be reused to lower costs of deployment and use.
Its 3D visual recognition is an innovative function that can recognise cartons and totes without codes. It adopts DM code visual navigation and inertial navigation technology, such as accurate location, smart path planning, and flexible driving path. The software platform of this innovation is tailored to support case-picking and piece-picking.
Marktet relevance
Many warehouses use one type of container to store goods in their facilities, resulting in limited flexibility to deal with other types of items and packaging. Everything must be customised to this one case. That results in higher costs. The HAIPICK A42N solution allows warehouses to handle totes and cartons of different sizes at the same time. The robot uses 3D visual recognition that recognises the type of container and its size without codes. It significantly reduces the costs of customising containers and delivers flexibility, meeting various business requirements. This solution is the first of its kind currently available in the market. It started commercial operation in March 2020.
Main customer benefits
Fast return on investment
Low costs
Advanced 3D visual recognition
Supports mix picking multi-size cartons/totes
Applicable to a wide range of scenarios
Adopts DM code visual navigation and inertial navigation
Running speed 1.8 m/s (full load)
Reaches nearly 5m high, improving storage density
Supports up to 8 storage trays
Integration with a variety of workstations and devices
Fast charging in 45 min
Technical Data
Competitive Products
Video:
HAIPICK A42N Carton-picking ACR