IFOY Patronage
IFOY Sponsor
IFOY Partner
Messe Dortmund is official partner of the IFOY AWARD.
Cascade is official partner of the IFOY AWARD.
CHEP is official partner of the IFOY AWARD.
LTG is official partner of the IFOY AWARD.
The HERMES.Wirtschafts.Forum is official partner of the IFOY AWARD.
SRSC45H9 Hybrid Reach Stacker

Sany Europe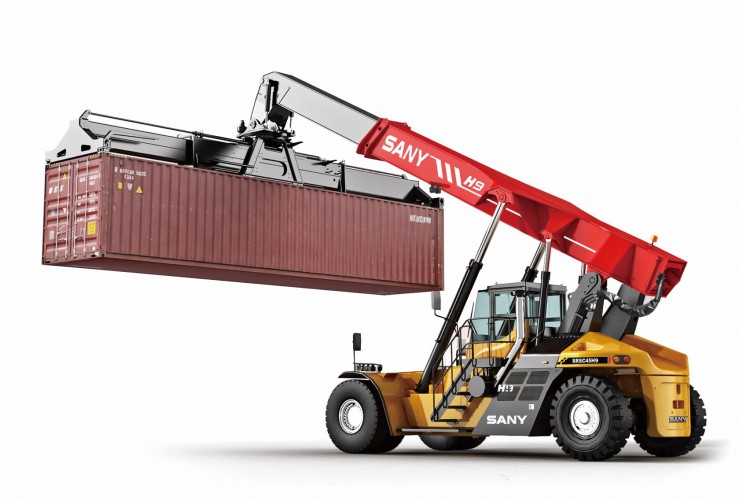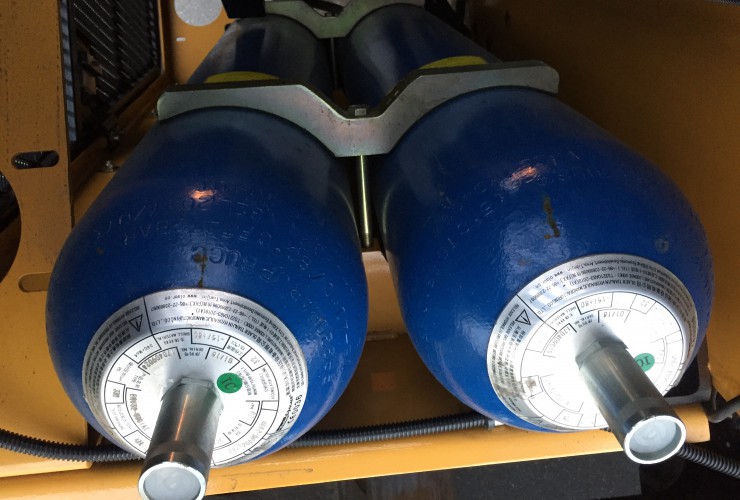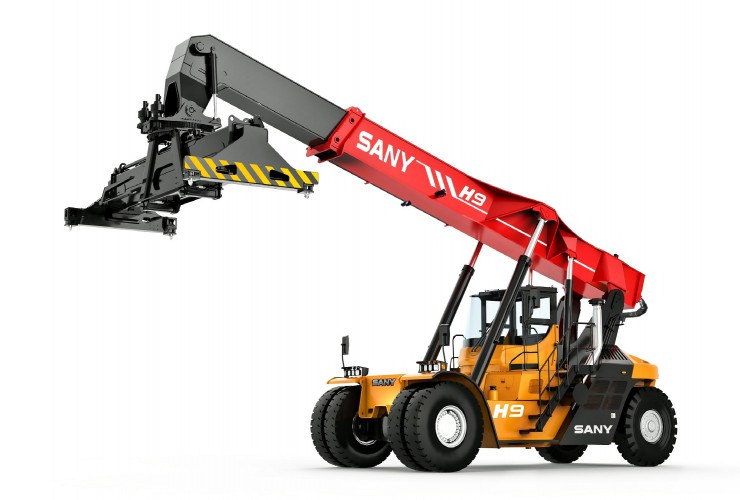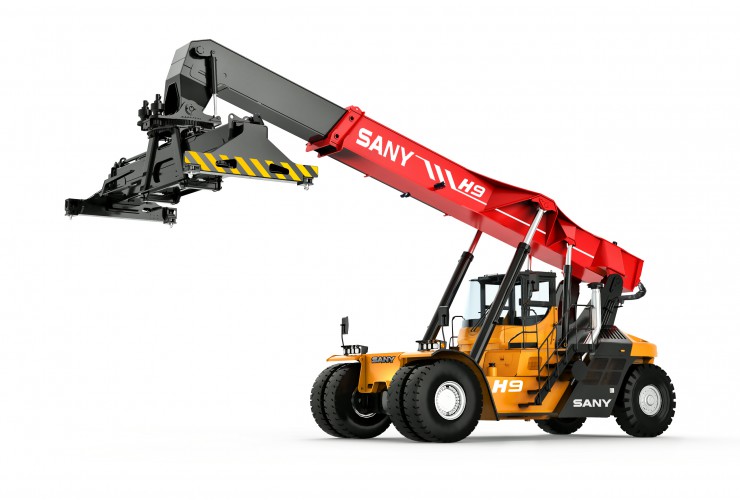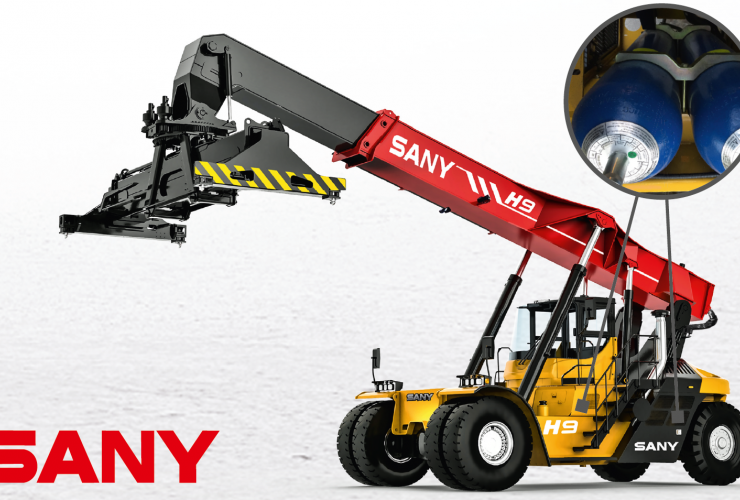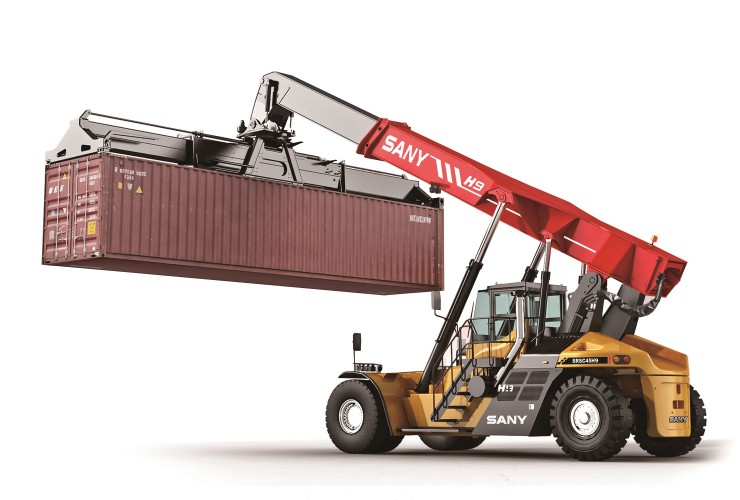 IFOY-Kategorie
Heavy Load Forklift
Zusammenfassung
Der SRSC45H9A Hybrid Reach Stacker verfügt über ein Hybridsystem, das sich ausschließlich auf das Heben und Senken des Auslegers mit Spreader konzentriert. Durch das schnellere Heben von Lasten werden mehr Container je Stunde bewegt und weniger Diesel verbraucht. Gepaart mit Gewichtseinsparungen des neuartigen Spreader-Designs und effizienterem Getriebe werden ca. 15 Prozent maschinenbezogenen Kosten je umgeschlagenem Container eingespart.
Beschreibung
Der SRSC45H9A Hybrid Reach Stacker liefert 15 Prozent Einsparungen der maschinenbezogenen Kosten, erreicht durch erhöhten Containerumschlag je Stunde und geringeren Dieselverbrauch je Stunde. Technisch wird dies realisiert über Energierückgewinnung, Gewichtsreduzierung und effizienteres Getriebe.

Energierückgewinnung – Hybridsystem für den Ausleger
Energiespeicherung beim Absenken des Auslegers durch hydropneumatische Akkumulatoren
Direkte Unterstützung beim Anheben des Auslegers über separate Hubzylinder
Bis zu 70kW Zusatzleistung der Akkumulatoren
Gewichtsreduzierung von 3 bzw. 4 Tonnen
Ca. eine Tonne Gewichtseinsparung durch das neue H9 Spreader Design
500 Kilogramm leichterer Auslegerkopf und angepasste Hubzylinder
Reduzierung des Gegengewichts
Effizientes Getriebe
DANA TE30 für sanfteres Schalten
5 Gänge ermöglichen effizientere Motordrehzahl als 4-Gang-Getriebe
Drehmomentwandler mit automatischer Schlupf-Eliminierung
Video: SANY H9 Hybrid Reach Stacker on TransportLogistck Fair Munich
---
| | |
| --- | --- |
| Truck Name |  Sany Europe |
| Truck Type |  SRSC45H9 |
| Date of Test |  12.02.2020 |
Testbericht
Der neue Hybrid-Vollcontainerstapler SRSC45H9A von Sany Europe hat Hubkapazitäten in der ersten, zweiten und dritten Reihe von 45, 31 bzw.15 Tonnen. Durch den Einsatz innovativer Technologien werden Produktivitätssteigerungen erzielt und so die Kosten pro Container reduziert. Laut Sany betragen die Produktivitätssteigerungen nicht weniger als 15 Prozent im Vergleich zum Standardfahrzeug des Herstellers. Außerdem wird der Kraftstoffverbrauch um 20 Prozent gesenkt. Die Vorteile sind auf ein Hybridsystem zurückzuführen, das auf das Heben und Senken des Auslegers mit dem Spreader ausgerichtet ist. Zwei zusätzliche Hubzylinder sind mit Akkumulatoren verbunden, die (Druck-)Energie speichern, die beim Senken des Auslegers freigesetzt wird. In einem direkten Kraftfluss wird die Energie an zusätzliche Hubzylinder zum Heben des Auslegers freigegeben. Das Hybridsystem arbeitet parallel zu den Haupthubzylindern und liefert bis zu 70kW zusätzliche Leistung. Das System hat sich bereits in anderen Branchen bewährt und wird dem Testteam zufolge nun erstmals in dieser Art von Gerät eingesetzt. 
Die Haupthubzylinder sind schlanker, was ein schnelleres Heben bei niedriger Motorleistung und geringerem Energieverbrauch ermöglicht. Bei Volllast beträgt der Hubgeschwindigkeitszunahme laut Sany 13 Prozent. Weil am Spreader nur einer statt zwei Trägern verwendet wurden, konnte Sany eine Gewichtsreduzierung von ein bis zwei Tonnen erzielen. Die Verwendung von nur einem Träger ist aus dem Leercontainerumschlag bekannt, für das Handling von beladenen Containern ist das jedoch neu. Eine zusätzliche Gewichtseinsparung erreichte Sany am Auslegerkopf und am Gegengewicht. Im Alltag führt das zu einem geringeren Kraftstoffverbrauch. Zudem erhöht sich durch das geringere Gewicht und das bewegliche Gegengewicht (optional) die Hubkapazität sowohl in der zweiten als auch in der dritten Reihe um eine Tonne. 
Der Reachstacker hat eine Stapelhöhe von fünf statt vier Containern in der zweiten Reihe. Der IFOY Test bietet keinen Testparcours für diesen Gerätetyp. Aber Sanys eigene Tests zeigen, dass die Produktivität (Container pro Stunde) um bis zu 23 Prozent steigt. Die Treibstoffeinsparung beträgt bis zu 11,5 Prozent. Umgerechnet in Treibstoffeinsparungen pro Container beträgt dieser Vorteil etwa 20 Prozent.
Während des Begutachtung des IFOY-Testgeräts fällt die komfortable Kabine ins Auge. Sie ist so gestaltet, dass sie die Bewegungsfreiheit des Fahrers nicht einschränkt. Die rahmenlosen Fenster bieten dem Fahrer eine uneingeschränkte Sicht auf die Arbeitsumgebung. Die Schiebefunktion der Kabine ermöglicht es dem Nutzer, eine geeignete Arbeitsposition zu finden. 
Der Sitz des Herstellers Grammer ist rundum einstellbar und auch mit Luftfederung erhältlich. Das Lenkrad lässt sich leicht verstellen, so dass der Fahrer eine für seine Arbeit angenehme Position finden kann. Die Schalldämmung übertrifft die höchsten Industriestandards und führt zu einer geringeren Ermüdung des Fahrers.
Eine Vielzahl von Ausstattungsmerkmalen ist bereits in der Standardmaschine enthalten, beispielsweise die hydraulisch zu bewegende Kabine, Rückfahrkamera, Klimaanlage, reaktionsschnelle Joystick-Steuerung, Farbdisplay und die verstellbare Lenksäule. Die nach hinten ausgerichtete Kamera wird automatisch aktiviert, wenn der Rückwärtsgang eingelegt wird. Das Display im Bedienpult bietet eine uneingeschränkte Sicht.
IFOY Testfazit:
Mit dem SRSC45H9A Hybrid bringt Sany einen Reach Stacker auf den Markt, der den heutigen hohen Anforderungen gerecht wird. Verschiedene innovative Technologien bieten dem Benutzer diverse Vorteile, sowohl in Sachen Produktivität als auch in puncto Kraftstoffverbrauch.
IFOY Innovation Check
Marktrelevanz
Im Containerumschlag sind Reach Stacker ein wesentlicher Bestandteil des Prozesses. Eine Erhöhung der Effizienz in diesem Bereich durch die erreichten Einsparungen stellt eine hohe Marktrelevanz dar. Aufgrund der weltweit hohen Umschlagsmengen von Containern kann die umgesetzte Innovation einen großen Effekt hinsichtlich Ressourcen- und Kosteneinsparung erzielen.
Kundennutzen
Der größte und direkte Nutzen für den Kunden stellt sich durch die Einsparung an Kosten pro umgeschlagenen Container dar. Sany hat durch systematisch durchgeführte Tests in realen Umschlagsszenarien nachgewiesen, dass die angegeben Kosteneinsparung von ca. 15 % pro Container erreicht werden. Diese wird durch eine Erhöhung der Umschlagleistung bei einem gleichzeitig geringeren Dieselverbrauch ermöglicht. In Abhängigkeit von den genauen Gegebenheiten beim Kunden amortisiert sich der Mehraufwand gegenüber dem Standardgerät in verhältnismäßig kurzer Zeit (ca. 1 Jahr). Darüber hinaus überzeugt das Gerät mit größeren Tragfähigkeiten, resultierend aus der Materialeinsparung am Spreader und Ausleger sowie durch ein ausfahrbares Gegengewicht. Die Rundumsicht ist in der geräumigen, verschiebbaren Kabine und durch Assistenzsysteme gewährleistet.
Neuheitsgrad
Das Gerät zeigt, dass Innovationen nicht zwingend kompliziert sein müssen. Es wurde eine aus verwandten Bereichen bekannte Technologie der hydropneumatischen Speicher genutzt und an der richtigen Stelle eingesetzt. Die Energie aus der Senkbewegung wird ohne effizienzmindernde Umwandlungsprozesse direkt gespeichert und unterstützt den nächsten Hubvorgang. Die Speicher sind ausreichend groß dimensioniert, sodass eine nahezu gleichmäßige Hubunterstützung erreicht wird. Die Energieeinsparung wird durch den Umstieg von einem 4- auf ein 5-Gang Getriebe unterstützt, was grundsätzlich keine neue Erkenntnis darstellt. Alles im Zusammenspiel mit einem zusätzlich neuen Spreader- und Ausleger-Design, wodurch nennenswert Masse eingespart wurde, stellt das Gesamtkonzept dieses Reach Stackers eine sehr gelungene Innovation dar, obwohl die eingesetzten Technologien allein nicht neu sind.
Funktionalität / Art der Umsetzung
Die Umsetzung der Energierückgewinnung ist hervorragend und erscheint in Dimensionierung und Komponentenanordnung als sehr gelungen. Das geänderte Design des Spreaders sowie des Auslegers ist beanspruchungsgerecht und nutzt so die Potentiale des Stahlbaus. Die integrierten Assistenzsysteme überzeugen in einer funktionalen Kabine mit sehr guter Übersicht und einfacher Bedienung.


---
Marktrelevanz

 ++


Kundennutzen

 ++

Neuheits- / Innovationsgrad

 +


Funktionalität  / Art der Umsetzung

 ++

++ sehr gut / + gut / Ø ausgeglichen / - weniger / - - nicht vorhanden
---
Datenblatt
Gerätetyp
Technische Daten (alle Geräte)
| | |
| --- | --- |
| Antrieb | Diesel |
| Tragfähigkeit | 45000 / 31000 / 15000 kg |
| Eigengewicht | 71550 kg |
| Bedienung | Sitz |
| Fahrgeschwindigkeit mit Last | 25 km/h |
| Fahrgeschwindigkeit ohne Last | 21 km/h |
| Hubgeschwindigkeit mit Last | 0,25 m/s |
| Hubgeschwindigkeit ohne Last | 0,42 m/s |
| Senkgeschwindigkeit mit Last | 0,40 m/s |
| Senkgeschwindigkeit ohne Last | 0,50 m/s |
| Max.Hubhöhe | 15100 mm |
| Energieverbrauch nach VDI-Arbeitsspiel | 10,8 - 20 l/h |
| Schlepper | |
| Nennzugkraft | 335000 N |
| Kommissionierer/Kombigeräte | |
| Max. Greifhöhe | 15100 mm |
Sonstiges
Es handelt sich um ein(e)
Weiterentwicklung mit signifikanten technischen Verbesserungen eines oder mehrerer bestehender Modelle:
SRSC45H9A
Datum der Markteinführung
08.04.2019
Datum des Produktionsstarts
07.01.2019
Konkurrenzprodukte
Kalmar DRG 450-60 S5M
Konecranes SMV 4531 TB5
Hyster RS45-31 CH
Video
SANY H9 Hybrid Reach Stacker on TransportLogistck Fair Munich
Innovationen
Hybridsystem für den Ausleger
Energierückgewinnung parallel zu normalen Hubzylindern: unkompliziert, kostengünstigen effizient
Beim Absenken des Auslegers fließt Hydrauliköl der zusätzlichen Hubzylindern in die hydropneumatischen Akkumulatoren und speichert die Lage-Energie des Auslegers und Spreader (4*32 Liter Kapazität)
Beim Anheben des Auslegers wirken die Akkumulatoren direkt auf die zusätzlichen Hubzylindern mit bis zu 70 kW
Vermeidung von Umwandlungsverlusten durch Verzicht auf eine Kette von Hydraulikmotor-Elektromotor-elektrische Batterie
Die normalen Hubzylinder sind schlanker ausgeführt. Somit erfolgt das Anheben schneller bei weniger Motorleistung und geringerem Dieselverbrauch

Gewichtseinsparung
Spreader ist leichter: 700 kg als Standard Sany Spreader bzw. 2t als ELME 817.
Neues Design: uni-axiale Teleskop-Arme spart Material und reduziert Torsion.
500 Kilogramm Einsparung am Auslegerkopf
Normale Hubzylinder sind schlanker und 500 kg leichter. Die zusätzlichen Hubzylinder sind weit hinten und helfen als Gegengewicht
Gewichtseinsparungen im Spreader und Auslegerkopf wirkt doppelt durch Verkleinerung des Kontergewichts
Getriebe
Die spezifische Effizienz des TE30 ist besser als im HR36000 und viel besser als im TE27 bzw. TE32
5 anstatt 4 Gänge erlauben geringere Drehzahlsprünge des Motors. Damit arbeitet der Motor häufiger in verbrauchsoptimalen Drehzahlbereichen
Die automatische Schlupf-Eliminierung kuppelt den Drehmomentwandler und vermeidet 2-3 Prozent Schlupf
Marktrelevanz
Im wachsenden Containerumschlag gewinnen Reach Stacker zunehmend an Bedeutung für große, mittlere und kleine Betriebe in der Logistik. Dabei sind die Maschinenkosten je umgeschlagenem Container erheblich. Bei einem Reach Stacker sind Dieselverbrauch und Reifenverschleiß die größten variablen Kosten.

Kausalitäten:
Bei jedem Absenkvorgang des Auslegers und Spreader geht Potentialenergie in Wärme verloren und muss gekühlt werden.
Je schwerer der Spreader, desto mehr Energieaufwand je Hubvorgang.
Schwere Spreader benötigen mehr Gegengewicht. Je schwerer ein Reach Stacker umso mehr Diesel wird für die häufigen Vor- und Zurückfahrten benötigt und umso mehr Reifenverschleiß tritt auf.
Der SRSC45H9A senkt die Maschinenkosten um 15 Prozent je umgeschlagenem Container durch mehr Containerumschlag und geringeren Dieselverbrauch.
Mehr Containerumschlag durch die Bündelung der 3 Maßnahmen Hybridsystem, Gewichtseinsparungen und effizienterer Antriebsstrang. Kosten verteilen sich auf mehr Containern.
Direkte Dieseleinsparung durch Hybridsystem – 70 kW Zusatzleistung ohne zusätzlichen Diesel.
Unterstützung der Diesel-Einsparung durch verbesserte Getriebe-Effizient und optimiertes Getriebe-Motor-Zusammenspiel: Vermeidung sehr hoher Motordrehzahlen reduziert den Verbrauch bei maximaler Leistung.
Indirekte Dieseleinsparung durch Gewichtseinsparungen – und Reifenverscheiß leicht minimiert.
Neues Spreader-Design absolvierte 30.000 Stunden auf dem Prüfstand ohne Ermüdungserscheinungen.
Kundennutzen
Der SANY SRSC45H9A Hybrid Reach Stacker schafft mehr Containerumschlag pro Stunden bei geringerem Dieselverbrauch und geringeren Gesamtmaschinenkosten. Die Mehrinvestition des SANY Hybrid Reach Stackers im Vergleich zu einem Standard SANY Reach Stacker amortisiert sich bereits in weniger als zwei Jahren Betriebszeit.

Benchmark-Test Hybrid Reach Stackers gegen Standard SANY Reach Stacker auf Testgelände:
19 – 21 Prozent Dieseleinsparung je Container.

A) Stapeln, kurzer Fahrweg: 23 Prozent mehr Container, 4 Prozent weniger Diesel je Stunde:
21 Prozent Dieseleinsparung je Container
B) Stapeln und langer Fahrweg: 9,5 Prozent mehr Container, 11,5 Prozent weniger Diesel je Stunden:
19 Prozent Dieseleinsparung je Container
Kundenanwendung in Antwerpen: Dieselverbrauch bei nur 10,8 bis 12,5l/h
Weitere Vorteile:
Performance:
13 Prozent höhere Hubgeschwindigkeit bei Vollast
5 anstatt 4 Container Staplehöhe in 2. Reihe
1 Tonne mehr Hubkapazität bei Bedarf in 2. und 3. Reihe durch optional ausfahrbares Kontergewicht
Enger Wenderadius durch nur 6000 mm Radstand
Ergonomie:
Große Kabine, großzügiger breiter Kabinenzugang von beiden Seiten
Gute Rundumsicht, rahmenlose Frontscheibe und rahmenloser Übergang zum Dachfenster für perfekte Sicht
Head-up Display
Verschiebbare Kabine (on-the-go)
Klimaanlage, Getränkehalter, Dokumentenfach
Langlebigkeit und Sicherheit:
Optionale Garantieverlängerung bis 5 Jahre / 10'000 Stunden
Serienmäßige Rückfahrkamera und Abstandsensoren, 4 Rückspiegel
Redundante Kippsicherung durch Anti-Tip-Over Hinterachse
Sonderausstattung (IFOY Test-Gerät)
Verschiebbares Heckgewicht
Zentralschmieranlage
30ft-Stop in Spreader
Radmuttern-Schutz
Beifahrersitz
12/24V Steckdose in Kabine
Sonnenschutzfolie
Motorabschaltung nach 5' Leerlaufzeit
SRSC45H9 Hybrid Reach Stacker

Sany Europe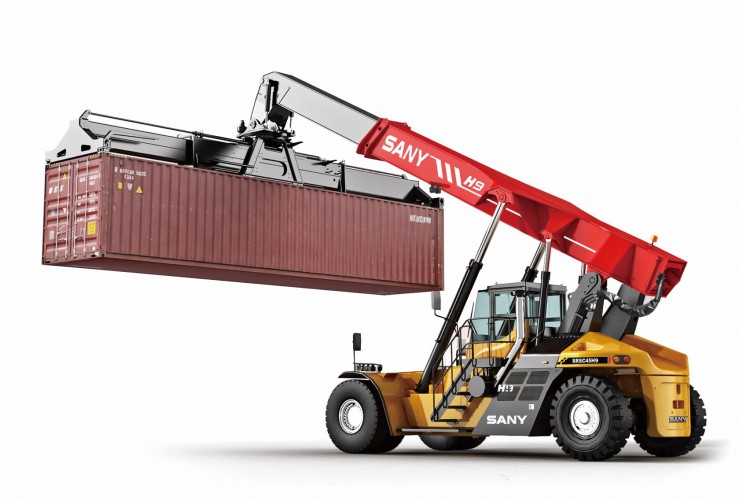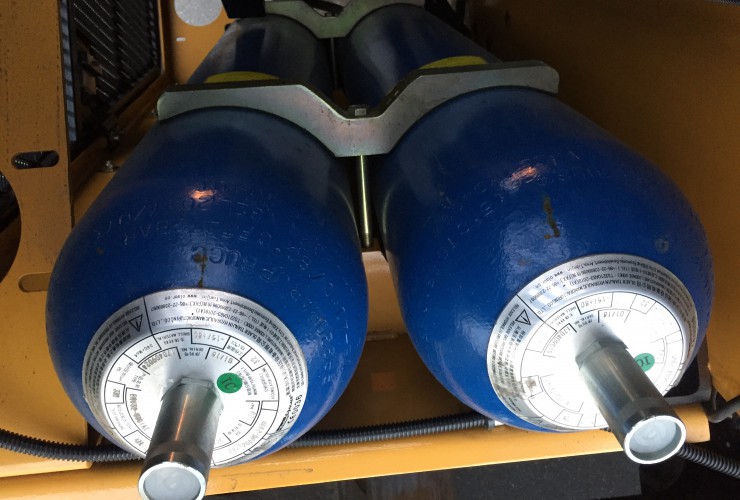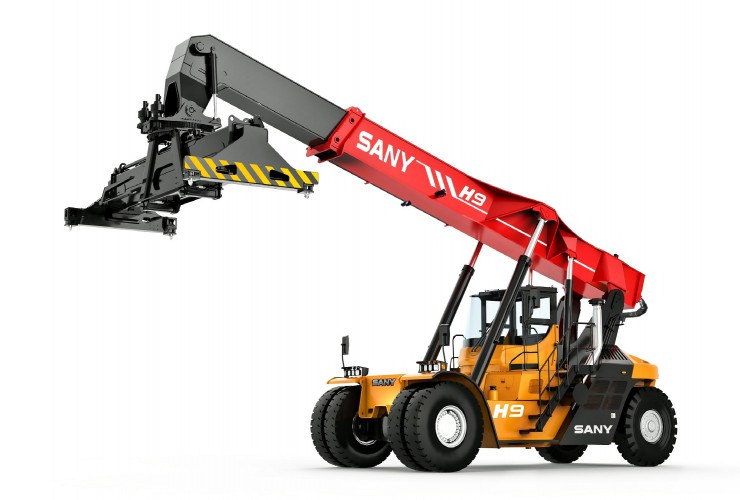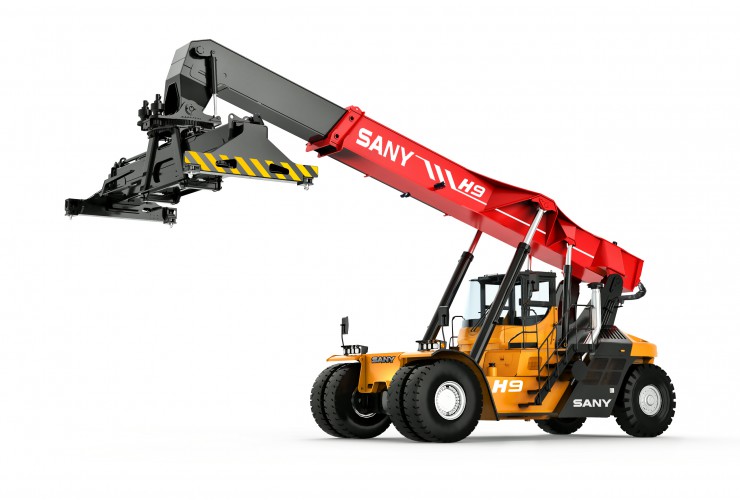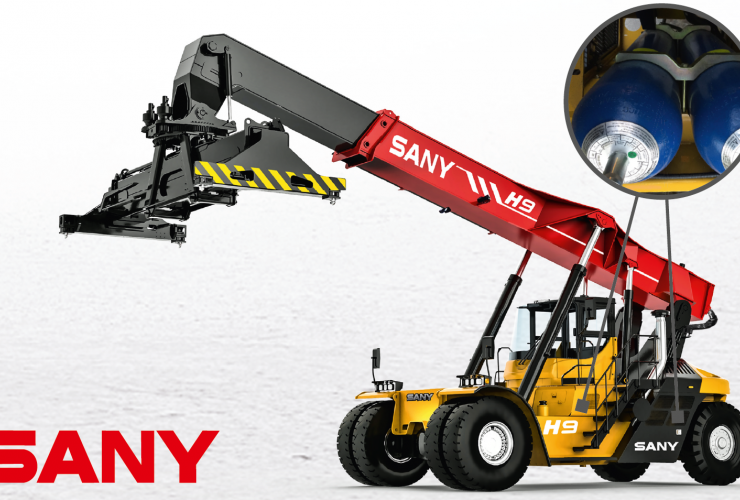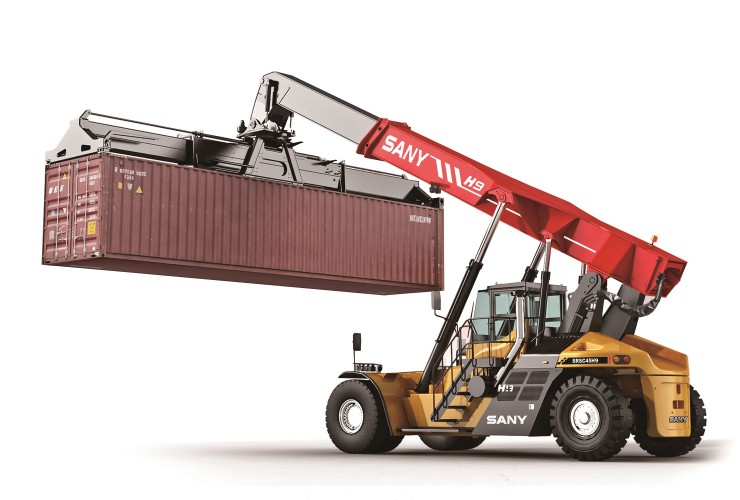 IFOY category
Heavy Load Forklift
Summary
The SRSC45H9A Hybrid Reach Stacker features a hybrid system which focuses on lifting and lowering the boom with spreader. Faster lifting of loads moves more containers per hour and it consumes less fuel. Coupled with weight savings from the novel spreader design and a more efficient transmission, this saves approximately 15 percent machine-related costs per container handled.
Description
The SRSC45H9A Hybrid Reach Stacker delivers 15 percent overall machine cost saving, achieved by more container moves and less fuel per hour. Technically, this is realized by the energy recovery, weight reduction and improved transmission efficiency.
Energy recovery - hybrid system for the boom
Hydro-pneumatic accumulators store energy from boom lowering
Direct power flow to additional lift cylinders for boom lifting
The hybrid system delivers up to 70kW additional power for boom lifting
Weight reduction of 3 respectively 4 t
Approx. 1t weight saving by a new spreader design
500kg lighter boom head and adapted lifting cylinder
Counterweight reduction
Efficient transmission
DANA TE30 for smoother shifting
5 speeds allow more efficient engine rpms than a 4-speeds transmission
Lock-up in Torque converter for automatic drag-elimination
Video: SANY H9 Hybrid Reach Stacker on TransportLogistck Fair Munich
---
| | |
| --- | --- |
| Truck Name |  Sany Europe |
| Truck Type |  SRSC45H9 |
| Date of Test |  12.02.2020 |
Test Report
Sany Europe's new SRSC45H9A Hybrid Reach Stacker offers lifting capacities in first, second and third row of respectively 45, 31 and 15 tonnes. As a result of innovative technologies, productivity increases and costs per container are reduced. According to Sany, productivity gains amount to no less than 15 percent compared to the manufacturer's standard machine. In addition, fuel consumption is reduced by 20 percent.
The gains are largely due to a hybrid system focussing on lifting and lowering the boom with spreader. Two additional lifting cylinders are connected to accumulators which store (pressured) energy that is released when the boom is lowered. In a direct power flow the energy is released to additional lift cylinders for boom lifting. The hybrid system acts parallel to the main lift cylinders and delivers up to 70kW additional power. Power that no longer needs to be supplied by the diesel engine, which can now use its energy for other tasks, increasing productivity. The system has already been proven in other sectors and, as far as the test team knows, is now being used for the first time in this type of trucks. 
The main lift cylinders are slimmer, allowing faster lifting, with less engine power and lower energy consumption. At full load the gain in lifting speed is 13 percent, according to Sany.
By using a single tube instead of a double tube spreader a weight reduction of 1 to 2 tons has been achieved. The use of single tubes is known from the empty container handling, but is new for the laden container handling. An additional weight saving has been achieved on the boom head and the counterweight. In practice, this results in less fuel consumption. Furthermore, as a result of the lower weight and the optional movable counterweight, the lifting capacity on both the second and third row increases by one ton. The reach stacker has a 5 instead of 4 container stacking-height in 2nd row.
The IFOY Test does not provide a test course for this type of truck, but Sany's own tests show that productivity (containers per hour) increases by up to 23 percent and fuel savings by up to 11.5 percent. Converted to fuel savings per container, this profit is about 20 percent.
During the impression of the IFOY test truck, the comfortable cabin catches the eye. The cabin is designed to facilitate the driver's natural range of movement. Frameless windows provide the operator with an unrestricted view around the working environment. The sliding function of the cabin enables the driver to find the most appropriate position for the handling job in-hand. The Grammar seat is fully adjustable and is available with air suspension. The steering wheel can be adjusted easily, so the operator can find one of any number of positions for complete comfort. Sound insulation exceeds the highest industry standards, providing even more comfort and resulting in lower operator fatigue.
A wide variety of equipment features is already provided in the standard machine, e.g. hydraulically movable cab, reversing camera, air conditioning, responsive joystick control, modern colour display and the adjustable steering column. The rear-facing camera is automatically activated when the reverse gear is engaged. The display in the control panel provides an unrestricted view.
IFOY Test Verdict:
With the SRSC45H9A Hybrid, Sany puts a reach stacker on the market that meets today's high demands. Various innovative technologies provide direct benefits to the user, both in terms of productivity and fuel consumption.
IFOY Innovation Check
Market relevance
In container handling, reach stackers are an essential part of the process. An increase in efficiency in this area due to the savings that have been achieved represents a high market relevance. Due to the high volume of containers handled worldwide, the implemented innovation can have a great effect in terms of saving resources and costs.
Customer benefit
The greatest and direct benefit for the customer is the saving in costs per container being handled. Sany has proven through systematically conducted tests in real handling scenarios that the stated cost savings of approximately 15 percent per container are achieved. This is made possible by an increase in handling performance with a simultaneous reduction in diesel consumption. Depending on the exact conditions at the customer's premises, the additional expenditure compared to the standard machine is amortized in a relatively short time (approximately one year). In addition, the product convinces with higher load capacities, resulting from material savings at the spreader and boom as well as an extendable counterweight. All-round visibility is guaranteed in the spacious, movable cabin and by assistance systems.
Novelty
The machine shows that innovations do not necessarily have to be complicated. A technology of hydro-pneumatic accumulators known from related fields was used and applied in the right place. The energy from the lowering movement is stored directly without efficiency-reducing conversion processes and supports the next lifting process. The accumulators are dimensioned sufficiently large so that an almost constant lifting support is achieved. The energy saving is supported by the change from a 4 to a 5-speed transmission, which is basically not a new insight. All this in combination with an additional new spreader and boom design, which has resulted in considerable weight savings, the overall concept of this reach stacker is a very successful innovation, although the technologies used in itself are not new.
Functionality / type of implementation
The implementation of energy recuperation is excellent and appears to be very good in dimensioning and component arrangement. The modified design of the spreader as well as of the boom is in line with the load and thus utilizes the potentials of the steel structure. The integrated assistance systems are convincing in a functional cabin with a very good overview and simple operation.
---
Market relevance

 ++

Customer benefit

 ++

Degree of novelty / innovation

 +

Functionality  / Type of implementation

 ++

++ very good / + good / Ø balanced / - less / - - not available
---
Data sheet
Truck model
Technical data (all trucks)
| | |
| --- | --- |
| Truck type | diesel |
| Lift capacity/load | 45000 / 31000 / 15000 kg |
| Truck weight | 71550 kg |
| Operation | seated |
| Driving speed with load | 25 km/h |
| Driving speed without load | 21 km/h |
| Lifting speed with load | 0,25 m/s |
| Lifting speed without load | 0,42 m/s |
| Lowering speed with load | 0,40 m/s |
| Lowering speed without load | 0,50 m/s |
| Max. lift height | 15100 mm |
| Power consumption according to VDI cycle | 10,8 - 20 l/h |
| Tow truck | |
| Nominal towing capacity | 335000 N |
| Orderpicking/Combitrucks | |
| Max. picking height | 15100 mm |
Miscellaneous
This model is a
Further developments of one or more existing trucks with significant technical improvements:
SRSC45H9A
Date of rollout
2019-04-08
Start of series production
2019-01-07
Competitive products
Kalmar DRG 450-60 S5M
Konecranes SMV 4531 TB5
Hyster RS45-31 CH
Video
SANY H9 Hybrid Reach Stacker on TransportLogistck Fair Munich
Innovations
Hybrid system for the boom
Energy recovery acts parallel to the main lift cylinders, which is uncomplicated, economical and efficient
During boom lowering, hydraulic oil from the additional lifting cylinders compresses the gas in the hydro-pneumatic accumulators (4*32l capacity), which stores the energy of the boom and spreader
While boom lifting, the accumulators act directly on the additional lifting cylinders with up to 70 kW
None energy conversion losses by avoiding a usual hybrid-chain of hydraulic motor - electric motor - electric battery
Slimmer main lift cylinders: faster lifting with less engine power and lower fuel consumption
Weight reduction
Spreader is lighter: 700 kg than standard Sany Spreader or 2t than ELME 817.
New design: uni-axial telescopic arms save material and reduce torsion.
500 kg saving in the boom head
Slimmer main lift cylinders are 500 kg lighter. The additional lift cylinders are behind the vehicle's centre of gravity to contribute as a counterweight
Weight savings on spreader and boom-head pay out twice since the counterweight could shrink
Drive-train
The specific efficiency of the TE30 gearbox is better than HR36000 and much better than the TE27 or TE32.
5 instead of 4 gears allow moderate steps in engine rpms at gearshifts. This means, the engine can remain more frequently in fuel-efficient rpms.
The lock-up of the torque converter automatically clutches which avoids the 2-3 percent draw
Market relevance
Reach Stackers are becoming increasingly important for large, medium-sized and small logistics companies in the growing container handling sector. The machine costs per container-move are considerable. Fuel consumption and tyre wear are the largest variable costs of a Reach Stacker.

Causalities:
Each time the boom and spreader are lowered, potential energy is lost in heat and needs to be cooled off.
The heavier the spreader, the more energy is required per each lifting operation.
Heavy spreaders require more counterweight. The heavier a reach stacker, the more fuel is needed for frequent forward and reverse travel and the more tyre wear occurs.
The SRSC45H9A reduces machine costs by 15% per container handled through the benefits of more container moves and lower diesel consumption.
More container handling by bundling the 3 technical measures of hybrid system, weight savings and more efficient drive train. Machine costs are spread over more containers.
Direct diesel savings through hybrid system: 70kW from accumulators extra power without extra fuel.
Fuel savings supported by more efficient transmission and optimized transmisison-engine matching: avoidance of very high engine rpms reduces the fuel-consumption at full engine power.
Indirect diesel savings through weight savings - tyre wear is slightly minimised.
New spreader design completed 30,000 hours on the test bench without signs of fatigue.
Customer benefit
The SANY SRSC45H9A Hybrid Reach Stacker moves more container per hour with lower fuel consumption and lower overall machine costs. In less than 2 years a customer reaches the break-even point for the investment of the SANY Hybrid Reach Stacker compared to a standard SANY Reach Stacker.

Benchmark-test of the Hybrid Reach Stackers against standard SANY Reach Stackers on test site:
19 - 21 percent diesel savings per container.

A) Stacking and short travel: 23 percent more containers, 4 percent less diesel per hour:
21 percent diesel savings per container
B) Stacking and long routes: 9.5 percent more containers, 11.5 percent less diesel per hour:
19 percent diesel savings per container

Customer application in Antwerp: diesel consumption of only 10.8 to 12.5 l/h

Further advantages:
Performance:
13 percent greater lifting speed at full load
5 instead of 4 container stacking-height in 2nd row
1t more lifting capacity if required in 2nd and 3rd row due to optional movable counterweight
Narrow turning radius due to only 6000 mm wheelbase

Ergonomics:
Large cabin, generous wide cabin access steps and platform on both sides
Good all-round visibility, frameless windscreen and frameless transition to roof window for perfect visibility
Head-up display
Sliding cabin (on-the-go)
Air conditioning, cup holder, document compartment
Durability and safety:
Optional warranty extension up to 5 years / 10'000 hours
Standard rear-view camera and distance sensors, 4 rear-view mirrors
Redundant anti-tip protection by anti-tip-over rear axle
Optional items (IFOY test truck)
Movable counterweight
Automatic central lubrication
30ft-stops in spreader
Wheel-nut protection ring
Co-driver seat
12/24V power socket in cab
Sun-blind roller
Engine-stop after 5' idle time