IFOY Patronage
IFOY Sponsor
The VDMA Materials Handling and Intralogistics Sector Association is sponsor of the International Forklift Truck of the Year (IFOY).
Robot Shuttle System C200

Beijing Geekplus Technology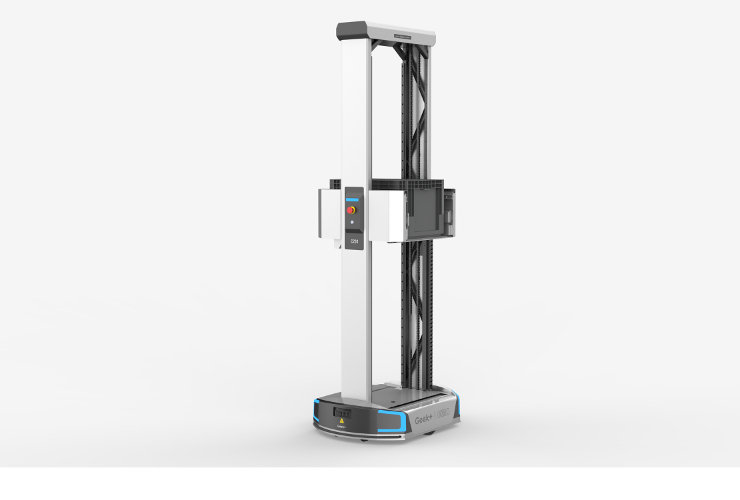 Geek+ Robot Shuttle System C200.
Beijing Geekplus Technology Co.,Ltd.
IFOY-Kategorie
Intralogistics Robot
Zusammenfassung
Das neue Geek Robot Shuttle System ist eine innovative, produktive und KI-gesteuerte Lösung zur Verbesserung der Effizienz der Auftragsabwicklung im Lager-Distributionszentrum, die eine "Ware-zu-Person"-Kommissionierung kostengünstig, mit hoher Lagerkapazität und hoher Flexibilität ermöglicht.
Beschreibung
Das neue Geek+ C200 Robot Shuttle System identifiziert und kommissioniert innovativ Behälter in Standardgröße und transportiert sie zu Arbeitsplätzen zum Kommissionieren und Verpacken. Das System bietet den Kunden einen erheblichen wirtschaftlichen Mehrwert durch selbstlernende, intelligente Routenplanung (KI), präzise Navigation und automatische Aufladung. Es eignet sich für Multi-SKU-Lager- und Kommissionieranwendungen und ist für den Betrieb auf Einschicht- und Mehrschicht-Hochregalen ausgelegt, passt sich in bestehende Lagerhallen ein und lässt sich durch Hinzufügen und Entfernen von Robotern leicht an veränderte Auslastung anpassen. Karton- und Schuhkartons können ebenfalls vom C200 mit einem Einzelkartongewicht von bis zu 40kg aufgenommen werden.
Innovation
Das Geek+ C200 Robot Shuttle System zeichnet sich durch neue Datenanalyse und maschinelles Lernen aus. Mit neuen Daten werden die KI-Algorithmen ständig verbessert, um die Präzision und Komplexität zu erhöhen. Das System wurde für den Einsatz in Einschicht- und Mehrschicht-Hochregalen entwickelt, um mit einer einfachen Modifikation in das bestehende Lager zu passen. Im Vergleich zu früheren Modellen auf dem Markt machen der modulare Aufbau und die hohe Flexibilität den Einsatz und die Wartung von KI-Robotern einfach und zugänglich; der Lagerist kann Roboter für schwankende Arbeitslasten hinzufügen oder entfernen.
Darüber hinaus kann die innovative Kommissionierlösung die Kosten für den Kunden deutlich senken. Die Gesamtkosten des Geek+ Robot Shuttle Systems sind so niedrig wie die Hälfte der herkömmlichen Shuttlesysteme, bei gleicher Kommissioniereffizienz und Lagerkapazität.
Marktrelevanz
Geek+ Intelligent Logistics erfüllt in erster Linie die Anforderungen an die Flexibilität des E-Commerce. Das E-Commerce-Geschäft ist durch regelmäßige Hoch- und Nachsaisonen gekennzeichnet und eine flexible Nutzung von Rechen- und Logistikressourcen ist wünschenswert. Neben dem E-Commerce wird Geek+ auch an spezifischen Anwendungsszenarien in verschiedenen Branchen arbeiten, wie z.B. Pharma, Bekleidung, Schuhe, Schönheitsindustrie, Tabak. Tatsächlich könnte jedes Lager mit Fulfillmentprozess die potenzielle Zielgruppe für dieses innovative Produkt sein.
Hauptvorteile für den Kunden
Kurzfristiger Return-on-Investment
Schnelle Bereitstellung und Implementierung
Erhöhte Genauigkeit
Deutliche Reduzierung des Arbeitsaufwands / Personal
Optimierte Lagerkapazität
SPS: Speicherprogrammierbare Steuerung: Integration in alle Arten von Maschinensystemen
Künstliche Intelligenz für kontinuierliche Verbesserung der Arbeitsabläufe und flexible intelligente Routenplanung
Hohe Verfügbarkeit und 24-Stunden-Betrieb
Schnelle und effiziente Auftragsabwicklung
Technische Daten
Konkurrenzprodukte
Video:
Geek+ RoboShuttle System C200
Robot Shuttle System C200

Beijing Geekplus Technology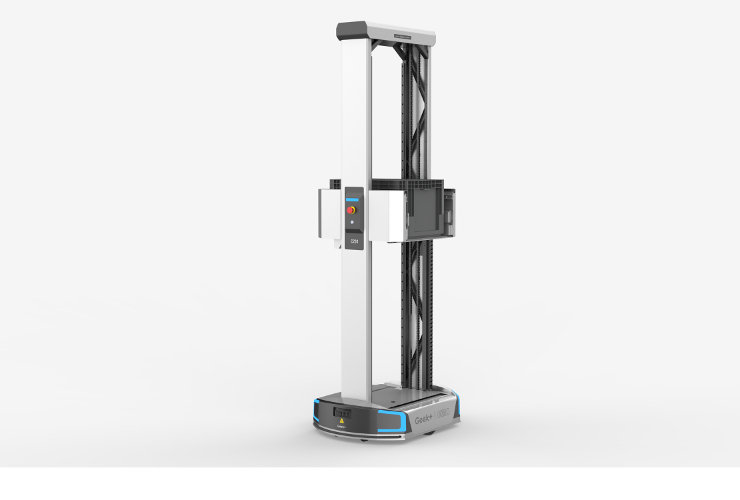 Geek+ Robot Shuttle System C200.
Beijing Geekplus Technology Co.,Ltd.
IFOY Category
Intralogistics Robot
Summary
The new Geek Robot Shuttle System is an innovative, productive and AI driven solution to improve order fulfillment efficiency in the warehouse distribution center, realizing "goods-to-person" picking in a way of cost-effective, high storage capacity and high flexibility.
Description
The new Geek+ C200 Robot Shuttle System innovatively identifies and picks standard-sized bins and carry them to workstations for picking and packing. The system provides significant economical added value to customers by self-learning intelligent scheduling (AI), accurate navigation and automatic charging. It is suitable for multi-SKU storage and picking applications and is designed to operate on single layer racks and multi-layer mezzanine racks, fits within existing warehouses and is easy to adapt to changes in workload by adding and removing robots. Carton and shoe boxes can also be picked by the C200 with single box weight up to 40kg.
Innovation
Geek+ C200 Robot Shuttle System is characterized through new data analysis and machine learning. With new data, the AI algorithms are constantly upgraded to increase in precision and complexity.  The system is designed to operate in single-layer rack and multi-layer mezzanine racks, to fit into the existing warehouse with bare modification. Compared to former models in the market, its modular layout and high flexibility make the deployment and maintenance of AI robots easy and accessible; warehouse operator can add or remove robots for fluctuate workloads.
Moreover, this innovative picking solution can reduce the cost significantly for customers. The overall cost of Geek Robot Shuttle System is as low as half of traditional shuttle system's, with equivalent picking efficiency and storage capacity.
Marktet relevance
Geek+ Intelligent Logistics satisfies first the requirement for flexibility of E-commerce. The e-commerce business is characterized with regular peak and slack seasons and flexible exploitation of computing resources and logistics resources is desirable. Besides E-commerce, Geek+ will also work on specific application scenarios in different industries, such as mediceuticals, clothing, shoes beauty industry, tobacco. In fact, every warehouse with fulfillment process could be the potential target group for this innovative product.
Main customer benefits
Rapid return on invest
Fast deployment
Increased accuracy
Significant labor reduction
Optimized storage capacity
PLC: Programmic Logic Controller: Integration with all kinds of machinery systems
Artificial intelligence for continues workflow improvement and flexible intelligent schedule 
High availability and 24hour operation
Fast and efficient order delivery
Technical Data
Competitive Products
Video:
Geek+ RoboShuttle System C200