IFOY Patronage
IFOY Sponsor
IFOY Partner
Messe Dortmund is official partner of the IFOY AWARD.
Cascade is official partner of the IFOY AWARD.
CHEP is official partner of the IFOY AWARD.
LTG is official partner of the IFOY AWARD.
The HERMES.Wirtschafts.Forum is official partner of the IFOY AWARD.
etaLINK 3000 - wireless charging system

Wiferion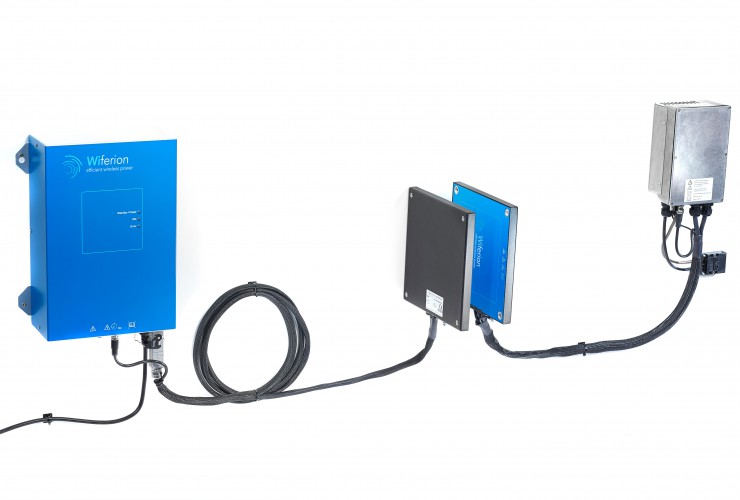 Wiferion etaLINK 3000.
Wiferion
IFOY-Kategorie
Start-up of the Year
Zusammenfassung
Wiferion bietet das erste marktreife und 100 Prozent kontaktlose Wireless-Charging-System (etaLINK 3000) für industrielle Elektrofahrzeuge. Das System zur automatischen CAN gesteuerten Ladung von modernen Batteriesystemen erlaubt eine schnelle und flexible Installation ohne Infrastrukturmaßnahmen. Durch die intelligente interne Kommunikation startet der Ladevorgang in weniger als einer Sekunde. Nach dem Ladevorgang kann das FTF oder der Stapler weiterfahren und das System schaltet automatisch ab.
Beschreibung
Wiferion entwickelt und verkauft kabellose Energiesysteme für elektrisch betriebene Flurförderzeuge (FFZ), fahrerlose Transportsysteme (FTS) und mobile Robotikanwendungen. Die skalierbaren, modularen Energiesysteme basieren auf dem patentierten, induktiven Ladesystem etaLINK 3000, das bereits bei namhaften Industrie- und Logistikunternehmen im Einsatz ist. Die Ladelösung kommt ohne Steck- und Schleifkontakte aus und ermöglicht ein effizientes, schnelles Zwischenladen der Batterien. Anwender profitieren von reduzierten Stillstandszeiten, Verschleißfreiheit, geringeren Kosten dank kleinerer Batteriekapazitäten und wirtschaftlichen Zwischenladeprozessen. Wiferion bietet seinen Kunden damit eine effektive Technologie, um ihre Ladeprozesse zu automatisieren.
Innovation
Effizienz: Das System verfügt über eine herausragende Effizienz von 93 Prozent. Wiferion ist es gelungen, durch intelligente Topologie und Systemdesign die ehemals gültigen Nachteile von kabelloser Energieübertragung zu beseitigen.
In Prozess Charging reduziert Kosten: Das etaLINK 3000 kommt ohne Steck- und Schleifkontakte aus und ermöglicht das Zwischenladen (in process-charging) der Batterien. Ladevorgänge lassen sich so flexibel in die intralogistischen Abläufe integrieren. Anwender profitieren von reduzierten Stillstandzeiten, Verschleißfreiheit, Stromspitzenkappung, geringeren Batteriekosten und wirtschaftlichen Ladeprozessen.
Sicherheit und Laden unabhängig von der Umgebung: Heutige Steckerlösungen sind für Außenanwendung nicht gemacht. Stecker stellen zudem nur im gesteckten Zustand einen IP Schutz zur Verfügung. Das etaLINK 3000 System ist kontaktfrei und mit eine IP Klasse von IP67 von Umgebungseinflüssen geschützt.
Marktfähiger Preis: Die Ladelösung hat auf Systemlevel Kostenparität mit konventionellen Ladelösungen bei Verschleißfreiheit.
Einfacher Retrofit: Das induktive Ladesystem etaLINK 3000 lässt sich zusätzlich auch mit Retrofitprojekten kombinieren, sodass Anwender durch die flexible und skalierbare Integration nachhaltig ihre Auslastung und Flotteneffizienz steigern können.
Marktrelevanz
Für FFZ gibt es heute einen Mangel an Ladelösungen mit denen bei leichter Handhabung und hoher Zuverlässigkeit die Zwischenladung mit hohen Strömen von Staplern unter den Umgebungsbedingungen realisiert werden kann. Das etaLINK-System schließt diese Lücke und erschließt damit das volle Potenzial von Lithiumbatterien.
Die kontaktlosen Ladesysteme eignen sich sowohl für Endanwender in der Industrie wie etwa Automobilhersteller, als auch für Hersteller von mobilen Robotern, Flurförderfahrzeugen und fahrerlosen Transportsystemen.
Die Potenziale der Elektrifizierung der globalen Wirtschaft sind immens. Viele Industrieunternehmen haben erkannt, dass sie handeln müssen und wollen in eine ressourcenschonende und zukunftsfähige Energieversorgung investieren.
Induktive Ladesysteme sind die Grundvoraussetzung, um das Maximum aus dem Einsatz von AGV/FTS herauszuholen.
Wiferion ist 2018 in Serienproduktion gegangen und hat bereits eine beeindruckende Kundenliste. KUKA, ein führender internationaler Anbieter von Industrierobotern und automatisierten Produktionslösungen, hat Wiferion als Partner gewählt, um seine neuen mobilen Robotikplattformen mit kontaktlosen Ladesystemen auszustatten.
Hauptvorteile für den Kunden
Ladeprozesse automatisieren: Die mobilen, kabellosen Ladesysteme und Energiemanagementlösungen ermöglichen neue Prozessabläufe. Anwender profitieren von reduzierten Stillstandzeiten und sie benötigen kleinere Batteriekapazitäten.
Schnelle Zwischenladungen: etaLINK 3000 kommt ohne Steck- und Schleifkontakte aus und ermöglicht das Zwischenladen der Batterien mit 3 kW. Der Schnellladevorgang wird innerhalb einer Sekunde initiiert.
Kostenreduktion im Betrieb: Durch intelligente Verteilung der Ladezyklen können enorme Kosten in der Batterieanschaffung bei den Energiepreisen durch Stromspitzenkappung eingespart werden.
Kein Verschleiß: Teure Ersatzteile und Ausfallzeiten sowie regelmäßige Wartung gehören der Vergangenheit an.
Keine Infrastrukturmaßnahmen: Schnelle und einfache Installation z.B. mittels Bodenplatten machen teure Eingriffe in die Bausubstanz unnötig. Es ist keine WLAN-Umgebung nötig, da das System mit einer eigenen optischen Kommunikation ausgestattet ist.
Hohe Sicherheit: IP Schutzklasse 67 erlaubt Installationen auch im Außenbereich und die Ladeplatten können mit Fahrzeugen überquert werden. Zudem besteht keine Stolpergefahr da das System in den Boden oder an die Hallenwand integriert werden kann.
Konnektivität: Das System liefert über Schnittstellen Userdaten zur Planung in Echtzeit.
Retrofit: Auch nachträglich elektrifizierte FFZ und FTS können an induktives Ladesystem angebunden werden. Hierzu bietet Wiferion u.a. einen Plug & Play-Gabelstaplertrog mit einer integrierten Kombination aus Batterie und Ladesystem.
Technische Daten
Video:
Wiferion: Animation des induktiven Ladessystems im Einsatz
IFOY Innovation Check
Marktrelevanz
Industrieunternehmen verfügen heute neben klassischen Gabelstaplern, Routenzugschleppern und anderen Hub- und Schleppfahrzeugen auch häufig über Fahrerlose Transportsysteme. Eine Vielzahl dieser Fahrzeuge verfügen über batterieelektrische Antriebe und müssen regelmäßig aufgeladen werden.
Kundennutzen
Dazu sind normalerweise sehr spezielle Ladegeräte mit einem angepassten Batterie- und Lademanagement notwendig. Um die Geräte möglichst im Arbeitsprozess nachzuladen, sind spezielle Ladestationen nötig, die aber häufig wegen der Stolpergefahr an den aufbauenden Ladekontakten eben nicht direkt in den Verkehrswegen installiert werden können.
Neuheitsgrad
Wiferion hat hier mit dem Produkt etaLINK 3000 eine Lösung geschaffen, die als quasi universelles, induktives Ladeverfahren sich dieser Aufgabe annimmt und dabei nicht nur für ein spezielles Fahrzeug einsetzbar ist, sondern wenn gewünscht für unterschiedlich Fahrzeuge und Einsatzfälle.
Funktionalität / Art der Umsetzung
Die universellen Ladesysteme machen einen sehr robusten und industrietauglichen Eindruck, sind professionell umgesetzt und dadurch voraussichtlich auch für einen langfristigen Einsatz gut geeignet.
Fazit
Durch Adaptierbarkeit auf unterschiedliche Systeme (unterschiedliche Batterien, Ladestrategien, Batteriemanagement etc.) ist das System sehr gut einsetzbar. Es kann direkt im Prozess angeordnet werden, da es keine Stolperstellen gibt. Das System ist bis hin zur Bedienoberfläche sehr durchdacht umgesetzt,
Das System verfügt über ein intelligentes Batterie- und Lademanagement. Es ist zusätzliches Equipment auf den Fahrzeugen notwendig.
---
Marktrelevanz

 ++


Kundennutzen

 ++

Neuheits- / Innovationsgrad

 +


Funktionalität  / Art der Umsetzung

 ++

++ sehr gut / + gut / Ø ausgeglichen / - weniger / - - nicht vorhanden
etaLINK 3000 - wireless charging system

Wiferion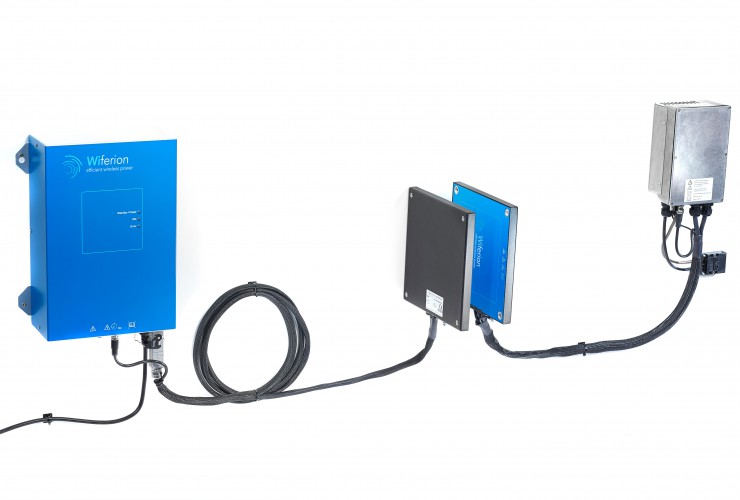 Wiferion etaLINK 3000
Wiferion
IFOY category
Start-up of the Year
Summary
Wiferion offers the first, market-ready and 100 percent contactless wireless charging system (etaLINK 3000) for industrial electric vehicles. The system allows the automatic CAN-controlled charging of modern battery systems and it's fast and flexible installation without infrastructure measures. Thanks to the intelligent internal communication, the charging process starts in less than a second. After charging, the industrial truck or forklift can continue driving and the system automatically shuts down.
Description
Wiferion develops and sells wireless energy systems for electrically powered industrial trucks, driverless transport systems and mobile robotic applications. The scalable, modular energy systems are based on the patented, inductive charging system etaLINK 3000, which is already in use at well-known industrial and logistics companies. The charging solution does not require plug-in or sliding contacts and enables efficient, fast intermediate charging of the batteries. Users benefit from reduced downtimes, wear-resistance, lower costs thanks to smaller battery capacities and economical intermediate charging processes. Thus, Wiferion offers an effective technology to automate the charging processes of its customers.
Innovation
Efficiency: The system has an outstanding efficiency of 93 percent. Through intelligent topology and system design, Wiferion has succeeded in eliminating the former disadvantages of wireless power transmission.
Reduced costs in process charging: The etaLINK 3000 does not require plug-in- or sliding contacts and enables "in process charging" of the batteries. Charging processes can thus be flexibly integrated into intralogistics processes. Users benefit from reduced downtimes, no wear, peak current capping, lower battery costs and economical charging processes.
Safety and charging independent of the environment: Today's plug solutions are not made for outdoor use. In addition, connectors only provide IP protection when plugged in. The etaLINK 3000 system is contactless and protected from environmental influences with an IP class of IP67.
Competitive price: The charging solution has cost parity at system level with conventional charging solutions while being free of wear.
Simple retrofit: The etaLINK 3000 inductive charging system can also be combined with retrofit projects, so that users can sustainably increase their capacity utilization and fleet efficiency through flexible and scalable integration.
Marktet relevance
Today there is a lack of loading solutions for industrial trucks with which it is possible to realize intermediate loading with high currents of forklifts under ambient conditions with easy handling and high reliability. The etaLINK system closes this gap and opens up the full potential of lithium batteries.
The contactless charging systems are suitable both for end users in industry, such as automobile manufacturers, and for manufacturers of mobile robots, industrial trucks and driverless transport systems.
The potential for electrifying the global economy is immense. Many industrial companies have recognized that they have to act and want to invest in a resource-conserving and sustainable energy supply.
Inductive charging systems are the basic prerequisite for getting the most out of the use of AGVs/industrial trucks.
Wiferion went into series production in 2018 and already has an impressive customer list. KUKA, a leading international supplier of industrial robots and automated production solutions, has chosen Wiferion as its partner to equip its new mobile robotic platforms with contactless loading systems.
Main customer benefits
Automated loading processes: The mobile wireless charging systems and energy management solutions enable new processes. Users benefit from reduced downtime and require smaller battery capacities.
Fast intermediate charging: etaLINK 3000 does not require plug-in- or sliding contacts and enables intermediate charging of the batteries with 3 kW. The rapid charging process is initiated within one second.
Cost reduction in operation: Through intelligent distribution of the charging cycles, enormous costs can be saved in battery procurement in energy prices through peak current capping.
No wear and tear: Expensive spare parts and downtimes as well as regular maintenance are a thing of the past.
No infrastructure measures: Quick and easy installation, e.g. using floor plates, makes expensive interventions in the building structure unnecessary. No WLAN environment is necessary, as the system is equipped with its own optical communication.
High security: protection class IP67 also allows outdoor installations and the pallets can be crossed by vehicles. In addition, there is no risk of tripping as the system can be integrated into the floor or onto the hall wall.
Connectivity: The system provides user data for real-time planning via interfaces.
Retrofit: Even subsequently electrified FFZs and FTSs can be connected to an inductive charging system. For this purpose, Wiferion offers a Plug & Play forklift trough with an integrated combination of battery and charging system.
Technical data
Video:
Wiferion: Animation des induktiven Ladessystems im Einsatz
IFOY Innovation Check
Market relevance
Industrial companies today often have driverless transport systems in addition to classic forklifts, tuggers and other lifting and towing vehicles. Many of these machines have battery electric drives and need to be charged regularly.
Customer benefit
This normally requires very special chargers with an adapted battery and charge management system. Special charging stations are required to recharge the machines during the working process, but often they cannot be installed directly in the traffic routes due to the risk of tripping on the charging contacts.
Novelty
With the etaLINK 3000, Wiferion has created a solution that takes on this task as a quasi universal, inductive charging method and can be used not only for a special vehicle, but if required for different vehicles and applications.
Functionality / type of implementation
The universal charging systems make a very robust and industrially suitable impression, are professionally implemented and are therefore likely to be suitable for long-term use.
Conclusion
Due to adaptability to different systems (different batteries, charging strategies, battery management etc.) the system is very well applicable. It can be arranged directly in the process, as there are no points of tripping. The system is very well thought out right up to the user interface,
The system has an intelligent battery and charge management. Additional equipment is required on the vehicles.
---
Market relevance

 ++

Customer benefit

 ++

Degree of novelty / innovation

 +

Functionality  / Type of implementation

 ++

++ very good / + good / Ø balanced / - less / - - not available