IFOY Patronage
IFOY Sponsor
The VDMA Materials Handling and Intralogistics Sector Association is sponsor of the International Forklift Truck of the Year (IFOY).
ESR 1000

Crown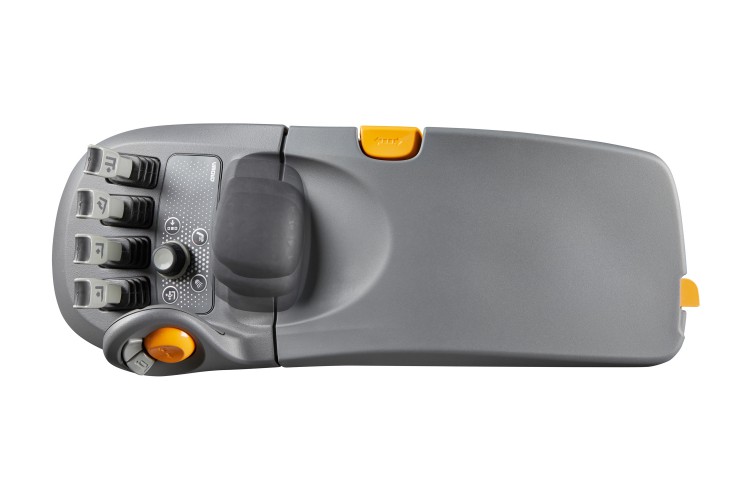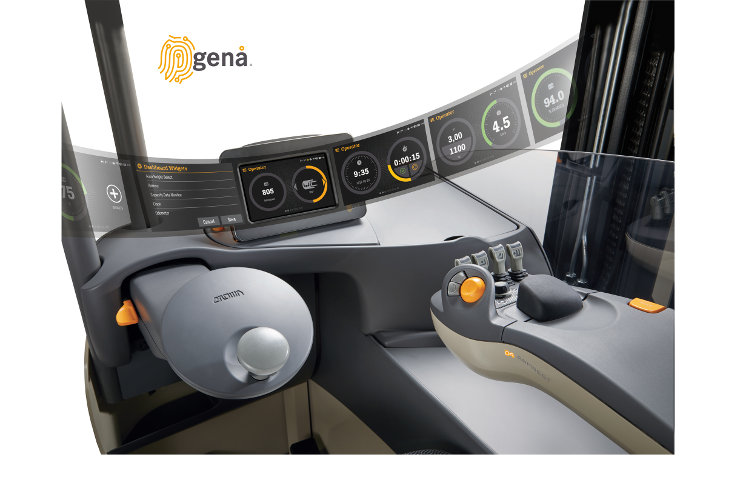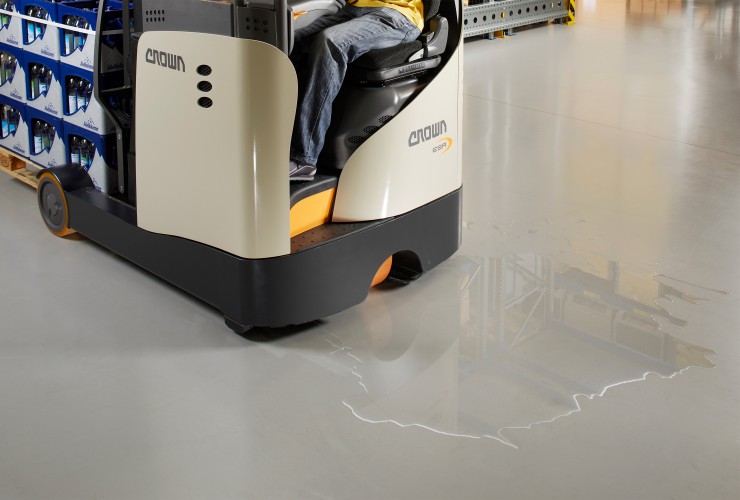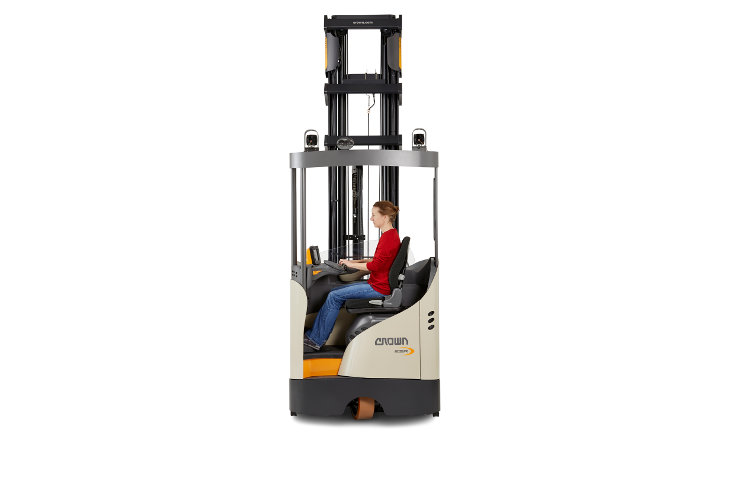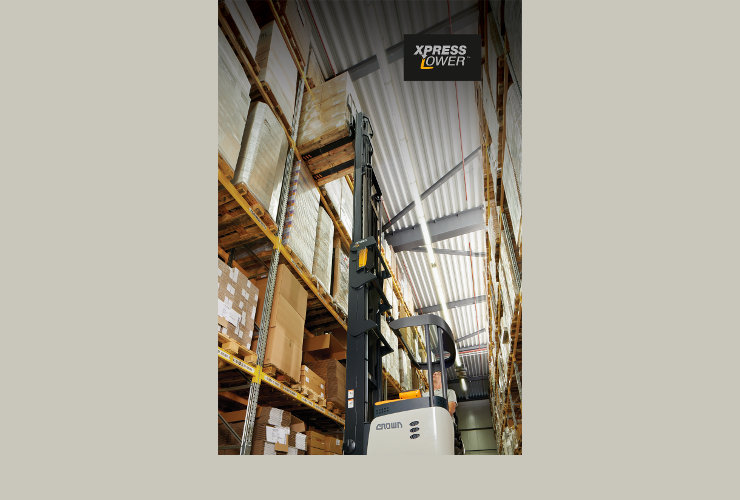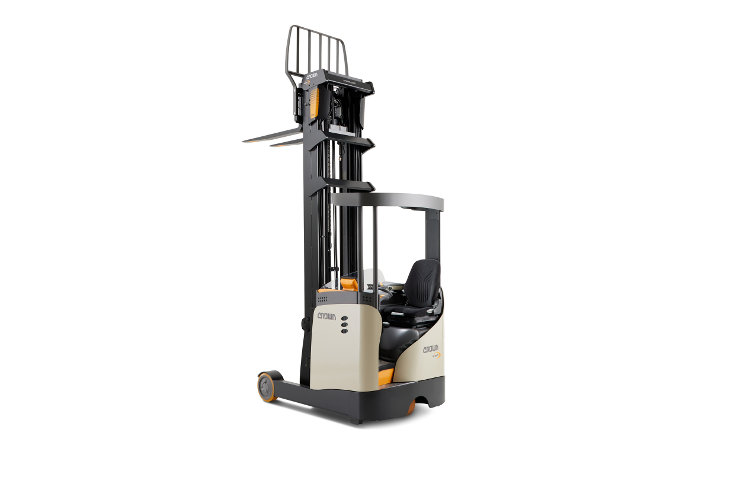 Die Crown D4 Armlehne bietet höchste Ergonomie und vielfältige Verstellmöglichkeiten.
Crown Gabelstapler
IFOY-Kategorie
Warehouse Truck "highlifter"
Zusammenfassung
Der ESR 1000 Schubmaststapler verbindet langlebige und robuste Staplertechnologie mit innovativen Features in Bezug auf Produktivitätssteigerung, Konnektivität und User Experience. Die Xpress Lower Technologie verdoppelt die Absenkgeschwindigkeit und das brandneue Gena Betriebssystem bietet ein intuitives Bedienerlebnis, leistungssteigernde Assistenzsysteme und umfassende Konnektivität. Weiterhin verfügt die ESR 1000 Serie über eine Vielzahl von innovativen Ergonomie- und Sicherheitsmerkmalen.
Beschreibung
Schubmaststapler sind die "Arbeitspferde" der meisten durchsatzstarken Lager und Distributionszentren und werden hauptsächlich für den Palettentransport, die Ein- und Auslagerung sowie den Kommissionierungsnachschub eingesetzt. Sie sind oft die teuersten Fahrzeuge in einer Gabelstaplerflotte. Bei großen Flottenverkäufen werden Schubmaststapler als "Flaggschiff"-Produkte angesehen und haben oft einen "Mitnahmeeffekt", indem sie den Absatz anderer Staplertypen steigern.
Die ESR 1000 Serie umfasst ein vollständiges Sortiment von Elektro-Schubmaststaplern, die ein neues Niveau an Produktivität, Komfort, Sicherheit und Robustheit für die anspruchsvollsten Lager und Distributionszentren erreichen.  Zahlreiche branchenführende Innovationen bieten dem Bediener zusätzliche Vorteile für fast jede Aufgabe.
Die neue Schubmaststaplerserie von Crown vereint die Stärke, Kraft und Langlebigkeit, für die Crown-Produkte seit jeher bekannt sind, mit zukunftssicherer Staplertechnologie, einer Vielzahl von produktivitäts- und sicherheitssteigernden Innovationen und umfassender Konnektivität. Die ESR 1000 Serie folgt dem "Human-Centric Design Concept" von Crown, um den Komfort und den Schutz des Bedieners in den Mittelpunkt zu stellen, damit er bei seiner täglichen Arbeit maximale Effizienz erreichen kann.
Video: Product Video ESR 1000
---
Datenblatt
Gerätetyp
Technische Daten (alle Geräte)
| | |
| --- | --- |
| Antrieb | Elektro |
| Tragfähigkeit | 2000 kg |
| Eigengewicht | 3915 kg |
| Bedienung | Sitz |
| Fahrgeschwindigkeit mit Last | 14 km/h |
| Fahrgeschwindigkeit ohne Last | 14 km/h |
| Hubgeschwindigkeit mit Last | 0,59 (mit 1000 kg Last / with 1000 kg load) m/s |
| Hubgeschwindigkeit ohne Last | 0,71 m/s |
| Senkgeschwindigkeit mit Last | 1,1 (mit 1000 kg Last / with 1000 kg load) m/s |
| Senkgeschwindigkeit ohne Last | 1,1 m/s |
| Max.Hubhöhe | 12000 mm |
| Energieverbrauch nach VDI-Arbeitsspiel | 3,7 (nach VDI 2198-2012) kWh/h |
| Elektro-Trucks | |
| Batteriespannung | 48 V |
| Batteriekapazität | 775 Ah |
| Batterieanschluss | DIN 160 |
| Batteriegewicht | 1258 kg |
| Leistung Fahrmotor | 9 kW |
| Leistung Hubmotor | 16,5 kW |
| Schlepper | |
| Nennzugkraft | N |
| Kommissionierer/Kombigeräte | |
| Max. Greifhöhe | mm |
Sonstiges
Es handelt sich um
Vollständig neues Modell
Datum der Markteinführung
15.07.2019
Datum des Produktionsstarts
15.07.2019
Konkurrenzprodukte
Jungheinrich ETV
Toyota RRE
STILL FM-X
Video
Product Video ESR 1000
Innovationen
Die Xpress LowerTM Technologie kann die Absenkgeschwindigkeit verdoppeln. Dabei wird die beim Absenken des Mastes freiwerdende Energie an das System zurückgeführt.
Das Gena® Betriebssystem bietet ein neues intuitives und personalisierbares Bedienerlebnis in aktuell 24 Sprachen, vollständige Mobilfunk- und WiFi-Konnektivität sowie die nahtlose Einbindung des InfoLink Flottenmanagementsystems mit zusätzlichen Service- und Training-Features. Das übersichtliche, farbige 7-Zoll-Touchscreen-Display mit einer Vielzahl von individualisierbaren Widgets ähnelt in seiner Einfachheit dem Bedienkonzept moderner Smartphones. Zudem lassen sich mit Gena Leistungsparameter und Setups direkt am Fahrzeug einstellen.
Innovative und intuitive Assistenzsysteme wie die "Auto Height Select" Hubhöhenvorwahl und die "Capacity Data Monitor" Resttragfähigkeitskontrolle steigern Produktivität und Sicherheit und minimieren das Schadensrisiko.
Die patentierte OnTracTM Traktionskontrolle vermindert das Durchdrehen/Rutschen der Räder bei Beschleunigung, Gegenstromverzögerung und Bremsung – ideal für nasse/staubige Bereiche und Kühlhäuser.
Gena mit InfoLink stellt individualisierbare und illustrierte Checklisten und Sicherheitserinnerungen sowie das Dynamic CoachingTM System zur Sensibilisierung des Bedieners für den sicheren Staplerbetrieb zur Verfügung.
Die Crown D4 Armlehne mit beweglicher Handauflage bietet höchsten ergonomischen Komfort sowie vielfältige Einstellmöglichkeiten.
Marktrelevanz
Die ESR 1000 Serie mit dem zukunftsweisenden Gena Betriebssystem bietet ein datenreiches, individualisiertes und interaktives Bedienerlebnis. Von den Vorteilen profitieren Bediener, Servicetechniker und das Management gleichermaßen. Die vollständige Konnektivität ermöglicht bzw. vereinfacht zudem die Implementierung neuer Technologien.
Die patentierte Xpress Lower Technologie ist ein klares Alleinstellungsmerkmal und ermöglicht gemeinsam mit den in das Gena Betriebssystem integrierten, effizienzsteigernden Assistenzsystemen erhebliche Produktivitätszuwächse. So kann in einer einzigen Schicht die Beladung eines kompletten zusätzlichen Sattelaufliegers bzw. der gleiche Durchsatz mit weniger Staplern erreicht werden.
Das intuitive und personalisierbare Gena Bedienerlebnis sowie die große Auswahl an zur Verfügung stehenden Sprachen erleichtert das Anlernen neuer Mitarbeiter, steigert deren Motivation und führt zu hoher Mitarbeiterloyalität. Besonders profitieren die Branchen Groß- und Einzelhandel, Logistik sowie die produzierende Industrie von den Vorzügen der neuen ESR 1000 Serie. Auch vor dem Hintergrund der Diskussion um die Energiequelle der Zukunft bieten diese Stapler volle Flexibilität, denn der Wechsel zwischen Lithium-Ionen- und Bleisäurebatterien ist jederzeit ohne nennenswerten Aufwand möglich.
Das Marktpotenzial für Schubmaststapler in EMEA lag 2018 bei rund 33.000 Einheiten, was die Relevanz dieser Innovation zusätzlich verdeutlicht.
Kundennutzen
Produktivitäts- und Effizienzsteigerungen:
Bis zu 21 Prozent mehr Produktivität mit Xpress Lower und gesteigerten Hubgeschwindigkeiten, basierend auf kontrolliertem Zyklusvergleichstest
Bis zu 3-5 Prozent mehr Produktivität durch AHS und CDM
Bis zu 11 Prozent Energieeinsparungen durch regeneratives Senken und Bremsen
Einfache und präzise Regalebenen-Programmierung und -Positionierung mit Auto Height Select
Vermeidung von Durchdrehen bzw. Rutschen der Räder mit OnTrac Traktionskontrolle
Lithium-Ionen-Technologie mit kurzen Ladezeiten, unbegrenzten Zwischenladungen und erleichtertem Batteriemanagement ohne tägliche Wartungsarbeiten, Ersatz-Akkus und spezielle Batterieladeräume
Ergonomie & Sicherheit:
Der Capacity Data Monitor zeigt Lastgewicht, Hubhöhe und Resttragfähigkeit und warnt anschaulich vor der Überschreitung der Sicherheitsgrenzen.
Intuitive Bedienerführung über das Widget-basierte Gena Betriebssystem verkürzt Anlernzeiten und motiviert die Bediener.
Regelmäßige illustrierte Checklisten, Sicherheitserinnerungen und Dynamic Coaching über InfoLink
D4 Armlehne: Verstellbarkeit, ergonomischer Komfort, einzigartiges Design, Anpassbarkeit mit bis zu 15 verschiedenen Bedienelementen
Vielfältige Verstellbarkeit von Sitz, Bedienelementen, Armlehne und Bildschirm
Seitlich versetzter Freisichtmast für klare Sicht auf Lasträder, Gabel und Palette
Panorama-Bedienerschutzdach für optimale Sicht und Schutz vor herabfallenden Gegenständen
Sonderausstattung (IFOY Test-Gerät)
Xpress Lower mit Regen Lower-System
Automatische Hubhöhenvorwahl mittels One-Touch Button zur Regalauswahl inklusive Neigepositionshilfe mit Kompensation der Mastdurchbiegung,
Resttragfähigkeitsanzeige inklusive Lastgewichtanzeige, Hubhöhenanzeige, Freihubanzeige, Neigepositionshilfe mit Kompensation der Mastdurchbiegung
Seitenschieber-Mittelstellung
C-Drive, Display-Fernsteuerung in der Armlehne
Kamera am Mast befestigt
Panorama-Bedienerschutzdach
Gefederter Vinylsitz - beheizt
Kopfstütze
FlexBack Rückenlehne
Neigbares Armlehnenpolster
Punktscheinwerfer – rot und blau – vorwärts/rückwärts
Schutzbügel für Arbeitsscheinwerfer
Spannungsversorgung für Zubehör 12 Volt
USB- Anschluss
InfoLink Hostinggebühren (Hardware ist Standard)
Lautsprecher (benötigt für dynamisches Coaching)
Lithium-Ionen Batterievorbereitung
Batteriefachrollen
Getränkehalter
Lastradabdeckung außen und vorne
ESR 1000

Crown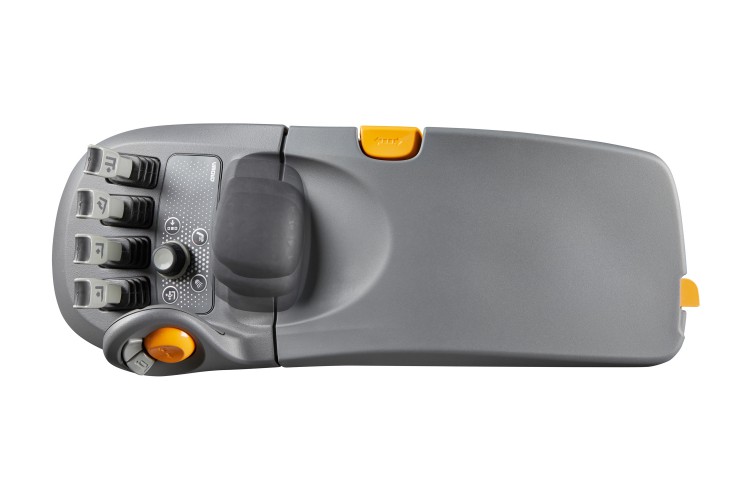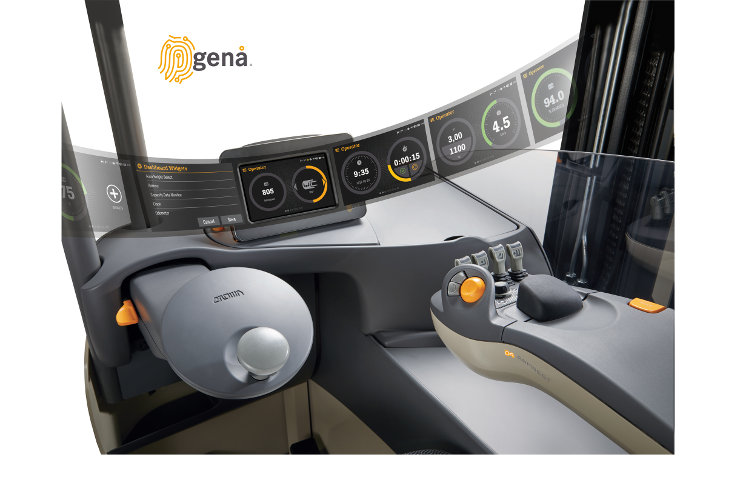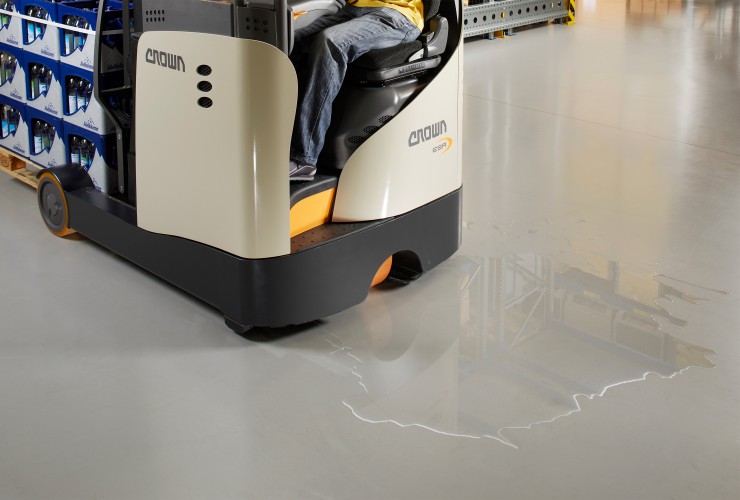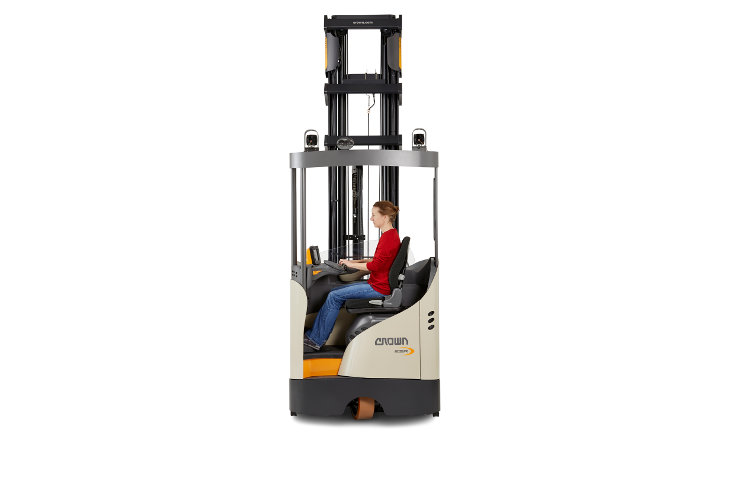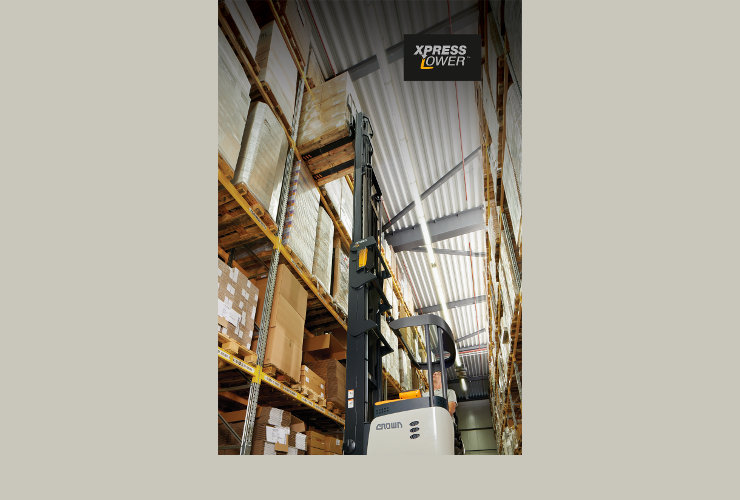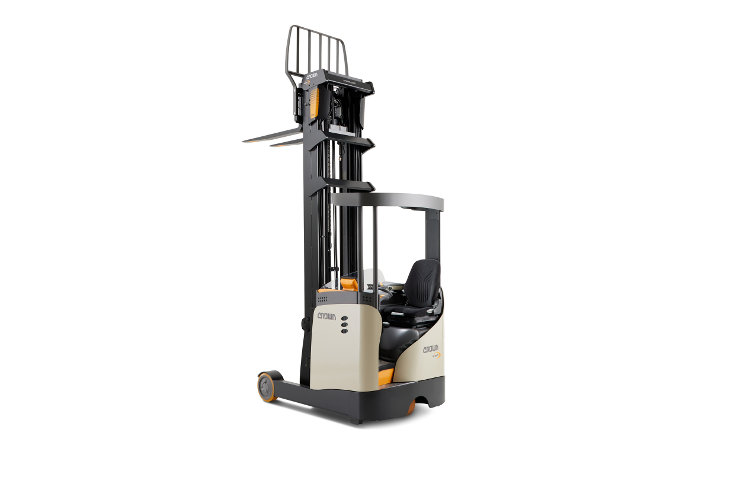 The Crown D4 armrest offers maximum ergonomics and a wide range of adjustment options.
Crown Gabelstapler
IFOY Category
Warehouse Truck "highlifter"
Summary
The ESR 1000 reach truck combines durable and robust forklift technology with innovative features for increased productivity, connectivity and usability. The Xpress Lower technology doubles lowering speed and the brand new Gena operating system provides an intuitive user experience, performance-enhancing assistance systems and comprehensive connectivity. In addition, the ESR 1000 Series offers a variety of innovative ergonomics and security features.
Description
Reach trucks are the "workhorses" of most high-throughput distribution centres and warehouses and are mainly used for pallet transport, storage and retrieval, as well as for order picking replenishment. They are often the most expensive vehicles in a forklift truck fleet. In big fleet deals, reach trucks are seen as "flagship" products, and often have a "pull-through effect" by driving the sales of other vehicles.
The ESR 1000 Series is a full range of electric, side-sit reach trucks that achieve new levels of productivity, comfort, safety and robustness for the most demanding warehouses and distribution centers.  Numerous industry-first innovations give operators an extra advantage for nearly every task.
Crown's new reach truck series brings together the strength, power and durability, for which Crown products have always been recognised, with future-proof forklift technology, a variety of productivity- and safety-enhancing innovations and full truck connectivity. The ESR 1000 Series follows Crown's human-centric design approach to optimise operator comfort and protection which enable them to achieve maximum efficiency in their daily work.
Video: Product Video ESR 1000
---
Data Sheet
Truck Model
Technical Data (all trucks)
| | |
| --- | --- |
| Truck Type | electro |
| Lift capacity/load | 2000 kg |
| Truck weight | 3915 kg |
| Operation | seated |
| Driving speed with load | 14 km/h |
| Driving speed without load | 14 km/h |
| Lifting speed with load | 0,59 (mit 1000 kg Last / with 1000 kg load) m/s |
| Lifting speed without load | 0,71 m/s |
| Lowering speed with load | 1,1 (mit 1000 kg Last / with 1000 kg load) m/s |
| Lowering speed without load | 1,1 m/s |
| Max. lift height | 12000 mm |
| Power consumption according to VDI cycle | 3,7 (nach VDI 2198-2012) kWh/h |
| Electro-trucks | |
| Battery voltage | 48 V |
| Battery capacity | 775 Ah |
| Battery connector | DIN 160 |
| Battery weight | 1258 kg |
| Drive motor | 9 kW |
| Lift motor | 16,5 kW |
| Tow Truck | |
| Nominal towing capacity | N |
| Orderpicking/Combitrucks | |
| Max. picking height | mm |
Miscellaneous
This model is a
Newly developed model
Date of rollout
2019-07-15
Start of series production
2019-07-15
Competitive products
Jungheinrich ETV
Toyota RRE
STILL FM-X
Video
Product Video ESR 1000
Innovations
The Xpress LowerTM technology can double the lowering speed. The energy released when lowering the mast is recaptured and returned to the system.
The Gena® operating system offers a new intuitive and customisable user experience in currently 24 languages, full GSM and WiFi connectivity, and seamless integration of the InfoLink fleet management system with additional service and training features. The clearly laid out 7-inch colour touchscreen display with a variety of customisable widgets is similar in its simplicity to the operating concept of modern smartphones. In addition, Gena allows performance parameters and setups to be set directly on the vehicle.
Innovative and intuitive assistance systems such as the "Auto Height Select" lift height preselection and the "Capacity Data Monitor" residual capacity control increase productivity and safety and minimise the
The patented OnTracTM traction control reduces wheel spin/slip during acceleration, plugging and braking - ideal for wet, dusty and cold storage areas.
Gena with InfoLink provides customisable and illustrated checklists and safety reminders as well as the Dynamic CoachingTM system to sensitise the operator to safe truck operation.
The Crown D4 armrest with movable palm rest offers maximum ergonomic comfort and a wide range of adjustment options.
Market relevance
The ESR 1000 Series with the future-proof Gena operating system offers a data-rich, personalised and interactive user experience. Benefits extend from operators to service engineers to management. Full connectivity also enables or simplifies the implementation of new technologies.
The patented Xpress Lower technology is a clear USP and, together with the efficiency-enhancing assistance systems integrated into the Gena operating system, enables significant productivity gains. This might allow the loading of a complete additional semi-trailer to be achieved in a single shift or the same throughput with fewer forklifts.
The intuitive and personalisable Gena user experience and the wide range of languages available make it easy to onboard new employees, increase their motivation and lead to high employee loyalty.
The wholesale, retail, logistics and manufacturing industries in particular benefit from the advantages of the new ESR 1000 Series. And also against the background of the discussion about the energy source of the future, these forklifts offer full flexibility, because the change between lithium-ion and lead-acid batteries is possible at any time without considerable effort.
The market potential for reach trucks in EMEA in 2018 was around 33,000 units, which further illustrates the relevance of this innovation.
Customer Benefit
Increases in productivity and efficiency:
Up to 21 percent more productivity with Xpress Lower and increased lifting speeds, based on controlled cycle comparison test
Up to 3-5 percent more productivity with AHS and CDM
Up to 11 percent energy savings through regenerative lowering and braking
Easy and precise rack height programming and positioning with Auto Height Select
OnTrac traction control prevents wheel spin and slippage
Lithium-ion technology with short charging times, unlimited opportunity charging and easier battery management without daily maintenance, spare batteries and special battery charging rooms
Ergonomics & Safety:
The Capacity Data Monitor shows load weight, lift height and capacity limits at a glance and alerts the operator before exceeding safe load limits
Intuitive operator guidance via the widget-based Gena operating system shortens training times and motivates operators
Regular illustrated checklists, safety reminders and Dynamic Coaching via InfoLink
D4 Armrest: adjustability, ergonomic comfort, unique design and adaptability with up to 15 seperate control
Versatile adjustability of seat, controls, armrest and display
Laterally offset mast for clear view of load wheels, fork and pallet
Panoramic glass overhead guard for optimum visibility and protection against falling objects
Optional items (IFOY Test Truck)
Xpress Lower with Regen Lower System
Auto Height Select including Tilt Position Assist with Deflection Compensation
Capacity Data Monitor including load weight indicator, lift height indicator, free lift indicator, Tilt Position Assist with deflection compensation
Sideshift Position Assist
C-Drive, Remote Display Control in Armrest
Mast mounted Camera
Panoramic Overhead Guard
Seat, Vinyl Suspension – Heated
Headrest
FlexBack Backrest
Tiltable Armrest Pad
Floor Spot Lights red/blue – forward/reverse
Protective guard for work lights
Power supply for Accessories 12 Volt
USB Port
InfoLink Hosting Fee (Hardware is standard)
Speaker for Dynamic Coaching
Lithium-Ion Battery Ready
Battery Rollers
Beverage Holder
Load Wheel Protection Lateral and Front