IFOY Patronage
IFOY Sponsor
The VDMA Materials Handling and Intralogistics Sector Association is sponsor of the International Forklift Truck of the Year (IFOY).
Combi-CBE4

Combilift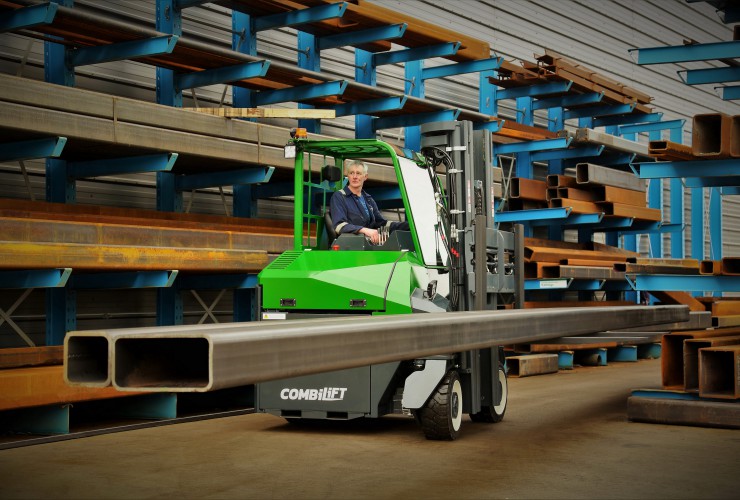 Der CBE4 von Combilift
Combilift
IFOY-Kategorie
Special Vehicle
Zusammenfassung
Der Combi-CBE ist ein 4000 Kilogramm schwerer, elektrisch angetriebener Gabelstapler mit Allradantrieb, der ein kompaktes Gegengewichtsdesign mit Multidirektionalität vereint. Er verfügt über die international patentierte elektrische Traktion (EP.2956350), die die unabhängig voneinander gesteuerte Antriebsräder vorne und hinten hundertprozentig kontrolliert. Zusätzlich ist das Gabelstaplerdesign durch das europäische Geschmacksmuster Nr. 00725668-000 geschützt.
Beschreibung
Die Combi-CB-Serie wurde für Unternehmen entwickelt, die unterschiedliche Lasten bewegen müssen. Die Vielseitigkeit des Geräts ermöglicht den Einsatz als Universalstapler für den Palettenumschlag im Frontmodus und für das Handling langer Lasten im Seitenmodus. Man kann das Gerät im Lager, im Außenbereich oder in der Produktion einsetzen. Der sogenannte Karussellmodus bietet zudem eine außergewöhnliche Manövrierfähigkeit und die Möglichkeit, auf engstem Raum zu arbeiten. Weil das Gerät mit einem niedrigen Mast ausgestattet ist, ermöglichen die kompakten Abmessungen des Staplers auch die Fahrt in Container hinein sowie das sichere und schnelle Arbeiten in Räumen mit geringer Höhe.
Das neueste Modell, der Combi-CBE, verfügt über eine Reihe innovativer Merkmale, von denen eines der wichtigsten der Antrieb aller Räder ist.  Ermöglicht wird das durch die international patentierte unabhängige elektrische Traktion (EP.2956350) von Combilift, die 100-Prozent Traktion garantiert. Die Bediener profitieren zudem von einer guten Sicht aus der Kabine und können hohe und breite Lasten sicher transportieren, ohne dass die Sicht beieinträchtigt ist, was besonders bei der Navigation in schmalen Gängen nützlich ist. Die serienmäßige Seitenverschiebung und das integrierte hydraulische Zinkenverstellgerät ohne Verluste in Sachen Lastschwerpunkt und Kapazität erleichtern die Bewegung unterschiedlich großer Lasten, ohne dass der Mitarbeiter die Kabine verlassen muss, um die Gabeln manuell einzustellen. Der Stapler verfügt außerdem über eine 180-Grad-Radumdrehung, einen Radpositionsmonitor für den Fahrer, eine 72V 775Ah-Batterie und ist mit Hydraulikzylindern für einen sehr zuverlässigen Betrieb ausgestattet.
Video: http://youtu.be/Eb7vUB3J3TQ
---
Datenblatt
Gerätetyp
Technische Daten (alle Geräte)
| | |
| --- | --- |
| Antrieb | Elektro |
| Tragfähigkeit | 4000 kg |
| Eigengewicht | 8600 kg |
| Bedienung | Sitz |
| Fahrgeschwindigkeit mit Last | 11 km/h |
| Fahrgeschwindigkeit ohne Last | 11 km/h |
| Hubgeschwindigkeit mit Last | 0.24 m/s |
| Hubgeschwindigkeit ohne Last | 0.26 m/s |
| Senkgeschwindigkeit mit Last | 0.43 m/s |
| Senkgeschwindigkeit ohne Last | 0.29 m/s |
| Max.Hubhöhe | 4040 mm |
| Energieverbrauch nach VDI-Arbeitsspiel | 11.8 kWh/h |
| Elektro-Trucks | |
| Batteriespannung | 72 V |
| Batteriekapazität | 775 Ah |
| Batterieanschluss | REMA DIN 320A |
| Batteriegewicht | 1735 kg |
| Leistung Fahrmotor | 5, 2.5 x 2 kW |
| Leistung Hubmotor | 20 kW |
| Schlepper | |
| Nennzugkraft | N/A N |
| Kommissionierer/Kombigeräte | |
| Max. Greifhöhe | N/A mm |
Sonstiges
Es handelt sich um
Vollständig neues Modell
Datum der Markteinführung
15.01.2019
Datum des Produktionsstarts
24.05.2019
Konkurrenzprodukte
4000KG Counterbalance Trucks
Multi-Directional Reaching Mast Truck
Video
http://youtu.be/Eb7vUB3J3TQ
Innovationen
Der Combi-CB war der erste Gabelstapler auf dem Weltmarkt, der ein kompaktes Gegengewichtsdesign mit Multidirektionalität kombiniert. Bei diesem Combi-CBE-Modell handelt es sich um den weltweit ersten Gegengewichtsstapler in Mehrwegeausführung mit einem Antrieb an allen drei Rädern. Das Produkt verfügt über eine einzigartige Innovation von Combilift, die 100-prozentige Traktionskontrolle. Deshalb benötigt man keine Differentialsperre auf rutschigen Oberflächen. Durch die Eingabe der Radstandsparameter werden die Traktionsbefehle von der Steuerung berechnet. Während der Stapler fährt und gelenkt wird, werden Geschwindigkeit und Drehrichtung der Räder unabhängig voneinander gesteuert, sodass der Stapler enge Kurven ohne Reifenverschleiß bewältigen kann. Ein wesentlicher Vorteil ist die präzise Beschleunigungs- und Verzögerungssteuerung für den Fahrer, die das Verdrehen des langen Lastmoments beim seitlichen Fahren deutlich reduziert. Jeder Antrieb verfügt über Parkfunktionen und regenerative dynamische Bremsen zur Steigerung der Energieeffizienz.
Marktrelevanz
Das Gerät hat hohe Relevanz in vielen Branchen. Es ermöglicht den Kunden einen vielseitigen, produktiven und platzsparenden Betrieb beim Heben schwerer Lasten bis zu 4.000 Kilo. Gleichzeitig profitieren sie vom Elektromotor und dem Allradantrieb. Das geht einher mit der wachsenden Nachfrage nach Elektrostaplern mit höherer Kapazität und dem Wunsch nach Leistungsstärke bei gleichzeitig reduzierten Emissionen und leisem Betrieb. Das Gegengewichtskonzept ist Unternehmen und Betreibern bekannt und auf dem Markt gut akzeptiert. Aber der Combi-CBE bietet zusätzliche Vorteile durch sehr kompakte Abmessungen, seine multidirektionale Eigenschaft und die Fähigkeit, sowohl lange Lasten als auch Paletten zu heben. Combilift sieht ein hohes Potenzial für dieses Produkt aufgrund seiner Vielseitigkeit - auch in Regionen, in denen die Emissionsrichtlinien immer strenger werden, wie beispielsweise in Innenstädten.
Kundennutzen
Für Kunden wie zum Beispiel Baustoffhändler, die mit unterschiedlicher Ladung zu tun haben, hat der Combi-CBE viele Vorteile. Durch seine Fähigkeit, Paletten und Langprodukte zu bewegen, wird er zu einem universellen Fahrzeug, das eine Reihe anderer Typen ersetzen kann und damit insgesamt einen kostengünstigeren und effizienteren Betrieb ermöglicht. Der Einsatz einer Maschine, die mehrere andere ersetzt, senkt die Investitions- oder Mietkosten, reduziert den Bedarf von Schulungen an verschiedenen Gabelstaplern und kann die Versicherungskosten minimieren. Die elastischen Reifen ermöglichen ein müheloses Arbeiten im Innen- und Außenbereich sowie auf jedem anderen Gelände. Die Vielseitigkeit des Staplers ermöglicht es Fahrern, in Containern zu arbeiten, vom Lkw zu entladen und Produkte direkt in Regale sowie an Produktionslinien zu bringen. Der elektrische AC-Antrieb bedeutet, dass es keine mechanischen Bürsten gibt, die gewartet oder ausgetauscht werden müssen. Bei den verwendeten Komponenten handelt es sich um Standardkomponenten von Mainstream-Herstellern, die überall auf der Welt leicht verfügbar sind. Wartund und Service sind einfach. Der Richtungshebel ist einfach zu bedienen und ermöglicht den Übergang von der Vorwärts- zur Rückwärtsrichtung bis hin zur Seitwärtsrichtung intuitiv und mühelos.
Sonderausstattung (IFOY Test-Gerät)
Combi-CBE4

Combilift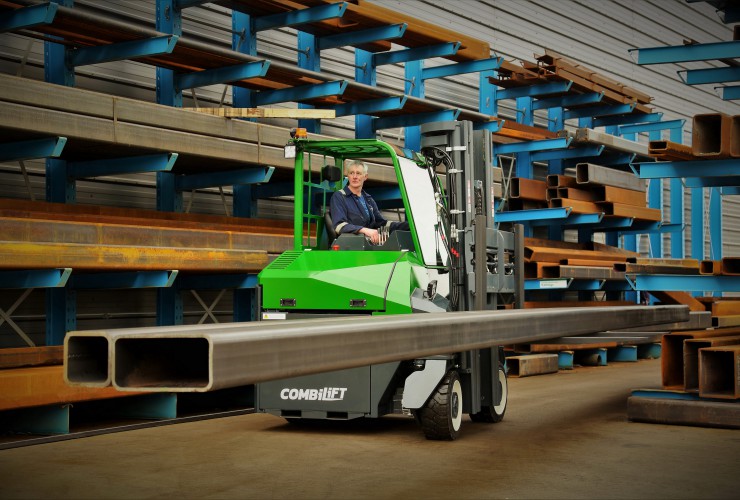 IFOY Category
Special Vehicle
Summary
The Combi-CBE is a 4000kg capacity electric powered, all-wheel drive forklift truck, incorporating compact counterbalance design with multidirectional capability. It features the company's internationally patented electric traction (EP.2956350) which provides front and rear independently controlled drive wheels with 100 percent traction control. Additionally, this forklift truck design is protected by European Design Registration No. 00725668-000.
Description
The Combi-CB range was designed for companies needing to handle mixed loads. Its versatility enables it to be used as a universal truck for pallet handling in frontal mode and for long-load handling in sideward mode, inside the warehouse or production facilities, outside and within racking. Carousel mode also offers exceptional manouevrability and the ability to work in confined spaces. Fitted with a low mast, the truck's compact dimensions also enable it to enter into containers for stuffing and destuffing, for safer and quicker low level operations. 
This latest model, the Combi-CBE, benefits from a number of innovative features, a key one of which is drive on all of its three wheels thanks to Combilift's internationally patented independent electric traction (EP.2956350) which guarantees 100 percent traction. Operators benefit further from good visibility from the cab and can safely carry tall and wide loads without obstructing their view which is especially useful when navigating into narrow aisles. Side shift comes as standard and the integrated hydraulic fork positioner with zero loss in load centre and capacity, facilitates the handling of various sized loads without operators having to leave the cab to manually adjust the forks. It also features 180 degree rear wheel rotation, an operator's wheel position monitor, a 72V 775Ah battery and is steered with hydraulic cylinders for very reliable operation.
Video: http://youtu.be/Eb7vUB3J3TQ
---
Data Sheet
Truck Model
Technical Data (all trucks)
| | |
| --- | --- |
| Truck Type | electro |
| Lift capacity/load | 4000 kg |
| Truck weight | 8600 kg |
| Operation | seated |
| Driving speed with load | 11 km/h |
| Driving speed without load | 11 km/h |
| Lifting speed with load | 0.24 m/s |
| Lifting speed without load | 0.26 m/s |
| Lowering speed with load | 0.43 m/s |
| Lowering speed without load | 0.29 m/s |
| Max. lift height | 4040 mm |
| Power consumption according to VDI cycle | 11.8 kWh/h |
| Electro-trucks | |
| Battery voltage | 72 V |
| Battery capacity | 775 Ah |
| Battery connector | REMA DIN 320A |
| Battery weight | 1735 kg |
| Drive motor | 5, 2.5 x 2 kW |
| Lift motor | 20 kW |
| Tow Truck | |
| Nominal towing capacity | N/A N |
| Orderpicking/Combitrucks | |
| Max. picking height | N/A mm |
Miscellaneous
This model is a
Newly developed model
Date of rollout
2019-01-15
Start of series production
2019-05-24
Competitive products
4000KG Counterbalance Trucks
Multi-Directional Reaching Mast Truck
Video
http://youtu.be/Eb7vUB3J3TQ
Innovations
The Combi-CB was the first forklift on the worldwide market to combine compact counterbalance design with multidirectional capability. The Combi-CBE model in question is the world's first counterbalance design, multidirectional forklift with drive on all of its three wheels. This product incorporates Combilift's unique innovation in the form of 100 percent traction control, therefore negating the need for differential lock on slippery surfaces. By inputting the wheel-base parameters, the traction commands are calculated by the control system. As the truck drives and steers, the speed and rotational direction of the wheels are controlled independently, allowing the truck to negotiate tight turns with no tyre wear. A major advantage of this is precise acceleration and deceleration control for the operator, significantly reducing long load momentum twisting when travelling sideways. Each electric drive incorporates parking and regenerative dynamic braking for power efficiency.
Market relevance
The product is of high relevance to the market across a wide range of industry sectors. It encapsulates everything that customers require to enable versatile, productive and space saving operation when lifting heavier loads of up to 4,000kg, with the additional benefit of electric power and all-wheel drive/traction. This is in line with the growing demand for higher capacity electric forklifts due to, for example, the wish for powerful performance whilst achieving reduced emissions and quieter operation. The counterbalance concept is a familiar one to companies and operators so readily accepted on the market, but the Combi-CBE offers additional benefits of very compact dimensions, multidirectional ability and the capability to handle long loads as well as pallets. Combilift foresees high potential for this product due to its versatility and also in regions where emissions guidelines are becoming ever more stringent (inner city operations for example).
Customer Benefit
For customers that handle a mix of loads such as builders merchants for example, the Combi-CBE is very beneficial as its ability to move pallets and long products make it a universal truck which can replace a number of other types for more cost effective and efficient operation. Using one machine to do the job of multiple pieces of equipment lowers capital expenditure or rental costs, reduces the need for operator training on different forklifts and can reduce insurance costs. Its super elastic tyres allow it to work effortlessly indoors and out and on all types of terrains. Its versatility enables it to work inside containers, offload from HGVs, bring product directly to racking or free stacking areas, as well as to production lines. AC electric drive means that there are no mechanical brushes to maintain or replace. The components used are all standard components from mainstream manufacturers, easily available wherever in the world the truck is operating for straightforward maintenance and service. The directional lever is easy to use, making the transition from forward to reverse  directional modes through to the sidewards directional modes intuitive and effortless.
Optional items (IFOY Test Truck)