IFOY Patronage
IFOY Sponsor
IFOY Partner
Messe Dortmund is official partner of the IFOY AWARD.
Cascade is official partner of the IFOY AWARD.
CHEP is official partner of the IFOY AWARD.
GARBE Industrial Real Estate is official partner of the IFOY AWARD.
LTG is official partner of the IFOY AWARD.
Fliegl is official partner of the IFOY AWARD.
TORsten

Torwegge GmbH Co. KG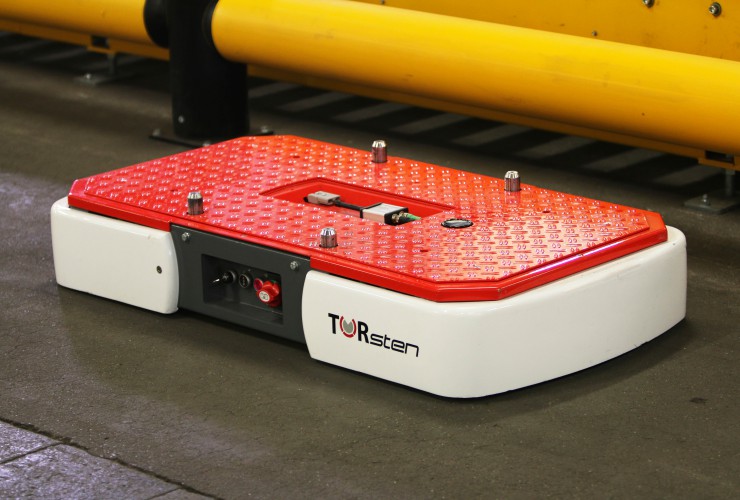 Torwegge's TORsten
Torwegge
IFOY-Kategorie
Fahrerlose Transportsysteme / Automated Guided Vehicles
Zusammenfassung
TORsten ist ein modulares Unterfahr-FTS, das durch unterschiedliche Plattformen den Transport gängiger industrieller Ladungsträger sowie Einzelbauteile mit einem Gewicht bis zu sieben Tonnen ermöglicht. Dabei navigiert TORsten autonom im Raum und plant seine Routen selbstständig.
Im Zentrum der Konstruktion stand die Flexibilität, die ein FTS im Alltag aufweisen muss. Es wurden bereits diverse Transportfahrzeuge für Unternehmen aus verschiedenen Branchen realisiert, die nur die Bewegung als kleinsten gemeinsamen Nenner hatten. Mit TORsten stellt Torwegge ein für vielfältige Zwecke modifizierbares FTS vor, entstanden durch starke Partnerschaften von Torwegge mit Einrichtungen in Forschung und Entwicklung. Anstatt immer wieder kundenindividuelle Fahrzeuge zu entwickeln, muss für TORsten lediglich die Transportplattform für den jeweiligen Anwendungsfall konzipiert werden. Dadurch ist das FTS einfach skalierbar und ohne großen Aufwand in verschiedensten Branchen variabel einsetzbar. Zudem lässt es sich an gängige ERP-Systeme anbinden.
In der Standardausführung ist TORsten gerade einmal so groß wie eine Europalette und nur 210 mm hoch, wodurch er über ein schlankes und modernes Design verfügt.
Innovationen
Das auffälligste Merkmal von TORsten ist das omnidirektionale Antriebskonzept aus dem Hause SEW Eurodrive. Dieses ermöglicht nicht nur Bewegung auf engstem Raum, sondern auch Drehungen um die eigene Achse. Letzteres macht TORsten zum perfekten Montagehelfer: Der Monteur kann das Bauteil bequem rotieren lassen, anstatt sich selbst um das Element herum zu bewegen.
Eine weitere Innovation ist die autonome Navigation im Raum. Die Software hierzu wurde in Kooperation mit der RWTH Aachen entwickelt und basiert auf der Adaptiven Monte-Carlo-Lokalisierung. Diese ist äußerst robust und gewährleistet neben einer präzisen Positionsbestimmung in Echtzeit auch eine flexible Routenführung sowie lokale Kollisionsvermeidung. TORsten erkennt dynamische Hindernisse und sucht selbstständig und in Echtzeit die kürzeste Alternativroute. Die Routenplanung erfolgt dabei auf Grundlage eines 2D-Layouts der Umgebung, das entweder über eine grafische Softwareschnittstelle eingespielt oder von TORsten dank SLAM (Simultaneous Localization and Mapping) selbstständig erlernt werden kann. Dadurch sind auch bei Veränderungen der Umgebung durch Umstrukturierungen oder Umzüge keine zusätzlichen Baumaßnamen erforderlich, wie es beispielsweise bei induktionsschleifengeführten Fahrzeugen der Fall ist. Die Effizienz des Einsatzes von TORsten in einem Unternehmen wird durch die Möglichkeit der Anbindung an gängige ERP-Systeme noch maximiert.
Konkurrenzprodukte
Grenzebach L1200S
Steeron AGV (2-IT GmbH)
MLR Motormouse
Bewerbungsunterlagen
PDF-Datei zur Bewerbung: IFOY-Bewerbung_Anhang.pdf
Video: TORsten - 3D Anwendungsszenario
---
| | |
| --- | --- |
| Truck Name |  Torwegge TORsten |
| Truck Type |  AGV |
| Date of Test |  IFOY 2017 |
Testbericht
TORsten ist ein innovatives und flexibles FTS-Konzept, das von Torwegge – in enger Zusammenarbeit mit SEW und der RWTH Aachen Universität – entwickelt wurde. Das Konzept arbeitet mit verschiedenen Ladungsträger, die je nach Kundenwunsch mit Regalen oder Behältern ausgestattet sind.
TORsten fährt unter die Plattform und bewegt je nach Ausführung Lasten bis zu 7,5 Tonnen und hebt Lasten bis zu 3 Tonnen. Das IFOY Testfahrzeug hatte eine Tragfähigkeit von 1.200 kg. Es navigiert mit Lasersensoren und adaptiver Monte-Carlo-Lokalisierung. Für die Routenplanung wird ein virtuelles "Straßennetz" ausgerollt.
Einzigartig an diesem Konzept ist die Tatsache, dass die Intelligenz vollständig dezentralisiert ist; jedes FTS ist in der Lage, unabhängig den kürzesten Weg über das Straßennetz zu bestimmen und kann abweichen, falls Kollisionen drohen. Weiterhin wird in schmäleren Passagen oder wenn sich ein Hindernis nähert die Fahrgeschwindigkeit verringert.
Zudem kommunizieren die FTS miteinander und können Prioritäten, kürzesten Wege und eine optimale Nutzung berücksichtigen.
Dank omnidirektionaler Räder sind die FTS in der Lage, in jede beliebige Richtung zu fahren  oder sogar um ihre eigene Achse zu drehen. Die Räder werden einzeln von einem SEW-Antriebsmodul direkt angetrieben, das die Daten an das Navigationssystem überträgt. Die komplette Odometrie ist also in die FTS-Plattform integriert.
Sowohl über akustische, als auch optische (LED-)Signale signalisiert das FTS an seine Umgebung, wenn ein Auftrag gestartet oder beendet wird. Einen integriertes Sprachmodul unterstützt zudem Text-to-Speech. Sprachbefehle können so über das System an den Benutzer weitergeleitet werden.
Sick-Sicherheitsscanner gewährleisten den sicheren Einsatz.
IFOY Testfazit:
FTS-Konzepte an sich sind nicht neu, aber dank der dezentralen Intelligenz und der Verwendung innovativer Technologien erweitert TORsten die Möglichkeiten für die Automatisierung in der Intralogistik wesentlich.
IFOY Innovation Check
Marktrelevanz
TORsten ist ein neues Fahrerloses Transportfahrzeug der Firma Torwegge, das sich durch seinen modularen Aufbau und die Fähigkeit zu omnidirektionalen Fahrbewegungen auszeichnet. Beim Blick in das Chassis fällt sofort die klare Einteilung der Funktionsbereiche zu Hub, Fahren und Steuern auf. Die 4 Mecanum-Räder sind federnd gelagert, um den permanenten Kontakt zur Fahrbahn sicherzustellen. Durch die niedrige Bauweise mit einer Höhe von nur 235 mm ist das FTF in der Lage, unterschiedliche Transportplattformen zu unterfahren, anzuheben und zu befördern. Der im Fahrzeug verbaute Hub verspricht eine Tragfähigkeit von 1.200 kg, etwa für Plattformen oder Rollwagen. Alternativ ist der Einsatz in einer angepassten Ausführung als Zugfahrzeug für Lasten bis zu 7 Tonnen vorgesehen. Die Bedienung kann autonom und manuell per Fernbedienung erfolgen. Im autonomen Betrieb wird ein 2D-Hallenlayout zur Positionsbestimmung und Navigation genutzt. Ein Algorithmus berechnet die bestmögliche Strecke und passt diese bei Hindernissen an. Die Sicherheit der Mitarbeiter im Lager wird durch zwei Laserscanner gewährleistet, die durch zwei weitere Laserscanner ohne Sicherheitszulassung für die Navigation ergänzt werden. Blei-Kristall Akkumulatoren stellen sicher, dass TORsten mindestens eine Schicht ohne Nachladung genutzt werden kann. Das Laden der Akkus erfolgt induktiv oder über Kontakte. Der modulare Aufbau von TORsten, mit der Möglichkeit verschiedene Transportplattformen für unterschiedliche Ladungsträger zu nutzen, sorgt für ein breites Anwendungsspektrum und damit für eine sehr gute Marktrelevanz.
Kundennutzen
Der Kundennutzen resultiert aus den flexiblen Einsatzmöglichkeiten, bedingt durch die Trennung von FTF und Transportmittel sowie die vielfältigen Gestaltungsmöglichkeiten des Lastträgers. Montageplattformen können von TORsten im entsprechenden Montagebereich abgestellt werden und nach der Montage wieder aufgenommen werden. In der Zwischenzeit können andere (Transport-) Aufgaben erledigt werden. Der omnidirektionale Antrieb erlaubt das Abstellen der Transportplattformen dicht nebeneinander und damit eine hohe Flächennutzung. Je nach Gestaltung des Lastträgers ist auch eine automatische Übergabe etwa von Paletten möglich. Zudem erhöht die optionale selbstlernende Navigation den Kundennutzen.
Durch die Kooperation des Anbieters mit der Firma SEW EURODRIVE ist eine hohe Prozesssicherheit durch gut eingeführte Technologien mit entsprechenden Servicedienstleistungen gewährleistet. Aufgrund der vielfältigen Nutzungsmöglichkeiten mit der autonomen und auf Wunsch selbstlernenden Navigation ist der Kundennutzen als hoch einzustufen.
Neuheitsgrad
Der Innovationsgrad der einzelnen Eigenschaften für sich genommen ist nicht so hoch, da sie bereits zuvor am Markt verfügbar waren. Am Markt sind sowohl FTF mit modularem Aufbau, als auch omnidirektional verfahrbare Fahrzeuge und solche mit hoher Tragfähigkeit bzw. Zugkraft vorhanden. Der Neuheitsgrad entsteht jedoch vor allem in der Verbindung der verschiedenen Eigenschaften von TORsten. Zu nennen sind der modulare Aufbau in dem sehr kompakten Fahrzeug, gekoppelt mit der Beweglichkeit in der Fläche (omnidirektionaler Antrieb) und der sehr hohen Tragfähigkeit und Zugkraft.
Funktionalität / Art der Umsetzung
Das Fahrzeug zeichnet sich durch die kompakte und robuste Bauweise und die für den operativen Einsatz wichtige Ordnung und Zugänglichkeit der Standardkomponenten im Chassis aus. Auch das Fahrverhalten im Testaufbau zeigt, dass das Fahrzeug den einfachen Kurs zwischen Start- und Zielpunkt des Transportauftrags sicher abfährt. Trotzdem bleibt die hohe Geräuschverursachung durch den Mecanum-Antrieb eine Einschränkung, die beim Einsatz in der Industrie berücksichtigt werden muss.
---
Marktrelevanz

++

Kundennutzen

+

Neuheits- / Innovationsgrad

+

Funktionalität  / Art der Umsetzung

+

++ sehr gut / + gut / Ø ausgeglichen / - weniger / - - nicht vorhanden
TORsten

Torwegge GmbH Co. KG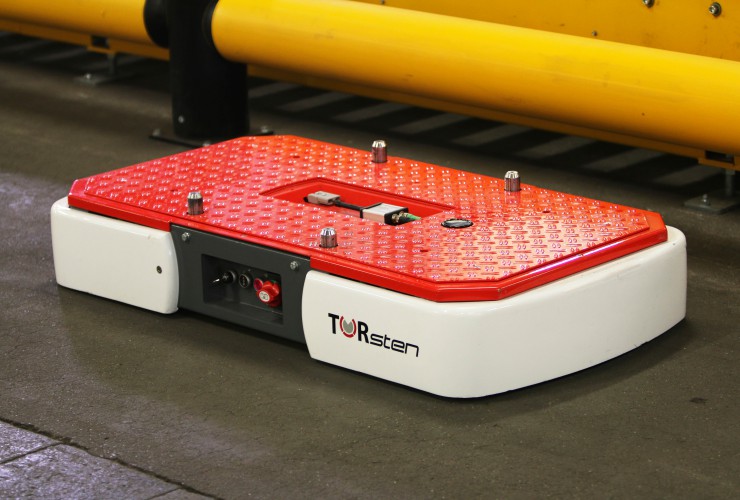 Torwegge's TORsten
Torwegge
IFOY Category
Automated Guided Vehicles
Summary
TORsten is a modular drive unit for AGVs (automated guided vehicles) available with various platforms for the transport of individual parts and industrial load carriers up to a weight of 7 t. The TORsten navigates the room and plans its routes without the need of operator input.
Its key feature is its versatility, as demand AGVs that can be used for a wide range of tasks. Before developing TORsten, there have been built a number of bespoke transport vehicles for customers in various industries. These vehicles however, had only one thing in common: they were able to move loads. With TORsten Torwegge introduces the next logical step forward, as it allows to offer AGVs for virtually any transport job. For its development, Torwegge worked closely together with R&D institutions. Instead of designing customised transport vehicles from scratch, the engineers now only need to configure a TORsten transport platform that suits the needs of the customer. TORsten is therefore highly scalable and can be modified at minimum cost to suit a wide range of industries and applications. The vehicles can of course be integrated into all standard ERP systems.
The TORsten standard model is the size of a Euro pallet and only 235 mm high, and its compact modern look catches the eye.
Innovations
The most striking feature of the TORsten is its omnidirectional drive unit from SEW Eurodrive. It enables the vehicle to manoeuvre safely where space is confined, and even rotate around its own axis. This makes the TORsten the perfect assembly aid, as fitters can simply rotate the component part rather than walk around it.
Another innovative feature is the autonomous navigation of the TORsten. The software has been developed in cooperation with RWTH Aachen and is based on Adaptive Monte Carlo Localisation. This tried and tested technology is not only extremely reliable but also allows for accurate real-time position detection as well as flexible routing and local collision prevention. The TORsten automatically detects obstacles and identifies the shortest alternative route in real time. Route planning is based on a 2D layout of the working environment, which is loaded through the graphic software interface or autonomously developed through a self-learning SLAM (Simultaneous Localization and Mapping) algorithm. In contrast to transport vehicles guided along an inductive loop, there is therefore no need for additional construction work or reprogramming when the working environment of the TORsten changes. The efficiency of the TORsten can be optimised further through integration into the existing ERP system.
Competitive Products
Grenzebach L1200S
Steeron AGV (2-IT GmbH)
MLR Motormouse
Entry Documents
PDF-file of entry: IFOY-application-documentation.pdf
Video: TORsten - 3D Anwendungsszenario
---
| | |
| --- | --- |
| Truck Name |  Torwegge TORsten |
| Truck Type |  AGV |
| Date of Test |  IFOY 2017 |
Test Report
TORsten is an innovative and flexible AGV concept developed by Torwegge – in close cooperation with SEW and the RWTH Aachen University. The concept uses different load carriers that can be fitted with shelves or containers to meet customer specifications.
TORsten drives under the platform and, depending on the version, can move loads of up to 7.5 tons and lift loads of up to 3 tons. The machine in the IFOY Test had a load capacity of 1,200 kg. It navigates its route with laser sensors and adaptive Monte Carlo localisation. A virtual "route network" is rolled out for navigation planning.
The unique feature of this concept is that its intelligence is completely decentralised; each AGV is able to determine the shortest route via the route network and can avoid potential collisions. Driving speed is also reduced in narrower aisles or when approaching an obstacle.
In addition, the AGVs communicate with each other and can take the parameters for priorities, the shortest routes and optimum utilisation into consideration.
Thanks to omnidirectional wheels, the AGVs can drive in any direction and even rotate about their own axis. The wheels are individually direct-driven by an SEW drive module that transmits the data to the navigation system. This means that the entire odometrics are integrated in the AGV platform.
The AGV uses both acoustic and optical (LED) signals to inform its environment when an order is begun or completed. In addition, an integrated speech module supports text-to-speech, which means that voice commands can be forwarded to the user via the system.
Safety scanners supplied by Sick ensure safe operation.
IFOY test verdict:
AGV concepts are nothing new, but the decentral intelligence concept and the use of innovative technology in TORsten significantly extend the options for automation in intralogistics.
IFOY Innovation Check
Market Relevance
TORsten is a new autonomous guided vehicle from the Torwegge company characterised by its modular design and the ability to perform omnidirectional travel movements. A look at the chassis immediately shows the clear layout of the functional elements for lifting, driving and steering. The 4 Mecanum wheels are spring-mounted to ensure permanent contact with the floor surface. Thanks to its low design with a height of just 235 mm, the AGV is able to drive underneath, lift and move different transport platforms. The lift device integrated in the vehicle has a load capacity of 1,200 kg, suitable for such things as platforms or trolleys. An adapted version is also available for use as a tugger for loads of up to 7 tons. Operation is either autonomous or manually via remote control. In autonomous mode, a 2D hall layout is used for positional determination and navigation. An algorithm calculates the best possible route and adapts the route if there are any obstacles. The safety of personnel in the warehouse is assured by two laser scanners that are supplemented by two further laser scanners without safety approval for navigation purposes. Lead-crystal batteries ensure that TORsten can operate for at least one shift without having to be recharged. Charging of the batteries is inductive or via contacts. The modular design of TORsten allowing the use of different transport platforms for different load carriers makes for a wide spectrum of potential applications, underpinning the very high market relevance of the machine.
Customer Benefit
Customer benefit is based on the flexible application options thanks to the separation of AGV and means of transport as well as the wide-ranging design options of the load carrier. TORsten can place assembly platforms in the corresponding assembly area and take them up again when assembly work is complete – and can perform other (transport) tasks in the intervening period. The omnidirectional drive concept means that transport platforms can be set down close to one another, and this maximises space utilisation. Depending on the design of the load carrier, automatic transfer of objects such as pallets is also possible. The optional self-learning navigation system additionally enhances customer benefit.
Cooperation of the manufacturer with the SEW EURODRIVE company guarantees high process reliability based on proven technologies backed up by the necessary services. In view of the versatile utilisation options and the optional self-learning navigation system, customer benefit is to be assessed as "high".
Degree of Novelty
The degree of innovation of the individual properties taken by themselves is not so high, as these properties are already available in the market. AGVs of modular design as well as omnidirectional-travel vehicles and machines with high load capacity or traction power already exist. The degree of novelty in this case, however, is underpinned by the way in which these properties are "merged" in TORsten. Features that are worthy of mention include the modular design of this extremely compact vehicle combined with agility on the ground thanks to the omnidirectional drive concept, and the very high load capacity and traction power.
Functionality / Type of Implementation
The vehicle is characterised by its compact and robust design as well as the layout and accessibility of the standard components in the chassis, something that is of central importance when it comes to operational applications. The driving characteristics in the test set-up also showed that the vehicle reliably traversed the simple route between the starting and end point of the transport order. One limitation remains, however: the high noise levels due to the Mecanum wheels – a factor that must be taken into account for industrial applications.
---
| | |
| --- | --- |
| Market relevance | ++ |
| Customer benefit | + |
| Degree of novelty / innovation | + |
| Functionality  / Type of implementation | + |