IFOY Patronage
IFOY Sponsor
IFOY Partner
Messe Dortmund is official partner of the IFOY AWARD.
Cascade is official partner of the IFOY AWARD.
CHEP is official partner of the IFOY AWARD.
GARBE Industrial Real Estate is official partner of the IFOY AWARD.
LTG is official partner of the IFOY AWARD.
Fliegl is official partner of the IFOY AWARD.
iGo neo CX 20

STILL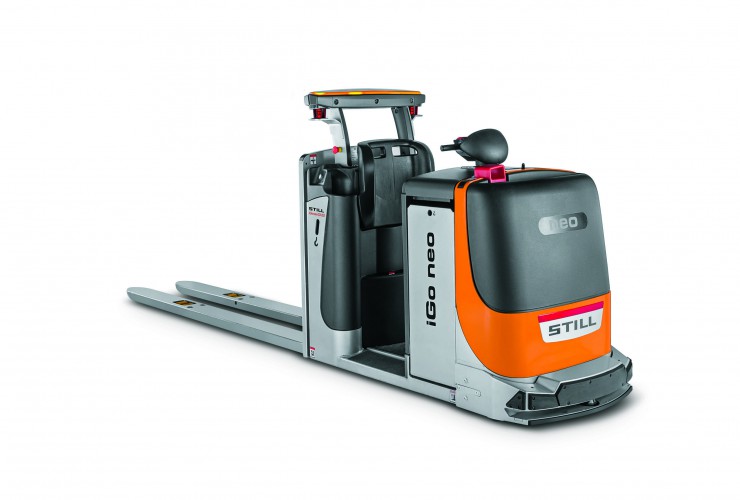 IFOY-Kategorie
Warehouse Truck
Kurzcharakteristik
Die Zukunft der intelligenten Horizontalkommissionierung hat einen Namen: STILL iGo neo CX 20.Der weltweit erste autonome Horizontalkommissionier schließt die Lücke zwischen Robotik und Intralogistik. Das Fahrzeug verfügt über eine lasergestützte Umgebungserkennung, mit der die gesamte Lagertopologie erkannt wird. Neben Regalen oder Hindernissen erkennt das System den Bediener und andere Personen und kann sich dadurch unabhängig von individuellen örtlichen Gegebenheiten in den aktuellen Materialfluss einreihen. Den Schritt von der klassischen Automatisierung zum autonomen Betrieb bewältigt das Flurförderzeug ohne jede Voreinstellung, Infrastruktur oder externe Fernsteuerung und ist damit sofort einsatzbereit. Mit Hilfe seines sensorgestützten Sichtfeldes navigiert das Flurförderzeug in frei wählbarem Abstand zur Regalkontur und beachtet bei Hindernissen oder gegenüber anderen Fahrzeugen die Verkehrsregeln. Erstmalig ist damit eine sichere Konvoifahrt von autonomen und konventionellen Flurförderzeugen möglich. Mit seiner nur 80 Zentimeter schmalen Kontur und einer Nenntragfähigkeit von 2.000 kg, wird der iGo neo CX 20 zum flexiblen und autonomen Begleiter in jedem innerbetrieblichen Umfeld. Dank "Automation on Demand" kann der Bediener jederzeit frei entscheiden, ob er das Fahrzeug manuell oder autonom einsetzen möchte. Dabei spielt es keine Rolle, ob der Bediener rechts, links oder beidseitig kommissioniert. Der iGo neo CX 20 bleibt stets ein Teamplayer auf Augenhöhe.
Video: Autonomous order picker iGo neo CX 20 - The smart way
---
| | |
| --- | --- |
| Truck Name |  STILL iGo neo |
| Truck Type |  Low-Level Order-Pick Truck |
| Date of Test |  IFOY 2017 |
Testbericht
Anfang 2016 führte Still den ersten Roboter-Kommissionierer STILL iGo neo ein. Der iGo neo erkennt automatisch "seinen" Kommissionierer. Dieser kann den Stapler auf Wunsch in Bewegung halten, ohne dass jeweils ein erneutes Aufsteigen erforderlich ist. Steigt der Operator vom Kommissionierer ab und drückt eine Taste an der Seite des Geräts, behält der iGo neo mit seinem 360º-Scanner seinen Operator "im Auge". Geht der Kommissionierer zur nächsten Kommissionierstelle, dann folgt ihm der iGo neo automatisch und berücksichtigt dabei gleichzeitig den richtigen Abstand zum Regal sowie alle Hindernisse auf dem Weg. Bleibt der Operator stehen, dann stoppt der iGo neo neben ihm.
Der IFOY Test zeigt, dass die Einsparungen im Vergleich zum konventionellen Kommissionieren spektakulär sind.DeriGo neo ist in allen Test-Layouts effizienter und produktiver, sobald das Mitlauf-Prinzip genutzt wird. Das Test-Team erreichte ein Plus bis zu 47 Prozent. Dank der Dynamik mit der sich das Gerät zeitgleich zum Bediener bewegt, können die Vorteile voll ausgeschöpft werden. Dies zeigte auch eine insinuierte Idealfahrt mit einem zusätzlichen Bediener, der den Stapler immer genau an der richtigen Stelle für den Kommissionierer positionierte.
Der einschränkende Faktor ist nicht mehr der Stapler und seine Bedienung, sondern die Geschwindigkeit des Gehens.
Während der Arbeit fällt auf, dass der Still iGo neo alle Sicherheitsanforderungen im Auge hat. Er weicht aus und stoppt bei Bedarf, um Kollisionen zu vermeiden. Der Ende-Gang-Stopp funktioniert ebenso exakt, wie die Erkennung des Operators.
Mit der Fernbedienung, die der Operator am Oberarm trägt, kann den iGo neo angehalten oder geholt werden. Darüber hinaus kann man damit die Seite des Ganges wechseln oder eine vorprogrammierte Haltestelle wählen, damit der iGo neo die entsprechende Palette oder den Container automatisch anbietet und so Gehstrecken weiter minimiert werden.
Raum für Verbesserung bietet jedoch sowohl die Gestaltung als auch das Handling der Fernbedienung.
In Zukunft wäre es dank der Möglichkeiten der Robotik denkbar, dass das automatische Folgen und die Ausrichtung des Fahrzeugs nicht per Fernbedienung, sondern mittels Gestenerkennung und mit Hilfe des 360º-Scanners oder einer neuen Technologie automatisch erfolgt. So könnte der Stapler wie dies bereits bei Gegenständen und Hindernissen bereits jetzt der Fall ist, dann auch einen Wechsel des Operators automatisch erkennen.
Auch eine Vernetzung mit LVS oder Voice-Systemen wäre denkbar.
Der iGo neo bietet die gleichen Vorteile, die bereits bei anderen Remote-Kommissionierer zu sehen waren: Die Arbeit ist angenehm, einfacher, effizienter und deutlich weniger belastend, weil der Operator nicht immer wieder auf- und absteigen muss. Hinzu kommt, dass der Stapler selbst weniger Energie braucht.
Darüber hinaus bietet der iGo Neo den Vorteil, dass keine Taste oder Sensor gedrückt werden muss. Der Kommissionierer hat tatsächlich beide Hände frei um die Waren zu greifen, halten und positionieren. Außerdem lädt die erhöhte Dynamik des Staplers selbst auf längeren Strecken zum Mitgehen ein. Die Bewegungsgeschwindigkeit des Operators bestimmt dabei die Geschwindigkeit des Staplers. Dies erlebte das Test-Team als sehr angenehm.
IFOY Testfazit:
Mit dem iGo neo zeigt Still, dass Innovationen in der Robotertechnik einen wertvollen Beitrag zur intelligenten Intralogistik leisten. Pluspunkte sind insbesondere die hohe Leistung, die einfache Bedienung und die zahlreichen Perspektiven.
Hard Facts
| | | | |
| --- | --- | --- | --- |
|   | Test Truck IFOY Test | Average other trucks | Value 1 to 10 |
| Productivity stand on (picks / h) |  282 |  303 |  7 |
| Productivity remote (picks / h) |  415 |  343 |  9 |
| Energy level stand one (kWh / 1000 picks) |  2.8 |  3.3  |  8 |
| Energy level remote (kWh / 1000 picks) |  2.6 |  2.6 |  7 |
| Driving speed stand on (km/h) |  12.27 |  12.9 |   |
| Driving speed remote (km/h) |  12.27 |  4 |   |
| Acceleration time with load (time for 10 meters) |  4.4 |  5  |   |
| Acceleration time without load (time for 10 meters) |  4.4 |  8.9 |   |
Averages soft facts
| | |
| --- | --- |
| First impression |  8.20 |
| Load Safety |  8.00 |
| Entry / exit truck |  8.25 |
| Working position |  8.00 |
| Activate truck |  7.67 |
| Hydraulics |  7.40 |
| Steering |  7.71 |
| Sight |  8.33 |
| Driving & Turning |  7.88 |
| Parking truck |  8.00 |
| Safety elements |  8.25 |
| General after test |  8.13 |
| Sustainability |  8.00 |
|   |   |
| Total average soft facts |  7.99 |
| Total productivity |  8.00 |
| Total Energy consumption |  7.50 |
IFOY Innovation Check
Marktrelevanz
Horizontalkommissionierer stellen ein relevantes Segment im Gesamtmarkt für Flurförderzeuge dar. Der STILL iGo neo CX20 kann ohne zusätzliche technische Maßnahmen in jedem Horizontalkommissionierer-Lager eingesetzt werden. Die Marktrelevanz des iGo neo ist daher als hoch einzuschätzen. Denn er bietet ein deutliches Mehr an Kundennutzen. Ob es dem autonomen Kommissionierer gelingen wird einen großen Marktanteil zu erreichen, hängt letztendlich auch von der Kostennutzenrelation ab. Denn die aufwändige Sensor- und Steuerungstechnologie wird es nicht zum Nulltarif geben.
Kundennutzen
Der durch die technischen Innovationen des iGo neo, wie die lasergestützte Umgebungserkennung, die intuitiv bedienbare Kommunikationsschnittstelle und das autonome Fahren erreichte Kundennutzen ist als sehr hoch einzustufen. Denn die Mitarbeiterinnen und Mitarbeiter im Kommissionierlager können sich dank des iGo neo voll auf das Wesentliche ihrer Arbeit, nämlich die richtigen Artikel aus dem richtigen Lagerfach in der richtigen Anzahl zu entnehmen, konzentrieren. Außerdem werden sie von physischen Beanspruchungen entlastet. Betreiber eines Kommissionierlagers können eine deutlich höhere Kommissioniererleistung und eine geringere Fehlerrate erwarten. Da der iGo neo problemlos zusammen mit konventionellen Horizontalkommissionierern eingesetzt werden kann, lässt sich die neue Kommissionierzonentechnologie mit geringem Aufwand erproben und die Fahrzeugflotte sukzessive umstellen.
Neuheitsgrad
Auch wenn bereits in den frühen 1990 er Jahren erste Versuche zur Automatisierung von Horizontalkommissionierern unternommen wurden, stellt der iGo neo ohne Frage einen Meilenstein in der Entwicklung autonomer Flurförderzeuge dar. Seine lasergestützte Umgebungserkennung verleiht ihm kognitiven Fähigkeiten, die zusammen mit der intelligenten Fahrzeugsteuerung das selbstständige Folgen des Bedieners ermöglicht. Sowohl das Bedienkonzept als auch die eingesetzte Sensor- und Steuerungstechnologie sind hoch innovativ.
Funktionalität / Art der Umsetzung
Die Funktionen sind sehr professionell umgesetzt und das Fahrzeug lässt sich intuitiv bedienen. Die Erkennung und Überwachung des Bedieners erfolgt zuverlässig. Beim Innovation Check konnte aufgrund der kürzeren Gehwege deutlich schneller kommissioniert werden.
---
Marktrelevanz

+

Kundennutzen

++

Neuheits- / Innovationsgrad

++

Funktionalität  / Art der Umsetzung

++

++ sehr gut / + gut / Ø ausgeglichen / - weniger / - - nicht vorhanden
---
Datenblatt
Gerätetyp
Horizontalkommissionierer
Technische Daten (alle Geräte)
| | |
| --- | --- |
| Antrieb | Elektro |
| Tragfähigkeit | 2000 kg kg |
| Eigengewicht | 1228 kg kg |
| Bedienung | Stand |
| Fahrgeschwindigkeit mit Last | autonom 6,1 km/h; manuel 9 km/h km/h |
| Fahrgeschwindigkeit ohne Last | autonom 6,1 km/h; manuel 12,5 km/h km/h |
| Hubgeschwindigkeit mit Last | 0,13 m/s m/s |
| Hubgeschwindigkeit ohne Last | 0,2 m/s m/s |
| Senkgeschwindigkeit mit Last | 0,12 m/s m/s |
| Senkgeschwindigkeit ohne Last | 0,09 m/s m/s |
| Max.Hubhöhe | 130 mm |
| Energieverbrauch nach VDI-Arbeitsspiel | 0,99 kWh/h |
| Elektro-Trucks | |
| Batteriespannung | 24 V V |
| Batteriekapazität | 450 Ah Ah |
| Batterieanschluss | DIN Rema |
| Batteriegewicht | 410 kg kg |
| Leistung Fahrmotor | 3,0 kW kW |
| Leistung Hubmotor | 2,2 kW kW |
| Schlepper | |
| Nennzugkraft | N |
| Kommissionierer/Kombigeräte | |
| Max. Greifhöhe | 1600 mm mm |
Sonstiges
Innovationen
Die wichtigsten Innovationen des iGo neo CX 20 stecken in seiner Intelligenz. Dank seines 360 Grad sensorgestützten Sichtfeldes ist das Fahrzeug jederzeit in der Lage auf eine sich ändernde Umgebung zu reagieren. Dabei unterscheidet der iGo neo genau zwischen statischen und dynamischen Objekten sowie Personen. Auch das Erkennen seines Bediener erfolgt ohne Vorinstallation oder Fernbedienung. Dabei werden die Absichten des Bedieners anhand von dessen Bewegungen erkannt und machen den iGo neo CX 20 so zum ersten Kommissionierer mit kognitiven Fähigkeiten. Die 180 Grad-Panoramaerkennung des frontseitigen Laserscanners ermöglicht ein vorausschauendes Fahren und damit das frühzeitige Erkennen und intelligente Einschätzen von Hindernissen mit einem jederzeit angepassten, sanften Fahrverhalten. Beschädigungen der auf den Gabeln befindlichen Gebinde durch spontane Vollbremsungen gehören damit der Vergangenheit an. 250.000 Mal pro Sekunde wird die Umgebungssituation von den Sensoren aufgenommenen und die aktuelle Lagertopologie vom Rechner in Echtzeit interpretiert und verwertet.
Eine am Gerät angebrachte Optical Signal Unit signalisiert mit einer Art visuellem Pulsschlag sowie eines einfachen Lichtcodes den jeweils aktuellen Arbeitsmodus. Dieses neuartige, nonverbale, User Interface ermöglicht den Einsatz des Fahrzeuges über Sprach-, Kultur- und Altersgrenzen hinweg ohne jedes vorhergehende Training.
Hauptziele der Entwicklung
Das Hauptziel der Entwicklung des iGo neo CX 20 war es das Kommissionieren sowohl sicherer als auch effizienter zu gestalten und dabei gleichzeitig für eine Entlastung des Bedieners zu sorgen. Um dieses Ziel zu erreichen, wurde der Bediener in den Mittelpunkt der Entwicklung gestellt. Die Idee war, dem Bediener keinen klassischen Kommissionierer, sondern vielmehr einen intelligenten Teampartner, der ihm die Arbeit erleichtert, zur Seite zu stellen.
Sämtliche Aktivitäten, wie beispielsweise das Auf- und Absteigen sowie das Zurücklegen zusätzlicher Laufwege während des Kommissionierens sollten reduziert werden, um so ein ungehindertes und fehlerfreies Picking durch den Bediener zu ermöglichen.
Darüber hinaus galt es Personenunfälle sowie Gewaltschäden an den Fahrzeugen während des Kommissionierprozesses zu verhindern.
Auch die Bedienung des Fahrzeuges sollte einfach und intuitiv gestaltet werden. Dazu sollte das Fahrzeug alleine auf die Bewegungen des Bedieners reagieren, wodurch ein Fernbedienung oder andere Steuerungselemente überflüssig werden.
Um den Herausforderungen der Globalisierung gerecht zu werden, sollte die Kommunikation zwischen dem Bediener und dem iGo neo CX 20 möglichst intuitiv und sprachneutral gestaltet sein.
Zudem sollte die Implementierung in ein bereits bestehendes Lager möglichst flexibel und ohne jegliche Anpassung der Infrastruktur, wie beispielsweise die Installation von WLAN, Reflektoren oder RFID-Chips, möglich sein.
Kundennutzen
Die Vorteile des iGo neo CX 20 liegen in der bereitgestellten Intelligenz: Die lasergeschützte Umgebungserkennung kann sowohl statische- als auch dynamische Objekte sowie Personen in einem Umfeld von bis zu 15 m unterscheiden. Dadurch kann sich das autonom agierende Fahrzeug jederzeit flexibel an die aktuelle Umgebungssituation anpassen, so dass Gewalt- sowie Personenschäden minimiert werden.
Der iGo neo CX 20 unterstützt den Bediener während des Kommissionierens wie ein autonomer Teamkollege und sorgt zugleich für dessen Entlastung. So kann der Bediener den Abstand zwischen dem Regal und dem Fahrzeug jederzeit individuell an seine Bedürfnisse anpassen. Darüber hinaus kann der Bediener wählen, ob das Fahrzeug mittig der ersten oder der zweiten Palette anhalten soll. Damit ist ein ergonomisches Kommissionieren stets gewährleistet.
Der iGo neo CX 20 wird durch die Bewegungen seines Bedieners gesteuert und folgt diesem auf Schritt und Tritt, ganz gleich ob dieser links, rechts oder sogar mittig vom Fahrzeug kommissioniert. Dadurch werden Laufwege minimiert und das Auf- und Absteigen während des Kommissionierens um bis zu 75 Prozent reduziert. Gleichzeitig wird die Gesamtleistung des Kommissionierprozesses um bis zu 30 Prozent gesteigert.
Sämtliche Information werden sprachneutral über die am Heck befindliche LED-Signaleinheit sowie die Motiontracking-Sensoren dargestellt.
Durch das Aufsteigen auf das Fahrzeug kann der Bediener jederzeit in den manuellen Modus wechseln und sich eigenständig im Lager bewegen.
Sonderausstattung (IFOY Test-Gerät)
iGo neo CX 20

STILL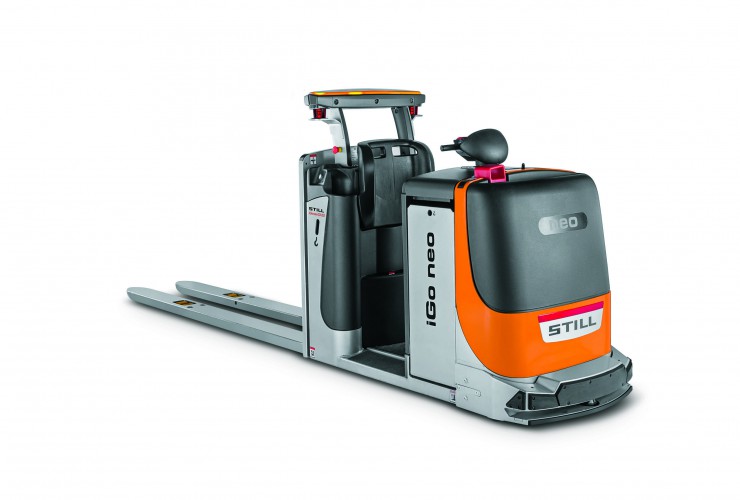 IFOY Category
Warehouse Truck
Short Characteristic
The future of smart horizontal order picking now has a new name: STILL iGo neo CX 20. The worldwide first autonomous horizontal order picker closes the gap between robotics and intralogistics. The truck is equipped with laser scanners that scan their environment and recognize the whole warehouse layout. Besides racks or obstacles, the system also recognizes its operator and other people in the warehouse and as a result, it easily adapts to changing conditions and to the flow of materials. The industrial truck switches from conventional automation to autonomous operation without any pre-setting, infrastructure or remote control and is therefore ready for operation at any time. The industrial truck navigates by its sensors and reacts to obstacles or other trucks in its drive path while observing traffic regulations at all times. The operator can individually adjust the picking distance to the rack. Safe convoying of autonomous and conventional industrial trucks is possible for the first time. With its narrow contour of just 80 centimeters and a rated load capacity of 2 000 kg, the iGo neo CX 20 is a flexible and autonomous partner for every working environment. Thanks to "Automation on Demand", the operator can freely switch between manual and autonomous mode at any time. It does not make any difference whether the operator picks orders from left or right, or from both sides. The iGo neo CX 20 is a team player at eye level.
Video: Autonomous order picker iGo neo CX 20 - The smart way
---
| | |
| --- | --- |
| Truck Name |  STILL iGo neo |
| Truck Type |  Low-Level Order-Pick Truck |
| Date of Test |  IFOY 2017 |
Test Report
Still launched the first robot order picker – the STILL iGo neo – in early 2016. The iGo neo automatically recognises "its" operator, who can then keep the truck in motion if desired without the need to board the machine again. If the operator exits the order picker and presses a button on the side of the machine, the iGo neo "keeps an eye" on the operator via its 360º scanner. When the order picker proceeds to the next picking station, the iGo neo then automatically follows while ensuring the correct spacing relative to the shelves as well as to all obstacles along the way. If the operator stops moving, then the iGo neo also stops next to him or her.
The IFOY Test shows that the savings compared to conventional order pickers are spectacular. TheiGo neo is more efficient and more productive in all test layouts whenever the pedestrian principle is used, and the test team found that efficiency can be boosted by up to 47 percent. The dynamic process that causes the machine to move at the same time as the operator ensures that the benefits of the system are fully exploited. This was also demonstrated with an "ideal trip" with an additional operator who always positioned the truck exactly in the correct position for the order picker.
The limiting factor is no longer the machine and its operation but the walking speed of the operator.
What is noticeable is that the Still iGo neo takes account of all the safety requirements during the work process. It evades and stops if necessary in order to avoid collisions. The end-of-aisle stopping function is just as precise as the operator recognition feature.
The operator wears the remote control on his or her upper arm and can use it to stop or fetch the iGo neo. The remote control can also be used to change the aisle side or select a pre-programmed stopping point so that the iGo neo automatically "offers up" the desired pallet or container, thereby further minimising walking distances.
There is, however, room for improvement both with regard to the design and in terms of the handling characteristics of the remote control.
Thanks to the options provided by robotics, one conceivable idea for the future is that automatic following and alignment of the vehicle is initiated not via remote control but automatically using gesture recognition via the 360º scanner or a new technology. This would enable the truck to also automatically recognise a change of operator in the same way as it already recognises objects and obstacles.
Interconnection with LVS or voice systems would be a further possibility.
The iGo neo offers the same benefits already seen in other remote order pickers: the work process is pleasant, easier, more efficient and considerably less strenuous, as the operator does not have to constantly get on and off the machine. Moreover, the truck itself uses less energy.
A further advantage of the iGo Neo is that it is not necessary to press any buttons or sensors, which means the operator has both hands free to pick, hold and position goods. In addition, the increased dynamics of the machine make it convenient to walk alongside it, even over longer distances. The walking speed of the operator determines the speed of the vehicle. The test team found this to be an extremely pleasant experience.
IFOY test verdict:
The iGo neo from Still shows that innovations in robot technology can make a valuable contribution to intelligent intralogistics. The key benefits are the high performance capability, ease of operation and the numerous options.
Hard Facts
| | | | |
| --- | --- | --- | --- |
|   | Test Truck IFOY Test | Average other trucks | Value 1 to 10 |
| Productivity stand on (picks / h) |  282 |  303 |  7 |
| Productivity remote (picks / h) |  415 |  343 |  9 |
| Energy level stand one (kWh / 1000 picks) |  2.8 |  3.3  |  8 |
| Energy level remote (kWh / 1000 picks) |  2.6 |  2.6 |  7 |
| Driving speed stand on (km/h) |  12.27 |  12.9 |   |
| Driving speed remote (km/h) |  12.27 |  4 |   |
| Acceleration time with load (time for 10 meters) |  4.4 |  5  |   |
| Acceleration time without load (time for 10 meters) |  4.4 |  8.9 |   |
Averages soft facts
| | |
| --- | --- |
| First impression |  8.20 |
| Load Safety |  8.00 |
| Entry / exit truck |  8.25 |
| Working position |  8.00 |
| Activate truck |  7.67 |
| Hydraulics |  7.40 |
| Steering |  7.71 |
| Sight |  8.33 |
| Driving & Turning |  7.88 |
| Parking truck |  8.00 |
| Safety elements |  8.25 |
| General after test |  8.13 |
| Sustainability |  8.00 |
|   |   |
| Total average soft facts |  7.99 |
| Total productivity |  8.00 |
| Total Energy consumption |  7.50 |
IFOY Innovation Check
Market Relevance
Horizontal order pickers represent a relevant segment in the overall market for warehouse trucks. The STILL iGo neo CX20 can be used in any horizontal order picking warehouse without the need for additional technical measures. The market relevance of the iGo neo is therefore to be rated as high, as it offers a considerable uplift in customer benefit. Whether the autonomous order picker will be able to gain a sizeable share of the market will ultimately also depend on the cost-benefit ratio – as the complex sensor and control technology naturally has its price.
Customer Benefit
The technical innovations of the iGo neo, such as laser-assisted scanning of the immediate environment, the intuitive-to-use communication interface and autonomous driving, mean that the resulting customer benefit can be described as very high. Thanks to the iGo neo, personnel in the order-picking warehouse can concentrate fully on the task at hand – namely removing the right item from the right storage compartment in the right quantity. The concept also takes the physical strain off employees. Operators of order-picking warehouses can expect far higher order-picking performance and lower error rates. As the iGo neo can be used together with conventional horizontal order pickers without any problem, the new order-picking zone technology can be trialled with minimum effort and the vehicle fleet successively converted if desired.
Degree of Novelty
Even though the first automation tests for horizontal order pickers were conducted back in the early 1990s, the iGo neo without question constitutes a milestone in the development of autonomous warehouse trucks. The laser scanning feature to recognise the immediate surroundings gives it cognitive capabilities which – together with the intelligent vehicle control system – ensure that the machine follows the operator in its own. Both the operating concept and the sensor and control technology are highly innovative.
Functionality / Type of Implementation
The functions are implemented very professionally, and the vehicle can be intuitively operated. Recognition and monitoring of the operator are reliable, and the Innovation Check showed that order picking was significantly faster due to the shorter walking distances.
---
| | |
| --- | --- |
| Market relevance | + |
| Customer benefit | ++ |
| Degree of novelty / innovation | ++ |
| Functionality  / Type of implementation | ++ |
---
Data Sheet
Truck Model
Technical Data (all trucks)
| | |
| --- | --- |
| Truck Type | electro |
| Lift capacity/load | 2000 kg kg |
| Truck weight | 1228 kg kg |
| Operation | stand-on |
| Driving speed with load | autonom 6,1 km/h; manuel 9 km/h km/h |
| Driving speed without load | autonom 6,1 km/h; manuel 12,5 km/h km/h |
| Lifting speed with load | 0,13 m/s m/s |
| Lifting speed without load | 0,2 m/s m/s |
| Lowering speed with load | 0,12 m/s m/s |
| Lowering speed without load | 0,09 m/s m/s |
| Max. lift height | 130 mm |
| Power consumption according to VDI cycle | 0,99 kWh/h |
| Electro-trucks | |
| Battery voltage | 24 V V |
| Battery capacity | 450 Ah Ah |
| Battery connector | DIN Rema |
| Battery weight | 410 kg kg |
| Drive motor | 3,0 kW kW |
| Lift motor | 2,2 kW kW |
| Tow Truck | |
| Nominal towing capacity | N |
| Orderpicking/Combitrucks | |
| Max. picking height | 1600 mm mm |
Miscellaneous
Innovations
The most important innovation of the iGo neo CX 20 is its intelligence. Thanks to its 360 degree motion sensors, the truck is able to react to changes in its surroundings at all times. The truck precisely distinguishes static from dynamic objects and pedestrians. Also the operator can be detected without any pre-installation or remote control. The truck recognizes the intention of its operator by his movements making the iGo neo CX 20 the first order picker with cognitive abilities. The 180 degrees panoramic detection of the laser scanner in the front of the truck enables the truck to drive proactively. The truck detects obstacles early, evaluates them in an intelligent manner and reacts with an adjusted driving behaviour and soft driving characteristics. Loads on the forks tipped over by spontaneous emergency braking are a thing of the past. The sensors record their surroundings 250 000 times per second while the computer interprets and utilises the current warehouse layout in real time.
An optical signalling unit, mounted on the truck, shows the current work mode by emitting a simple light code. This new, non-verbal user interface crosses all language, culture and age barriers and allows use of the truck without previous training.
Main goals for development
The main goal for the development of the iGo neo CX 20 was to make picking processes safer and more efficient while relieving strain from the operator at the same time. To achieve this goal, the development clearly focussed on the operator. Not a conventional order picker, but a team colleague for the operator was the design goal.
All activities, such as accessing and leaving the truck as well as unnecessary walking with loads, were to be reduced to enable the operator to pick orders freely and precisely.
In addition, it was necessary to prevent personal injuries and impact damages during picking.
Also the operation of the truck itself was to be made easy and intuitive. For this purpose, the truck was supposed to solely react to the movements of its operator. The use of a remote control or other controls were to be refrained from.
In order to meet the challenges of globalisation, the communication between operator and iGo neo CX 20 was supposed to be designed as intuitive as possible and overcome language barriers.
Furthermore, the truck was to be implemented in an already existing warehouse as flexibly as possible, without having to adapt infrastructures, such as installations of WLAN, reflectors or RFID chips.
User benefits
The benefit of the iGo neo CX 20 is the intelligence it provides: The laser scanners detect static and dynamic objects as well as pedestrians over a range of up to 15 m. As a result, the autonomous truck can flexibly adjust to the actual situation it finds itself in and thus avoid collisions and personal injuries.
The iGo neo CX 20 supports the operator during order picking and acts as an autonomous team colleague that relieves strain from the operator at the same time. This allows the operator to adjust the distance between the rack and the truck to his individual comfort at any time. In addition, the operator can choose whether the truck stops at the centre of the first or the second pallet: Ergonomic order picking is ensured at all times.
The iGo neo CX 20 is navigated by the movements of its operator and follows him wherever he goes. It does make no difference whether the operator works left, right or even at the centre of the truck. This minimises walking distances and reduces accessing and leaving of the truck during order picking by up to 75 percent. At the same time, the overall performance of picking processes can be increased by up to 30 percent.
All information is displayed non-verbally by the LED signalling unit mounted on the truck and by the motion tracking sensors.
By accessing the truck, the operator can switch to manual mode at any time and move around the warehouse independently.
Optional items (IFOY Test Truck)