IFOY Patronage
IFOY Sponsor
The VDMA Materials Handling and Intralogistics Sector Association is sponsor of the International Forklift Truck of the Year (IFOY).
EJQ

Jungheinrich AG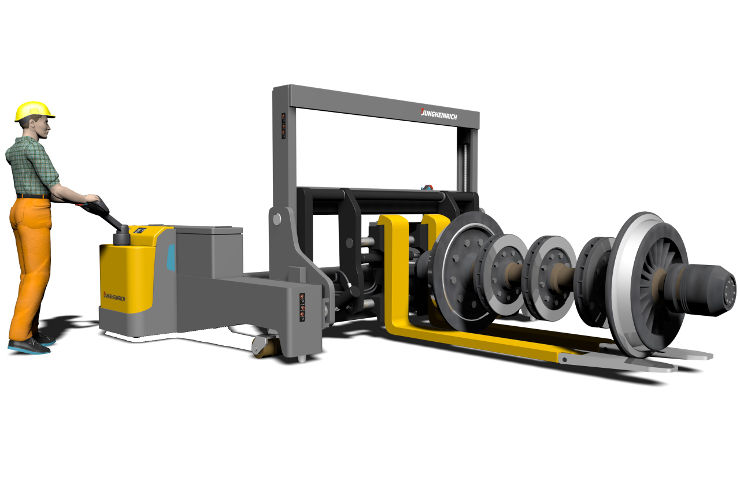 Junheinrich-Sonderfahrzeug für die Deusche Bahn AG: Wechsel der IC/ICE-Radsätze
Jungheinrich
IFOY-Kategorie
Kurzcharakteristik
Als einziger international aufgestellter Hersteller von Intralogistiklösungen entwickelt Jungheinrich Sonderbaugeräte von der Kleinserie bis zum Einzelfahrzeug in dem speziell dafür ausgelegten Sonderbauwerk in Lüneburg. Denn besondere Aufgaben, wie betriebsspezifische Transporteinsätze, ungewöhnliche Lagergüter oder komplizierte Raumverhältnisse, erfordern besondere Flurförderzeuge.
Die Deutschen Bahn in Dortmund stellte eine besondere Aufgabe an den Jungheinrich-Sonderbau: die Entwicklung und Realisierung eines Geräts zum Wechsel der IC/ICE-Radsätze
Präzises Positionieren des Fahrzeuges zur Aufnahme der Last.
Aufnahme und Vereinzelung der ICE-Radsätze sowie des Radsatzwechslers mit einem Gewicht von je 2,5 t über einen Hub von 550 mm.
Die besondere Herausforderung besteht in der Längs- und Querfahrt mit einer 2,4 m langen Last in einem nur 2,9 m breiten Arbeitsgang.
Ein klarer Fall für den Jungheinrich EJQ 325.
---
| | |
| --- | --- |
| Truck Name |  Jungheinrich EJQ |
| Truck Type |  Special Truck |
| Date of Test |  IFOY 2016 |
Testbericht
Für die Deutsche Bahn in Dortmund entwickelte Jungheinrich den EJQ 325, ein maßgeschneidertes Fahrzeug zum Aufnehmen und Bewegen von ICE-Radsätze. Die Lösung besteht aus Standardkomponenten, die Jungheinrich weitgehend selbst produzierte. So sind die 2,8 kW-Antriebsmotoren zum Beispiel aus dem Junior-Bereich bekannt und die Deichsel kommt unter anderem bei Elektro-Hubwagen zum Einsatz.
Das Hauptproblem für die DB ist der begrenzt zur Verfügung stehende Raum. Die Gangbreite, in dem die Radsätze mit einer Länge von 2,40 Meter gehandelt werden beträgt nur 2,90 Meter. Darüber hinaus befinden sich verschiedene Hindernisse im Gang. Präzises Manövrieren ist damit nicht nur wünschenswert, sondern notwendig. Um dies zu ermöglichen, ist die von Jungheinrich maßgeschneiderte Lösung mit vier verschiedenen Fahrmodi vorgesehen: Geradausfahrt, Querfahrt, Kreisfahrt und Hundefahrt. Die Modi werden über eine Anzeige auf der Steuereinheit ausgewählt und angezeigt.
Die verschiedenen Fahrprogramme garantieren maximale Wendigkeit. Zur genauen Positionierung auf den letzten Millimetern bei der Querfahrt sind zwei Tasten (eine für linkshändige Bedienung und eine für rechtshändige Bedienung) auf der Deichsel vorgesehen. Sobald diese gedrückt werden, ist nur eine der beiden Antriebseinheiten aktiv.
Für den Einsatz des EJQ 325 stehen dem Bediener zwei Bedieneinheiten zur Verfügung. So kann immer die Position mit dem besten Blick auf Last und Umgebung ausgewählt werden. Die Bedienung selbst ist proportional und feinfühlig, aber bei der zweiten Bedieneinheit ist eine ganz kurze Verzögerung bei der Steuerung der Mastfunktionen spürbar.
Wenn der EJQ 325 in die richtige Position gebracht ist, wird der Mast ausgefahren. Wegen der spezifischen Last bei DB erfolgt das relativ langsam. Insgesamt dauert es etwa 40 Sekunden, bis der Mast vollständig ausgefahren ist. Der Vorgang stoppt automatisch, sobald Kippgefahr droht. Erst nachdem die Stützen über die Deichsel ausgeschoben sind kann die Last weiter mit reduzierte Geschwindigkeit ausgeschoben werden.
Der Stapler hebt Radsätze mit einem Maximalgewicht von 2,5 Tonnen bei einem Lastschwerpunkt von 1000 mm, glatt bis zur gewünschte Hubhöhe (maximal 550 mm). Dabei verwendet Jungheinrich zwei synchron funktionierende Hydraulikmotoren. Für eine sichere und genaue Positionierung ist der Stapler weiterhin ausgestattet mit einem Seitenschieber, mit einer Reichweite von bis zu 700 mm, und einem integrierten Gabelversteller.
Die Verwendung der Standardkomponenten macht die Bedienung des EJQ einfach und übersichtlich. Der gewünschte Fahrmodus kann per Knopfdruck gewählt werden. Das Umschalten zwischen den Modi dauert verhältnismäßig lange, was jedoch bei einem Präzisionsgerät wie dem EJQ keinen Nachteil darstellt.
Dank der übersichtlichen Tasten und Schalter lasen sich die Funktionen gut und genau dosieren. Der Stapler zeigt eine leichte Abdrift während der Fahrt, diese sich jedoch durch die Feinpositionierung einfach lösen lässt.
IFOY Testfazit: 
Sonderausführungen wie der EJQ sind für spezielle Anwendungen entwickelt. Jungheinrich ist es im Sonderfahrzeugbau gelungen, eine Maschine zu produzieren, die dem Kundenwunsch nach absoluter Genauigkeit nachkommt und exakt auf den Millimeter ihre Arbeit erledigt. Geschwindigkeit spielte bei der Aufgabenstellung keine Rolle. Dass die Verwendung bewährter Standardkomponenten im Ganzen mehr ergibt als Summe der Teile zeichnet dieses Gerät aus.
Hard Facts
 
Test Truck IFOY Test
Average other trucks
Value 1 to 10
Productivity Max mode (Pallets / 8 hrs)
 N/A
 

N/A

 7
Productivity Eco mode (Pallets / 8 hrs)
 

N/A

 

N/A

 7
Energy level Max mode (kWh / 100 plts)
 

N/A

 

N/A

 7
Energy level Eco mode (kWh / 100 plts)
 

N/A

 

N/A

 7
Driving speed with load (km/h)
 

N/A

 

N/A

 
Drivng speed with load (km/h)
 

N/A

 

N/A

 
Acceleration speed stand on (time for 10 meters)
 

N/A

 

N/A

 

Acceleration speed walking (time for 10 meters)

 N/A
 N/A
 
Averages soft facts
| | |
| --- | --- |
| First impression |  7.80 |
| Load Safety |  8.00 |
| Entry to truck |  0.00 |
| Working position |  6.50 |
| Activate truck |  7.50 |
| Hydraulics |  8.29 |
| Steering |  7.29 |
| Sight |  8.40 |
| Driving & turning |  7.33 |
| Parking truck |  7.75 |
| Safety elements |  7.50 |
| General after test |  7.67 |
| Sustainability |  8.00 |
|   |   |
| Total average soft facts |  7.67 |
| Total productivity |  7.00 |
| Total Energy consumption |  7.00 |
IFOY Innovation Check
Marktrelevanz
Bei dem Jungheinrich EJQ 325 handelt es sich um ein hochspezialisiertes Flurförderzeug zur Lösung einer komplexen kundenspezifischen Transport- und Handhabungsaufgabe, bei der ein einzelnes spezielles Stückgut (ICE Radsatz) ohne Ladehilfsmittel horizontal transportiert und für die Montage/Demontage der Radsätze hochgenau positioniert werden muss. Dieses spezielle Flurförderzeug wird daher kaum für einen größeren Kundenkreis infrage kommen, so dass die Marktrelevanz als gering einzustufen ist. Dieses gilt allerdings für die meisten Special Vehicle. Das zu Grunde liegende technische Konzept, aus mehreren kleineren Seriengeräten ein größeres Spezialgerät aufzubauen, kann jedoch für die Herstellung diverser Sonderbaugeräte verwendet werden. Die Philosophie des Jungheinrich Sonderbaus, individuelle Kundenlösungen in Serienqualität durch die weitgehende Verwendung von Serienfahrzeugen und deren Komponenten ökonomisch zu entwickeln und herzustellen, könnte durch dieses Konzept in einem noch größeren Umfang umgesetzt werden. 
Kundennutzen
Der Kundennutzen ist sehr hoch einzustufen, da das Gerät speziell auf die Anforderungen und Einsatzverhältnisse des Kunden zugeschnitten ist. Die Allradlenkung ermöglicht eine hervorragende Manövrierfähigkeit des Fahrzeugs, so dass der Betreiber die ICE-Radsätze trotz beengter räumlicher Verhältnisse sicher transportieren kann. Außerdem kann das Fahrzeug von zwei gegenüberliegenden Positionen aus bedient werden.
Das hochgenaue Positionieren für die Montage/Demontage wird durch das Hubgegüst zum Anheben und Senken der Last, einem Mastvorschub, einer Mastneignung, einem Seitenschieber mit großem Verschiebeweg sowie einer Zinkenverstellung ermöglicht.
Neuheits- / Innovationsgrad
Der Innovationsgrad ist sehr hoch, da eine derartige Kombination mehrerer Fahrzeuge mit jeweils eigenem Fahrantrieb, eigener Lenkung und Bremse technisch sehr anspruchsvoll ist und in dieser Form bei Flurförderzeugen bisher noch nicht realisiert worden ist. Die Allradlenkung ist zwar von den Mehrwegestaplern wie z.B. dem ETVQ von Jungheinrich bekannt; für Sonderbaugeräte ist sie dennoch innovativ.
Eine echte Besonderheit stellt auch die Möglichkeit dar, das Fahrzeug von zwei gegenüberliegenden Positionen aus bedienen zu können.
Funktionalität / Art der Umsetzung
Das innovative technische Konzept ist professionell umgesetzt worden. Dennoch gibt es einige kleinere Abstriche. So ist das Umschalten zwischen den unterschiedlichen Lenkmodi umständlich und es dauert relativ lange. Außerdem driftet das Fahrzeug in der Linkspartie aufgrund des einseitigen Antriebes etwas zur Seite, was aber durch die Lenkung problemlos ausgeglichen werden kann.
---
Marktrelevanz

Ø

Kundennutzen

++

Neuheits- / Innovationsgrad

++

Funktionalität  / Art der Umsetzung

+

++ sehr gut / + gut / Ø ausgeglichen / - weniger / - - nicht vorhanden
---
Datenblatt
Gerätetyp
deichselgeführtes Lagergerät
Technische Daten (alle Geräte)
| | |
| --- | --- |
| Antrieb | Elektro |
| Tragfähigkeit | 2500 kg bei LP 1000 mm kg |
| Eigengewicht | 5700 kg |
| Bedienung | Geh |
| Fahrgeschwindigkeit mit Last | 3,5 km/h |
| Fahrgeschwindigkeit ohne Last | 3,5 km/h |
| Hubgeschwindigkeit mit Last | 0,05 m/s |
| Hubgeschwindigkeit ohne Last | 0,05 m/s |
| Senkgeschwindigkeit mit Last | 0,05 m/s |
| Senkgeschwindigkeit ohne Last | 0,05 m/s |
| Max.Hubhöhe | 550 mm |
| Energieverbrauch nach VDI-Arbeitsspiel | |
| Elektro-Trucks | |
| Batteriespannung | 24 V |
| Batteriekapazität | 2 x 375 Ah |
| Batterieanschluss | 160 A |
| Batteriegewicht | 2 x 300 kg |
| Leistung Fahrmotor | 2 x 2,8 kW |
| Leistung Hubmotor | 3 kW |
| Schlepper | |
| Nennzugkraft | N |
| Kommissionierer/Kombigeräte | |
| Max. Greifhöhe | mm |
Sonstiges
| | |
| --- | --- |
| Es handelt sich um | Vollständig neues Modell |
| Datum der Markteinführung | 17.12.2015 |
| Datum des Produktionsstarts | 06.07.2015 |
Innovationen
Minimale Arbeitsgänge zum Transport von langen Lasten lassen sich über das "Side-Loader" Prinzip realisieren. Im Gegensatz zu konventionellen Side-Loadern verfügt der EJQ über zwei separate Antriebseinheiten auf Basis der Jungheinrich-Mitgängerfahrzeuge EJE der Baureihe 3. Für optimale Sicht kann der Bediener wahlweise das Fahrzeug von der linken oder rechten Antriebseinheit bedienen
Dank Vierwegetechnik kann der EJQ auf engstem Raum manövrieren:
Fahren in Längs- oder Querrichtung zum seitlichen Anfahren an das Gleis. 
Kurvenmodus zum Umfahren von Hindernissen im Arbeitsgang.
Der Mastvorschub zur Aufnahme der Radsätze erfolgt über Kugelrollenspindeln in den Radarmen. Zur Aufnahme ist eine millimetergenaue Positionierung erforderlich.
Alle vier hydraulischen Funktionen lassen sich feinfühlig und proportional über den Deichselkopf bedienen:
Heben / Senken

Mastvorschub

Erweiterter Seitenschub (+/- 350 mm)

Zinkenverstellung
Hauptziele der Entwicklung
Beim Jungheinrich-Sonderbau in Lüneburg entwickeln eigene Sonderbau-Konstrukteure Tag für Tag neue Fahrzeuge entsprechend der logistischen Aufgabenstellungen der Kunden.
Die Konstrukteure arbeiten universell und flexibel; sie vereinen das Wissen über Jungheinrich-Serienfahrzeuge und neue Technologien mit den Gegebenheiten bei den Kunden.
So kreativ und individuell auch entwickelt wird – in puncto Prozesssicherheit zählen allein Standards.
Dank der intelligenten Kombination aus den Komponenten der Großserie wird diese Prozesssicherheit erreicht.
Kundennutzen
Allein die Jungheinrich Sonderbau-Lösung EJQ ermöglicht der Deutschen Bahn, ICE-Radsätze prozesssicher und kostensparend zu wechseln.
Beste Manövrierbarkeit auf engstem Raum.
Beste Sicht für hohe Arbeitssicherheit.
Der Jungheinrich-Sonderbau bietet individuelle Kundenlösungen in Serienqualität. Einschließlich EU-Sicherheitsanforderungen, Qualitätsstandards, Testroutinen und ISO-Zertifizierungen aus der Großserie.
Sonderausstattung (IFOY Test-Gerät)
Sonderbauten werden immer kundenindividuell konfiguriert.
EJQ

Jungheinrich AG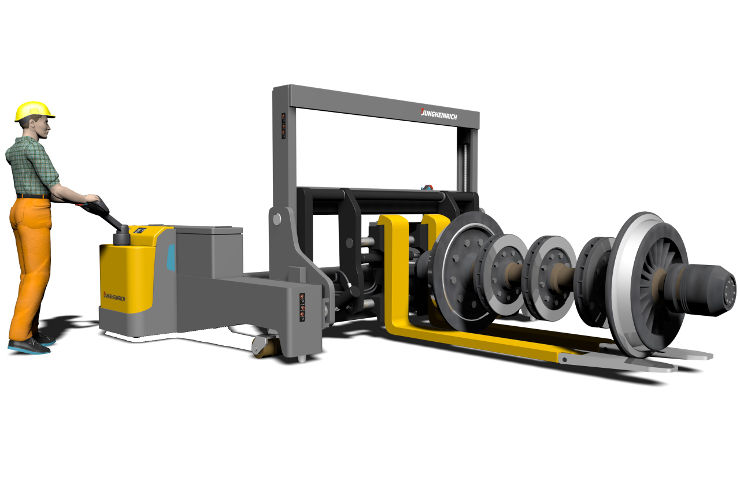 Jungheinrich Special Vehicle for the Deutsche Bahn: changing the wheelsets on its IC / ICE trains
Jungheinrich
IFOY Category
Short Characteristic
As the only internationally manufacturer of intralogistics solutions, Jungheinrich develops special build trucks, from small series to individual trucks, at its specially designed special build plant in Lüneberg. This is because special tasks, such as company-specific transport operations, unusual stored goods or complicated factory layouts require special fork lift trucks.
The Deutsche Bahn plant in Dortmund presented Jungheinrich Special Build with a particularly complex task: The development and implementation of a truck capable of changing the wheelsets on its IC / ICE trains.
Precise positioning of the truck to accommodate the load.
Picking up and separating the ICE wheelsets and the wheelset changer, ea

ch weighing 2.5 tonnes, over a lift height of 550 mm.
The special challenge in this workshop is the longitudinal and transverse travel carrying a 2.4 m long load along an aisle which is only 2.9 m wide.
The Jungheinrich EJQ 325 is the perfect solution.
---
| | |
| --- | --- |
| Truck Name |  Jungheinrich EJQ |
| Truck Type |  Special Truck |
| Date of Test |  IFOY 2016 |
Test Report
Jungheinrich developed the EJQ 325, a tailored vehicle for picking up and moving ICE wheel sets, for the Deutsche Bahn rail company in Dortmund. The solution comprises standard components mainly produced in-house by Jungheinrich. The 2.8-kW drive motors are already used in the "Junior" segment, for example, and the tiller is fitted to existing electric lift trucks.
The main problem for DB is the limited amount of available space. The aisle width in which the wheel sets with a length of 2.4 metres are handled is only 2.9 metres wide, and there are also various obstacles in the aisle. This means precision manoeuvring is not only desirable but an absolute necessity. In order to achieve this goal, the tailored Jungheinrich solution is equipped with four different drive modes: straight ahead, transverse, circle and light diagonal. The modes are selected and shown via a display on the control unit.
The various drive modes guarantee maximum agility. There are two buttons on the tiller (one for left-hand and one for right-hand operation) for exact positioning on the final millimetres during transverse travel. As soon as the buttons are pressed, only one of the two drive units is active.
The operator has two control consoles at his disposal when operating the EJQ 325, so that he can always choose the position that offers the best view of the load and the surrounding area. The operating functions are proportional and responsive, although a very short delay in mast function control is noticeable with the second control console.
When the EJQ 325 has been driven to the correct position, the mast is extended. This is a relatively slow process due to the specific load parameters of the DB task. It takes around 40 seconds for the mast to become fully extended. This process stops automatically as soon as there is any risk of tilting. The mast can then only be pushed out further at reduced speed after the supports have been positioned via the tiller.
The truck smoothly lifts wheel sets with a maximum weight of 2.5 tonnes and a load centre of 1,000 mm up to the desired lifting height (max. 550 mm). For this purpose, Jungheinrich uses two synchronously operating hydraulic motors. To ensure safe and precise positioning, the truck is also fitted with a side shift with a range of up to 700 mm and an integrated fork spreader.
The use of standard components makes for easy and convenient operation of the EJQ. The desired drive mode is selected by pushbutton. Switching between the different modes is relatively time-consuming, but this does not constitute a disadvantage in a precision truck like the EJQ.
The well-arranged buttons and switches make for easy and precise dosing of the various functions. The stacker shows a slight drift during travel, but this is easily corrected using the fine positioning feature.
IFOY Test verdict:
Special designs like the EJQ have been developed for special applications. In this market segment, Jungheinrich has succeeded in building a machine that meets the customer requirement of absolute precision, performing its tasks with millimetric accuracy. Speed is of no relevance for these task definitions. What characterises this truck overall is that the use of proven standard components creates a "whole" that is more than the sum of its parts.
Hard Facts
 
Test Truck IFOY Test
Average other trucks
Value 1 to 10
Productivity Max mode (Pallets / 8 hrs)
 N/A
 

N/A

 7
Productivity Eco mode (Pallets / 8 hrs)
 

N/A

 

N/A

 7
Energy level Max mode (kWh / 100 plts)
 

N/A

 

N/A

 7
Energy level Eco mode (kWh / 100 plts)
 

N/A

 

N/A

 7
Driving speed with load (km/h)
 

N/A

 

N/A

 
Drivng speed with load (km/h)
 

N/A

 

N/A

 
Acceleration speed stand on (time for 10 meters)
 

N/A

 

N/A

 

Acceleration speed walking (time for 10 meters)

 N/A
 N/A
 
Averages soft facts
| | |
| --- | --- |
| First impression |  7.80 |
| Load Safety |  8.00 |
| Entry to truck |  0.00 |
| Working position |  6.50 |
| Activate truck |  7.50 |
| Hydraulics |  8.29 |
| Steering |  7.29 |
| Sight |  8.40 |
| Driving & turning |  7.33 |
| Parking truck |  7.75 |
| Safety elements |  7.50 |
| General after test |  7.67 |
| Sustainability |  8.00 |
|   |   |
| Total average soft facts |  7.67 |
| Total productivity |  7.00 |
| Total Energy consumption |  7.00 |
IFOY Innovation Check
Market Relevance
The Jungheinrich EJQ 325 is a highly specialised truck designed to perform a complex, customer-specific transport and handling task whereby a single special consignment (ICE wheel set) is transported horizontally without loading device and has to be positioned with extreme precision for mounting/removal of the wheel sets. As a result, this special truck is not geared towards a large customer base, which means its market relevance is to be seen as low. The same applies to most special vehicles, however. At the same time, the underlying technical concept, which uses multiple smaller series-manufactured trucks to create a larger-scale special-purpose vehicle, can be used to produce a wide range of different special solutions. The philosophy of the special-purpose design experts at Jungheinrich is to develop and produce cost-effective, tailored customer-specific solutions and their components, and this is a philosophy that has potential for larger-scale use.
Customer Benefit
Customer benefit is to be described as very high, as the machine is tailor-made for the requirements and operating conditions of the customer. The four-wheel steering makes for superb manoeuvrability, which means that the user can safely transport the ICE wheel sets despite the tight operating space. In addition, the vehicle can be operated from two opposite sides. 
High-precision positioning for mounting/removal is ensured by the lifting frame for raising and lowering of the load, a mast forward reach feature, mast tilting, a side slider with large displacement path and a fork positioner. 
Degree of Novelty / Innovation
The degree of innovation is extremely high, as this kind of combination of multiple vehicles, each with its own powertrain, steering and brakes is highly sophisticated in technical terms and has previously not been realised in this way in the field of materials handling equipment. Although the four-wheel steering system is already used in multidirectional forklifts such as the ETVQ from Jungheinrich, it is nevertheless an innovation in the area of custom-made handling systems.
One true USP is the option of operating the truck from positions on two opposite sides.
Functionality / Type of Implementation
The innovative technical concept has been professionally implemented, but there are still a few minor criticisms. Switching between the different steering modes is cumbersome and relatively time-consuming. Moreover, the vehicle drifts slightly to the side on the left due to the one-sided drive concept, but this can be easily compensated by steering accordingly.
---
| | |
| --- | --- |
| Market relevance | Ø |
| Customer benefit | ++ |
| Degree of novelty / innovation | ++ |
| Functionality  / Type of implementation | + |
---
Data Sheet
Truck Model
pedestrian-controlled warehouse trucks
Technical Data (all trucks)
| | |
| --- | --- |
| Truck Type | electro |
| Lift capacity/load | 2500 kg bei LP 1000 mm kg |
| Truck weight | 5700 kg |
| Operation | pedestrian |
| Driving speed with load | 3,5 km/h |
| Driving speed without load | 3,5 km/h |
| Lifting speed with load | 0,05 m/s |
| Lifting speed without load | 0,05 m/s |
| Lowering speed with load | 0,05 m/s |
| Lowering speed without load | 0,05 m/s |
| Max. lift height | 550 mm |
| Power consumption according to VDI cycle | |
| Electro-trucks | |
| Battery voltage | 24 V |
| Battery capacity | 2 x 375 Ah |
| Battery connector | 160 A |
| Battery weight | 2 x 300 kg |
| Drive motor | 2 x 2,8 kW |
| Lift motor | 3 kW |
| Tow Truck | |
| Nominal towing capacity | N |
| Orderpicking/Combitrucks | |
| Max. picking height | mm |
Miscellaneous
| | |
| --- | --- |
| This model is a | Newly developed model |
| Date of rollout | 2015-12-17 |
| Start of series production | 2015-07-06 |
Innovations
The 'side-loader' principle enables long loads to be transported along the narrowest of aisles. In contrast to conventional side-loader, the EJQ has two separate drive units based on the Jungheinrich EJE Series 3 pedestrian trucks. For optimum visibility, the operator can choose to operate the truck from the left or the right drive unit.
Thanks to four-way technology, the EJQ is able to manoeuvre in confined spaces:
Travelling in longitudinal or transverse direction for sideways approach to the track. 
Curve mode to avoid obstacles in the aisle.
The mast reach for picking up the wheelsets takes place via ball roller spindles in the support arms. Precision positioning is required for picking up the wheelsets.
All four hydraulic functions can be sensitively and proportional operated via the tiller head:
Lifting / lowering

Mast reach

Extended sideshift (+/- 350 mm)

Fork positioner
Main goals for development
At Jungheinrich Special Build in Lüneburg, special build designers develop new trucks every day to meet the logistics needs of the customers.
The designers work universally and flexibly; they combine their knowledge of Jungheinrich production trucks and new technology with the circumstances of the customers.
Although the developments are creative and individual, when it comes to process reliability standards are everything.
This process reliability is achieved thanks to the intelligent combination of components from the large-scale production series.
User benefits
The Jungheinrich EJQ special build solution enables Deutsche Bahn, to replace its ICE wheelsets reliably and cost-effectively.
Best manoeuvrability in confined spaces.
Best view for high occupational safety.
Jungheinrich Special Build offers individual customer solutions including EU safety requirements, quality standards, test routines and ISO certifications from large-scale production.
Optional items (IFOY Test Truck)
Special Build trucks are always designed individually.