IFOY Patronage
IFOY Sponsor
The VDMA Materials Handling and Intralogistics Sector Association is sponsor of the International Forklift Truck of the Year (IFOY).
BT Levio LWI160

Toyota Material Handling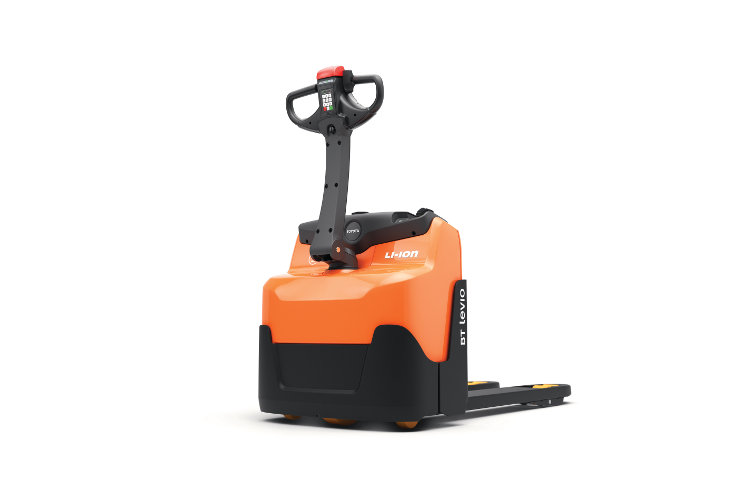 BT Levio LWI160
Toyota Material Handling
IFOY-Kategorie
Warehouse Truck "lowlifter"
Zusammenfassung
Batterie neu gedacht: Out of the box
Der neue außergewöhnlich kompakte Niederhubwagen Toyota BT Levio LWI160 setzt einen neuen Standard bei Flurförderzeugen und läutet in den Bereichen Design und Konstruktion eine neue Ära ein: Entwickelt rund um das modular aufgebaute Toyota Batteriesystem mit effizienter Lithium-Ionen Technik überzeugt der LWI160 durch reduziertes Gewicht und platzsparende Abmessungen. Damit verschmelzen Batteriesystem und Gerät zu einer Einheit, ein konventioneller Batterieraum entfällt. Mit niedrigem Energieverbrauch und gleichzeitig hoher Leistung lässt sich das Gerät auch in beengten Umgebungen einfach und sicher handhaben.
Beschreibung
Der neue Toyota BT Levio LWI160 Niederhubwagen von Toyota Material Handling ist ein Mitgängergerät, das um eine modular aufgebaute Lithium-Ionen Batterie konstruiert wurde. Das macht ihn besonders kompakt, leicht und energieeffizient. Er setzt einen neuen Standard bei Flurförderzeugen. Dies ist nur der Anfang einer komplett neuen Gerätegeneration von Toyota. Das Gerät ist ein ideales Beispiel für die Umsetzung der Toyota Lean Philosophie. Im Sinne von Kaizen – der kontinuierlichen Verbesserung -  wurde die Konstruktion vollständig neu durchdacht und die Batterie so platzsparend wie möglich integriert. Dieser im Markt einmalige Ansatz für Li-Ionen ermöglicht eine neue Designfreiheit und optimiert Ergonomie, Sichtverhältnisse und Performance.
---
Datenblatt
Gerätetyp
Technische Daten (alle Geräte)
| | |
| --- | --- |
| Antrieb | Elektro |
| Tragfähigkeit | 1600 kg |
| Eigengewicht | 269 kg |
| Bedienung | Geh |
| Fahrgeschwindigkeit mit Last | 6 km/h |
| Fahrgeschwindigkeit ohne Last | 6 km/h |
| Hubgeschwindigkeit mit Last | m/s |
| Hubgeschwindigkeit ohne Last | m/s |
| Senkgeschwindigkeit mit Last | m/s |
| Senkgeschwindigkeit ohne Last | m/s |
| Max.Hubhöhe | 210 mm |
| Energieverbrauch nach VDI-Arbeitsspiel | |
| Elektro-Trucks | |
| Batteriespannung | 24 V |
| Batteriekapazität | 50/105/150 Ah |
| Batterieanschluss | |
| Batteriegewicht | 16 kg |
| Leistung Fahrmotor | kW |
| Leistung Hubmotor | kW |
| Schlepper | |
| Nennzugkraft | N |
| Kommissionierer/Kombigeräte | |
| Max. Greifhöhe | mm |
Sonstiges
| | |
| --- | --- |
| Es handelt sich um | Vollständig neues Modell |
| Datum der Markteinführung | 13.11.2019 |
| Datum des Produktionsstarts | 02.03.2020 |
| Konkurrenzprodukte | Jungheinrich - EJE 114i |
Innovationen
Konstruktion um ein modular aufgebautes Lithium-Ionen-Batteriesystem herum
Ein außergewöhnlich kompaktes Gerät mit der Leistung des BT Levio LWE160
Gewichtsreduktion um 43 Prozent im Vergleich zur Version mit Blei-Säure Batterie
Ideal für den Einsatz in Bereichen mit geringer Flächenlast (z.B. Fahrstühle, Zwischengeschosse) oder als Mitnahmegerät auf dem Lkw (mehr Zuladung möglich)
Die Lithium-Ionen Batterie ist besonders platzsparend integriert, da ein klassischer Batterieraum entfällt
Unabhängig von der gewählten Batteriegröße ist die Maschine 22 Prozent kürzer und deutlich niedriger
Das Gerät lässt sich durch die geringere Chassis-Höhe auf engstem Raum manövrieren mit nahezu uneingeschränkter Sicht auf die Gabel
Mit diesem Gerät bietet Toyota erstmals einen neuen, nochmals verbesserten Ladestecker an: besonders kompakt, einfach und sicher in der Handhabung dank Push-in Technik 
Marktrelevanz
Niederhubwagen für den Mitgängerbetrieb zählen zu den meistverkauften Geräten im Markt. Die Geräte finden ihren Einsatz nahezu überall, insbesondere aber in Supermärkten, Ladengeschäften und als Mitnahme-Gerät auf dem Lkw. Charakteristisch für diese Bereiche sind oftmals beengte Platzverhältnisse, die möglichst geringe Geräteabmessungen verlangen. Bisher bestimmten die Batterieräume maßgeblich die Dimensionen der Maschinen – mit dem neuen Toyota BT Levio LWI160 ergeben sich konstruktiv vollkommen neue Möglichkeiten. Das Gerät ist in Länge, Höhe und Gewicht einzigartig im Vergleich zu bisherigen Niederhubwagen.
Kundennutzen
Aufgrund seiner kompakten Bauweise für nahezu alle Einsätze geeignet: Egal, ob leichter Einsatz im Supermarkt, oder auch der anspruchsvolle 3-Schicht-Einsatz im Logistikzentrum
Sichere und leichte Handhabung besonders in beengten Bereichen, dem Be- und Entladen von oder der Mitnahme auf dem Lkw
Schnelles und einfaches Laden – für mehr Flexibilität
Integriertes oder externes Ladegerät  je nach Einsatzfall
Laden auch auf dem Lkw spart Zeit
Niedriger Energieverbrauch durch:

Lithium-Ionen Technik und CO2-Reduktion
Gerätedesign: reduziertes Gewicht, kein Anheben des Batterieraums notwendig

Abhängig vom Lenkeinschlag reduziert der LWI die Geschwindigkeit bei Kurvenfahrt und sorgt damit für mehr Sicherheit für den Bediener und die Last
Click-2-Creep-Funktion standardmäßig enthalten: Damit kann der Bediener in beengten Bereichen mit hochstehender Deichsel sicher und komfortabel fahren - ohne, dass er zusätzlich zum Fahrschalter eine Taste gedrückt halten muss
Erhöhte Arbeitssicherheit: bei voll eingeschlagener Deichsel ist das Absenken der Gabeln abgeschaltet, um das Risiko von Fußverletzungen zu vermindern (Optimized Corner Control)
Weniger Verschleiß an Böden und Geräten durch reduzierte Geschwindigkeit bei abgesenkten Gabeln
Sonderausstattung (IFOY Test-Gerät)
BT Levio LWI160

Toyota Material Handling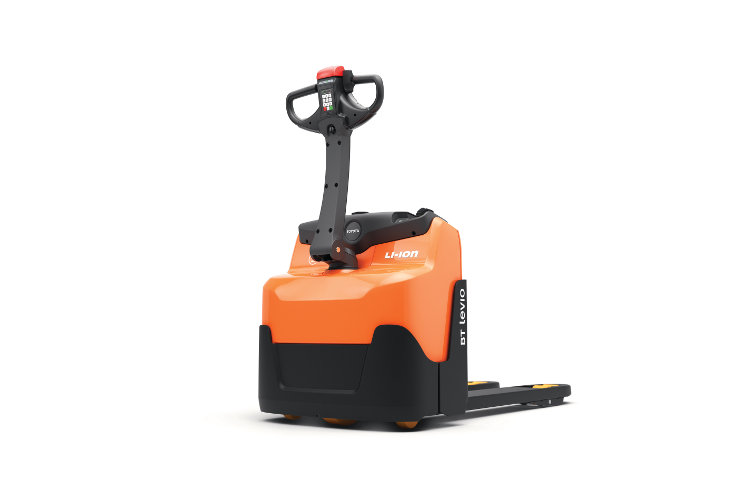 IFOY Category
Warehouse Truck "lowlifter"
Summary
Battery rethought: Out of the box
The new extremely compact Toyota BT Levio LWI160 pallet truck sets a new standard in forklift trucks and heralds a new era in the fields of design and construction: Developed around the modular Toyota battery system, with efficient lithium-ion technology, the LWI160 boasts reduced weight and space-saving dimensions. As a result, the battery system and machine blend to form one unit: there is no need for a conventional battery space. With low energy consumption combined with high performance, the truck can be controlled easily and safely, even in tight spaces.
Description
The new Toyota BT Levio LWI160 pallet truck from Toyota Material Handling is a pedestrian-controlled machine which has been designed around a modular lithium-ion battery. This makes it particularly compact, light and energy efficient. It sets a new standard in forklift trucks. This is just the start of a completely new generation of Toyota trucks. The truck is a perfect example of the implementation of the Toyota Lean Philosophy. Following the principle of Kaizen – continuous improvement – the design has been completely rethought, with the battery integrated in the most space-saving way possible. Our unique approach to Li-Ion allows a new design freedom, optimising ergonomics, visibility and performance.
---
Data Sheet
Truck Model
Pedestrian-controlled low lifter truck
Technical Data (all trucks)
| | |
| --- | --- |
| Truck Type | electro |
| Lift capacity/load | 1600 kg |
| Truck weight | 269 kg |
| Operation | pedestrian |
| Driving speed with load | 6 km/h |
| Driving speed without load | 6 km/h |
| Lifting speed with load | m/s |
| Lifting speed without load | m/s |
| Lowering speed with load | m/s |
| Lowering speed without load | m/s |
| Max. lift height | 210 mm |
| Power consumption according to VDI cycle | |
| Electro-trucks | |
| Battery voltage | 24 V |
| Battery capacity | 50/105/150 Ah |
| Battery connector | |
| Battery weight | 16 kg |
| Drive motor | kW |
| Lift motor | kW |
| Tow Truck | |
| Nominal towing capacity | N |
| Orderpicking/Combitrucks | |
| Max. picking height | mm |
Miscellaneous
| | |
| --- | --- |
| This model is a | Newly developed model |
| Date of rollout | 2019-11-13 |
| Start of series production | 2020-03-02 |
| Competitive products | Jungheinrich - EJE 114i |
Innovations
Design around modular lithium-ion battery system
An extremely compact truck with the performance of the BT Levio LWE160
Weight reduced by 43 percent in comparison with lead acid batteries
Perfect for use in areas with reduced area load (e.g. lifts, mezzanines) or as a portable truck on a lorry (more load capacity possible)
The lithium-ion battery is integrated in a particularly space-saving way, meaning there is no need for a traditional battery space
Regardless of the chosen battery size, the machine is 22 percent shorter and considerably lower
The reduced chassis height means the truck can be manoeuvred in the tightest of spaces with a virtually unrestricted view of the fork
With this truck, Toyota is offering a new and yet-again improved charging plug for the first time: particularly compact, easy and safe to use thanks to push-in technology
Market relevance
Pedestrian-controlled pallet trucks are among the most purchased machines on the market. The machines are used virtually everywhere, but especially in supermarkets, retail stores and as a portable truck on a lorry. These areas are often characteristically tight spaces, requiring the smallest possible machine dimensions. Until now, the battery compartment has largely determined the dimensions of the machines – the new Toyota BT Levio LWI160 offers completely new design possibilities. The truck is unique in its length, height and weight in comparison with previous pallet trucks.
Customer Benefit
Suitable for almost all applications due to its compact design: Be it light use in the supermarket or demanding three-shift use in a logistics centre
Safe and easy handling, especially in tight spaces, loading and unloading, or transporting on a lorry
Quick and easy charging – for greater flexibility
Integrated or external charging unit depending on the application
Charging on the lorry saves time
Low energy consumption thanks to:

Lithium-ion technology and CO2 reduction
Truck design: reduced weight, no lifting of the battery compartment necessary

Depending on the steering tiller arm, the LWI reduces speed when cornering, ensuring greater safety for the operator and the load
Click-2-Creep function included as standard: this enables the operator to move safely and comfortably in tight spaces with an upright steering arm­– without needing to push a button in addition to the drive switch
Increased work safety: with the drawbar turned to its full extent, the lowering of the forks is disabled in order to reduce the risk of foot injuries (optimised corner control)
Less wear and tear to the floors and trucks thanks to reduced speed when the forks are lowered
Optional items (IFOY Test Truck)